The global 3D laser scanner market size was exhibited at USD 2.04 billion in 2022 and is projected to attain around USD 8.75 billion by 2032, growing at a CAGR of 15.67% during the forecast period 2023 to 2032.
A 3D laser scanner is a device that digitizes the geometry of real-world objects using laser light. A contactless process called 3D laser scanning inspects real objects to gather details about their form and appearance. The acquired data is then used to create 3D models.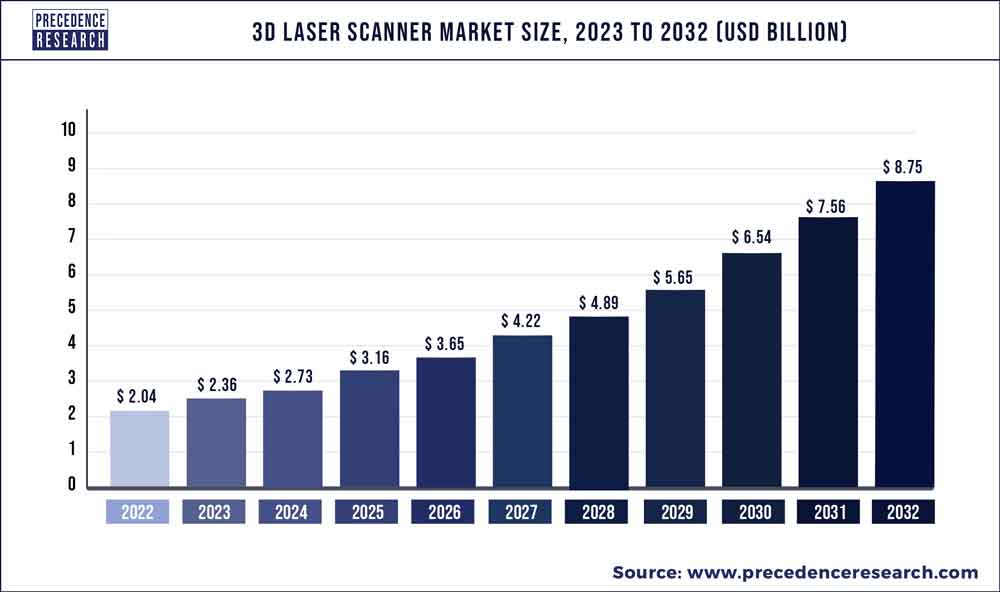 Access our Premium Real Time Data Intelligence Tool, Visit: Precedence Statistics
On the basis of geography, North America generated a 32.7% market share.
On the basis of technology, the laser triangulation will lead the market with a share of 32.9% in 2022.
Growth Factor
The market for 3D laser scanners is expanding due to the rising need for quality control, globalization in 3D printer design, and significant application across several sectors. 3D laser scanners are tools that examine an object and gather information depending on how it appears and how it is shaped. The gathered information is transformed into a 3-dimensional digital representation. The 3D laser scanner market is expanding due to reasons such as the growing demand for 3D printers on a global scale, the growing popularity of handheld 3D scanners, and the high degree of quality control as well as inspection standards provided by these scanners. The data gathered is utilized to build 3D models. Another significant element driving the market development is the mounting of various applications of 3D laser scanners by the numerous end-user verticals, including aerospace and military, healthcare, architecture & construction, automotive, energy, power, and others.
Growing market potential will be further facilitated by the market's evolution from 3D scanners, particularly in emerging nations. The growing demand for enormous amounts of data to be collected for analysis, modeling, and research reasons is promoting market expansion. The high cost of a 3D laser scanner will provide a barrier to the market's expansion, nevertheless. The availability of conventional substitutes for 3D laser scanners will also have an impact on market growth. A structured-light 3D scanner is a 3D scanning device that projects many lines from a single light source onto the item being tracked by one or more cameras in order to measure its three-dimensional geometry. In contrast, a laser scanner produces several laser dots on a single object in succession.
Applications for structured light scanners include obstacle detection systems for unmanned aircraft, automated optical inspection in high-speed manufacturing lines, volume measurement of engineering parts, reverse engineering of objects to produce CAD data, motion as well as environment capture for virtual reality games, measurements for apparel retailing, and motion and environment capture for motion capture systems. Hand-held 3D scanners are able to readily include the same thanks to features like rapid setup. As a result, numerous portable 3D scanners for 3D printing employ structured light technology. Trigonometric triangulation is used by the system to project a pattern of light onto the object that will be further scanned.
3D laser scanners are advancing technologically and producing scans that are more precise. The manufacturing and distribution of 3D laser scanners are also getting more affordable as a result of advancing technical advancements.
The last several years have seen a rise in the use of 3D laser scanning across a wide range of sectors, including media and entertainment, gaming and technology, healthcare, manufacturing, and transportation. As a result, it is projected that the market for 3D laser scanners would grow dramatically during the next several years.
One of the most important aspects driving the boom in the 3D laser scanner industry is the flexibility of mobility built into the device.
Due of their growing use in the construction industry, 3D laser scanners are becoming more popular. With the most recent technology developments, a 3D laser scanner may accomplish the Objective of gathering topographical information at regions that people cannot access through the automobile Internet of Things (IoT). Future expansion in the automation sector is anticipated to be fueled by soaring demand.
Report Scope of the 3D Laser Scanner Market
| | |
| --- | --- |
| Report Coverage | Details |
| Market Size in 2023 | USD 2.36 Billion |
| Market Size by 2032 | USD 8.75 Billion |
| Growth Rate from 2023 to 2032 | CAGR of 15.67% |
| Base Year | 2022 |
| Forecast Period | 2023 to 2032 |
| Segments Covered | By Technology |
| Regions Covered | North America, Europe, Asia-Pacific, Latin America and Middle East & Africa |

Key Market Drivers
Numerous Uses in a Range of End-Use Industries to Promote Market Growth
One of the key factors promoting the development of the 3D laser scanner market is the device's versatility with regard to mobility. This is the most reliable technology for delivering visualization at real time and more accuracy as compared to other solutions on the market. The market for 3D laser scanners is expected to grow in the coming future as a result of the widespread use of cutting-edge technology in enterprises across all sectors.
It is anticipated that nations like the US would study crime scenes using 3D laser scanners. Recent demonstrations in Nevada used 3D laser scanning technology to help investigators crack cases involving firearm trajectories. Additionally, it's conceivable to see these 0 to R3 miniature artificially intelligent automobiles patrolling and securing Dubai's streets. The truck would be equipped with a drone that can be used to scan objects from a radius of 330 ft for suspect bombs, vehicles, and criminal activity.
Building industry experts are rapidly becoming aware of the significance of 3D laser scanners. By leveraging cutting-edge technology, a 3D laser scanner can gather topographical data in places that the Internet of Things cannot reach. The market for 3D laser scanners is anticipated to be driven by this goal to improve automated workflow designed with a lower risk of human error.
Key Market Challenges
High Installation and Maintenance Costs Limit Market Growth
Despite having many benefits, 3D laser scanners have several application restrictions, which restrain market expansion. For instance, two significant challenges limiting the 3D scanning business are the starting high cost of high-resolution 3D scanners and the industry's reliance on non-3D sectors.
Similar to this, high installation and maintenance expenses might limit market growth. The adoption of previous 3D laser scanner alternatives may be slowed down even further by their simplicity of use.
Key Market Opportunities
Risk Mitigation creating new applications for 3D Scanners
The key to a successful capital project execution is risk minimization. Due to either poor documentation or control methods, the expenses or timeline will inevitably go over budget while the projects are being implemented. Thus, the use of 3D scanning in conjunction with the use of modular building techniques, where timetable sensitivity is an unavoidable need, is a proven strategy for controlling such risk factors for brownfield projects or projects that need to be renovated. The installation expenses were reduced by 6-8% and the schedule was compressed by 10% thanks in large part to laser scanning. In addition to include these costs and scheduling considerations, 3D scanning is now an important tool for analyzing design and engineering plans to identify conflicts with the current situation and suggest better solutions. Additionally, 3D scanning techniques make sure that project stakeholders are in a better position to comply with safety and legal requirements.
Segments Insight:
Technology Insights
With a share of 32.9% in 2022, Laser Triangulation will lead the 3D Laser Scanner Market in comparison to the other technologies. All 3D scanners have a range constraint that prevents them from scanning things from all distances. Therefore, different technologies such as laser triangulation, structured light technology, and pattern fringe technology are used by scanners with different ranges such as medium-range scanners, short-range scanners, long-range scanners. Each of the scanners has a range of distances at which an object can be scanned, such as less than one meter, one meter to 150 m, and two meters or more. Depending on device's range, these scanners use a variety of technologies. For short-range devices, structured light, laser triangulation, and pattern fringe triangulation are employed, but for medium- and long-range devices, the phase-based as well as pulse-based methods are utilized.
Regional Insights
The second-largest area, North America, will account for 32.7% of the worldwide market for 3D laser scanners during the projection period. The United States is dominating the region since it maintained its growth rate over the projection period. The size of the USA 3D laser scanner industry is expanding as more cameras are using 3D laser scanners to look into tragic traffic accidents.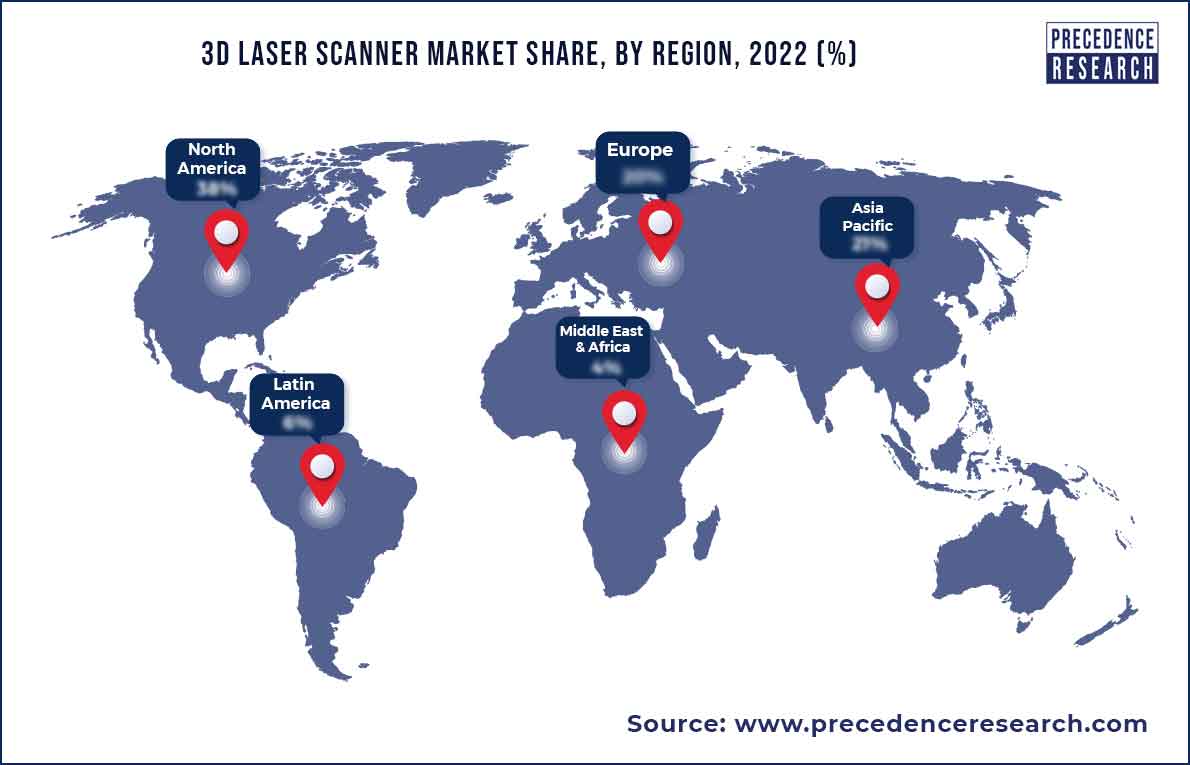 The market is being driven throughout the projected period by the existence of well-known companies, facial recognition, as well as iris scanning. The prevalence of computing systems used for 3D virtualization is rising since the price of computers as well as graphics processors has decreased recently. Additionally, expanding 3D scanning makes it possible to replace a part quickly and precisely, driving the forecasted growth of the 3D laser scanner market. Similar to this, such scanners are being widely used in several end-use industries, such as the automotive as well as healthcare sectors, which is driving the growth of the US 3D laser scanner market. The region with the highest revenue for 3D laser scanners is Europe, which accounts for 30% of the market. Due to the growing use of 3D laser scanner technology in palaeontology research, the United Kingdom now commands the largest share of the industry. In the UK 3D laser scanner market throughout the anticipated time, researchers will utilize this method to investigate how plants and extinct animals interact. Demand is anticipated to increase over the course of the projection period due to the rising automotive industry and leadership in the production of passenger vehicles.
In contrast, Germany is anticipated to win the majority of the market due to the industry's quick advancement of 3D scanning technology. German business DAVID created the DAVID Structured Light Scanner (SLS-3) 3D scanner. The scanner is around $4,000 and may be used for reverse engineering, inspection, and archaeology, among other things. The market for 3D laser scanners in Germany is being driven by the increasing usage of reverse engineering techniques. German automaker BMW was a pioneer in implementing 3D printing and 3D scanning technology.
Recent Developments
In November 2021, investors comprising IT-Farm, Leblon Capital, Salvia Deeptech-A, Vsquared Ventures, and Baltic Business Angels made an additional €8 million investment in OQmented, a German pioneer in AR/VR Display and 3D Sensing Solutions. The German Fraunhofer Institute's 2018 spin-out of the Itzehoe-based tech company has raised roughly €17.3 Mn.
Orbbec Manufacturing creates 3D cameras and software products including SDK, middleware, cloud services, and Artificial Intelligence. Among its products are Orbbec Persee, which has camera-computer capabilities, Orbbec Astra Pro, which has extended range, high resolution, and low latency, and Orbbec Astra, which has low latency.
Key Market Players
Basis Software, Inc.
FARO
Hexagon AB
3D Digital Corporation
ShapeGrabber Inc.
JoeScan
Riegl Laser Measurement Systems
Kreon Technologies
CREAFORM
Perceptron Inc.
Nikon Metrology NV
Trimble
Zeiss
Topcon
Segments Covered in the Report
(Note*: We offer report based on sub segments as well. Kindly, let us know if you are interested)
By Technology
Laser triangulation
Structured Light Technology
Pattern Fringe triangulation
Pulse-based
Phase shift
Others
By Geography
North America
Europe
Asia-Pacific
Latin America
The Middle East and Africa