The global advanced process control system market size was valued at US$ 1.80 billion 2022 and is expected to reach US$ 4.44 billion by 2032, expanding growth at a CAGR of 9.50% during the forecast period owing to rising complexity of manufacturing and processing stsyems.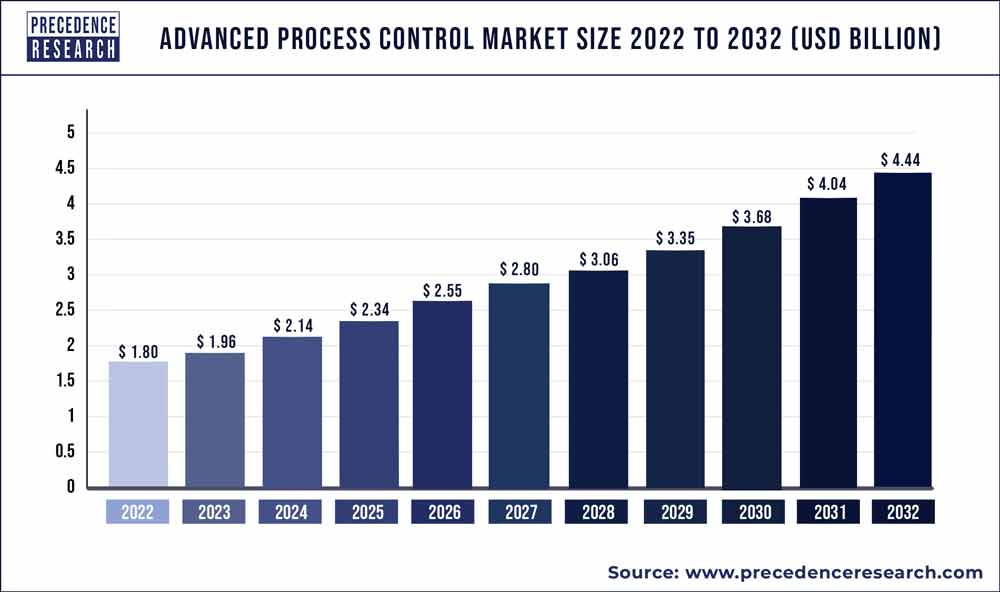 Access our Premium Real Time Data Intelligence Tool, Visit: Precedence Statistics

Advanced Process Control Market Size in the U.S. 2023 To 2032
The Asia Pacific advanced process control system market size accounted for US$ 0.68 billion 2022 and is projected to hit US$ 1.67 billion by 2032, growing at a CAGR of 9.31% between 2023 To 2032.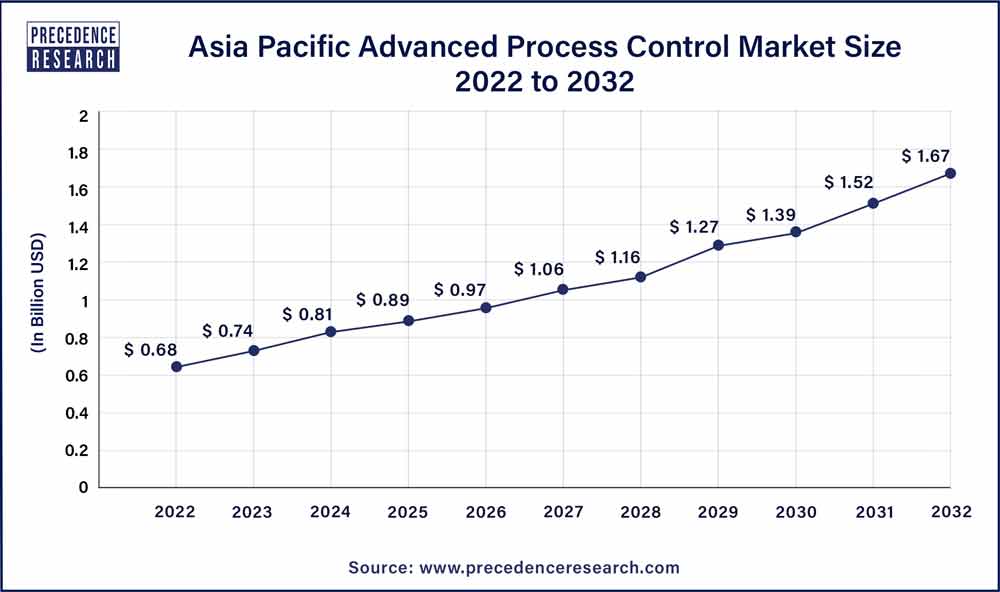 The Asia Pacific has the largest share in the advanced process control market. The Asia Pacific region's advanced process controls market is dominated by India and China. This is because infrastructure development is increasing and there is a high demand for energy-efficient production systems. APC development and continuous improvement are aimed at improving the performance of manufacturing processes, resulting in higher product quality. APC implementation contributes to improved process safety while also lowering environmental emissions. Using advanced software, the manufacturers can easily maintain the plant's operation.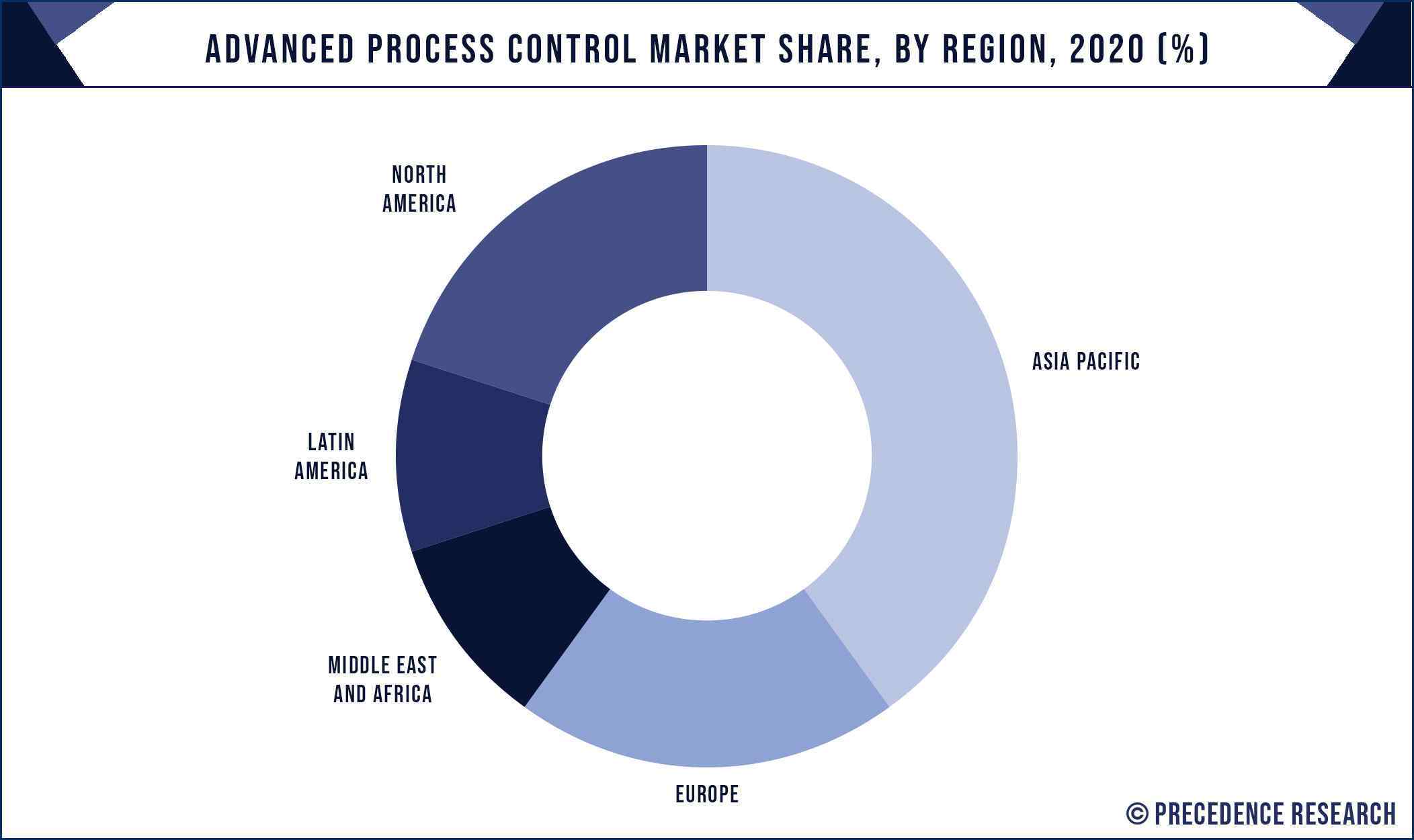 North America is expected to grow at a high CAGR in the forecast period. Early adoption of automation across end-use industries in countries such as the United States and Canada has resulted in this region becoming a mature market for advanced process control solutions. High R&D investment, combined with stringent environmental regulations, is driving up demand for APC systems for sustainable manufacturing processes. Increasing E&P activities in the region's oil and gas sector will contribute to the growth of the North America Advanced Process Control market during the forecast period.
Growth Factors
The increasing demand in the end user industries such as pharmaceuticals, energy & power, mining, minerals, and metals and food & beverages will propel the growth of APC market. APS offers comprehensive process engineering design capabilities for aseptic, pasteurization, extended shelf life, hot fill, blending, batching, and CIP equipment to food and beverage producers. For instance, Tetra Pak is collaborating with Rockwell Automation to introduce model predictive control to powder manufacturing machines. Because of changing customer behavior and market needs, particularly in the food and beverage area, machine makers are seeking to manufacturing technology partners to give more complex automation options. Tetra Pak, a manufacturer of packaging and processing equipment for liquid food items as well as ice cream, cheese, fruit, vegetables, and pet food, followed suit. The OEM has announced a strategic business relationship with Rockwell Automation, the first step of which would focus on Tetra Pak's Cheese and Powder Solutions division. The collaboration for the advancement in the process technology will create a pressure on the rest market players in the industry which will proliferate the growth of the APC market.
Scope of the Advanced Process Control Market
| | |
| --- | --- |
| Report Coverage | Details |
| Market Size in 2032 | US$ 4.44 Billion |
| Growth Rate From 2023 to 2032 | CAGR of 9.50% |
| Largest Market | Asia Pacific |
| Fastest Growing Market | North America |
| Base Year | 2022 |
| Forecast Period | 2023 to 2032 |
| Companies Mentioned | Schneider Electric, Siemens, Rudolph Technologies, Aspen Technology, Inc., Emerson Electric Co., and ABB |
COVID-19 Impact
The Covid-19 pandemic is having a significant impact on global energy systems, reducing investments and threatening to slow the spread of key clean energy technologies. Countries that are net oil exporters are suffering an unprecedented double blow: a global economic contraction caused by the COVID-19 pandemic and an oil market collapse, with the West Texas Intermediate, the benchmark price for US crude oil, briefly falling below zero for the first time in history (in April 2020).
The International Energy Agency estimates that oil and gas revenues for a number of key producers will fall by 50 to 85 percent in 2020, compared to 2019, based on an oil price of USD 30 per barrel, though the losses could be greater depending on future market developments (IEA, 2020). The pandemic has had a moderate impact on the APC market. For example, in August 2021, the Indian pharmaceutical market (IPM) increased by 17.7 percent year on year, up from 13.7 percent in July.Due to high growth of pharmaceutical sector after the covid the market will recover and grow at a significant rate in the forecast period.
Product Insights
Based on the product, the market is subdivided into hardware, services and software. Because of the large installed base of advanced process control systems in developed regions such as North America and Europe, the service type dominates the market. The service type is further classified into advanced regulatory control, multivariable model predictive control, inferential control, sequential control, and compressor control.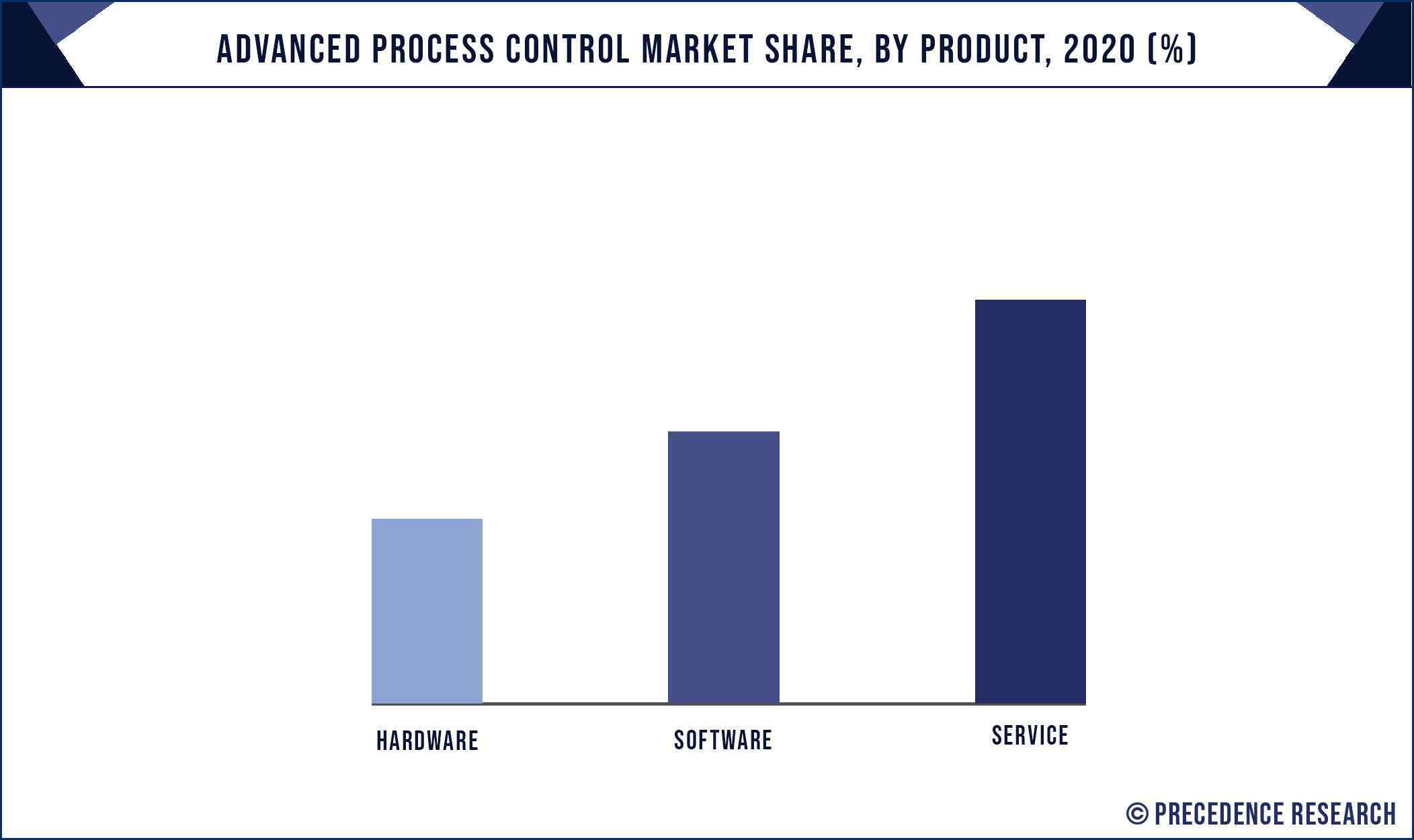 Model-predictive control is the most widely used automated multivariable control technology today (MPC). MPC distinguishes itself through the use of detailed process models, embedded optimizers, and a large-matrix approach to application design, in which dozens of variables and often hundreds of models emerge and evolve.
End Use Industries Insights
Based on the end use industries, the oil & gas took the largest share in the 2022. The term "advanced process control" (APC) refers to a wide range of sophisticated technologies and tools used to optimize oil and gas plant performance in a variety of applications. It is used to improve plant performance and stabilize operations by reducing fluctuations in key process variables.
Advanced process control (APC) projects in the chemical industry have been shown to increase capacity by 3% to 5%. APC debottlenecking the process, or a portion of it, by reducing variability and operating closer to limits. This allows for higher production rates. The total global revenue of the chemical industry in 2019 was approximately 3.94 trillion US dollars. In 2014, the chemical industry's global revenue reached a record high of 5.4 trillion US dollars. The chemical industry is critical to the global economy. Such high growth in the chemical industry will create a positive impact on the APC market.
Further, energy and power type are expected to grow at a high CAGR in the APC market. According to reports, energy savings from APC implementation range from 3% to 15%, depending on the process and current operations. Most of the time, utility management is a complex control issue that affects the entire site and, at times, the electric grid. These system applications can be designed to provide benefits by lowering utility costs by up to 60%. The system can also be used to optimize energy production, such as boiler loads, gas turbines, and so on.
Key Companies & Market Share Insights
The market is fiercely competitive, volatile, and fast paced. Companies must look harder and deeper into their equipment, production, and operations to ensure the production chain is optimised in order to maintain a strong market position. Advanced Process Control (APC) is the primary process control formula used by leading companies to achieve a higher level of process operational excellence.
Some of the prominent players in the advanced process control market include:
Schneider Electric
Siemens
Rudolph Technologies
Aspen Technology, Inc.
Emerson Electric Co.
ABB
Yokogawa Electric Corporation
Panasonic Corporation
Rockwell Automation, Inc.
Honeywell International Inc.
Control Soft
Segments Covered in the Report
By Product
Hardware

Control Systems
Interface and Display
Computing Systems
Others

Service

Advanced Regulatory Control
Multivariable Model Predictive Control
Inferential Control
Sequential Control
Compressor Control

Software
By End-User
Oil and Gas
Chemicals
Pharmaceuticals
Energy & Power
Mining, Minerals, and Metals
Food & Beverages
Others
By Geography
North America
Europe
Asia Pacific

China
India
Japan
South Korea

Rest of the World