The global aerosol market size was estimated at USD 73.9 billion in 2021 and is expected to hit around USD 147 billion by 2030, poised to grow at a compound annual growth rate (CAGR) of 7.94% from 2022 to 2030.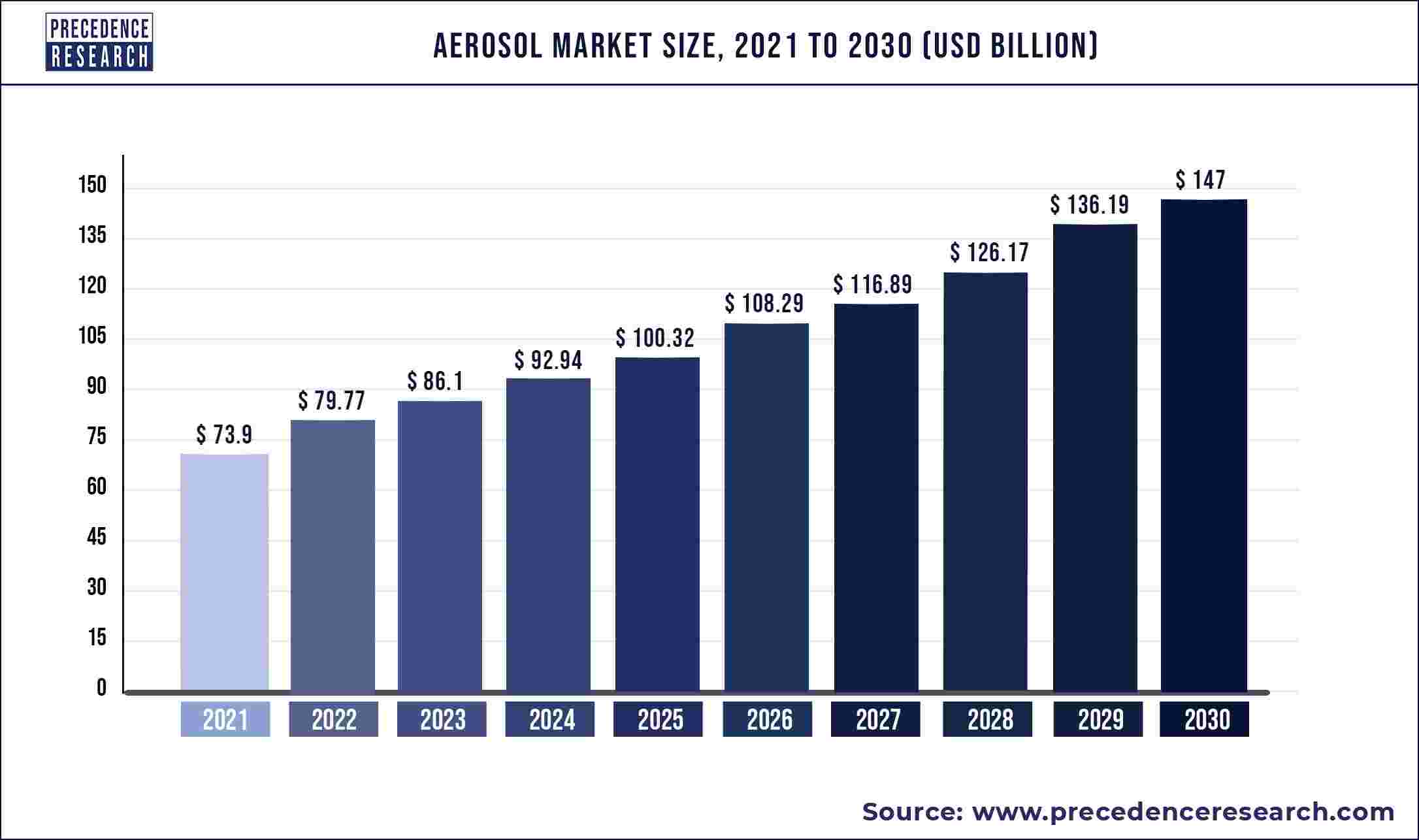 Access our Premium Real Time Data Intelligence Tool, Visit: Precedence Statistics
Key Takeaways:
By material, the aluminum material segment accounted highest revenue share of 62% in 2021

By type, the standard segment has surpassed revenue share of over 83% in 2021

By application, the personal care segment has contributed a market share of 42% in 2021

Europe region accounted highest revenue share of over 33.5% in 2021

The Asia Pacific is anticipated to grow at a CAGR of 8.2% from 2022 to 2030
A suspension of particles in the atmosphere called an aerosol. When pine trees release the oil alpha-pinene, which suspends as a haze, they may naturally form. Air pollution, haze, and smoke are examples of artificial aerosols. An aerosol is typically referred to as a spray that disperses a substance from a can. Aerosol sprays can be used to provide both pesticides and medications. The prediction for the aerosol market indicates growing demand for personal care products including body creams, deodorants, sunblock, and other cosmetics, which is beneficial for the aerosol sector. It is projected that the market will benefit from the presence of a strong manufacturing base of personal care firms including Estee Lauder, Johnson & Johnson, Procter & Gamble, and more.
The fast-rising population, rising disposable income, changing lifestyles, and expanding selection of personal care products are all contributing factors to the rising demand for personal care products, which is primarily seen in emerging nations. The market for aerosols has expanded as a result of rising usage and demand for household goods including sanitizers and disinfectants, room and car air fresheners, and more.
Growth Factors
The majority of consumers rely on packaging since it helps them make judgments about what to buy on a daily basis. The market in the area has grown as a result of rising disposable income and a growing awareness of personal appearance and hygiene. Thus, rising demand in the pharmaceutical and personal care packaging industries is propelling the aerosol market globally. The benefits of using aerosol containers are also rising the demand for aerosol in the market.
One of the most important benefits of an aerosol bottle is safety. These containers are hermetically sealed, which prevents their contents from leaking or spilling, making them leak-proof. If you live with a young child or a pet, this packing proves to be more practical. The product stays secure in the container since it is tamper evident. Aerosols are utilized in some common culinary and kitchen goods in addition to the home and cosmetic industries, such as whipped cream, icing, chocolate, and coffee powders. Many condiments, including salad dressing, ketchup, and mustard, as well as cooking oils like PAM, are available in aerosol cans.
Propellent Type Insights
Compared to other propellant sources, the liquefied gas propellant has a higher revenue share. The consumer packaged goods industry uses liquefied gas propellants widely for a variety of products, including body deodorant, hair mousse spray, moisturizer, insect killer spray, room fresheners, and many others. The three readily flammable naturally occurring hydrocarbons such as propane, butane, and n-butane, are combined to form autogas, also known as liquefied gas propellants. It is frequently utilized in the packaging of consumer goods because it also produces odorless, toxin-free gas.
The category for compressed gas propellants accounts for a stable portion of income. Expensive compressed gas propellants are sensitive to low pressure. Healthcare, inhalers, anaesthetic solutions, and disinfectants are just a few industries that use compressed gas propellants. In the aerosol tin, the area above the fluid is occupied by compressed gas fuels. While initially maintaining a constant amount of gas, the disadvantage of compressed gas propellants is that they gradually lose the majority of their pressure, enabling the gas to escape from the aerosol container.
Valve Type Insights
The mechanical actuator has the highest expected revenue growth rate among valve types over the forecasted period. Mechanical actuators for aerosol fluid product dispensers come in a pump type and are simple to operate. Different aerosol-pressurized metal, glass, and plastic containers use this kind of actuator. Mechanical actuators use a discharge cavity and a channel to connect their input and output. A number of axial fins, each of which may have a stop shoulder, are supported by a central post that is a component of the discharge chamber. For ease of usage, mechanical actuators offer visually pleasing designs.
Over the forecast period, the non-mechanical actuators segment is anticipated to experience consistent revenue growth. In comparison mechanical actuators with, non-mechanical actuators are more cost-effective and efficient. Aerosols for agriculture use non-mechanical actuators. Water and insecticide can be sprayed with an atomizing form through the nozzle of non-mechanical actuators. Numerous end users continue to adopt this conventional approach because it is more effective. Additionally, no pressure energy of any type is needed. The benefits of this type of valve are efficiency and low cost that propel the segment's sales growth.
End User Insights
On the basis of end use, the consumer packaged products segment is predicted to see the highest revenue growth rate based on end use. The swift adoption of aerosol compressed containers and packaging in beauty, health, and cosmetics products as well as domestic cleaning products is the primary factor driving the segment's revenue growth. Aerosol packaging's sealed solutions decrease the possibility of breakage, spills, and leakage. The aerosol's USP is its ability to provide consumers with convenience (USP). Additionally, aerosol compressed packing has a lot of cost-saving and environmentally friendly benefits, which are what are driving the segment's sales growth.
The pharmaceutical segment is also anticipated to experience consistent revenue growth. Pharmaceutical aerosols are stored in a container because they are tiny drug or medicine particles that are housed in a highly pressurized spray bottle and discharge a small mist when a button is depressed. For the treatment of obstructive airway illnesses such asthma, chronic obstructive pulmonary disease, and tuberculosis, aerosols are widely used in the pharmaceutical industry. For the treatment of asthma and airway illnesses, people employ nebulizers, dry powder inhalers, and metered dose inhalers (MDIs). Within an inhaler tube, pharmaceutical aerosols are squeezed under low pressure. Drugs are shielded from gastrointestinal tract breakdown by pharmaceutical aerosols.
Aerosol Market Share, By Region, 2021 (%)
| | |
| --- | --- |
| Regions | Revenue Share in 2021 (%) |
| North America | 31% |
| Asia Pacific | 24.5% |
| Europe | 33.5% |
| Latin America | 7% |
| MEA | 4% |

Regional Insights
Increase in the sales of household goods is likely to make Asia-Pacific the aerosol market's fastest-growing region. Driven by an increase in the demand for deodorants and hair care products. Due to changing lifestyles, a focus on gender-specific products, and increased consumer expenditure, the market for personal care products has seen a strong increase in emerging nations. Demand for pharmaceutical products from consumers is on the rise, which is boosting revenue in this sector. Due to rising incomes and shifting customer preferences, the market for consumer household items in Asia is changing, which raises the need for products created from aerosol cans. Asthma, chronic obstructive pulmonary disease, and other obstructive airway diseases are only a few of the obstructive airway diseases that are becoming increasingly common, which has a substantial impact on the rapid use of compressed aerosol propellants in this domain.
The European market is anticipated to have consistent revenue growth. This is anticipated to be fueled by the region's rapidly expanding use of aerosol spray propellant in the cosmetics, skincare, and fragrance industries. Liquid aerosol compressed body spray and lotion are used by renowned cosmetics brands including Avene, Caudalie Paris, and others. Rise in living standards of the people and preference for using more cosmetics and skin care products are driving the market. Skin care industries are rising due to rise in number of skin problems.
Key market developments
For a simple-to-use, non-flammable, and environmentally preferred aerosol treatment for areas impacted by coronaviruses and other infectious organisms, Honeywell International Inc. teamed up with Vesismin Health. A broad-spectrum disinfectant that successfully kills germs, fungus, and viruses is dispersed using Honeywell's non-flammable solstice propellant HFO-1234ze.
Report Scope of the Aerosol Market
Report Coverage
Details
Market Size in 2022
USD 79.77 Billion

Market Size by 2030

USD 147 Billion

Growth Rate from 2022 to 2030
CAGR of 7.94%
Base Year
2021
Forecast Period
2022 to 2030
By Propellent Type

Liquefied Gas Propellants
Compressed Gas Propellants

By Propulsion

By Valve Type

Mechanical Actuators
Non-mechanical Actuators
Others

By Material

Steel
Aluminum
Plastics
Others

By Type

By End Use

By Application

Personal Care
Household
Automotive & Industrial
Food
Paints
Medical
Others

Regions Covered

North America
Europe
Asia Pacific
Latin America
Middle East & Africa

Companies Mentioned

Caterpillar Inc.
Komatsu Ltd. (Japan)
Sandvik AB
Epiroc AB
Doosan Corporation
Deere & Company
Atlas Copco Ab (Epiroc Ab)
Hitachi, Ltd. (Hitachi Construction Machinery Co., Ltd.)
Liebherr-International Ag
Metso Corporation