The global agrochemicals market size was valued at USD 223.49 billion in 2022 and is expected to hit USD 280.87 billion by 2030, poised to grow at a CAGR of 2.7% during the forecast period 2022 to 2030.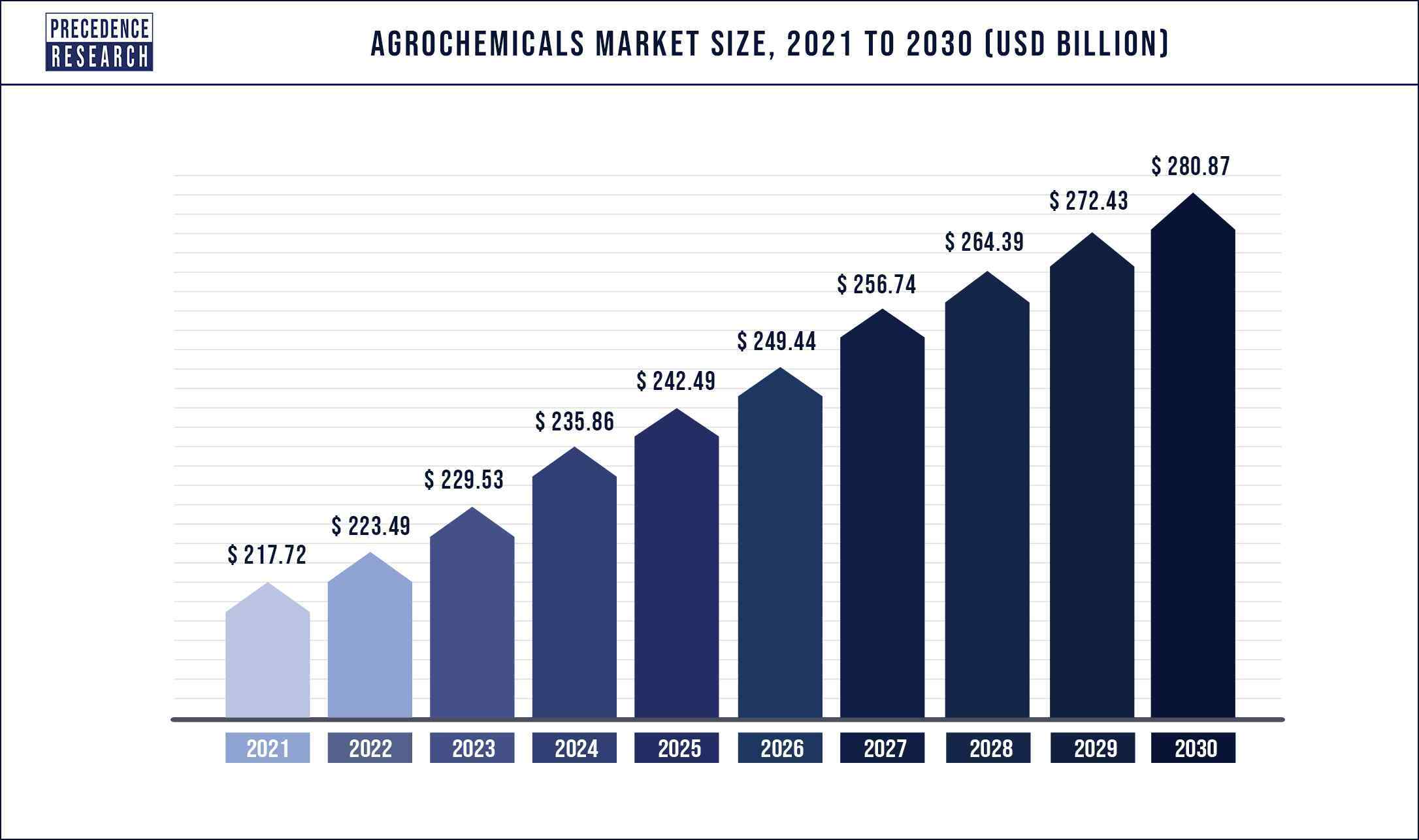 Access our Premium Real Time Data Intelligence Tool, Visit: Precedence Statistics
Key Takeaways:
Growth Factors
Agrochemicals are chemical or biological compositions that are created to increase the quality and productivity of crops. The insecticides and fertilizers are the two types of agrochemicals. The pesticides protect crops by controlling, killing, and repelling pests and weeds that can harm them. The fertilizers improve crop quality by providing essential nutrients to the crop and soil, on the other hand pesticides protect crops by controlling, killing, and repelling weeds and pests that can harm them. Due to the current global population situation, increasing agricultural output on existing agricultural land is critical to feeding the world's population. As a result, agrochemicals play a very vital role in the agricultural business, supporting farmers in improving both the quality and quantity of their crops.
Agrochemicals are highly used in agricultural activities. It helps to enhance productivity of agriculture business. That's the reason; agrochemicals have become one of the key components in agriculture. The constant research and development activities are being carried out for producing high quality of agrochemicals in the market. The consumption of food is highly dependable on agriculture. As a result, government agencies pay more attention towards agriculture business. Thus, all these above-mentioned factors are driving the growth of the global agrochemicals market during the forecast period.
The expanding global population combined with rising propensity, is causing a shift in purchasing habits. Not only must supply be increased to satisfy demand, but also the nutritional demands of an increasingly affluent population must be satisfied. The wastage results from diminishing agricultural land and crop losses owing to pest infestations, posing a serious threat to food and nutritional security. The agrochemicals sector is a vital agriculture support sector that helps farmers produces more quantity. These elements are assisting the agrochemicals market's expansion.
Report Scope of the Agrochemicals Market
| | |
| --- | --- |
| Report Coverage | Details |
| Market Size by 2030 | USD 280.87 Billion |
| Growth Rate from 2022 to 2030 | CAGR of 2.7% |
| Largest Market | Asia Pacific |
| Fastest Growing Market | North America |
| Base Year | 2021 |
| Forecast Period | 2022 to 2030 |
| Segments Covered | Product, Application, Geography |
| Companies Mentioned | BASF SE, Adama Agricultural Solutions Ltd., Arysta Lifesciences Corporation, America Vanguard Corporation, Jiangsu Yangnong Chemical Group Co. Ltd, The Dow Chemical, Sumitomo Chemical Co. Ltd, Bayer Cropscience AG, Nufarm Limited |
The high population and associated growth in food consumption, soil pollution, arable land, and increased consumer knowledge of the advantages of the agrochemicals industry. On the other hand, the potential danger of synthetic pesticides like atrazine herbicide could stymie the industry growth. When agrochemicals are used in larger concentrations, they pollute surface water and have a negative impact on the ecosystem. As a result, the manufacturing of bio-based fertilizers and pesticides has opened up a lot of new market prospects for key market players for agrochemicals.
The food consumption has increased globally as a result of high population growth, driving up demand for agricultural products. This has resulted in a rise in the usage of agricultural chemicals to improve crop productivity and agricultural development. As a result, the usage of agrochemicals such as pesticides and fertilizers has become a need in order to fulfill rising food demand. This, in turn, is increasing global demand for new agricultural technologies and developments. The agrochemicals are essential for improving crop quality and output.
The growing population necessitated increased crop output. Apart from that, water and land scarcity forces people to employ fertilizers and pesticides to assist them grow many crops in specific spaces, which drives the agrochemicals market growth during the forecast period. The increasing use of agrochemicals in developing countries boosts the expansion of the agrochemicals market. The agriculture's new technologies may boost growth of the market. Farmers must employ such agrochemicals like pesticides and fertilizers in farming to boost land production and maintain soil quality as a result of the rising effect of urbanization.
Increasing environmental risks from pesticides and fertilizers could limit the agrochemicals market's growth. The chemical fertilizer utilization is being hampered by rising demand for organic food products and increased use of biofertilizers, which is restraining market development.
Products Insights
In 2022, the fertilizers segment dominated the agrochemicals market with highest revenue share. Fertilizers are commonly utilized to boost crop output in a short amount of time. The growing global food demand around the world is putting additional strain on agricultural land, hence farmers are using more fertilizers to boost the productivity and yield of various crops.
The crop protection chemicals segment, on the other hand, is predicted to develop at the quickest rate in the future years. The fungicides, insecticides, herbicides, and other pesticides such as rodenticides and bactericides are examples of crop protection chemicals. In the agriculture industry, herbicides are widely used as pesticides.
Application Insights
The cereals and grains segment accounted largest revenue share in 2022. Cereals and grains are the most widely consumed crops, especially in Asian countries. Furthermore, this segment covers a large portion of the world's agricultural land. The use of fertilizers in the production of cereals and grains has almost become mandatory.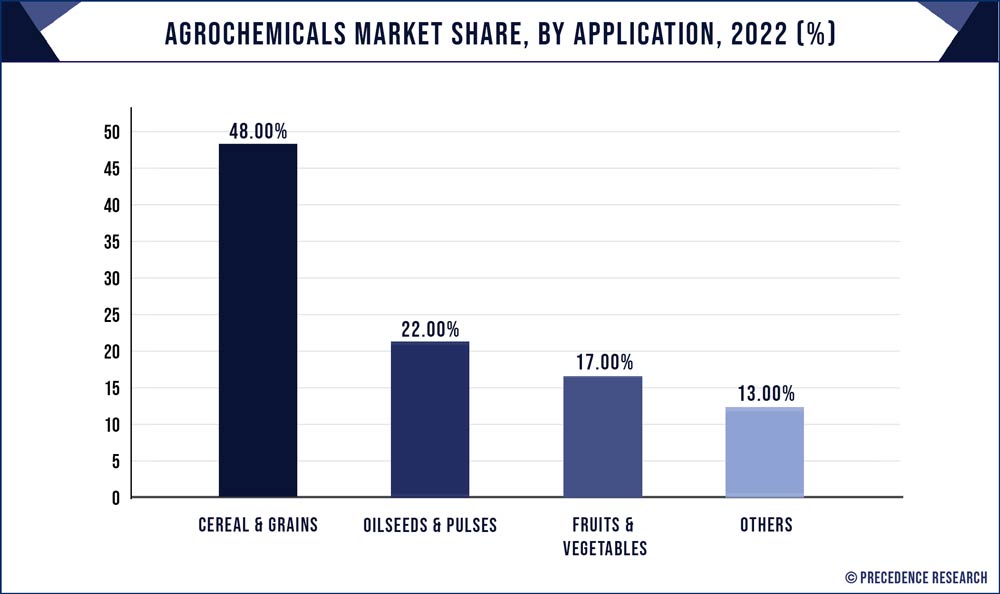 The fruits and vegetables segment is the fastest growing segment of the agrochemicals market in 2022. This is attributed to the surge in demand for fresh vegetables and fruits around the world as people become more health conscious.
Region Insights
North America will hit notable revenue share in 2022. The region's overall agricultural land is declining as a result of rising population and fast urbanization and industrialization. As a result, farmers turn to agrochemicals to boost productivity and quality.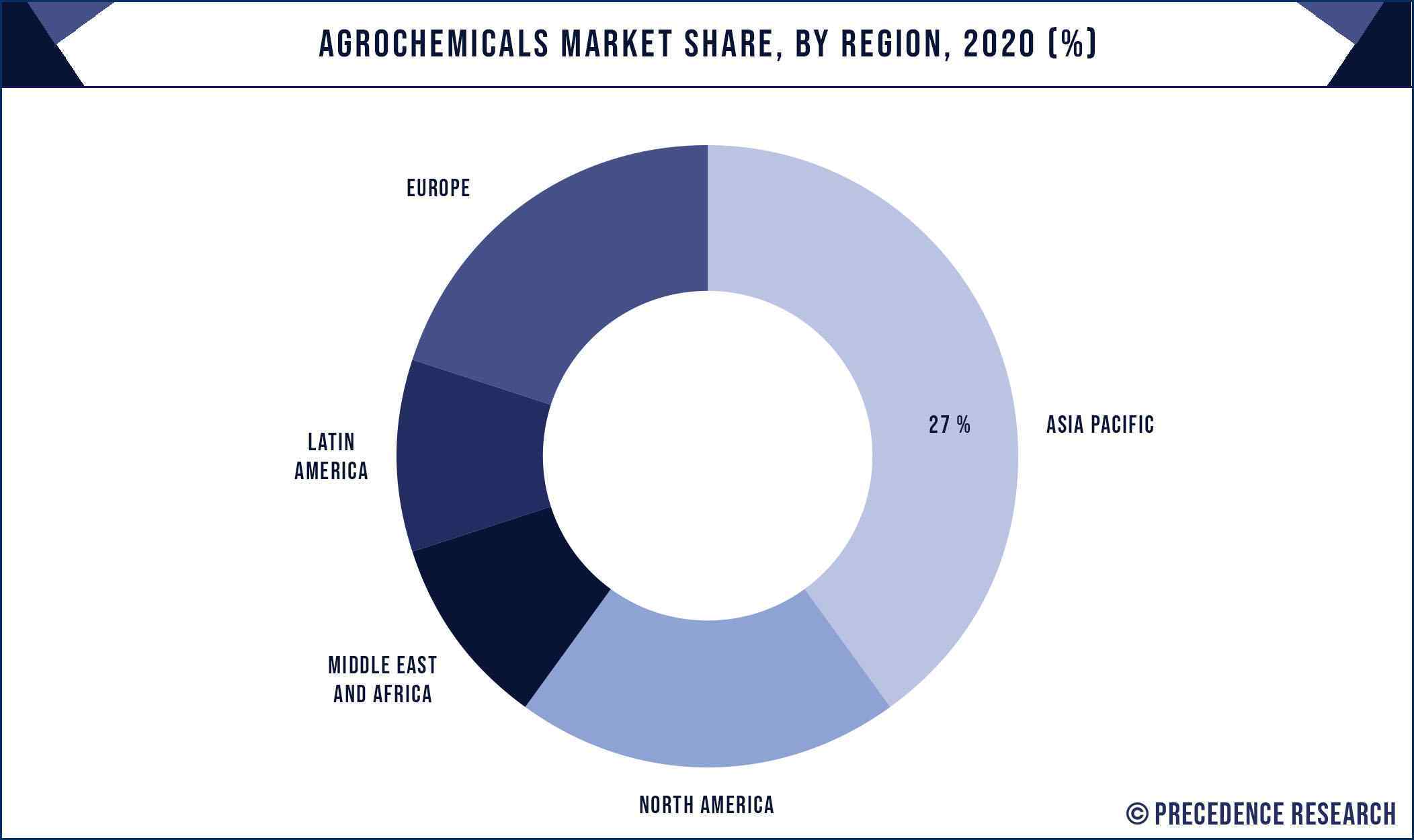 Asia-Pacific region hit the largest revenue share of around 29% in 2022. The Asia-Pacific region is an important market for agrochemicals because it is the world's largest and populous area.
Key Developments
Solvay and Anthea, a renowned specialty chemical manufacturer in India, formed a joint venture called 'CAT`Asynth Specialty Chemicals' in December 2019.
Corteva Agriscience launched the Cerefit fungicide with a dual mode of action that targets leaf diseases, giving growers a higher output potential.
Iblo technology, the latest fungicide innovation from Bayer Cropscience AG, was announced in September 2019. This method is based on the active component Isoflucypram, which belongs to a new subclass of succinate dehydrogenase inhibitors (SDHIs) that are highly valued.
BASF SE increased its global pesticide offering in June 2018. Inscalis insecticide acquired registration in a number of key markets throughout the world.
BASF SE declared in November 2016 that it would start a new fungicide production line at its Spain facility.
In June 2018, Bayer AG completed the acquisition of Monsanto, a biotech crop protection and innovation chemical product manufacturer based in the U.S.
Syngenta Group purchased one of the leading biological companies Valagro by their business unit Syngenta crop protection in October 2020.
Sumitomo Chemical, a well-known chemical firm, announced the purchase of subsidiaries in April 2020.
The major agrochemicals market players conduct substantial research and development to develop agrochemicals with greater requirements. These compounds are subjected to lot of restrictions, including chemical registration, codes of practice, product laboratory evaluations, environmental health impact assessments, and limitations on storage, use, and transportation.
Some of the prominent players in the global agrochemicals market include:
BASF SE
Adama Agricultural Solutions Ltd.
Arysta Lifesciences Corporation
America Vanguard Corporation
Jiangsu Yangnong Chemical Group Co. Ltd
The Dow Chemical
Sumitomo Chemical Co. Ltd
Bayer Cropscience AG
Nufarm Limited
Segments Covered in the Report
By Product
Fertilizers

Nitrogenous
Phosphatic
Potassic
Secondary Fertilizers (Calcium, Magnesium, and Sulfur Fertilizers)
Others

Crop Protection Chemicals

Herbicides
Insecticides
Fungicides
Others

Plant Growth Regulators
Others
By Application
Cereals & Grains
Oilseeds & Pulses
Fruits & Vegetables
Others
By Geography
North America
Europe
Asia-Pacific

China
India
Japan
South Korea
Malaysia
Philippines

Latin America

Brazil
Rest of Latin America

Middle East & Africa (MEA)

GCC
North Africa
South Africa
Rest of the Middle East & Africa