The global air freshener market size was estimated at US$ 13.27 billion in 2022 and is projected to hit around US$ 32.44 billion by 2032, growing at a CAGR of 9.40% from 2023 to 2032.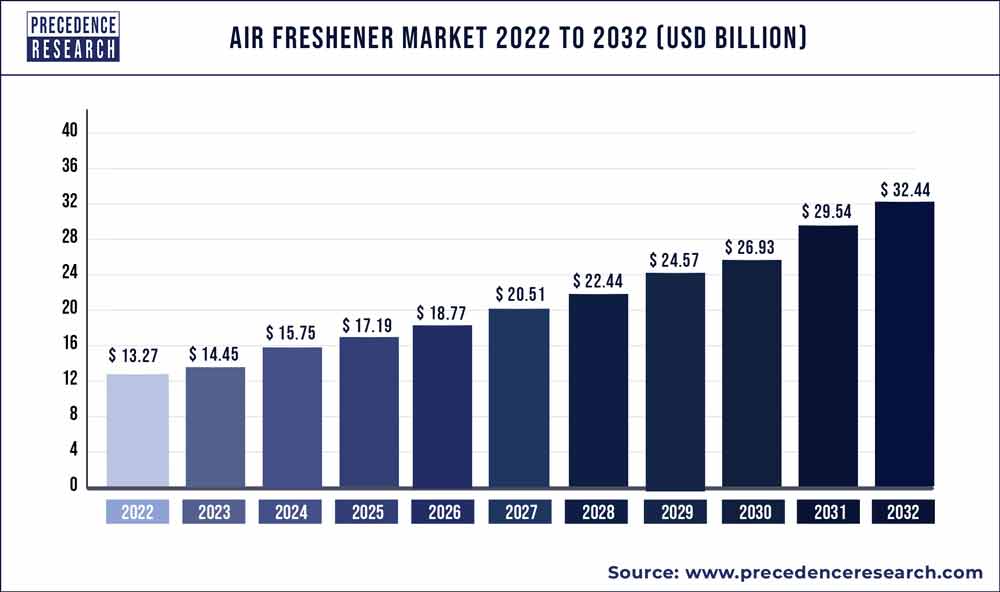 Access our Premium Real Time Data Intelligence Tool, Visit: Precedence Statistics

Air Freshener Market in Eroupe 2023 To 2032
The eroupe air freshener market size was valued at US$ 3.79 billion in 2022 and is expected to reach around US$ 9.18 billion by 2032, at a CAGR of 9.30% bewteen 2023 to 2032.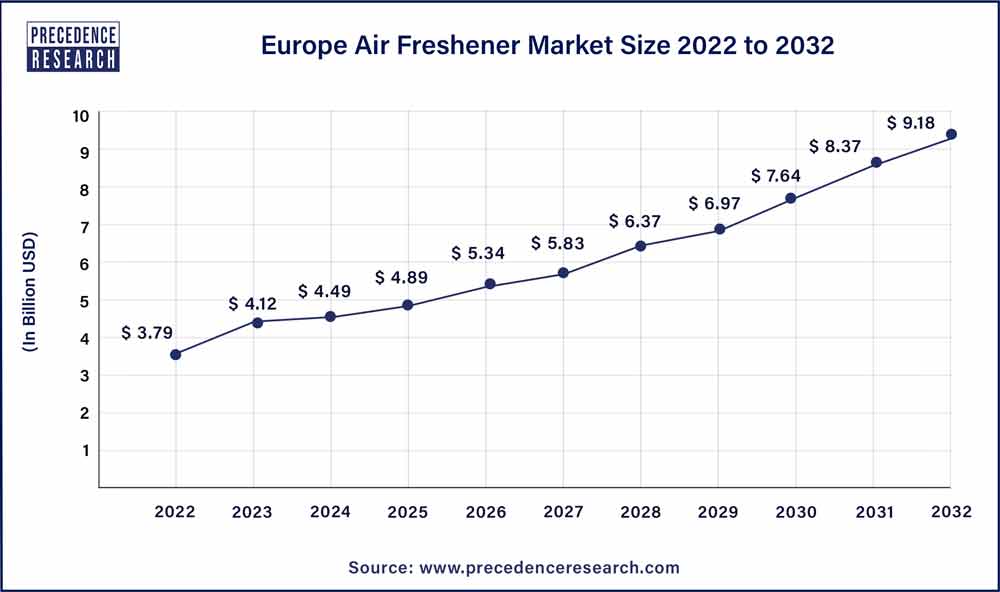 The market is growing in Asia Pacific and Latin America. Europe was the largest market for air fresheners due to a good standard of living and disposable income.
Asia Pacific is expected to witness strong growth 8.5% owing to an improved standard of living and growing population there are lifestyle changes and the purchasing power has increased purchasing power of India, Malaysia and China is rapidly increasing which will affect the market size.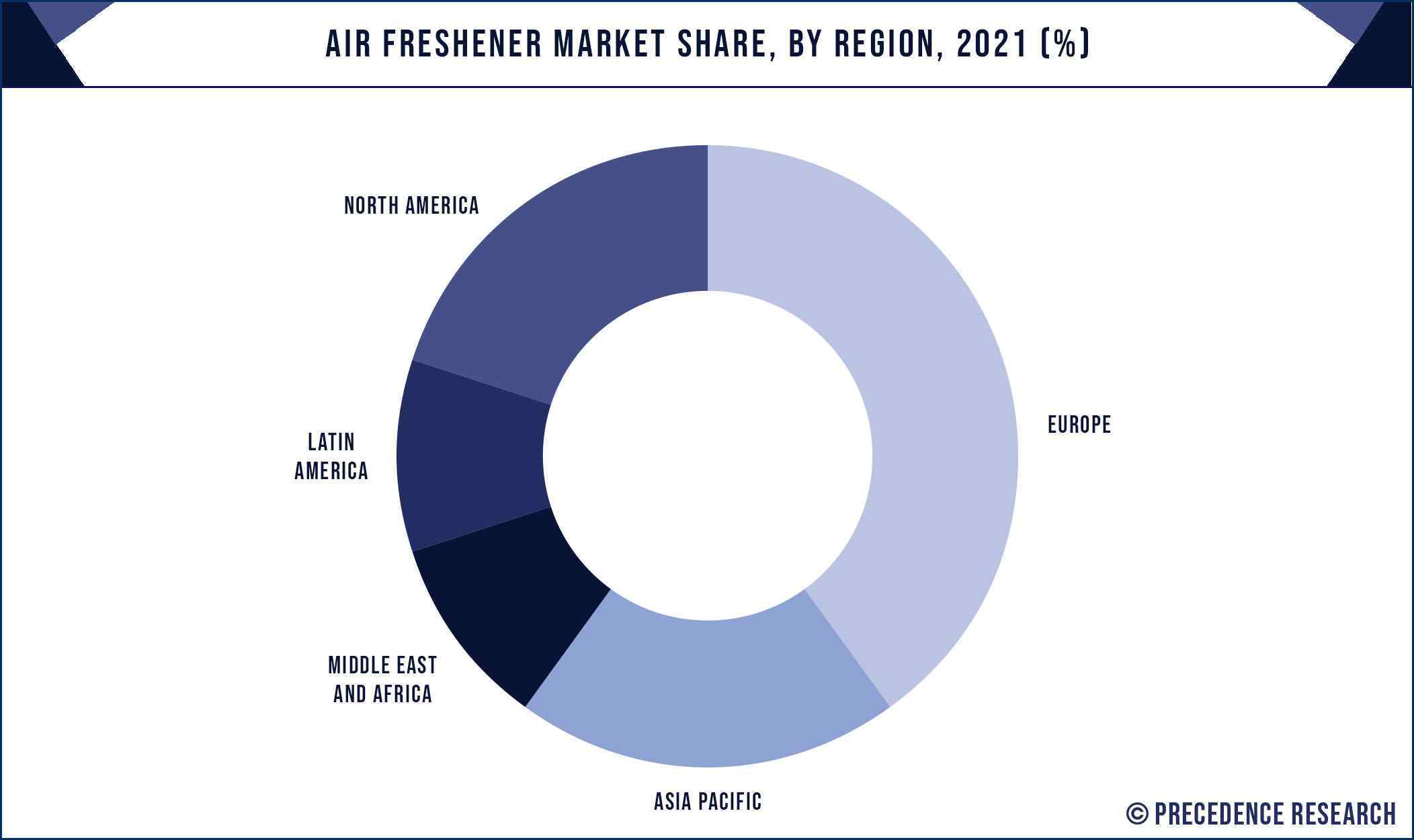 Market Overview:
The global air freshener market is witnessing growth as people have a liking towards good atmosphere, in their households, at the workplace in the car or any other vehicle that they travel in. There has been a significant growth owing to awareness amongst the consumersfor fresh air, good fragrances that come with the use of aerosol sprays, pump, various Scented candles etc. Increased awareness of this luxury product and good amount of disposable income will lead to a growth in the market in the coming years.
Europe and USA being the largest market developments and innovation In the industry will lead to an increased usage. Constant air pollution and growing population has led to a decline in fresh air which has helped in the growth of this market. The research and development in this sector is leading to an increased usage of natural products for the manufacturing process. This ensures curbing out any health hazards of such aerosol sprays. Healthcare centres use air fresheners extensively to prevent bad odour due to bacteria and fungus consumers are demanding automatic products with compact and portable designs. Rapid urbanization is of the factors for the growth of this market. High cost related to the manufacturing of these air fresheners poses a threat to the market size and cannot penetrate the niche market.
Report Scope of the Air Freshener Market
| | |
| --- | --- |
| Report Coverage | Details |
| Market Size by 2032 | USD 32.44 Billion |
| Growth Rate from 2023 to 2032 | CAGR of 9.40% |
| Largest Market | Europe |
| Fastest Growing Market | Asia Pacific |
| Base Year | 2022 |
| Forecast Period | 2023 to 2032 |
| Segments Covered | Product Type, Application, Distribution Channels, Types of Customers, Diffuser Type, Geography |
| Companies Mentioned | Reckitt Benckiser Inc, Johnson & Son Inc, Procter and Gamble Co, Jarden corporation, Church and Dwight. |
Product Insight
Aerosol Sprays
These sprays emit fragrance in the atmosphere and replace the bad odour in the room. Aerosolsprays have been used since many years but recently the usage has increased tremendously. They have toxic chemicals which can be carcinogenic andcause various other health Ailments. They pose a threat to adults, children and even pets. The ever increasing carbon footprint due to the usage of aerosol sprays cannot be eliminated and companies are making efforts to produce natural air fresheners This product is widely used as compared to all other variants. Deodorizing blocks are made for washrooms and urinals
Electric Air Fresheners
There is a growth in this domain owing to a number of players providing with long lasting fragrances. With the usage of these plug-in devices the various fragrances that are infused in the oils meet the needs of the customers. To beat the competition, there has been research and development in order to find out more fragrances. Also, the option for refills makes this option better as compared to others. To meet the demands of the customers from various strata designs and fragrances are constantly altered. They come handy for usage in cars and other vehicles. Manufacturers are continuously working on eliminating any human intervention in the functioning of the dispensers of the air fresheners as they become user friendly and provides ease of work. The Glade automatic spray provides and additional button to increase the spray at intervals.
Gel Air Fresheners
These air fresheners are last longer than the room sprays or diffuser. The process involves slow evaporation into the atmosphere which is long lasting. Small amounts of this gel are hardly dangerous. But repeated exposure may be harmful. This is a green and healthy option. The usage of lavender oil and gelatin in the production of gel air fresheners is a boon as the products are natural.
Candle Air Fresheners
Candle air fresheners are environment friendly but they are not long lasting, they provide a temporary solution. They are widely used in Europe and Asia Pacific. After the awareness of the harmful aerosols and increased awareness of aromatherapy ,candle air fresheners markets is on rise. Scented candles help in rejuvenating the atmosphere, but they may release volatile organic matter in the air which is sometimes harmful.
Application Insights
The residential areas use air fresheners extensively for aromatherapy and to improve the indoor air quality. The household segment dominates the worldwide market and is expected to grow in the coming years. People have an affinity towards premium products and hence there has been a rise in the individual needs for the air freshener. Consumers reduced time at home and less time for maintenance at home has also resulted in the growth of this segment.
Commercial institutes and corporates use electric air fresheners that maintained the atmosphere. The plug-in diffusers that are used in such places give a long lasting effect. These devices can be placed anywhere in the building including restrooms, reception areas of the hotel, school classrooms and anywhere else where the good fragrance is desired. When a good air freshener is installed the provider takes care of refilling the outlets. To maintain good environmental hygiene
Increased sales of automobiles and a liking for a luxurious lifestyle have increased as sales of air fresheners and the usage. When travelling there is a sudden change in mood due to pleasant aromas and provides peace of mind.
Distribution Channels Insights
The market is classified into hypermarkets, retail stores and pharmacies and other distribution channels. CGS Stored LTD is a company that has an online store which provides dispensers from Europe, US and Asia. Online distribution channel is expected to grow rapidly. Supermarkets have the highest share of this market as they provide hands on the device and help from the associate to select the right product with its functionality. The traditional way of buying these goods is the favourite mode of purchase.
Key market developments
Wide variety of air fresheners, including the candles, gel sprays, plugins and aerosol are expected to support the market growth worldwide. Increasing demand for air care and concerns about the air qualityin the household, commercial institutes or any other organisations is increasing the sales of the product. Booming automobile industry and increasing pet owners has also lead to any increase in the market. Air fresheners also help in killing the pathogens that are present in the air. The Asia Pacific market is expected to grow in the coming years with and increased purchasing power in the years to come. An automatic dispenser AirQ by sensaroma has replaced the regular air freshener it substitutes the odour without harmful emissions. Vibe Aircare Dispenser and Ecoshell Air freshener cover an area of upto 500 cubic meters and 30 cubic meters respectively.
Impact of COVID-19
The pandemic affected all the industries and same is the case with the air fresheners, the growth of the market did not go as forecasted. Worldwide lockdown resulted in hampering the supply chain and logistics.
Key Players and Manufacturers
Key market players in the oleochemicals market are Reckitt Benckiser Inc, Johnson & Son Inc, Procter and Gamble Co, Jarden corporation, Church and Dwight. These companies have adopted the strategies of innovation, extended distribution channels and mergers or acquisitions.
Segments covered in the report
(Note*: We offer report based on sub segments as well. Kindly, let us know if you are interested)
By Product Type
Aerosol air Fresheners
Electric air fresheners
Gel air fresheners
Candle air fresheners
Others
By Application
Households or residential areas
Commercial or corporate sectors
Hospitals or healthcare units
Automobiles
By Distribution Channels
Hypermarkets or supermarkets
Retail stores or general stores
Pharmacies
Online markets
Others
By Types of Customers
By Diffuser Type
By Geography
North America
Europe
Asia-Pacific

China
India
Japan
South Korea
Malaysia
Philippines

Latin America

Brazil
Rest of Latin America

Middle East & Africa (MEA)

GCC
North Africa
South Africa
Rest of the Middle East & Africa