The global artificial intelligence (AI) in oncology market size was reached at USD 891.44 million in 2022 and it is expected to hit around USD 10,680.29 million by 2032 with a noteworthy CAGR of 28.18% from 2023 to 2032.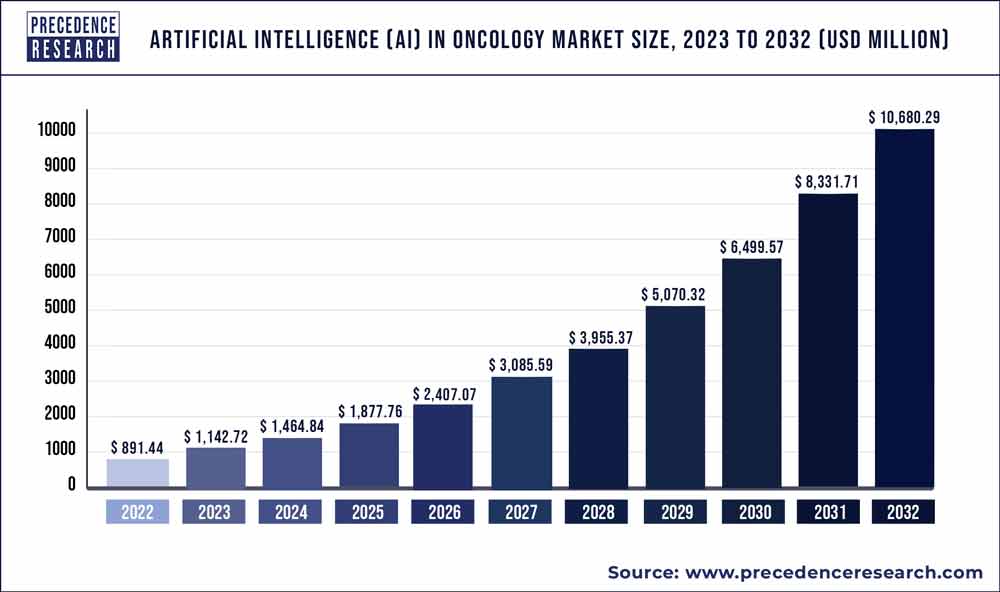 Key Takeaways:
North America generated more than 55% of the revenue share in 2022.
Asia Pacific is growing at a profitable CAGR of 30.7% from 2023 to 2032.
The software solution component segment captured more than 44% of revenue share in 2022.
The service segment is predicted to grow the fastest CAGR between 2023 and 2032.
The breast cancer type segment is predicted to grow at the highest CAGR between 2023 to 2032.
The brain tumor segment is projected to grow at a highly profitable rate between 2023 to 2032.
The chemotherapy treatment type segment generated around 36.2% in 2022.
The immunotherapy treatment type segment is progressing at a CAGR of 39% from 2023 to 2032.
The hospital end-users segment captured more than 55% revenue share in 2022.
The diagnostic centers' users segment is projected to grow at the fastest CAGR between 2023 to 2032.
Market Overview:
A growing number of nations, including Finland, the United Kingdom, Germany, Israel, the United States, and China are investing in AI-based research, which is expected to play a major role in the expansion of this technology's adoption. Increased investment available in such countries is expected to accelerate market expansion even further.
For example, in 2020, investment for the 50 largest firms involved in healthcare AI research will have surpassed USD 8.5 billion. The rising percentage of tumor patients worldwide is expected to significantly contribute to market growth, and the increasing number of cases is expected to put pressure on the healthcare sector.
Furthermore, there is a severe lack of healthcare personnel, such as doctors and nurses, in hospital facilities, which is expected to boost the need for technology. The World Health Organization estimates healthcare facilities will face a 15 million medical professional shortage by 2030. With a scarcity of these experts, AI is expected to play an important part in patient treatment.
AI has a variety of applications in oncology. CanAssist Breast (CAB) assists in personalizing treatment for women diagnosed with breast cancer. CAB employs AI to predict the likelihood of cancer recurrence for each patient, on which the clinician bases treatment planning. OncoStem Diagnostics is also developing prognostic tests for other types of cancers, such as triple-negative breast cancer and ovarian cancer, by analyzing the patterns of over and under-expression of specific genes involved in tumor progression.
Report Scope of the Artificial Intelligence (AI) in Oncology Market
| | |
| --- | --- |
| Report Coverage | Details |
| Market Size in 2023 | USD 1,142.72 Million |
| Market Size by 2032 | USD 10,680.29 Million |
| Growth Rate from 2023 to 2032 | CAGR of 28.18% |
| Largest Market | North America |
| Base Year | 2022 |
| Forecast Period | 2023 to 2032 |
| Segments Covered | By Component, By Cancer Type, By Treatment Type and By End-Users |
| Regions Covered | North America, Europe, Asia-Pacific, Latin America and Middle East & Africa |

Market Dynamics:
Drivers
Growing technological developments in the healthcare industry
The advancement of technology and the use of AI in cancer diagnostics drive the expansion of the healthcare industry. The artificial tools require low-cost diagnostic processes and quick detection data reporting.
The demand for technological advancements in the healthcare field for cancer detection and screening is also expected to boost industry growth. Furthermore, government spending on healthcare technology drives the expansion of the healthcare fields in emerging nations.
There is a growing number of cancer cases and rising demand for early cancer detection.
The increasing awareness of the importance of early cancer detection drives the advancement of Artificial intelligence and machine learning in cancer diagnostics. The increase in the number of government programs encourages healthcare organizations and providers to integrate AI tools in their hospitals for the betterment and advancement of patient therapy.
Furthermore, the adoption of technologies enables private and nonprofit organizations to provide improved medical outcomes and lower treatment costs, thereby increasing early detection among people.
Restraints
Lack of awareness of ai applications in healthcare
The most significant hurdle to deep learning techniques is the management of massive datasets and databases, as well as the training and knowledge of AI systems as well as machine learning. However, the use of AI may result in data infringements because it may provide critical individual data like genomic sequences.
Among the various issues impeding growth are a lack of transparency, the risk of bias in AI algorithms, data used for training purposes, as well as problems encountered while AI integration authority in clinical settings.
Opportunities
Artificial intelligence is used in precision therapy and drug development for cancer
A variety of anticancer drugs are discovered, and their mechanism of action is predicted by using artificial intelligence. Various medicines and cancers are able to react differently; this information from screening processes reveals the links between therapeutic activities and the cancer genome. AI is also used to fight against resistance to anticancer drugs. Cancer treatment, imaging, screening, and medication are various domains in which AI is used. Among these, cancer imaging is the most innovative.
Challenges
The absence of structured, cancer-related health information, as well as the lack of standardization in how unstructured information is gathered and stored within an EHR or unified database of a single healthcare system, is a significant challenge in the growth of AI models.
Impact of COVID-19:
The coronavirus benefited AI in cancer diagnoses. AI and machine learning applications aided in reducing the workload of health care and medical facilities. With the expansion of the industry, numerous international IT powerhouses have stepped forward to generate AI software and tools to identify the coronavirus, which will later aid in the expansion of cancer diagnosis centers. Due to the increasing coronavirus cases, there is a lack of healthcare professionals, which motivates the implementation of AI tools for better patient assistance as well as results.
Since diagnosis, post-operative care, as well as other procedures were time-consuming, they were challenging to maintain mostly during the pandemic. The above-mentioned factor boosted AI in the oncology industry.
Segments Insight
Component Insights
In 2022, the software solution sector had the highest revenue share of around 44%. The rising number of market players who offer software to handle and interpret data and concentrate on oncology patients who require follow-up care and treatment are related to the segment's growth. The software aids in increasing efficiency, improving workflow, and saving time.
The existence of different applications, including diagnostic imaging, interventional radiology, and radiation oncology is expected to drive growth in this segment.
The service sector is also expected to grow the fastest CAGR during the projected period due to the emergence of innovative startups and entrepreneurship that provide advanced cancer treatment and prediction solutions. Concr, for example, provides a software service that employs an ML method based on a deep knowledge of scientific prediction to estimate cancer progression, which aids in accurately predicting cancer progression as a response to therapy.
Cancer Type Insights
The breast cancer sector is anticipated to grow at the highest CAGR between 2023 to 2032. Breast cancer is a common form of cancer and accounts for the majority of the market. Sedentary lifestyle adoption, environmental factors, and excessive intake of alcohol and tobacco have all contributed to an increase in cancer cases worldwide.
According to WHO statistics, approximately 2.3 million people worldwide will be screened for breast cancer in 2020. Furthermore, increasing awareness about different types of cancer and the accessibility of treatment fuels the segment's growth.
During the forecast period, the brain tumor sector is expected to grow at a hugely profitable rate. The increasing incidence of brain tumors among the world population is predicted to be an essential factor contributing to the segment's growth. As reported by the America Cancer Journal, more than 83,000 people in the United States were diagnosed with brain tumors in 2021. Furthermore, using AI in brain tumor diagnosis helps shorten diagnosis time because digital images are produced in minutes. AI models can also help with a cancer diagnosis with greater accuracy.
Treatment Insights
Chemotherapy had the largest share of the treatment segment in 2022, accounting for 36.2%. Chemotherapy is commonly used for cancer treatment procedures, with the American Cancer Society estimating that 60% of patients with Stage 4 prostate cancer receive chemotherapy. AI in chemotherapy assists clinicians in developing an individual digital profile that is utilized to customize the dose for patients during treatment.
For example, the National University of Singapore as well as the National University Cancer Institute, Singapore (NCIS), achieved positive outcomes using CURATE.AI, an AI platform that allows clinicians to create personalized and optimal doses for chemotherapy patients.
During the forecast period, the Immunotherapy sector is expected to grow at the fastest rate of 39%. The growing percentage of FDA approvals as well as extensive clinical studies demonstrating the effectiveness of immunotherapy are attributed to the segment's growth.
Furthermore, the use of AI enhances the precision of the therapy. According to a ScienceDirect article, AI can help identify major complex histocompatibility patterns linked with immunotherapy response by 91.66%. This is predicted to have a beneficial impact on segment adoption.
End-User Insights
In 2022, the hospital segment had a more than 55.0% market share. The growing adoption of AI solutions in clinics to address the scarcity of healthcare staff, as well as faster cancer diagnosis, are some of the key factors driving the market growth. For example, Addenbrooke's Hospital in Cambridge, U.K., was the first to use InnerEye, a deep learning tool developed by Microsoft Research Cambridge. The tool aids in accurately identifying tumors and reduces CT processing time and treatment planning by up to 90%.
Furthermore, diagnostic centers are anticipated to expand at the fastest CAGR between 2023 to 2032 due to government funding and rising initiatives in the healthcare field. The growth is also due to the assessment of trained staff, technologically advanced equipment, and medical professionals.
Regional Insights
North America led the market with a more than 55.0% market share in 2022. Some of the key factors that contributed to market growth were the rising incidence of cancer as well as the availability of cutting-edge healthcare facilities. Furthermore, rising healthcare spending by regional governments is expected to drive market growth. For example, healthcare spending in the United States enhanced by 9.7% to USD 4.1 trillion in 2020. The existence of key companies in the region, such as Pfizer and Roche, is expected to expand the market in the region even further.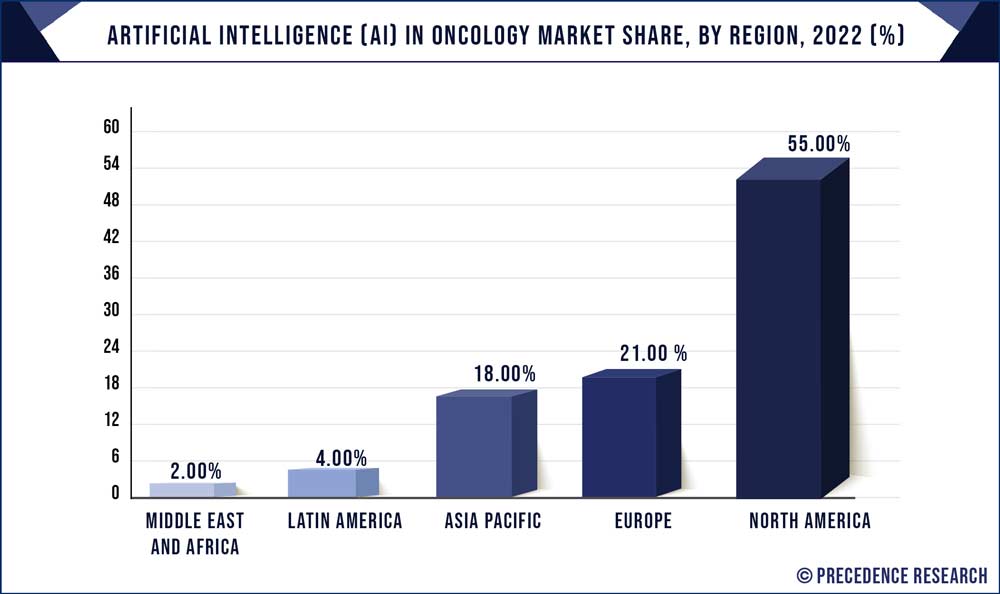 Asia Pacific is expected to grow at a profitable CAGR of 30.7% during the projected period because of factors such as increased initiatives undertaken by governments across the region to adopt AI services in order to enhance patient health outcomes. For example, the Australian government announced a USD 19 million package in June 2020 to support the development of AI technologies for a variety of conditions, including cancer and mental health.
Furthermore, the increased number of cancer patients in the nation is anticipated to contribute to market growth. As per data released by the Ministry of Health and Family Welfare, approximately 800,000 cases of cancer are detected in India each year.
Recent Developments:
Whiterabbit.ai and Arterys agreed in August 2022 to develop AI-powered technology to identify cancer in its early stages.
Roche announced a collaboration with EarlySign in July 2022 to develop and commercialize their LungFlag technology.
Kheiron Medical Technologies formed a collaboration with Atlas Medical in 2021. The partnership aims to launch Mia, a breast cancer screening solution that more precisely assists radiologists in cancer detection.
Paige partnered with Quest Diagnostics in May 2021. The company hoped to deliver faster, more precise, and more brief clinical insights by developing new software.
Paige joined forces with Epredia in March 2021. Through this collaboration, the company aimed to help pathologists enable insights from each test and offer results to patients.
PathAI acquired Poplar in July 2021. The firm would be able to incorporate testing services into its emerging AI-powered pathology platform as a result of this acquisition.
Key Market Players
IBM
Azra AI
Siemens Healthineers
GE Healthcare
Intel
Path AI
NVIDIA
Concert.AI
Digital Diagnostics Inc.
Median Technologies
Segments Covered in the Report
(Note*: We offer report based on sub segments as well. Kindly, let us know if you are interested)
By Component
Software Solutions
Hardware
Services
By Cancer Type
Breast Cancer
Lung Cancer
Prostate Cancer
Colorectal Cancer
Brain Tumor
Others
By Treatment Type
Chemotherapy
Radiotherapy
Immunotherapy
Others
By End-Users
Hospitals
Diagnostic Centers
Pharmaceutical Companies
Research Institutes
Others
By Geography
North America
Europe
Asia-Pacific
Latin America
The Middle East and Africa