The global body armor market size is projected to hit around USD 5.2 billion by 2032 from USD 2.95 billion in 2022 and is poised to grow at a CAGR of 5.84% during the forecast period 2023 to 2032.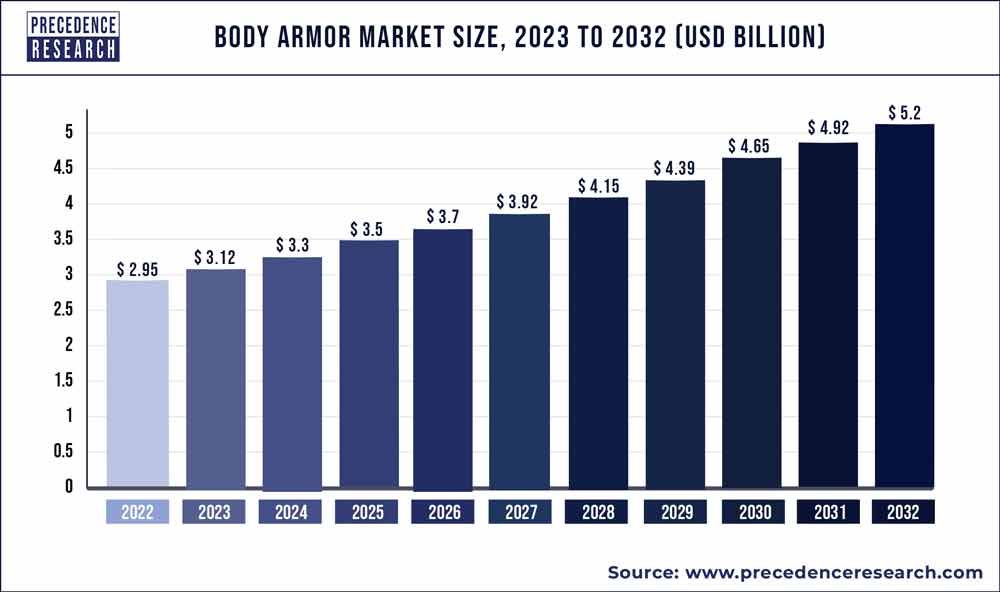 Access our Premium Real Time Data Intelligence Tool, Visit: Precedence Statistics
Key Takeaways:
Asia-Pacific led the market and captured more than 44% revenue share in 2022.
Europe is expected to grow at a CAGR of 6.94% from 2023 to 2032.
By protection level, the level III segment generated for more than 26% of revenue share in 2022.
By protection level, the level II segment is predicted to grow at a 7.4% CAGR from 2023 to 2032.
By end-user, the defense segment dominated the market and generated a maximum revenue share of around 59% in 2022.
By end-user, the law enforcement section is estimated to record a significant CAGR of 7.9% from 2023 to 2032.
By type, the vest segment captured for more than 56% of revenue shares in 2022.
By type, the helmet segment is projected to grow at a CAGR of 6.9% between 2023 and 2032.
By style, the overt segment generated the highest revenue share of around 78% in 2022.
Market Overview
High-performance body armor is incorporated with specialized equipment like video cameras, communication systems, oxygen systems, face protection, and other advanced technologies allowing the person to undertake a fight without any obstacles.
The heavy weight of body armor compelled dealers to finance research and development to optimize the manufacturing process and tone down its importance. They also formulate armor with health monitors and communication apparatus, growing the cost of the working and leading to challenges in taking full advantage of the price and weight of the product. This could significantly challenge the market's growth throughout the estimated period. Increasing emphasis on the security of military personnel throughout modern warfare practices is anticipated to build up the market in the upcoming years.
Growth Factors
The development of lightweight raw matter is remarkably leading market growth. Dealers are focused on lightweight materials in the making process. For example, Fibrotex's partnership with Israel Defense Forces formulated FIGHTEX, a type of next-generation two-sided combat uniform that is light in weight, innovative fabric. These uniforms use advanced materials that bolster soldiers' survivability over critical missions.
These light uniforms are fire-resistant and can be incorporated with other items, that includes winter uniforms, jackets, and load carriers. With the increasing adoption of lightweight materials, the demand for lighter armor rises due to their benefits. This is predicted to foster the market's growth over the estimated period.
Report Scope of the Body Armor Market
| | |
| --- | --- |
| Report Coverage | Details |
| Market Size in 2023 | USD 3.12 Billion |
| Market Size by 2032 | USD 5.2 Billion |
| Growth Rate from 2023 to 2032 | CAGR of 5.84% |
| Largest Market | Asia-Pacific |
| Fastest Growing Market | Europe |
| Base Year | 2022 |
| Forecast Period | 2023 to 2032 |
| Segments Covered | By Protection Level, By End-User, By Type and By Style |
| Regions Covered | North America, Europe, Asia-Pacific, Latin America and Middle East & Africa |

Market Dynamics:
Drivers
Counter-terrorism, insurgency, and warfare operations illustrate contemporary warfare tactics that could induce fatal injuries to soldiers. This also arises in law enforcement, where felons, criminals, and other lawbreakers have the potential to fatally hurt correspondent officers, necessitating the acquisition of protective suits and related gear that eventually results in the growing demand for ballistic protection gear and claims to protect military forces worldwide. Likewise, modernization services have opened various doors for sector players, ensuing in contractual unions with armed forces organizations.
Restraints
Optimizing the weight of body armor is the major challenge hindering market growth. The importance of body armor rises even more when blended with equipment such as optics, radio, and ammunition. These devices add extra weight to the heavy armor, affecting the wearer's mobility, efficiency, and flexibility. The body armor market is fragile and subject to several laws and regulations. The guidelines for screening the level of keenness the body armor can endure against any danger must be met by dealers producing and marketing armor.
The United States Department of Defense (DoD), Underwriters Laboratories (UL India), as well as the National Institute of Justice (NIJ) are the three regulative bodies that check the standard of body armor. Further, the bar can determine the point of danger an armor plate can withstand. Regimes are being altered to secure more excellent security, making it challenging for market sellers to compete.
Opportunities
Modernizations in materials employed for bulletproof jackets are the primary tendency in the market. There has been significant progress in body armor, like bulletproof jackets. Conventional bulletproof jackets are made up of protective stuff called Kevlar. Kevlar is a commonly used matter as armor for bullet protection. Hence, the material bends up to 3.5 centimeters on impact inwards, and the material's safety is questionable. To enhance the drawbacks of traditional vests, a fresh fluid, considered a non-Newtonian liquid, has been developed.
Similarly, a new material called graphene is also being used to manufacture defense equipment. Thus, introducing these raw materials will improve the quality and security of bulletproof jackets, which is estimated to push the market's growth over the forecast period.
Impact of COVID-19
When the Covid-19 pandemic entered China, it shocked countries worldwide. And as the number of cases was on the rise, governments across the globe were constrained to take drastic actions like lockdowns, strict social distancing, and border seals to stop the spreading of the virus.
These actions drastically affected the economy, as the global industrialists were bound to halt their production, leading to supply chain breaks and hindering several industries, thus sinking the international markets. Therefore, with the revival of commerce activities, the market will witness a gradual expansion in demand in the upcoming years. The impact of COVID-19 on market needs is considered while predicting the current and forecast market size and expansion trends for all regions and countries.
Segments Insight:
Protection Level Insights
Protection level III accounted for the maximum global revenue share of over 26% in 2022. It is the most extensively used protection armor. These protection outfits are more flexible, lighter in weight, and concealable under clothing, capable of defeating a more comprehensive range of ammunition. It provides more excellent blunt protection than IIA. Suitable for council employees, civilians, and officers.
The level II section is expected to expand at a 7.4% CAGR from 2023 to 2032. It protects a typical handgun round and is even light in weight, comfortable and concealable. It provides excellent protection against blunt force trauma as compared to level II.
Different IIIA levels are used with other protective panels, assigning maximum protection. It is a soft armor, and the materials used to manufacture the level IIIA and group III choices differ. This type of body armor can be worn both covertly and overtly. Few makers also offer IIIA+ goods to protect against shotgun shells, for instance, 9mm civil defense rounds.
Lastly, the level IV goods offer protection from AP bullets of 30 calibers. It is used in military contexts and provides the maximum level of security. This gear is pricey and bulky compared to grade III and III+ products.
End-User Insights
The defense sections dominate the market with a maximum global revenue share of around 59% in 2022. This is due to the progression of battlefield threats, for instance, bone-breaking shrapnel or batons in improvised explosive devices, which has pushed for the approval of new tactical ballistic vest protection and pioneering body armor.
The law enforcement section is estimated to record a significant CAGR of 7.9% from 2023 to 2032. This is mainly boosted by security personnel and first respondents as they carry out their duties to ensure safety and security and to defeat, prevent and prosecute offenses. An increase in government expenditure for internal protection and control in the country worldwide will likely propel the growth of this section.
Governments and companies worldwide are investing in manufacturing new lightweight vests with increased mobility over the integration of advanced technologies such as 3D printing and the utilization of composite materials. DRDO has announced the development of bulletproof with the implementation of new technology. This advancement focused on avoiding the enormous weight of the body armor that makes it difficult for military men to wear and move freely on the battlefield. As per the rules and regulations of the National Institute of Justice (NIJ), the enforced officers face numerous difficulties. Firearms are a significant need for lightweight shields with strict quality control and fast turnaround for law enforcement agencies.
Type Insights
The vest section generated for more than 56% of revenue shares in 2022, comprising stab-resistant and bulletproof vests that protect against the assault on the body's essential organs. Further, it provides the highest security in close combat situations and frontline defense battles. Depending upon the end-user and concern, covert and overt vests offer different levels of flexibility.
The helmet section is estimated to have a higher CAGR of 6.9% between 2023 and 2032. It can be found in different shapes and sizes, such as a ballistic helmet. Based on the design, the helmet can be high-cut, mid-cut, and full-cut. As level II ballistic helmets are light and comfortable, it is extensively used by police and law enforcement officers to protect from handguns, shrapnel, and blunt force.
The soft product offers highly comfortable and flexible pistols, mainly used by first respondents and for covert operations. Complex products feature durability property materials like steel, ceramics, polyethylene, ceramic composites, and materials such as kevlar. Other sections contain safety gear, for instance, eye protection, gloves, joint guards, groin protection, and neck guard. Transition and military combat eye protection are safety gear for the eyes.
Style Insights
The overt section is estimated for the highest revenue share of around 78% in 2022. It is due to a higher level of protection from larger spikes or blades and heavy gunfire. Basically, this type of armor is worn on top of the clothing even bulkier. These armors are heavier as it is prepared using different kevlar layers. It is used to protect against many different weapons comprises of knives, bullets, etc., and is available in all levels of protection.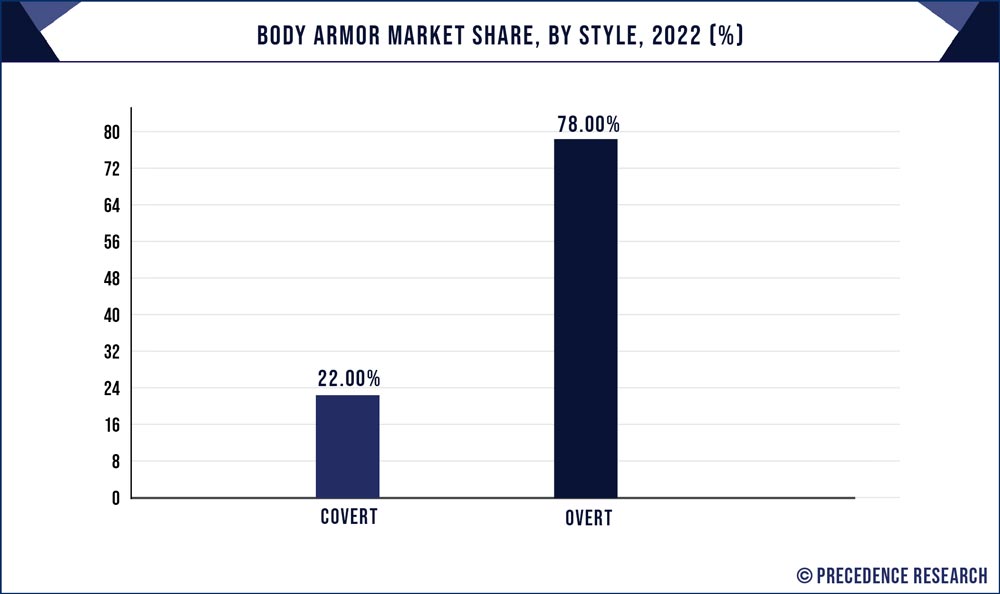 This can be customized which acts as an advantage with multiple pockets and even protecting cover for arm and neck regions. It is made up of sturdier bulletproof panels and are preferred by personnel in high-risk sectors as in controlling riots, war zones and military operations.
Regional Insights
Asia-Pacific generated for more than 44% revenue share in 2022 by growing military expenditure. Countries like India, Japan and China with large military troops are recognized for substantial charges on military gear. Raising border disputes and warfare illustrates are foreseen to propel the need for body armor.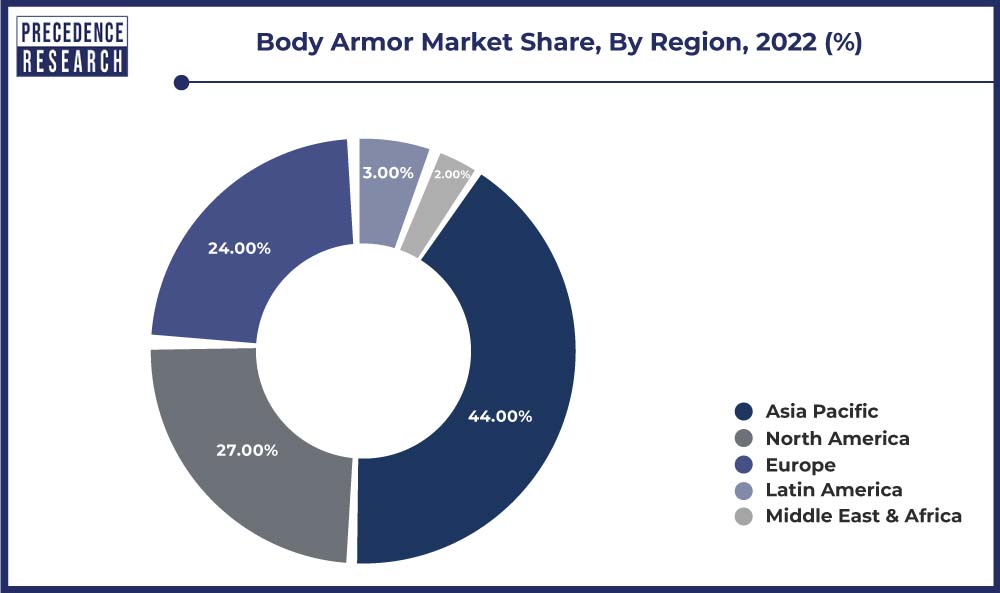 The United States registered a significant revenue share. The United States has broadened its military spending to offset the aggressiveness of its strategic rivals as China and Russia. Additionally, the U.S. has aggressively provided Ukraine with military support to combat Russia due to raised demand for armor in the upcoming months.
Europe is predicted to observe a growing CAGR of 6.94% from 2023 to 2032. The increased spending is awaited military upgradation with personal safety and weapons. European nations like Germany, France, and Italy contribute a part of their defence spending to NATO, boosting the need for this product over the estimated period.
Recent Development
In March 2022, the United Kingdom's armed forces proclaimed new body armor advancements for women in its armed forces. The upgraded protective apparatus: the Virtus Scalable Tactical Vest, results from a partnership between several Ministry of Defence and industry organizations, including the Source Tactical Gear, Defence Science and Technology Laboratory and Defence Equipment and Support.
In February 2022, India advertised fresh "Veer" helmets for the Indian Army's soldiers. Global Defense drafted these helmets and Homeland Security Company MKU, which are consonant with the modular accessory connector system employed for multi-accessory installation.
Key Market Players:
Elmon SA
Ballistic Body Armor Pty
Pacific Safety Products Inc.
EnGarde Body Armor
Safariland, LLC
Point Blank Enterprises, Inc.
Craig International Ballistics Pty Ltd.
Hellweg International Pty Ltd.
BAE Systems plc
Ceradyne Inc.
Avon Protection plc
Sarkar Tactical Ltd.
Armored Republic LLC
Segments Covered in the Report:
(Note*: We offer report based on sub segments as well. Kindly, let us know if you are interested)
By Protection Level
Level II
Level IIA
Level III
Level IIIA
Level IV
By End-User
Defence
Law Enforcement & Security Personnel
Civilians
By Type
By Style
By Geography
North America
Europe
Asia-Pacific
Latin America
The Middle East and Africa