The global botulinum toxin market size was exhibited at USD 7.21 billion in 2022 and is expected to be worth around USD 17.98 billion by 2032, growing at a CAGR of 9.56% from 2023 to 2032.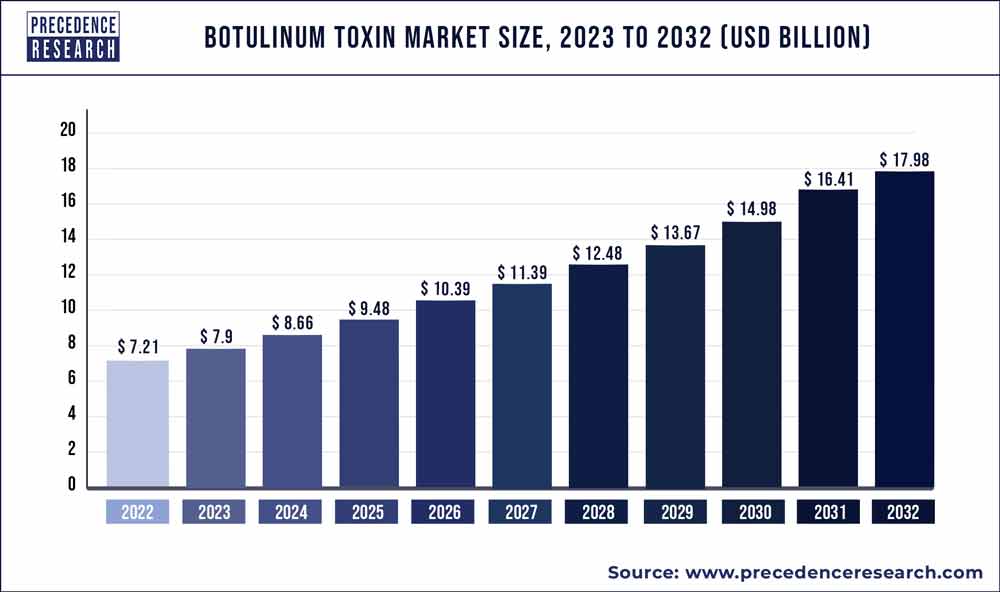 In particular, the American Society of Cosmetic Surgeons estimates that alone amongst females in the U.S. in 2020, about a million nonsurgical treatments, including face rejuvenating, were carried out. Additionally, growing R&D efforts to broaden the therapeutic uses of botulinum and an increase in cosmetic issues like crow's feet and medial canthal wrinkles are among the key drivers of the botulinum industry in the anticipated timescale.
Key Insights:
The North American market captured significant revenue of around 36% in 2022.
The product type A segment captured more than 96% of the revenue share in 2022.
The aesthetic application segment will experience a profitable CAGR from 2023 to 2032.
The dermatological clinic end-use segment will dominate the market in 2022.
Growth Factors
Among the most extraordinary chemicals discovered in medical and scientific research is botulinum toxin. The number of beauty treatments has increased as a result of rising concerns about aesthetic qualities in both developed and emerging nations. Although there are increasing chances for the extension of botulinum toxin's medicinal specific application in the nearish term, major producers are increasing their expenditure on R&D operations to investigate the medicinal usage of the toxin. About 6 million surgeries or treatments including cosmetic botox are carried out annually, a 700% increase in just the last 20 years. Because the COVID-19 epidemic started, the desire for aesthetic procedures like botox & filler has dramatically soared.
Report Scope of the Botulinum Toxin Market
| | |
| --- | --- |
| Report Coverage | Details |
| Market Size in 2023 | USD 7.9 Billion |
| Market Size by 2032 | USD 17.98 Billion |
| Growth Rate from 2023 to 2032 | CAGR of 9.56% |
| Base Year | 2022 |
| Forecast Period | 2023 to 2032 |
| Segments Covered | By Product Type, By Application, and By End-Use |
| Regions Covered | North America, Europe, Asia-Pacific, Latin America and Middle East & Africa |

Key Market Drivers:
Increased efficiency and changes to the financing procedures
Over the past ten years, consumers have chosen quick, painless alternatives to intrusive cosmetic surgery to seem healthy and young. The demand for plastic surgery and minimally surgical surgery is rising as a result, which is fueling the development of botulinum toxin therapy. One of the key elements fostering market expansion is the increase in demand for aesthetic procedures.
The market for botulinum toxin is expanding as a result of the rise in spasticity, cervical rigidity, and chronic migraine occurrences. The market for treating spasticity is expanding at an accelerated rate due to rising accessibility and changes made to reimbursement policies to enhance the advantages of botulinum injections.
Botulinum toxin medicinal uses in cosmetic procedures that open the door for further advancement in the application area
According to studies, people who had botulinum toxin injection could maintain their freedom for as long as 11 months. Botulinum toxin also is frequently used in beauty treatments to treat conditions like crown feet, forehead lines, masseter brown lines / square jaw / Bellar, among others. The market for botulinum toxin for such therapy of muscle spasms, on the other hand, is forecast to rise enormously in the next years or to expand quickly in the medical sector.
Highly efficient when used therapeutically
The excellent therapeutic efficacy of botulinum toxins has greatly fueled the expansion of the botulinum toxin industry. Numerous potentials for expansion will arise as a result of the increased knowledge of the negative impacts of botulinum toxin in both developed and developing countries. Botulinum toxin is frequently used to cure frown lines and enhance the structures of the face. The United States has a high rate of botulinum acceptance, which will help the botulinum North American market grow.
Minimally invasive medical surgery is in high demand, which will help the market grow
Over the past ten years, there has been a significant rise in the short supply of cosmetic surgery and non-invasive treatments like botulinum toxin and cosmetic filler injections. The producers of dermatology preparation and other non-invasive techniques have also been significantly impacted by the growth in demand for this approach. To fulfill the rising demand for such medications, several pharmaceutical businesses active in this industry are constantly developing new
Key Market Challenges:
The effects of botulinum toxin on the body are quite harmful
The administration of these poisons as injections has the potential to have negative effects. The probable negative effects of botulinum toxin injection include swelling or bruising at the site of injection, discomfort, fever, or common cold sensations, a crooked smiling or drooping eye or cross-eyed eyebrow, as well as eye moisture or excess tears. The effects of botulinum on the organism are quite detrimental. The botox industry's growth is anticipated to be constrained by the botulinum toxin industry's subpar compensation practices.
Key Market Opportunities:
The rise in drugs approved and products launched
The next ten years are expected to bring several lucrative prospects for botulinum toxin producers worldwide. The production of botulinum toxins is monopolized by a small number of significant companies. Over the past few years, developing markets have begun to challenge established market giants. In the upcoming years, there will be a wide range of chances for botulinum toxin providers due to the expanding impact of the design and cosmetics industries. In the upcoming years, it is anticipated that the increasing number of product releases and approvals by influential major players would hasten the expansion of botulinum treatment.
Segments Insights:
Product Type Insights:
The botulinum toxin-A sector is predicted to increase at a substantial rate throughout the forecast timeframe, holding the greatest market share from over 96% in 2022. Due to strong consumer preference and advantages including little blood loss, little discomfort, and no scarring during the surgery, botulinum A is predicted to advance at a robust rate. Additionally, there are several commercially accessible botulinum toxin A medications on the market, such as Botox and Dysport, which have been clinically shown to be efficient, secure over the long term, and have few side effects. Due to features such as no blood loss, low pain, and absence of scaring during the treatment.
The treatment of persistent tension-type headaches, migraine, and other primary neurological illnesses using botulinum toxin type-A is becoming more common. The market is divided into botulinum toxin types A and B based on the kind of product. Products containing botulinum toxin type-A are used for both medicinal and cosmetic purposes, and given the growing interest in aesthetic beauty, the market is expected to expand even more in the coming years. Additionally, there are several commercially available type-A botulinum toxin medications, including Botox and Dysport, that have undergone clinical testing and are been shown to be both safe and efficient over a long period with fewer side effects.
Application Insights:
During the anticipated timeframe, the aesthetic application category is anticipated to experience a profitable CAGR. The need for cosmetic surgery has increased as aesthetic appearance has become a bigger concern in both developed and developing nations. Additionally, the accessibility of numerous products, including Dysport, botox, and Xeomin among many others, will hasten the industry's expansion. Additionally, the growing use of botulinum toxin injections in a variety of cosmetic treatments, such as the therapy of chemical browlift, glabellar, perioral, and preauricular lines among others, is anticipated to hasten the growth of the botulinum toxin share of the market over the ensuing years.
Botulinum toxin, a neurotoxin made by bacteria, is a staple of the cosmetology toolbox. There have been more cosmetic procedures performed as a result of increased aesthetic awareness and technology breakthroughs in both developed and developing nations.
End User Insights:
The market was led by dermatological clinics in 2022. Increased demand for aesthetic operations is predicted to lead to an increase in dermatological clinics in both developing and developed nations, which will increase the market income for botulinum toxin. A significant factor in the segmental expansion is the strong patient desire for dermatological clinics for cosmetic procedures and state-of-the-art facilities to improve their aesthetic appeal. Additionally, several treatments, including those for cervical dystonia, overactive bladder, hyperhidrosis, and wonky eye among many others, are anticipated to raise demand for dermatological clinics that undertake minimally invasive procedures.
In 2022, the healthcare company's overall revenue was the highest. The market is divided into hospitals, clinics, dermatological spas, and cosmetic surgery centers based on the end-user. Customers are increasing, which is good news for medical spa operators and plastic doctors. Additionally, the expansion of medicinal spas and aesthetic clinics in areas such as the Asian Region is boosting the industry.
Regional Insights:
Due to rising expendable cash and an increase in cosmetic operations, the North American botulinum toxin market generated more than 36% of revenue share in 2022. For instance, 1.3 million operations with botulinum toxin-based products were carried out in 2019, as reported by the American region of Plastic Surgeons, making up 45% of all cosmetic procedures carried out in the United States.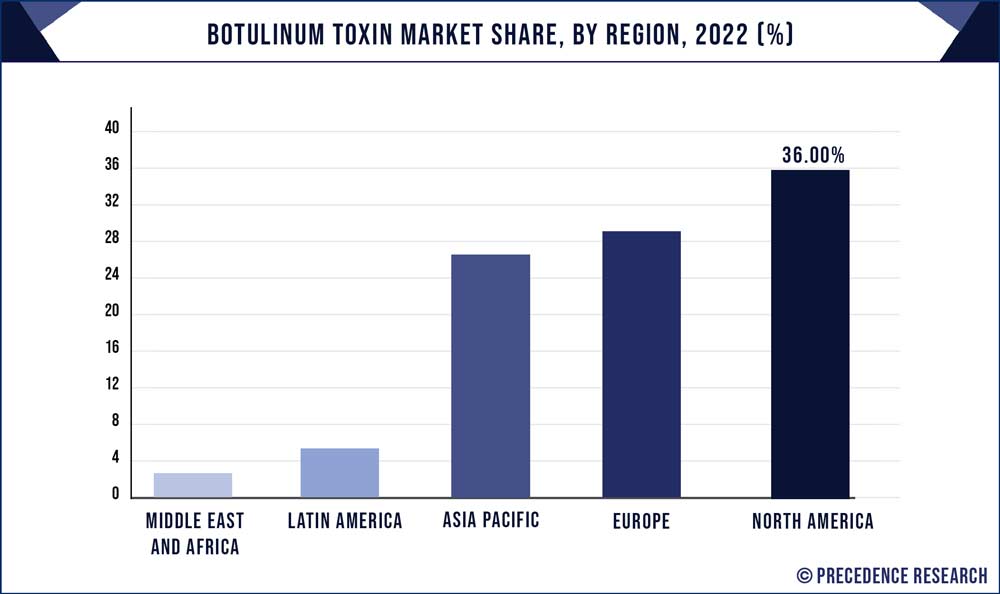 As a result, the growth of the botulinum toxin industry in the United States will be fueled by the increasing use of botulinum injections in different aesthetic procedures carried out locally. In addition, medical and cosmetic procedures have advanced quickly in recent years. Patients seeking treatment now have access to a vast selection of products & services thanks to improved technology.
Recent Developments:
In Nov 2021, Evolus Inc. declared that it has begun a preclinical study to examine an extra helping of the wrinkle-treatment drug Jeuveau (pra botulinum toxin A-xv) for a longer period. This should allow the corporation to improve how its product is applied to different medical situations.
Tenjin Pharma's Xeomin (into botulinum toxin A) with intravenous infusion in 50, 100, and 200 doses for the therapy of lower extremity spasticity was approved by the Japanese Ministry of Health and will be sold by Merz Pharmaceuticals and Tenjin Medicine beginning in July 2020. With the help of this strategy, the company will be able to boost its income production stream by adding value to its business portfolio.
In July 2020, the USFDA approved Allergan's additional biopharma permit application, allowing BOTOX to know to be used to treat stiffness in children 2 years of age and older. The proposal also mentions using BOTOX to treat kids with cerebral palsy-related lower limb stiffness.
At the premier symposium on neurotoxins in July 2022, Swiss firm Fastox Pharma revealed their ground-breaking lengthy botulinum toxin LAST innovation. Botulinum types A (BoNT/A) and incredibly quickly myorelaxant medications have been found to enhance each other's effects, according to Fastox.
Aquavit Holdings LLC obtained an exclusive license in April 2021 for the registration, commercialization, and marketing of its botulinum (DTX-021) within Canada and the United States.
Key Market Players:
Eisai Co., Ltd
Evolus, Inc.,
Galderma laboratories.
HUGEL, Inc. (Korea)
Hugh Source (International) Ltd.
Ipsen Pharma
Lanzhou Institute of Biological Products Co., Ltd. (China)
Medy-Tox, Inc.
Merz Pharma GmbH & Co. KGaA
Metabiologics, Inc.
Pfizer Inc
Revance Therapeutics, Inc. (U.S.)
Teijin Pharma Ltd
US WorldMeds, LLC
Segments Covered in the Report:
(Note*: We offer report based on sub segments as well. Kindly, let us know if you are interested)
Product Type
Type A

Botox
Dysport
Xeomin
Others

Type B
By Application
Therapeutic

Chronic Migraine
Overactive Bladder
Cervical Dystonia
Spasticity
Others

Aesthetic

Glabellar Lines
Crow's Feet
Forehead Lines
Others
By End-Use
Hospitals
Dermatology Clinics
Spas & Cosmetic Centres
By Geography
North America
Europe
Asia-Pacific
Latin America
The Middle East and Africa