The global capacitor market size was evaluated at USD 34.65 billion in 2022 and is expected to hit around USD 61.83 billion by 2032 with a noteworthy CAGR of 5.96% from 2023 to 2032.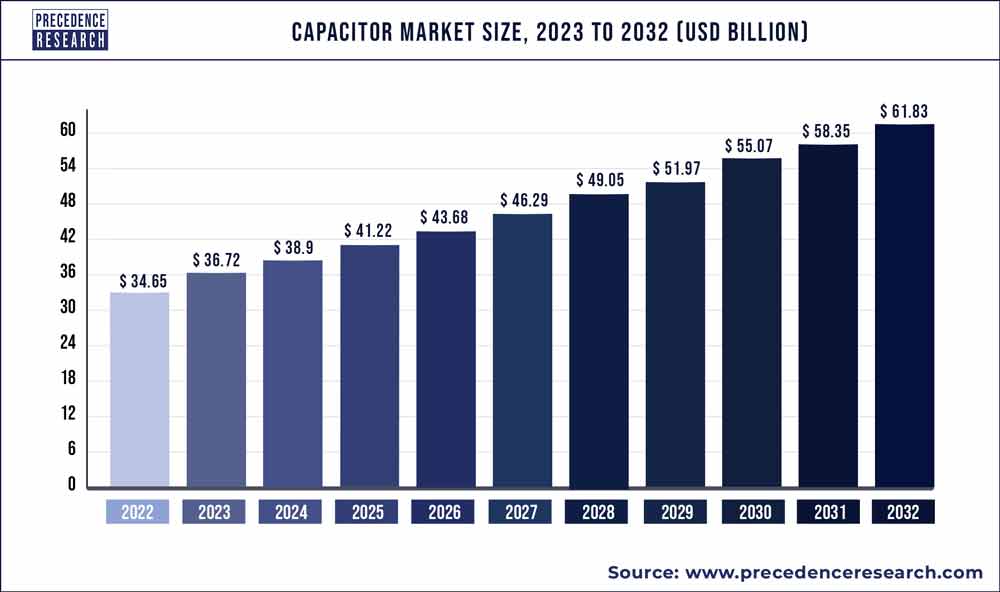 Market opportunities for capacitors have gone through several periods of development. The complexity and diversity of electronic device usage and increased consumer demand for premium players from emerging industry sectors will fuel the capacitor market growth. Business players are now choosing high-velocity and low-energy consuming products due to the advancement of creative activities in the consumer electronics sector, particularly across the cell phone segment.
Additionally, expanding organizations across ventures in the automotive and transmission & distribution (T&D) industries that require a blend of high capacitance and voltage will enhance the business outlook in the following years.
Key Points
By geography, the North American region will continue to dominate the global market.
By type, the ceramic capacitors segment are anticipated to hold the most significant market share in 2022.
By application, the consumer electronics market is increasing swiftly.
Report Scope of the Capacitor Market
| | |
| --- | --- |
| Report Coverage | Details |
| Market Size in 2023 | USD 36.72 Billion |
| Market Size by 2032 | USD 61.83 Billion |
| Growth Rate from 2023 to 2032 | CAGR of 5.96% |
| Largest Market | North America |
| Base Year | 2022 |
| Forecast Period | 2023 to 2032 |
| Segments Covered | By Type and By Application |
| Regions Covered | North America, Europe, Asia-Pacific, Latin America and Middle East & Africa |

Market Dynamics
The capacitor market is expanding due to the electronics industry's increasing demand for capacitors. This is due to the proliferation of devices with greater specifications that are being used more frequently. The global market for capacitors is expanding quickly due to the rising demand for tablets and smartphones and the affordable prices of ceramic capacitors. For instance, according to estimates, there will be approximately 6.6 billion smartphone users worldwide in 2022, representing around 4.9% yearly growth.
Additionally, LCD and LED televisions are increasingly incorporating capacitors. Electronic gadgets like computers, and televisions, among others, mainly drive the demand for capacitors, and manufacturers of high-end electrical devices employ capacitors more often. Global economies, businesses, and people's lives are all being transformed through electronic system design and manufacturing (ESDM). For instance, according to information provided by Invest India, India pledged to attain $300 billion in electronics manufacturing and exports by 2025–2026.
Capacitors are also being utilized more frequently in auto elements, including infotainment equipment, vehicle frames, and powertrain components, further increasing their popularity. Because capacitors can withstand the high temperature needed by control circuits, they are now used more frequently in electric vehicles. Therefore, the sum of these variables will drive the market for capacitors in the following years.
However, capacitors can continue to store energy and spontaneously produce a hazardous residual discharge even after the device has been de-energized. Liquid dielectrics or combustion byproducts from some capacitors could be toxic. Arc faults are made when high-voltage capacitors have metal or dielectric connection issues. The dielectric fluid vaporizes in oil-filled units, leading to case bulging and breaking. Thus, many capacitors can produce weak X-rays while operating normally. These factors put both people and the ecosystem in danger. Due to the probable adverse consequences of capacitors, the market will face challenges soon.
Nonetheless, the capacitor industry is developing potential due to the rising demand for electric vehicles. In electric vehicles, a capacitor is mainly used to improve the stability of the DC bus voltage and avoid ripple currents from going back to the power source. Batteries are used in electric vehicles (EVs) to power them and for decoupling and preserving semiconductor components. They also protect EV subsystems from voltage surges, electromagnetic interference, and peaks by serving as filters.
In 2021, the market share for electric vehicles was about 10% worldwide, up from just 2% in 2019. This increased the overall number of electric vehicles on the road compared to prior years to almost 16.5 million. With 2 million electric vehicle sales in the first quarter of 2022, a 75% increase over the same time in 2021, the market for electric vehicles has continued to multiply, according to the data given by IEA.
COVID-19 Impact
The outbreak and widespread COVID-19 led to the closure of manufacturing facilities in 2020, significantly impacting export-oriented economies. The deployment of 5G base stations, the production and introduction of new electric vehicles, and the advancement of connected vehicles all experienced delays, which impeded the growth of the capacitor industry.
Additionally, in 2021, COVID-19 caused procurement and supply delays. For instance, the increased demand for multilayer ceramic capacitors from the electronics and telecommunications end-user industries, nonetheless, after the ease of the pandemic crisis's unfavorable impacts on the expansion of the capacitor industry in late 2020 and early 2021.
The adoption of work-from-home regulations across the globe increased demand for gadgets such as laptops, cellphones, computer printers, smart wearables, healthcare equipment, webcams, and headphones, which boosted the demand for capacitors in the telecom sector. Furthermore, the COVID-19 outbreak made it challenging to source raw materials.
Government-funded transmission and distribution projects were hampered due to the closure of several governments' financial streams. As a result, there was less of a need for capacitors. Government-funded transmission and distribution projects started operating when the economies of several nations recovered.
These circumstances led to the conclusion that the worldwide capacitor market's growth stagnated rather than declined throughout the pandemic period. However, it is anticipated that the market will expand beyond COVID-19.
Segments Insight
Type Insights
The capacitor market is divided based on type into ceramic, film/paper, aluminum, tantalum/niobium, double layer/super capacitors, and others. Due to the growing popularity of the internet of things (IoT), ceramic capacitors are anticipated to hold the most significant market share in 2022. In the creation of IoT systems and devices, MLCCs are essential. Sensors are utilized by many IoT devices to gather data, and the circuits that power and regulate these sensors frequently include ceramic capacitors.
IoT devices communicate data using wireless communication technologies, including Bluetooth, wi-fi, and cellular networks. Additionally, ceramic capacitors are used to store and regulate the power supply in the power management systems of IoT devices, assisting in maintaining a stable power supply for the devices. As a result, it is projected that the demand for ceramic capacitors in the industry will grow rapidly, considering these reasons.
Application Insights
Industrial, automotive, consumer electronics, energy, and other segments make up the global capacitor market. Due to the significant manufacturing of electronics such as cutting-edge computers, mobile phones, TVs, and defense-related gadgets, the consumer electronics market is growing swiftly. The market environment requires manufacturers of capacitors to stay current with cutting-edge technology because these attributes are crucial when selling to higher-income groups.
Regional Insights
In 2022, the North American region will continue to dominate the global capacitor industry. The development of ultra-small case-size capacitors for portable electronic gadgets and the rising production of electric vehicles have ramped up growth in North America.
In contrast, the Asia Pacific market is anticipated to increase due to the region's growing automotive sector. Due to the rapid expansion of their electronic industries, India, China, and Japan are the top three revenue-producing nations in the Asia Pacific. India is the country in the Asia Pacific region that consumes the most electronics. However, due to growing vehicle sales and robust urbanization, China is determined to lower car exhaust emissions.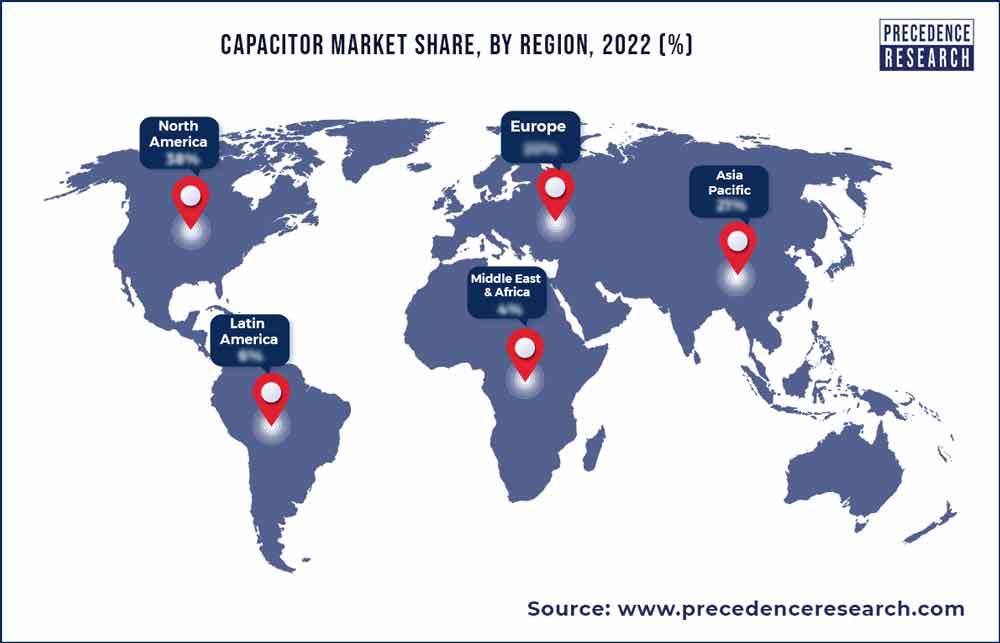 The country's aim to reduce its reliance on oil imports would increase demand for electric vehicles, increasing the market for capacitors. Growing government rules promoting the use of electric vehicles and aggressive development plans by regional OEMs and suppliers to meet increased demand from China's automotive industry are anticipated to enhance market growth for the projected period. For instance, the Chinese government promotes the use of electric automobiles.
To encourage the sale of electric vehicles, the Chinese government has invested in the construction of charging stations all around the nation. For instance, the Chinese government declared plans to construct sufficient charging stations for 20 million electric vehicles by 2025 in January 2022. As a result, the abovementioned factors drive the Asia Pacific capacitor market.
Recent Developments
In December 2022, A modular capacitor design for DC link applications that can operate at extremely high switching frequencies was introduced by TDK Corporation as ModCapTM HF. The six newly created power capacitors in the B25647A* series are rated for voltages between 900 and 1600 volts and have capacitance ranges between 640 and 1850 volts.
In June 2022, to serve the rapidly expanding offshore wind market, Hitachi energy, a division of Hitachi, Ltd., partnered with Petrofac, a top global service provider to the energy sector, to provide joint grid integration and related infrastructure. Both high-voltage alternating and direct current solutions are provided as part of the collaboration.
In April 2022, to capture the automotive sector, High-temperature MLCCs were developed by Samsung Electro-Mechanics used in automobile powertrains. On the 11th, Samsung Electro-Mechanics announced that it had developed 13 distinct types of automotive MLCCs with a 150°C temperature guarantee and wanted to market them to foreign auto part producers. With this development, Samsung Electro-Mechanics will step up its efforts to increase its market share by making its products more competitive with a broader range of automotive components, which only a few foreign companies have been able to do. High-reliability automotive MLCCs with guaranteed use at 150°C are currently only produced by a few foreign companies.
In November 2021, vPolyTan surface-mount polymer tantalum molded chip capacitors were introduced by Vishay Intertechnology, Inc. They are reliable in high-temperature and high-humidity settings. The capacitors have a robust design for enhanced protection in harsh environments with improved hermeticity.
In May 2021, A brand-new line of 3.8V lithium-ion capacitors was introduced by VINATech Co., Ltd. These capacitors feature a wide operating temperature range, a high operating voltage, low self-discharge, and high capacitance.
Key Market Players:
Samsung Electro-Mechanics
Panasonic Corporation
Shenzhen Sunlord Electronics Co., Ltd.
TDK Corporation
Abracon LLC
API Technologies Company
Eaton Corporation PLC
Hitachi AIC, Inc.
Nichicon Corporation
KEMET Electronics Corporation
Kyocera Corporation
VINATech Co., Ltd.
Vishay Intertechnology, Inc.
Segments Covered in the Report
(Note*: We offer report based on sub segments as well. Kindly, let us know if you are interested)
By Type
Ceramic Capacitor
Film/Paper Capacitor
Aluminum Capacitor
Tantalum/ Niobium Capacitor
Double-Layer/Super Capacitor
Other
By Application
Industrial
Automotive Electronic
Consumer Electronic
Energy
Other
By Geography
North America
Europe
Asia-Pacific
Latin America
The Middle East and Africa