The global chitosan market size was reached at USD 10.00 billion in 2022 and it is expected to hit around USD 78.94 billion by 2032, estimated to grow at a CAGR of 23% due the adoption of chitosan in the industry as it has unique properties.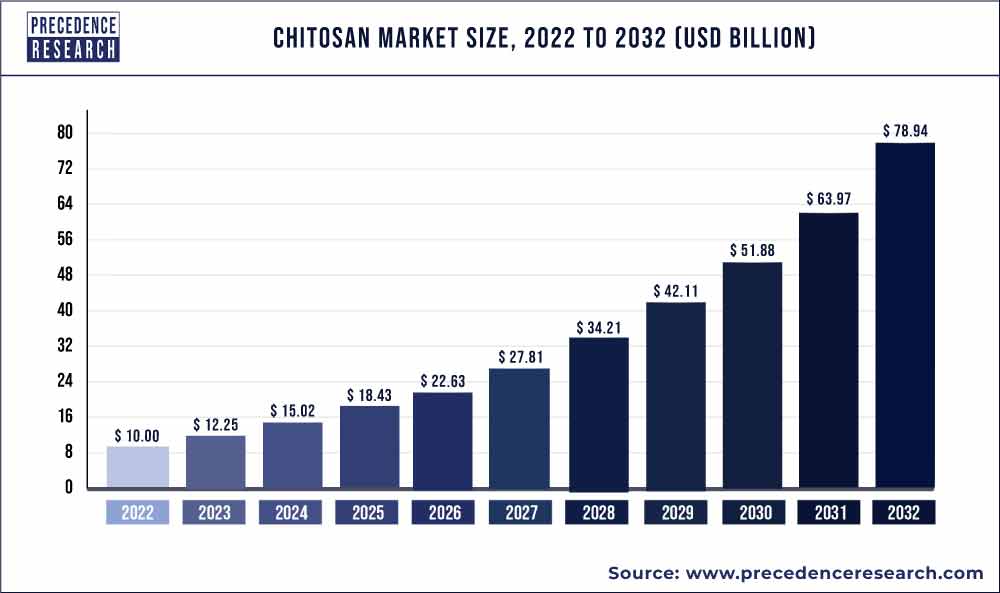 Access our Premium Real Time Data Intelligence Tool, Visit: Precedence Statistics
Key Takeaway:
The medical grade chitosan market size valued at USD 284.6 million in 2022 and it will become USD 610.2 million by 2032 with a CAGR of 10% between 2023 and 2032.
By source, the shrimp segment has dominated the market with 63% revenue share in 2022.
By application, the biomedical segment has generated revenue share of over 33.5% in 2022.
Cosmetics application segment has accounted 26% revenue share in 2022.
By region, North America has held revenue share of over 46.8% in 2022.

The Asia Pacific is growing rapidly at a CAGR of 15.9% during the forecast period.
Growth Factors
The increasing demand of chitosan in the end user industries mainly in waste water treatment and food & beverages industry will proliferate the market growth. An important application is wastewater treatment with chitin or chitosan. For the removal of dyes from industrial wastewater (e.g., textile wastewaters), as well as other organic pollutants such as organochloride pesticides, organic oxidized or fatty impurities, and oil impurities. Chitosan has a number of appealing properties, including hydrophobicity, biocompatibility, biodegradability, non-toxicity, and the presence of highly reactive amino (–NH2) and hydroxyl (–OH) groups in its backbone, which is effective in the waste water treatment.
Chitosan's antioxidant and antimicrobial activity allows it to be used to extend the shelf life of foods, and its excellent emulsifying properties allow it to replace synthetic surfactants in food technologies. Chitosan can also be used as a functional ingredient against hypercholesterolemia, hypertension, and inflammations, as well as for nutrient encapsulation in functional food development. In 2021, revenue in the food & beverage industry is expected to reach USD 342,213 million. For the past two decades, the implementation of online retail in Food & Beverage has been lagging. It has, however, finally taken off, becoming the fastest-growing product category in eCommerce. Such factor will create a positive impact on the chitosan market.
Scope of the Chitosan Market Report
Report Highlights
Details
Market Size in 2023
USD 10.00 Billion
Market Size by 2032
USD 78.94 Billion
Growth Rate from 2023 to 2032
CAGR of 23%
Largest Market
Asia Pacific
Fastest Growing Market
North America
Base Year
2022
Forecast Period
2023 to 2032
Segments Covered

Source, Application,

Geography



Companies Mentioned

Primex EHF, Heppe Medical Chitosan GmbH, Vietnam Food, KitoZyme S.A., Agratech, Advanced Biopolymers AS (Norway), BIO21 Co., Ltd., G.T.C. Bio Corporation
COVID-19 Impact
Researchers worldwide are interested in using chitosan as a potential agent for the prevention and treatment of infectious diseases in the pharmaceutical and biomedical fields. China became the epicentre of the SARS-CoV-2 outbreak in December 2019, which has since spread globally. COVID-19 was declared a global health emergency by the World Health Organization (WHO) in 2020. Combating the effects of viral disease outbreaks like COVID-19 necessitated global research and development efforts. As a result, the COVID-19 outbreak is likely to have a positive impact on market growth because the use of chitosan polymers as viral inhibitors will generate revenue.
As a result of the COVID-19 pandemic, global production of marine farmed shrimp was nearly 15% lower in 2020 compared to the previous year. The decline from Asian sources was 20%, but production in Latin America increased by 22% due to a significant increase in Ecuador's harvest (+ 19%; 705 000 tonnes). Such changes in chitosan sources may have an impact on production, but rising production in other regions has offset the overall effect in the industry.
Sources Insights
Based on the sources, the chitosan market is dominated by shrimp followed by crab. Shrimp is considered the primary source of chitosan because it contains approximately 25% to 40% chitin, whereas crab shell contains approximately 15% to 20%. The chitosan can be produced cheaply and easily from these sources.India is at the second rank when comes to the production of shrimp and largest exporter of shrimp globally after China. For instance, in 2019, the India produced 800, 000 MT shrimp which is double digit growth over the previous decade. The high production of shrimp will enhance the market growth of chitosan market in the near future.
Application Insights
The waste water segment is the most prominent segment in the market which contributed largest share in the chitosan market. According to a 2015 Bluefield Research, municipal wastewater reuse would expand by 61 percent by 2025, requiring USD 11 billion in capital. With over 247 reuse projects in various stages of preparation in the United States, which is a significant market trend. According to the UN, the world's population will exceed nine billion people by 2050. It is projected that global food production has to be boosted by 70% to ensure there is enough food for everyone. This will create a burden on the natural resources. So, in various application such agriculture, industrial application waste water utilization can solve the problems which in turn propel the growth of the chitosan market.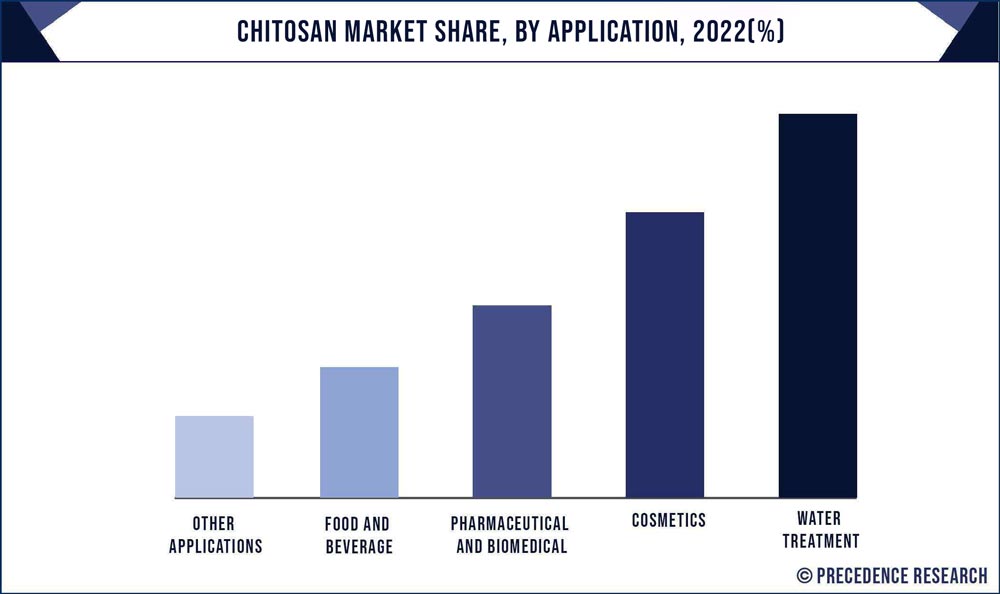 The improper discharge of wastewater effluents is strictly enforced, which can render factories noncompliant. Chitosan has many appealing properties, including hydrophobicity, biocompatibility, biodegradability, non-toxicity, and the presence of highly reactive amino (–NH2) and hydroxyl (–OH) groups in its backbone, making it an effective adsorbent material for the removal of wastewater pollutants.
Further, the cosmetics industry has the considerable share in the market. Chitin, chitosan, and their derivatives are widely used in cosmetics, owing to their antioxidant, cleansing, protective, humectant, and antioxidant properties. In 2019, the global cosmetics market was valued at USD 380.2 billion. Cosmetics are now an essential component of most people's modern lifestyles. Furthermore, an increase in awareness of external beauty and an individual's internal intellect has driving the use of cosmetics in the global market. Along with women, men are increasingly using cosmetics in their daily lives, which are contributing to the market growth. Hence, such changing lifestyles, have led to growth of the global cosmetics market which in turn surge a market demand of chitosan in the forecast period.
Regional Insights
The Asia Pacific held the largest share in the Chitosan market. The easy availability of its raw material, obtained as a waste product from the fishery industry, is one of the key factors driving chitosan demand. Fishing is one of the most important industries in Asia Pacific. For a long time, Asia-Pacific has dominated the shrimp market.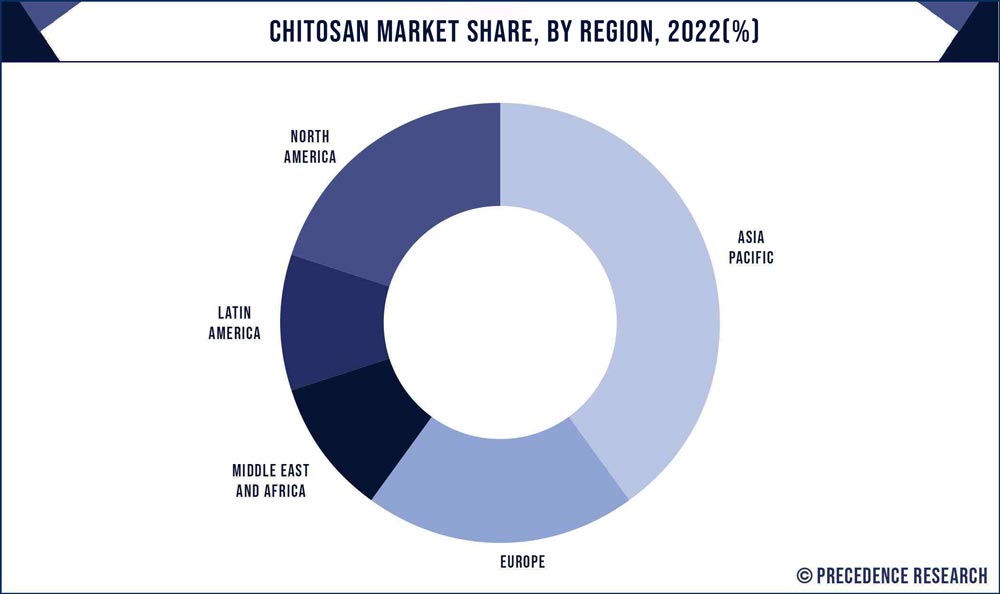 In 2018, China produced 1,956.9 thousand metric tonnes of shrimp, with a CAGR of 1.6 percent over the forecast period. Shrimp production in China typically begins at the end of the calendar year.
Key Companies & Market Share Insights
Despite the fact that typical chitosan preparations are always mixtures of different chemical entities, natural impurities, and process-induced impurities, the biopolymer chitosan has shown great potential for a wide range of applications. The industry's major players invest in more cost-effective and safer production methods. Market leaders are also attempting to broaden their product portfolio by focusing on developing a diverse range of chitosan products based on purity levels that can be suitable for end-use industry applications. In order to have easy access to raw materials, the majority of key companies are located near coastal areas around the world.
Some of the prominent players in the Chitosan market include:
Primex EHF
Heppe Medical Chitosan GmbH
Vietnam Food
KitoZyme S.A.
Agratech
Advanced Biopolymers AS (Norway)
BIO21 Co., Ltd.
G.T.C. Bio Corporation
Taizhou City Fengrun Biochemical Co., Ltd.
Zhejiang Golden-Shell Pharmaceutical Co., Ltd.
Biophrame Technologies
Heppe Medical Chitosan GmbH
Meron Biopolymer
Qingdao Yunzhou Biochemistry Co.
Golden-Shell Pharmaceutical Co. Ltd
FMC Corp.
Segments Covered in the Report
By Source
Shrimps
Prawns
Crabs
Other Sources
By Application
Water treatment
Cosmetics
Pharmaceutical and Biomedical
Food and Beverage
Other Applications
By Geography
North America
Europe
Asia Pacific

China
India
Japan
South Korea

Rest of the World