The global combine harvester market size was exhibited at USD 49.74 billion in 2022 and is projected to hit around USD 74.58 billion by 2032, growing at a CAGR of 4.13% during the forecast period 2023 to 2032.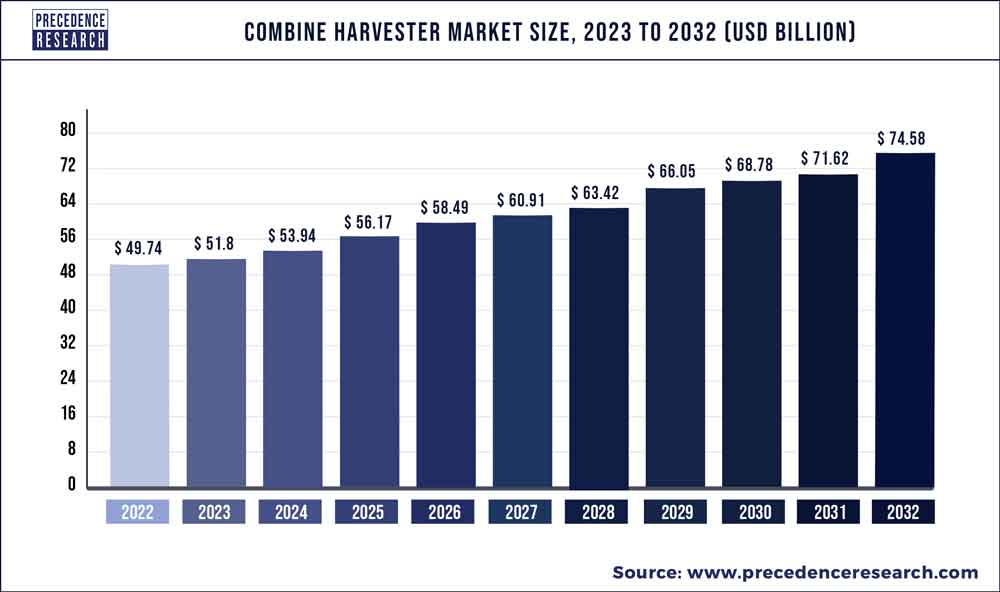 Access our Premium Real Time Data Intelligence Tool, Visit: Precedence Statistics
Powerful equipment called a combine harvest was made to convenient energy for various grain harvests. threshing, A combination harvester combines the three separate harvesting processes of threshing, reaping, and winnowing into such a single procedure. This is the most economically advantageous labor-saving innovation of the modern world, resulting in a decrease in manpower in agriculture. In India, relative to other crop kinds, cereals and grains are frequently harvested with agricultural machinery. Farmers prefer self-propelled combination harvesters over harvesters placed on tractors because of their great efficiency. Equipment for combine harvesters is utilized in many agricultural operations, including reaping & threshing. A lot of time and money required for these tasks will be reduced with the usage of combined harvester equipment.
Key Insights:
Based on type, the self-propelled segment held the majority of the market in 2022.
Based on the mechanism, the hydraulic segment led the market in 2022.
Based on power, the 150-300 HP segment will grow at the highest CAGR
Based on class, the classes 5-6 (9-12 kg/s) segment is anticipated to experience the maximum CAGR of 4% from 2023 to 2032.
Based on grain tank size, the 250-350 bu segment will grow at the greatest CAGR from 2023 to 2032.
Based on crop type, the wheat segment dominated the market with a market share of around 37% in 2022.
Based on region, The Asia Pacific region is seeing a transition from manual to mechanized farming due to growing urbanization.
Growth Factors
A versatile technology, the combines harvester is employed to efficiently harvest a range of crops. It stands out for having flexible suspensions and broad tires having deep, open grooves. Enhanced agricultural automation is among the key reasons propelling the India Combined Harvester Industry's expansion. Precision farming reduces post-harvest wastage, reduces agricultural production expenses, and ultimately boosts crop productivity and farm profitability. It also reduces labor and time. Instruments that are usually attributed, to animals, and machines have all increased steadily.
The market is expanding due to the pro-machinery credit policies of the federal government as well as other organizations, as well as the ability to boost farm output. An Indian government was enticing farmers to use technological innovations that would boost output. The need for combined harvesters would rise as people become more aware of new technologies and as farmers get more knowledgeable about production methods. This will help the sector keep its upward trajectory steady. Government initiatives, including those that offer incentives for purchasing equipment, also contribute to this growth. Farms are often small in scale, which prohibits the employment of large machinery there. This significantly reduces the requirement for combined harvester equipment.
The demand for combination harvester machinery is also anticipated to be severely constrained by their high maintenance and cost requirements. Because there was an excess of labor, labor prices were cheap, and machine expenses were high, the usage of combine harvesters had traditionally been restricted. Nevertheless, rural job programs like MGNREGA have improved the situation for combination harvesters in India. Beyond providing a social security net, the Gandhi National Rural Job Guarantee Act also protects the right to employment. Indian farmers now find it more cost-effective to use a machine for chopping and thrashing due to a shortage of labor with rising costs of labor.
Report Scope of the Combine Harvester Market
| | |
| --- | --- |
| Report Coverage | Details |
| Market Size in 2023 | USD 51.8 Billion |
| Market Size by 2032 | USD 74.58 Billion |
| Growth Rate from 2023 to 2032 | CAGR of 4.13% |
| Base Year | 2022 |
| Forecast Period | 2023 to 2032 |
| Segments Covered | By Type, By Mechanism, By Power, By Class, By Grain Tank Size, and By Crop Type |
| Regions Covered | North America, Europe, Asia-Pacific, Latin America and Middle East & Africa |

Key Market Drivers
A growing need for cutting-edge modern farm equipment
One of the main reasons propelling the industry for combine harvesters is the growing need for modern farm equipment on a global scale. Farm mechanization increases crop yield & farm profit by cutting crop manufacturing costs overall, minimizing post-harvest wastage, and conserving labor and time.
The demand for transporting goods by electrical and mechanical sources of power, along with hand-operated equipment & animal-driven tools, has risen as more people are becoming aware of their advantages. Around the globe, the GDP of every country is significantly influenced by the agriculture industry. The market for agricultural machinery is also being fueled by authorities' efforts to improve their agriculture activities across both emerging and developed countries.
Support from the government for agricultural technology
Governments from all around the world occasionally provide combine harvesters with varied subsidies. And over 60 indirect and direct farmers and support programs are managed by the Agriculture Department of the United States. with the most of direct assistance going to growers of a select few commodities, like those growing maize, soybean, as well as wheat. Insurance, farming advanced financial, price drop coverage, conservation efforts, advertising financing, and emergency assistance.
The market's expansion is also aided by technology and other incentives. The Agriculture Infra Fund (AIF) is established to generate a medium to long-term commercial loan facility for investments in post-harvest infrastructure systems using incentive and financial assistance to enhance the US agricultural network.
Key Market Challenges:
Total Manufacturing Costs for Farm Equipment: In recent decades, combination harvest tractor designs have changed in response to shifting customer expectations. Modernization equipment design, though, necessitates significant development and research expenditures, which may increase the final product's cost. Although product efficacy is crucial to farmers, affordability is often the most crucial component, particularly in developing and emerging nations. Combination harvesters have become increasingly complicated in recent times, making operations considerably more challenging.
Key Market Opportunities:
Labor Shortage and Increasing Farm Labor Costs: Fruits, peas, vegetables, and beans were lying unplanted throughout states as a consequence of a labor crisis that is impacting American farmers throughout 2020 again for the fourth time in a row. Vegetables and fruits are now being transported to meet demand because of the shortfall. American farmers are embracing several cutting-edge strategies to expand their businesses while utilizing limited workers. Farmers are adopting agrotechnology, like sensors, forecast accuracy, automation, and robotics, despite their expensive initial costs, to improve crop yield and quality to order to operate effectively using limited resources.
Segmental insights:
Type Insights
Self-propelled vehicles held the majority of the market in 2022, and throughout the forecast timeframe, they are anticipated to grow at the fastest CAGR. Wheeled extractors are fantastic for fields with rough soil. They represent the standard type that is popular in India and Bangladesh. Since of their great efficiency and low maintenance issues, self-propelled combination harvesters are expanding. In tiny farm fields, vehicles and agricultural machinery are frequently preferred range sizes from 1-10 acres.
Mechanism Insights
The market was led by hydraulic agricultural machinery in 2022, but over the projected timeframe, hybrid combined harvesters are anticipated to grow at the fastest rate. The header serves as the primary control panel for the tractor. The hydraulic drivetrain of a header has a direct effect on both the machine's performance overall and the gearbox system's layout. Benefits of hydraulic management include a high density of power and small volume. Nevertheless, hybrid combination extractors may harvest the produce without no wastage and in a shorter time, especially on fields with evergreen trunks or moist areas.
Power Insights,
Modern combine harvesters frequently have a diesel engine to operate all of the equipment's operational components and to move the machine forward when in use. The share of the market of agricultural machinery with 150–300 horsepower will grow at the highest CAGR, per the Astute Analytica analysis, although those with fewer horsepower would hold the majority of the market. Additionally, favorable for such a diesel car sector could be the increased accessibility of a large number of state-of-the-art diesel engine farming equipment.
Class Insights
While the classes 5-6 (9-12 kg/s) category is anticipated to experience the maximum CAGR of 4% and over a projected timeframe, the classes 3-4 (5-8 kg/s) sector held the largest share of the market throughout 2022. The quality and speed of performing a variety of actions determine the efficiency (output) of a harvesting machine. Although small tractors are much more maneuverable in smaller fields, wider engines were best adapted for large disciplines with light soil texture. Wider machines cannot operate in tiny paddy fields, discouraging their use by small proprietors. Due to the abundance of little farming plots in India and Bangladesh mini combine extractors has recently grown in favor in South Asia.
Grain Tank Size Insights
It is anticipated that the 250-350 bu category will grow at the greatest CAGR throughout the projected period and have the largest market share in 2022. The growing demand for smaller tractors is responsible for the 250 bu sector's good future growth.
Crop Type Insights
With a market share of around 37% in 2022, the wheat category dominated. The category is anticipated to develop as a result of the persistently increasing demands for grains and the persistently rising emphasis on improving its productivity relative to certain other crops. To order to meet the growing demand from Southeast Asia, in addition to Europe, Western Asia, with Northern Africa, India, the 2 exporters of wheat within the globe, is concentrating on mechanizing the agriculture industry more broadly. Due to the growing demand for the wheat harvesting process within the Asia Pacific, imports from Ukrainian have already been hindered since Russia's intervention in Feb 2022.
Regional Insights
The Asia Pacific region is seeing a transition from manual to mechanized farming due to growing urbanization. Throughout the course of the forecast timeframe, the region's industry for agricultural machinery is anticipated to grow at a CAGR of 4.4%.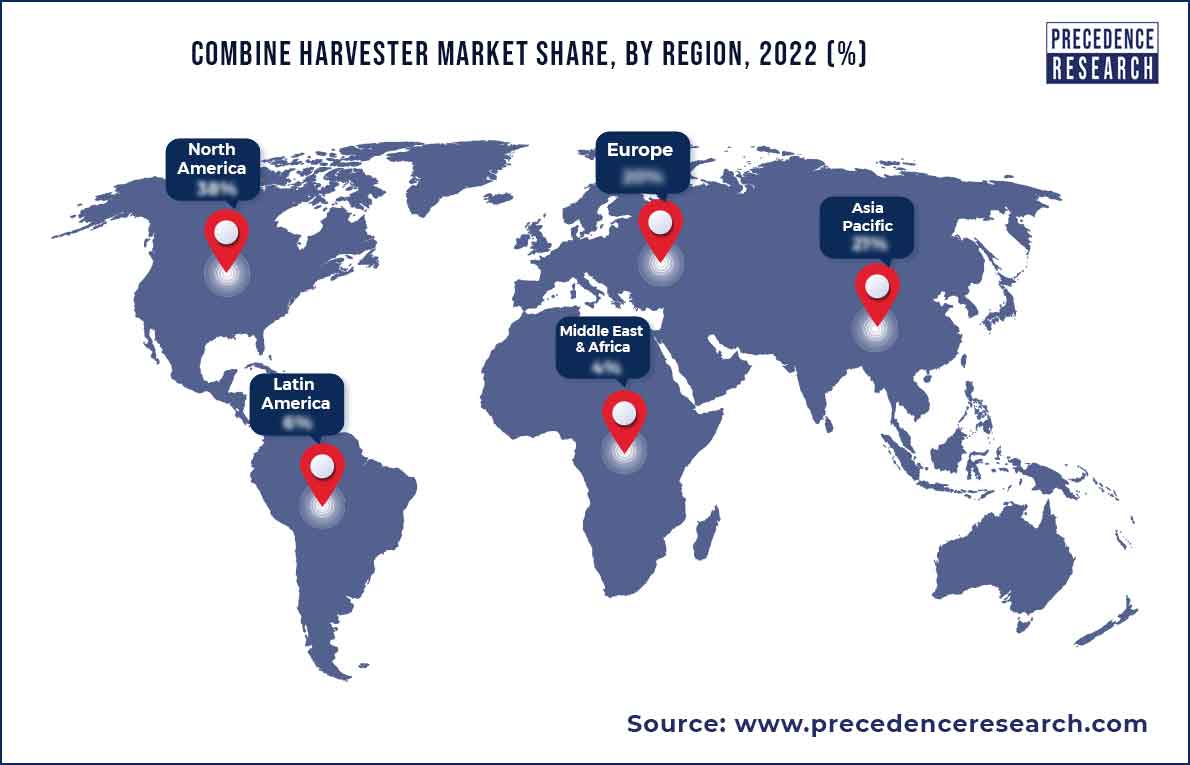 Market expansion is being fueled by extensive agricultural activity, increased acceptance of cutting-edge techniques in the area, government backing, and Due to the planned renewal of combined harvester stock within those regions, the industries in Europe and North America are expected to experience positive potential growth within the second quarter of the forecast timeframe. Due to developing agricultural technology over course of the projection year, it is expected that the Indian market would offer more chances.
Recent Developments:
Agricultural technology company Bear Flag Robotics, situated in Silicon Valley, was bought by John Deere in August 2021. This acquisition will increase John Deere's agricultural equipment mechanization and assist their long-term objective of developing cutting-edge machinery to meet the needs of specific customers.
To achieve high performance, CLAAS KGaA mbH added the brand-new CONVIO FLEX as well as CONVIO draper cutting bars to its product lineup in August 2018.
Massey Ferguson, a brand of AGCO Corporation, announced the launch of RazorEdgeTM 1300 Model Pull-Type Discs Mower Conditioners in 2018.
Kubota Company began full-scale operations at a new tractor and wheel-type combined harvester manufacturing facility in Nov 2017. The business provides a variety of agriculture products, and its well-known harvester PRO1408Y produces excellent performance.
The updated Swaraj Pro Combined 7060, a track combine from the Swaraj product series, was unveiled in Sept 2021 by Mahindra and Mahindra Ltd. This new Swaraj Professional Combine 7060 has a modified paddy cutter bar and can efficiently as well as accurately cut sleeping plants at a lower cost.
Key Market Players
Claas KGaA GmbH
CNH Industries NV
Deere & Company
Farm Equipment Limited
Hind Agro Industries
Iseki & Co. Ltd
Kartar Agro Industries Private Limited
KS Group
Kubota Agricultural Machinery
LOVOL
Mahindra & Mahindra Limited
Massey Ferguson (AGCO Corporation)
New Holland
Preet Group
Renault Sonalika International
Sampo Rosenlew Ltd.
SDF S.p.A.
Tractors and Farm Equipment Limited (TAFE)
Yanmar Co. Ltd
Segments covered in the report:
(Note*: We offer report based on sub segments as well. Kindly, let us know if you are interested)
By Type
Self-propelled
Tractor-pulled Combine
PTO-powered Combine
By Mechanism
By Power
Below 150 HP
150-300 HP
300-450 HP
450-550 HP
Above 550 HP
By Class
Class 1-2 (0.5-3 Kg/s)
Class 3-4 (5-8 Kg/s)
Class 5-6 (9-12 Kg/s)
Class 7 (12-14 Kg/s)
By Grain Tank Size
<250 bu
250-350 bu
>350 bu
By Crop Type
By Geography
North America
Europe
Asia-Pacific
Latin America
The Middle East and Africa