The global diapers market size accounted for USD 61.2 billion in 2022 and it is expected to hit around USD 104.73 billion by 2032, growing at a CAGR of 5.52% during the forecast period from 2023 to 2032.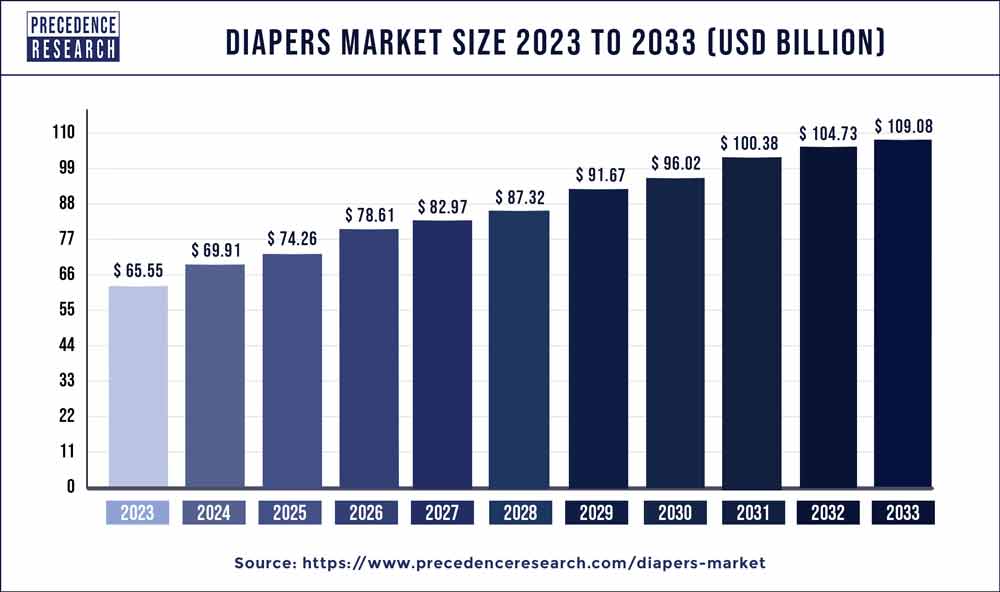 Access our Premium Real Time Data Intelligence Tool, Visit: Precedence Statistics
A diaper is an absorbent undergarment that enables users to pee and defecate without using a toilet. It is constructed with a variety of textiles, including synthetic disposable materials, tissue paper, hemp, cotton, and hemp. It includes a polypropylene inner liner that helps to increase fluid absorption and guards from soiling the outside material. When applied to newborns and people with disabilities, it helps eliminate moisture and reduces skin allergies, rashes, and infections.
Key Takeaways:
North America region is anticipated to be lucrative in the global market.
Asia Pacific is the second-largest region in the global market.
By product type, the cloth diaper segment represented a significant portion in 2022, In terms of revenue.
By product type, the disposable diapers segment contributed maximum revenue in 2022.
By distribution channel, the online stores segment contributed a major portion of total income in 2022.
Growth Factor
Baby hygiene is the most crucial factor for new parents to consider. The diaper business is also essential for preserving the baby's cleanliness. Because newborns constantly pee, frequently changing underwear is a hard task. Regular underwear can also irritate skin and cause rashes if not quickly changed.
Coldness might also come from persistent moisture. Therefore, diapers provide a useful solution to these problems. Diapers provide comfort to the newborn by preventing itching and skin rashes in addition to decreasing the need for frequent diaper changes.
More babies than ever are born in emerging nations. As a result of the increased population, the diaper industry is growing. However, the majority of individuals in underdeveloped countries were unable to buy the precise number of newborn diapers needed. As a result, a lot of nonprofit organizations work to provide diapers to the disadvantaged population at fair prices.
Along with diapers for newborns, there are also adult diapers available in the market. These adult diapers are intended for those who have bladder issues. Middle-aged women may experience bladder incontinence as a result of childbirth or aging. The market for diapers as a whole does not, however, include the adult diaper sector.
One of the primary drivers of the demand for diapers is the increased incidence of skin illnesses in infants and parents' increasing knowledge of the advantages of preserving early childhood hygiene.
Diaper sales are being driven by the rising frequency of functional and cognitive disability as well as urinary tract infections (UTIs).
A greater emphasis is being placed on employing nanotechnology and creating smart diapers with sensors that can detect leaks automatically.
One of the main elements favorably affecting diaper sales is the increased emphasis on personal hygiene, which is paired with shifting lifestyles and rising spending power of people.
Report Scope of the Diapers Market
| | |
| --- | --- |
| Report Coverage | Details |
| Market Size in 2023 | USD 64.58 Billion |
| Market Size by 2032 | USD 104.73 Billion |
| Growth Rate from 2023 to 2032 | CAGR of 5.52% |
| Largest Market | North America |
| Second Largest Market | Asia Pacific |
| Base Year | 2022 |
| Forecast Period | 2023 to 2032 |
| Segments Covered | By Product Type, By Distribution Channel, By Style, By Fragrance and By Consumer Operation |
| Regions Covered | North America, Europe, Asia-Pacific, Latin America and Middle East & Africa |

Key Market Drivers
Parents' worries about safety, convenience, and various promotional activities.
Being a parent is not an easy job. Even an experienced babysitter may find caring for newborns to be difficult. New parents are constantly taking care of their infants. For their baby's safety, they are constantly looking for the greatest supplies. The global market is expanding due to a variety of causes, including parents' rising concern about their infants.
Online commercials and promotional movies created by bloggers and influencers are used to market these diapers on social media and video-sharing websites. Manufacturers have established new sales channels through e-commerce networks. More and more clients are being attracted by various promotional activities including reduced discounts, combination packs, and free gifts.
Numerous firms are creating new goods, collaborating with research and development teams, and aggressively seeking out user feedback. There are new technologies created and employed in diapers, from the outside to the absorption pads. To avoid skin sensitivity and rashes on newborn skin, producers use moisturizers and skin-friendly materials. To stay one step ahead of the competition, manufacturers constantly develop innovative designs and technologies.
Key Market Challenges
Disposal of diapers and manufacturing-related chemicals.
The usage of chemical substances in diaper construction and disposal are the key issues. Chemical and synthetic materials used in diapers are designed to absorb liquids and solidify into gel. Given that many of these chemical compounds have been linked in scientific research to infant skin issues, mild dermatitis, chemicals that cause cancer, and other potential adverse health impacts, newborns may be harmed by them. Diapers frequently contain phthalates, which have negative effects on the endocrine system and can cause hypertension.
Another issue for their disposal is the rising usage of diapers in various regions. Diapers are single-use items that must be discarded after each usage. They are typically dumped in landfills since they cannot be recycled. The leftover garbage that was disposed of is primarily made up of chemicals, which are bad for the environment and may result in major issues in the future. People who care about the environment are limiting diaper use and raising awareness of diapers' negative impacts. The diaper market is suffering as a result of these causes.
Key Market Opportunities
Significant demand from the automotive and construction sectors.
In 2021, the infant diaper market contributed a sizeable portion of total revenue. Rising birth rates, more disposable money, improved knowledge of infant cleanliness, and a rise in the number of working parents are all contributing factors to this market's expansion. Diapers are essential to baby care because babies use them to contain their pee and feces until they are normally toilet trained or are newborns.
Increased economic buying power and population growth are two significant reasons driving the expansion of the infant diaper market. Researchers and developers are developing biodegradable diapers while guaranteeing newborn hygiene safety, according to manufacturers. Additionally, companies use these materials to make hypoallergenic, all-natural, and environmentally friendly newborn diapers.
During the projection period, the adult diapers category is expanding at a relatively rapid CAGR. Adult diapers are a relatively recent invention for those with urinal and/or fecal incontinence. Adult diapers are practical and comfortable to use since they are made exclusively for adult usage. The older population finds these diapers useful and popular, especially among people who experience fecal and urinary incontinence, are bedridden or have poor bladder control, suffer from dementia, or have mental health problems.
Segments Insight:
Product Type Insights:
In terms of revenue, the cloth diaper market category represented a sizeable portion of the overall diaper market in 2022. The two main advantages of using cloth diapers over disposable ones are cost-effectiveness and sustainability. Cloth diapers are also more reusable, washable, and ecologically friendly than disposable ones. Most of the textiles are natural, biodegradable, and chemical-free, which makes them safe for use on children's skin. Unlike disposable diapers, cloth diapers' organic cotton or woolen fabric is chemical-free. Cloth diapers can also lead to lower incidence of diaper rash since they are changed much more frequently than synthetic diapers.
When washed by a professional provider, wearing cloth diapers is virtually more affordable financially than using disposable diapers. Cloth diapers considerably minimize landfill space, raw material use, energy consumption, and water consumption when compared to disposable diapers. Due to newer, improved, and more comfortable designs created by a number of current companies, cloth diapers are now easy to use. For instance, SuperBottoms just unveiled UNO 2.0, the most cutting-edge cloth diaper ever designed for babies.
Due to its simple design and effective characteristics like 12-hour absorbency, all-night dry sensation, and ultra-trim convenience, the smart approach is about to make UNO 2.0 the top diapering choice for new parents.
In 2022, the disposable diapers market contributed significantly to overall revenue. In terms of urine absorption, dryness, leak prevention, and rash prevention, disposable diapers surpass cloth diapers. Disposable tape diapers that can be easily sized modified are the most effective technique to reduce leaks. They are suitable for toddlers who are mobile during the day and crawling children. These diapers, which are designed to be worn at night, have increased and enhanced absorbency and breathability, which aid in preventing leaks.
Distribution Channel Insights:
In 2022 the Online Stores segment contributed a sizeable portion of total income. In order to avoid the nuisance of physical shopping, consumers are flocking to e-commerce websites to make purchases from a wide range of possibilities and take advantage of deals and discounts. E-commerce websites provide a number of advantages over traditional forms of sales channels.
Despite the fact that convenience shops and contemporary commerce will continue to drive the sales, the sale of infant training nappy diapers is anticipated to increase at an extraordinary CAGR during the projected period.
Regional Insights:
The market for diapers is anticipated to be lucrative in North America.
Since almost every family in this region uses diapers, North American countries are the world's largest market for diapers. In these nations, diapers are a necessity since, in the majority of situations, both parents are employed and so have little free time to care for their children. Another factor driving parents to use diapers for convenience is high disposable money. By 2021, there will be a 60–65% growth in diaper usage, making the area the leading producer of diapers.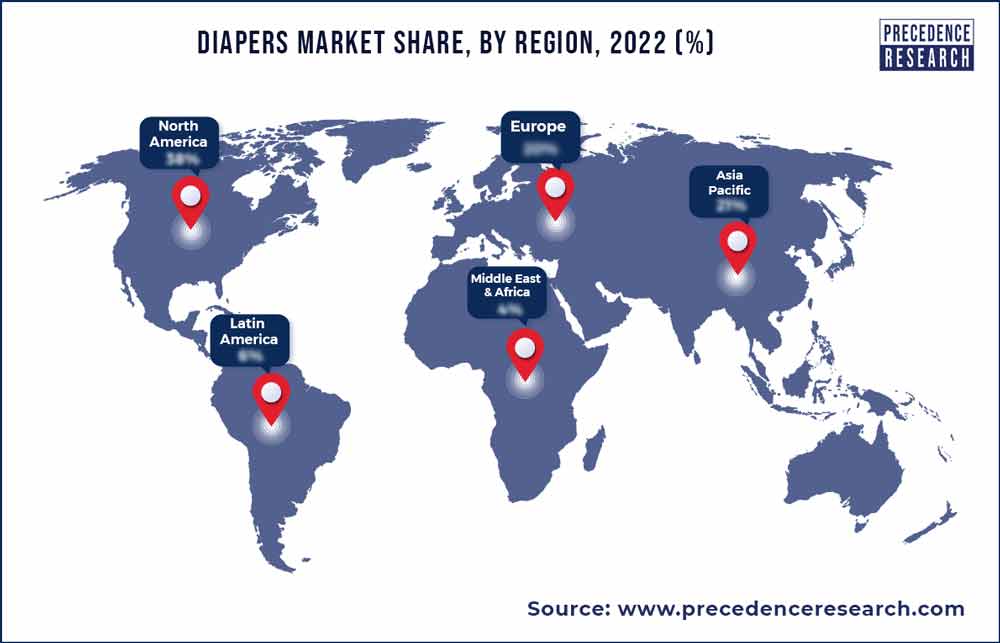 Manufacturers are relocating to Asian nations as the region has the potential to be the world's largest market for diapers. The second-largest diaper market is in the growing region of Asia Pacific. India and other developing nations are starting to use diapers on a regular basis. Urbanization and wealth growth are the causes. People from other nations, like China and Japan, are concentrating on the creation of innovative diaper designs and environmentally suitable materials for diapers. The diaper industry in developing nations has the potential to be quite large when manufacturers relocate there.
Recent Developments:
By introducing the "Feather Diapers" brand of breathable diapers in February 2022, R for Rabbit will enter the luxury diaper industry. The business makes infant equipment. For the convenience of disposing of dirty diapers, diaper bins have also been established in India.
Pampers released a new hybrid diaper that has reusable and disposable components. Utilizing tried-and-true Pampers technology, the Pure Protection Hybrid Diaper offers enhanced dryness and leak protection from a diaper that uses 25% less disposable materials.
Key Market Players:
Bumkins Finer Baby Products Inc.
Domtar Corporation
Essity Aktiebolag (pubI)
Hengan International Group Limited
Johnson & Johnson
Svenska Cellulosa Aktiebolaget SCA (pubI)
Kao Corporation
Nobel Hygiene Private Limited
Oji Holdings Corporation
The Proctor & Gamble Company
Kimberly-Clark Corporation
Unicharm Corporation
Ontex BVBA
Vivia International Private Limited
Turkosan Hijyen Ltd.
Bumpadum Manufacturing and Traders Private Limited
Nile Converting Co.
Avgol Ltd.
TRADIS INC.
Hunan Kings diaper Co. Ltd.
Segments Covered in the Report:
(Note*: We offer report based on sub segments as well. Kindly, let us know if you are interested)
By Product Type
Disposable Diapers
Training Diapers
Cloth Diapers
Swim Pants
Biodegradable Diapers
By Distribution Channel
Supermarkets and Hypermarkets
Pharmacies
Convenience Stores
Online Stores
Others
By Style
By Fragrance
By Consumer Operation
By Geography
North America
Europe
Asia-Pacific
Latin America
The Middle East and Africa