The global ecotourism market size was estimated at USD 195.9 billion in 2022 and it is expected to attain around USD 656.19 billion by 2032, expanding at a compound annual growth rate (CAGR) of 12.90% over the forecast period 2023 to 2032.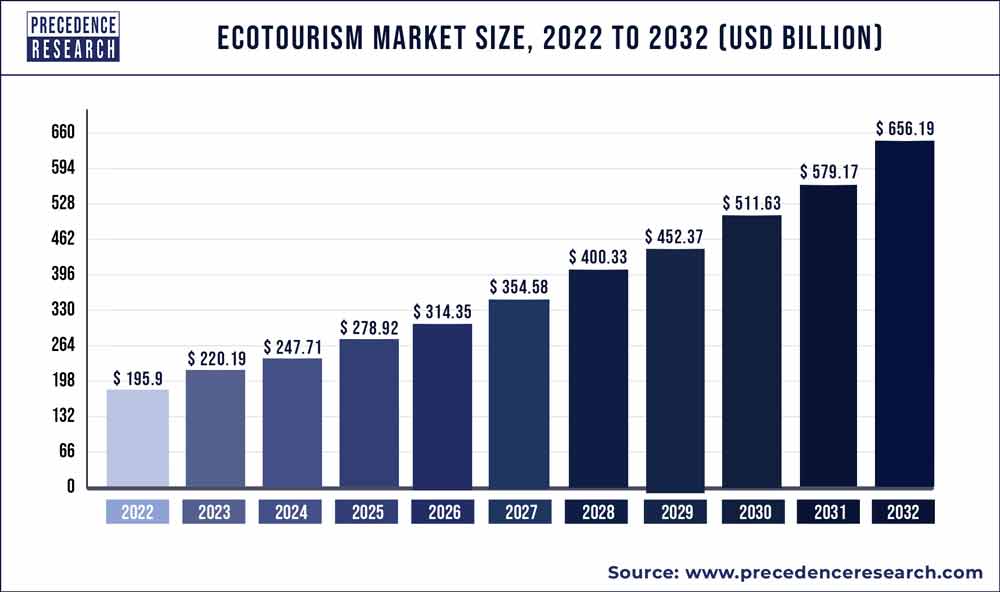 Access our Premium Real Time Data Intelligence Tool, Visit: Precedence Statistics
Ecotourism is a type of sustainable travel that aims to conserve natural areas, promote the well-being of local communities, and provide educational opportunities. It is supported by a global network of individuals and institutions that seek to educate tourists and tourism professionals on ecological issues. By providing economic incentives for the preservation of bio-cultural diversity, it generates financial benefits for local and private industries. The popularity of ecotourism is increasing, particularly in comparison to traditional mass tourism, due to the growth of the travel and tourism industry.
Key Takeaways:
North America is predicted to lead the market during the forecast period.
Asia Pacific region is expected to expand at the fastest CAGR from 2023 to 2032.
By Activity Type, the land segment generated approximately 71% of the revenue share in 2022.
By Activity Type, the marine segment is predicted to grow at a notable CAGR of 14.93% from 2023 to 2032.
By Group, the group segment dominated the market and captured more than 81% of revenue share in 2022.
By Group, the solo travel segment is expected to expand at a notable CAGR of 17% from 2023 to 2032.
By Booking Mode, the direct booking segment generated more than 61% of revenue share in 2022.
Growth Factors:
The idea of environmentally friendly tourism, which tries to minimise adverse effects on the environment as a whole, encompasses ecotourism, a type of travel that lays a strong focus on protecting and sustaining nature. This kind of tourism entails visiting isolated, untouched locations where the animals, vegetation, and cultural legacy are highlighted. The ecotourism market solely looks at international outbound travel and includes costs incurred by visitors from the United States, Asia-Pacific, Europe, and LAMEA.
Iceland, Kenya, Palau, and Nepal are among the trending hotspots in distinct eco-tourism locations throughout the world. The expansion of travel and tourism to unique areas has demonstrated great worldwide resilience. For instance, Nepal had a staggering 23% rise in visitors in 2019, with 1,163,072 people visiting the country overall. In a similar vein, Kenya reported a rise in visitor arrivals of over 38% in 2019, surpassing two million. In addition, ecotourism is increasingly focusing on places like the Republic of Costa Rica, the Ecuadorian Galapagos Islands, and Panama.
In recent years, Ethiopia has performed competently by focusing on niche markets that showcase the country's historical, natural, and cultural tourism assets. Wildlife tourism, birdwatching, coral reefs, and pristine undisturbed natural areas like the Amazon forests have attracted travelers to third world countries across the globe. A fundamental change in consumer behaviour has been sparked by the rising interest in and demand for sustainable travel. This greater focus on sustainability has changed how travel is promoted and marketed, as well as how new products are developed. Public-private partnerships that support flights to far-flung tourist sites enhance accessibility and transit capacity, which leads to market development and profitable business prospects for regional players.
The ecotourism market is driven by the various factors; some of it is as follows:
To start, a growth in consumer understanding and concern about the effects of tourism in general on the environment and local people is the main factor driving the market's rising demand for sustainable travel. These ecologically conscientious tourists have a viable option in ecotourism.
Governments all around the world are encouraging environmentalism by providing funds for preservation and infrastructure-building projects.
There is an increasing emphasis on wildlife protection, which is a key component of ecotourism. These projects attempt to draw tourists and produce cash for the economy of the region. The need to preserve threatened species and their surroundings has grown over time, and ecotourism offers visitors the chance to see and study wildlife in its natural settings.
The expansion of the ecotourism industry has also been aided by the appeal of far-flung and exotic locations. Travelling to locations like national parks, natural reserves, and UNESCO cultural landmarks that provide travellers with distinctive and life-changing experiences is known as ecotourism.
Finally, ecological tourism may improve local economies by supporting initiatives to protect the environment, generating jobs, and bringing in money for small businesses. This may result in greater community involvement and backing for conservation efforts, which would eventually help the ecotourism industry thrive.
Report Scope of the Ecotourism Market:
| | |
| --- | --- |
| Report Coverage | Details |
| Market Size in 2023 | USD 220.19 Billion |
| Market Size by 2032 | USD 656.19 Billion |
| Growth Rate from 2023 to 2032 | CAGR of 12.90% |
| Largest Market | North America |
| Fastest Growing Market | Asia Pacific |
| Base Year | 2022 |
| Forecast Period | 2023 to 2032 |
| Segments Covered | By Activity Type, By Group, and By Booking Mode |
| Regions Covered | North America, Europe, Asia-Pacific, Latin America and Middle East & Africa |

Key Market Drivers:
Increasing the affordability - Ecotourism is now more inexpensive and open to a larger variety of travelers because to the growth of cheap airline tickets and other inexpensive vacation choices.
The rising popularity of the responsible tourism - Ecotourism along with other forms of environmentally conscious travel are growing in popularity among tourists who want to have as little of an impact as possible on the natural world and local people. The desire for eco-friendly travel solutions is being driven by this trend.
Influence of the social media - By highlighting distinctive and environmentally friendly travel encounters social networking sites has significantly contributed to the promotion of ecotourism. The younger generations of travellers are now more aware of and interested in ecotourism as a result of such.
Climate change awareness - The need to promote sustainable tourism practises is becoming more and more evident to tourists as the effects of global warming become more pronounced. Travellers may help efforts to preserve the environment and lessen their carbon impact through ecotourism.
Key Market Challenges:
Lack of regulations - The absence of rules and guidelines for ecotourism may result in unethical and irresponsible practices. The environment, nearby communities, and the industry's long-term survival may all suffer as a result.
Climate change - Because of the potential for irreparable harm that climate change may do to delicate ecosystems, ecotourism sites are at serious risk. The tourist sector and the nearby towns that rely on it may suffer as a result.
Political instability - Political unrest and hostilities in some locations might discourage travelers and hinder the potential expansion of ecotourism there.
Overcrowding - Overcrowding at popular ecotourism areas may have a harmful effect on the environment and nearby populations. This may also result in a reduction in the standard of the travel encounter.
Key Market Opportunities:
Technological advancements - Technology may improve client experiences, expedite processes, and cut costs in ecotourism. Travellers may have immersive experiences and have easier access to faraway locations because to technologies like augmented reality, unmanned aircraft, and smartphone apps.
Rising demand for sustainable tourism - The need for sustainable travel choices is rising as more tourists become mindful of the drawbacks of mass tourism. Ecotourism offers a substitute that encourages conservation efforts and reduces detrimental effects on communities nearby and the environment. Ecotourism businesses now have a great chance to profit from this expanding demand.
Segments Insight:
Activity Type Insights:
In 2022, land ecotourism generated approximately 71% of the revenue share, propelled by the increased consumer demand for sustainable land-based tourism such as wildlife safaris, national park visits, and wildlife watching. Land-based activities are convenient and more affordable, leading to a significant surge in consumer inclination towards these activities in recent years. CNH Tours reported an annual growth rate of 16.7% between 2009 to 2018 for land-based tourism activities, indicating a promising growth trajectory for this segment.
The marine segment is expected to witness significant growth, with a notable CAGR of 14.93% from 2023 to 2032. The surge is primarily driven by changing consumer preferences, increasing interest in adventure activities, and leisure and vacation journeys on coastal waters. The beauty, diversity, and cultural richness of coastal areas worldwide make them a preferred holiday destination for both domestic and international tourists, making coastal and maritime tourism a significant industry.
Group Insights:
In 2022, the group segment dominated the revenue share, accounting for over 81%. This growth can be attributed to the increasing preference for group travel among consumers, the emergence of travel groups on social media platforms, and the rising number of young eco-tourists. Moreover, young travelers have shown remarkable resilience towards group travel in recent times. To attract group travelers, tour operators worldwide are offering various travel packages that include several group activities, further bolstering the global industry's growth.
The solo travel segment is expected to witness notable growth, with a projected CAGR of 17% from 2023 to 2032. Over the last decade, solo travel has gained tremendous popularity among numerous travelers seeking immersive travel experiences and embracing their freedom. Given the rising demand for solo travel, vacation firms and tour operators are now focusing exclusively on catering to solo travelers.
Booking Mode Insights:
The largest revenue share of over 61% in 2022 was held by direct booking. The reason for the strong growth in direct tour package booking is due to the fact that a large elderly consumer base still prefers for booking their travel, flight, also hotel booking through direct bookings.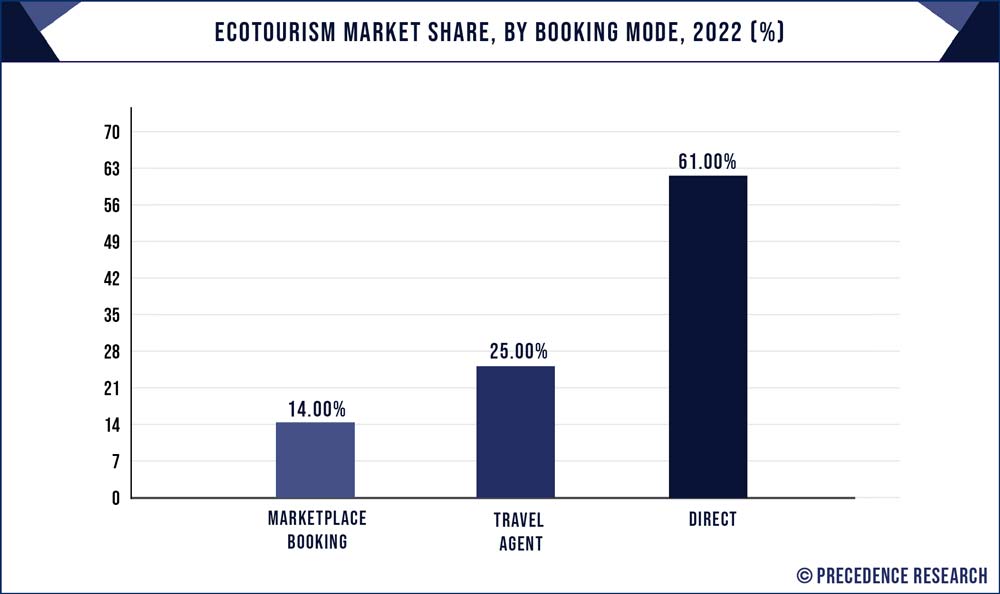 Besides, rising numbers of the eco-tourists are opting more for direct channels to gain more personalized experiences, and the key companies and tour operators are also offering various tailored services as well as discounts when booked through the direct booking mode to further increase their consumer reach. This has resulted further in the growth of this market.
Regional Insights:
North America is expected to dominate the market during the forecast period due to the presence of a large number of national parks, nature reserves, and other eco-tourism destinations in the region. The US and Canada are the major contributors to the market growth in this region.Europe is another significant market for ecotourism, driven by the growing trend of sustainable travel and the presence of diverse and unique natural landscapes and wildlife reserves. Countries such as Spain, France, and Italy are the major contributors to the market growth in this region.
The Asia Pacific region is anticipated to showcase significant growth in the coming years, attributed to the rise in the number of eco-tourists visiting countries such as Thailand, Indonesia, and Malaysia. Moreover, the growing focus of governments in the region on developing eco-tourism infrastructure and promoting sustainable tourism practices is expected to drive market growth.
Latin America is expected to witness promising growth in the ecotourism market, with countries such as Costa Rica and Ecuador emerging as popular eco-tourism destinations. The Middle East and Africa region is also expected to showcase growth in the ecotourism market, driven by the presence of natural wonders such as the Serengeti and Masai Mara wildlife reserves, and efforts by governments to promote sustainable tourism practices.
Recent Developments:
Wetravel, Inc. collaborated with Tourism Cares in June 2022 to introduce an academy program called "Introduction to Sustainable Tourism" that assists travel companies in adopting more sustainable practices. The course is aimed at providing travel companies with an introductory education on sustainable tourism, enabling them to stay informed and engaged in promoting a change towards sustainability.
Key Market Players:
andBeyond
Intrepid Travel
FROSCH International Travel
Responsible Travel
Adventure Alternative
Kind Traveler
Aracari
Rickshaw Travel
Travel Leaders Group
Adventure Alternative
Small World Journeys Pty Ltd.
Steppes discovery
Undiscovered Mountains Ltd.
Segments Covered in the Report:
(Note*: We offer report based on sub segments as well. Kindly, let us know if you are interested)
By Activity Type
By Group
By Booking Mode
Direct
Travel Agent
Marketplace Booking
By Geography
North America
Europe
Asia-Pacific
Latin America
Middle East and Africa