The global humanoid robot market size was evaluated at USD 1.62 billion in 2022 and is projected to hit around USD 28.66 billion by 2032, growing at a CAGR of 33.28% from 2023 to 2032.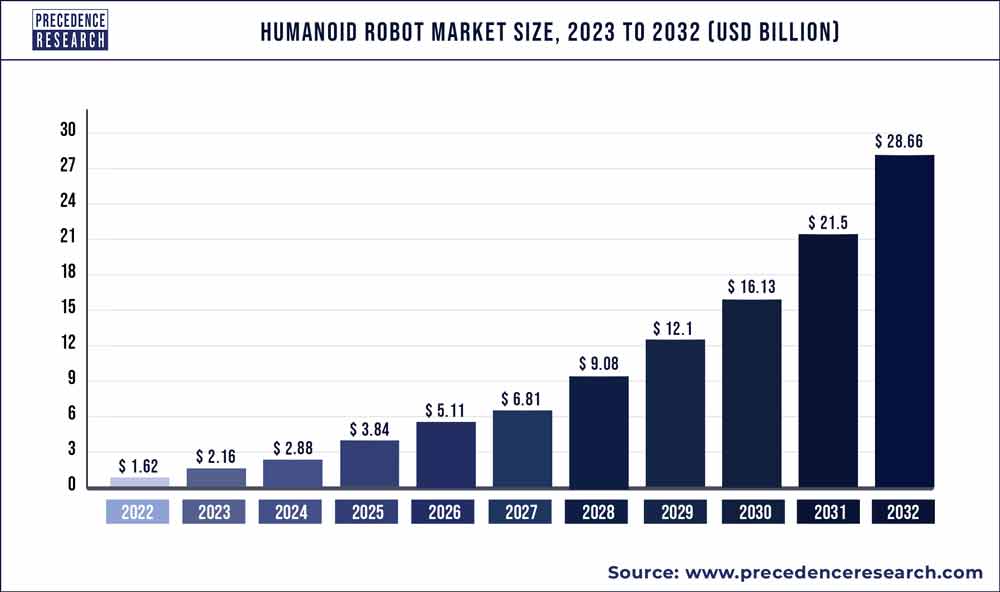 Key Points:
By geography, the North America accounted for the maximum revenue share in 2022.
By motion type, the wheel drive segment has the major market share from 2023 to 2032.
By motion type, the biped segment had a maximum share in 2022.
By component, the software segment had the biggest revenue share in 2022 and is predicted to have the highest CAGR from 2022 to 2032.
By component, the hardware component is anticipated to grow at the quickest pace from 2023 to 2032.
By application, the personal assistance & caregiving segment is predicted to dominate the market.
By application, the entertainment segment is predicted to be the fastest growing in 2022.
Market Overview:
The primary factors driving the growth of the humanoid robot market are the enhanced use of humanoid robots for surveillance and security applications, including detection of unauthorized intrusion and terror activities, improved use of AI robots in dangerous areas, and research and space investigation enabling connectivity from a distant location.
A further market driver for humanoid robots is the rapid expansion of autonomous technologies to enhance customer interaction and experience and the growing demand for retail robots. For instance, RoboBee is a small robot able to partly untether flight built by a Harvard University research robotics team. The RoboBee project aimed to create a completely autonomous swarm of flying robots for surveillance, search and rescue, and artificial pollination.
Since people are becoming more eager to have robotic assistants around, the market for humanoid robots is also expanding. One of the reasons for this is that the population is aging. Humanoid robots help seniors with tasks that are too challenging or hazardous for them, such as washing heavy objects. Nursing home residents are frequently elderly and frail, making them more susceptible to accidents and diseases. As a result, the demand for humanoid robots for caregiving has increased.

Specifications of Various Humanoid Robots
Name
ASIMO
NAO
iCub
REEM
SOPHIA
Height(cm)
130
57
100
170
182
Weight(kg)
54
27
36.5
60
40
Degrees of Freedom
34
25
53
22
22
Speed
9 km/hr
1.2km/ hr
N/A
1.4 km/hr
N/A
Processor
Mobile
ATOM Z530 1.6 GHz CPU
PC104
NVIDIA
N/A
Unit
Pentium III-M

1.2 GHz
1/2/4/8 GB RAM

Motherboard PB-945+, with Intel

Jetson™ TX2

Market Dynamics:
Drivers
Increase in sales of the professional service robots
According to the International Federation of Robotics (IFR) "World Robotics 2022 - Service Robots" report published in 2022, sales of professional service robots increased by 37%. Europe had the highest growth rate, with a 38% market share, followed by North America (32%) and Asia (30%). At the same time, sales of new consumer service robots increased by 9%.
Restraints
Risk of job automation
The practice of replacing human labor in the workplace with computer-controlled devices and other electronics is known as job automation. Automation is gradually reshaping the workplace, from the production of AI tools to an increase in IoT usage statistics. Every year, numerous medium-skilled manufacturing and office jobs are lost.
According to the Office for National Statistics (ONS), 1.5 million people in England are at greater risk of losing their jobs due to automation in 2019. This hinders the expansion of the humanoid robot industry due to the possibility of unemployment.
Opportunities
Integration of AI
Across the global humanoid robot market, robotics research is becoming more focused on AI. Previously, humanoid robot research focused on developing automated machines that looked and behaved like humans. However, more researchers have begun to focus on integrating AI into these robots to improve their performance and make them more autonomous in recent years.
This shift is most visible in Fully Automated Living Systems (FALLS), which are robot systems that operate and learn without human intervention or supervision. So far, FALLS has performed well in tasks such as navigation and object manipulation—but there is still scope for improvement.
Challenges
In untested environments, robot performance is unpredictable due to a lack of high-level interfacing.
Robots now need to do much more than pick up things, put them in their proper places, and help humans. Due to the increased use of robots in various industries, including logistics, public relations, personal and caregiving, medical, education, and entertainment sectors, the demand for robots with advanced features is growing.
As a result, there is a need to develop humanoid robots with more efficient hardware, tilt, position, force, vision, and other sensors. But outer space environments are largely unknown and unexplored. The long distances that separate operators and deployed systems cause significant delays in communications, and GPS infrastructure needs to be created to provide necessary positioning information.
The unstructured, sandy, and rocky terrain of extraterrestrial body surfaces makes navigation challenging, and micro-gravity adds additional locomotion difficulties.
Report Scope of the Humanoid Robot Market
| | |
| --- | --- |
| Report Coverage | Details |
| Market Size in 2023 | USD 2.16 Billion |
| Market Size by 2032 | USD 28.66 Billion |
| Growth Rate from 2023 to 2032 | CAGR of 33.28% |
| Largest Market | North America |
| Fastest Growing Market | Asia Pacific |
| Base Year | 2022 |
| Forecast Period | 2023 to 2032 |
| Segments Covered | By Motion Type, By Component and By Application |
| Regions Covered | North America, Europe, Asia-Pacific, Latin America and Middle East & Africa |

Covid-19 Impact:
COVID-19 slowed the development of humanoid robots. As the disease spread around the world, various economies were severely impacted. Due to the disruption in the supply chain and labor shortage, industries were forced to close for several months.
On the other hand, humanoids play a significant role in the healthcare sector, and the trend is anticipated to continue. Companies are investing in the development of Humanoid Robots. Robots were implemented in healthcare and other industries to reduce human contact during the pandemic.
Moreover, humanoid robot assistants are used in various applications, including sanitizer distribution, food materials and packets, thermal scanning, and others. For instance, UVD Robots is a Danish company that developed disinfecting robots for operating and inpatient rooms.
They sterilize almost anything; each robot is a portable array of potent short-wavelength ultraviolet-C (UVC) light sources that radiate energy to destroy the DNA or RNA of microorganisms that come into contact with them.
Segments Insight
Motion Type Insights
The market is divided into two segments based on motion type: wheel drive and biped. During the forecast period, the wheel drive segment has the largest market share. Wheel-drive robots are designed and programmed to navigate their surroundings.
As a result of their advantages, the demand for wheel-type robots in military and defense applications is expected to grow. Furthermore, wheel-drive humanoid robots are used as entertainment in amusement parks, science events, and theme parks. These factors are expected to drive market growth in the coming years.
In 2022, the biped motion type had a larger share of the global humanoid robot market. Humanoids look human-like if the robot walks on two legs like humans. A bipedal walking robot is a type of humanoid robot that mimics the human movement and is programmed to perform specific tasks.
The "Bipedal Walking Robot" not only performs locomotion with the help of a servomotor; it also automatically stands up when it falls and is controlled wirelessly with a remote control. Most humanoid robot manufacturers are concentrating on their designs for bipedal robots. Biped product types are also gaining popularity due to their widespread use in construction, manufacturing, and other industries.
For instance, Atlas is a bipedal humanoid robot produced primarily by the American robotics firm Boston Dynamics. Atlas has two vision systems and hands with advanced motor skill capabilities. Its limbs have 28 degrees of freedom.
Component Insights
Based on components, the market is divided into software and hardware. The software segment had the highest revenue share in 2022 and is anticipated to have the highest CAGR from 2022 to 2032. As technological advancements increase the complexity of features such as AI and autonomous operations, the value of the software component in the robot will grow faster.
The advantage of software over hardware is that the software assists the complex functionalities to process efficiently and accurately. For instance, the iCub-HRI is a Software Framework for Complex Human-Robot Interaction Scenarios on the iCub Humanoid Robot.
On the other hand, the hardware component is anticipated to grow at the fastest pace over the forecast period. Humanoid robots are greatly enhanced by hardware components that give them a human appearance. The traditional approach of highly rigid robots gradually shifts to compliant and dynamic ones for safer human interaction and more efficient locomotion.
The control system is an essential component of a humanoid as it processes data from the sensor system and sends commands to the actuators to act based on the decision output. This led to an increase in demand for hardware components.
Application Insights
Based on the application, the humanoid robot market is segmented into Research & Space Exploration, Education, Entertainment, Security & Surveillance, Personal Assistance & Caregiving, and Others. The personal assistance & caregiving segment, which provides patients with personal care at home and in hospitals, is expected to dominate the market.
Humanoids care for the elderly and patients, assisting them in daily activities such as delivering medicine on time. These humanoids are also programmed to perform routine tasks usually performed by caregivers, such as monitoring vital signs, administering medications, aiding feeding, and alerting healthcare professionals in an emergency.
On the other hand, the entertainment segment is expected to be the fastest-growing in 2022. Humanoid robots have a long history in the entertainment industry, from when the first robotic arms were used to transport cameras to difficult filming locations where humans were present. Furthermore, technological advancements have increased the reach of humanoid robots in movie production and filming by 45%.
Humanoid robots are mainly used to demonstrate actions that humans would be unable to perform. Another life-threatening test is the automobile test, in which humanoid robots are the only ones capable of adequately assessing the scenario and its consequences. This industry is growing by double yearly as safety certification is becoming mandatory for many products.
Regional Insights
North America accounted for the largest revenue share in 2022, owing to humanoid robot technologies and enhanced infrastructure advancement. There is a rise in demand for humanoid robots in healthcare and the educational sector for caregiving and teaching in North America. Nonetheless, increasing investment by the government and key players for rising application areas is also driving the market's revenue. For instance, Nadine, manufactured by Hanson Robotic, is a gynoid humanoid public robot that responds to greetings, maintains eye contact, and remembers all conversations with it.
Nadine answers questions in various languages autonomously and simulates emotions through gestures and facial expressions depending on the subject of communication with the operator. Nadine spent six months at Bright Hill Evergreen Home in Singapore, from late 2020 to April 2021, assisting the elderly in playing Bingo and interacting with them.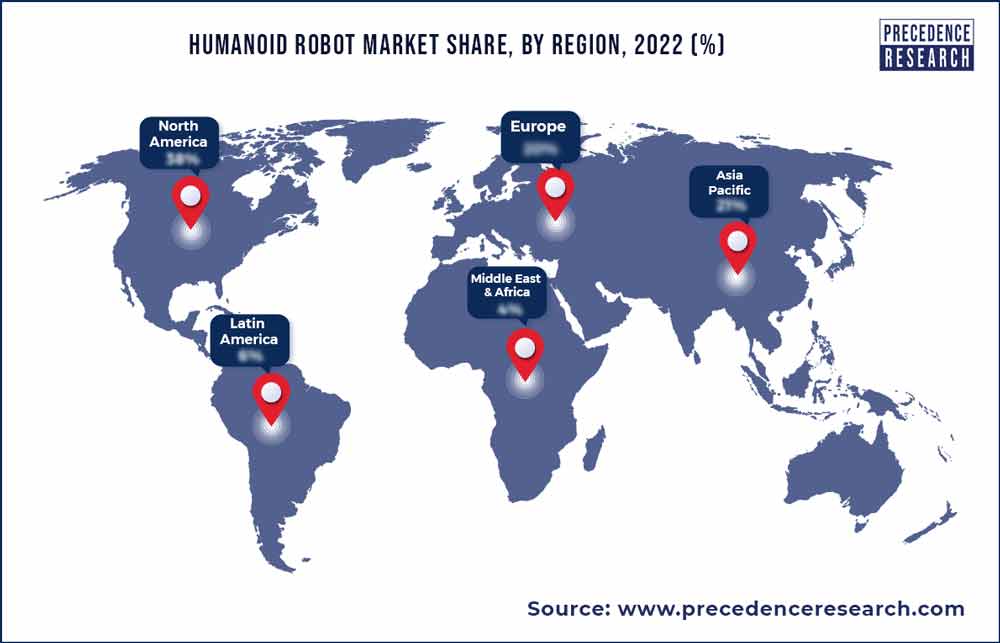 The Asia Pacific market is expected to grow fastest due to technological advancement and increased demand to improve customer experience in China and Japan. Other market revenue growth factors include falling hardware costs and rising retail demand. Furthermore, the spread of coronavirus has increased the need for isolation and medical assistance, increasing the demand for robotic assistance and driving industry growth. For instance, Grace, a humanoid robot that the Hong Kong-based robotics firm expected to revolutionize healthcare, was introduced in 2021.
Grace, designed as a doctor's assistant, is equipped with sensors, such as a thermal camera that detects a patient's temperature and pulse, to assist doctors in diagnosing illness and administering treatments. Another example of a humanoid is Manav. It is India's first three-dimensional printed humanoid robot. It performs push-ups and headstands, and it plays football.
Recent Developments:
Xiaomi introduced its CyberOne Humanoid robot in August 2022, recognizing emotions with facial expressions and voice.
After receiving an upgrade to its facial expression capabilities in August 2022, Ameca, Engineered Art's highly advanced humanoid robot, will be able to perform frowning, grinning, and winking in a mirror, as well as squeezing its lips.
Tesla, an developing player in the worldwide humanoid robot market, declared in June 2022 that its humanoid robot Optimus would be available in September 2022.
As the spread of COVID-19 for service automation accelerates in various world segments, a humanoid named 'Sophia' was mass-produced in January 2021.
UBTECH Inc. collaborated with Ricoh Inc. in October 2021 to develop and maintain the UVC High Power Ultraviolet Disinfection System.
Elon Musk, the co-founder of Tesla Inc., developed a humanoid for dangerous work that humans cannot perform for human protection in August 2021.
Ford became the first client to incorporate Agility Robotics' humanoid robot, Digit, into a factory setting in January 2020.
Key Market Players
Samsung Electronics
DST Robot Co. Ltd.
Qihan Technology Co.
Kawada Robotics
Toshiba
Robo Garage Co.
Honda Motor Co. Ltd.
Engineered Arts
Instituto Italiano Di Technologia
WowWee Group
Toyota Motor Corporation
ROBOTICS
Ubtech Robotics
Pal Robotics
SoftBank Corporation
Hanson Robotics
Segments Covered in the Report
(Note*: We offer report based on sub segments as well. Kindly, let us know if you are interested)
By Motion Type
By Component
By Application
Research & Space Exploration
Education
Entertainment
Security and Surveillance
Personal Assistance and Caregiving
Others
By Geography
North America
Europe
Asia-Pacific
Latin America
The Middle East and Africa