The global hydraulics market size accounted for USD 43 billion in 2022 and is anticipated to reach around USD 60.36 billion by 2032, poised to grow at a CAGR of 3.5% during the forecast period from 2023 to 2032.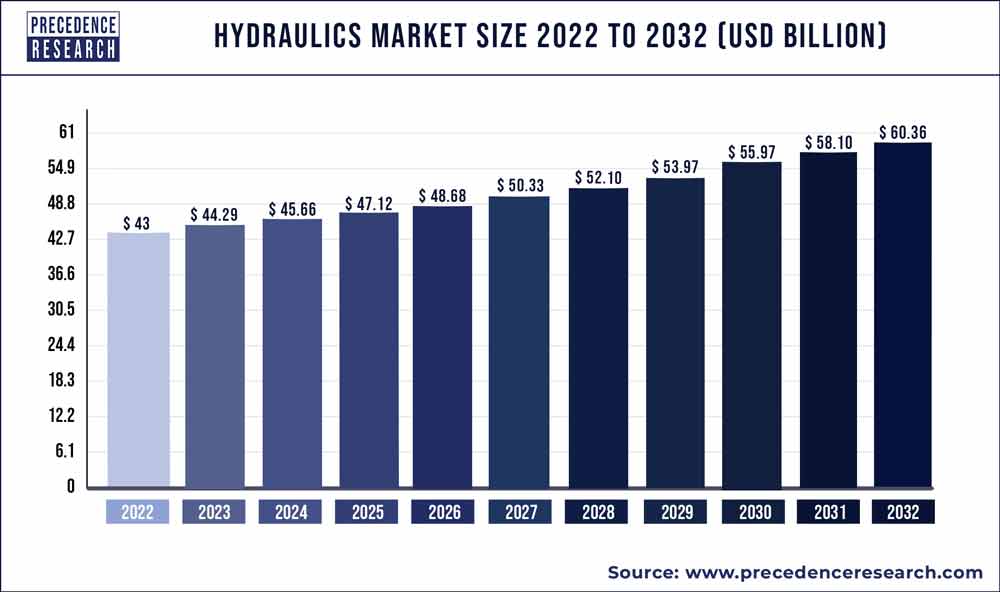 Access our Premium Real Time Data Intelligence Tool, Visit: Precedence Statistics
Key Takeaways
Asia Pacific led the global market with the highest market share of 39% in 2022.
North America is expected to witness the fastest CAGR of growth during the forecast period.
By Component, the cylinders hydraulics segment dominated the market in 2022.
By Component, the pump segment is expected to grow at a significant rate during the forecast period.
By Application, the mobile-type segment dominated the market in 2022.
By Application, the industrial hydraulics segment is expected to grow at a notable rate during the forecast period.
By End-use, the construction segment dominated the market in 2022.
By End-use, the agricultural segment is expected to generate a significant revenue share of the market during the forecast period.
Hydraulics Market in the Asia Pacific 2023-2032
The Asia Pacific hydraulics market size was valued at USD 16.77 billion in 2022 and is estimated to surpass around USD 23.09 billion by 2032, growing at a CAGR of 3.3% from 2023 to 2032.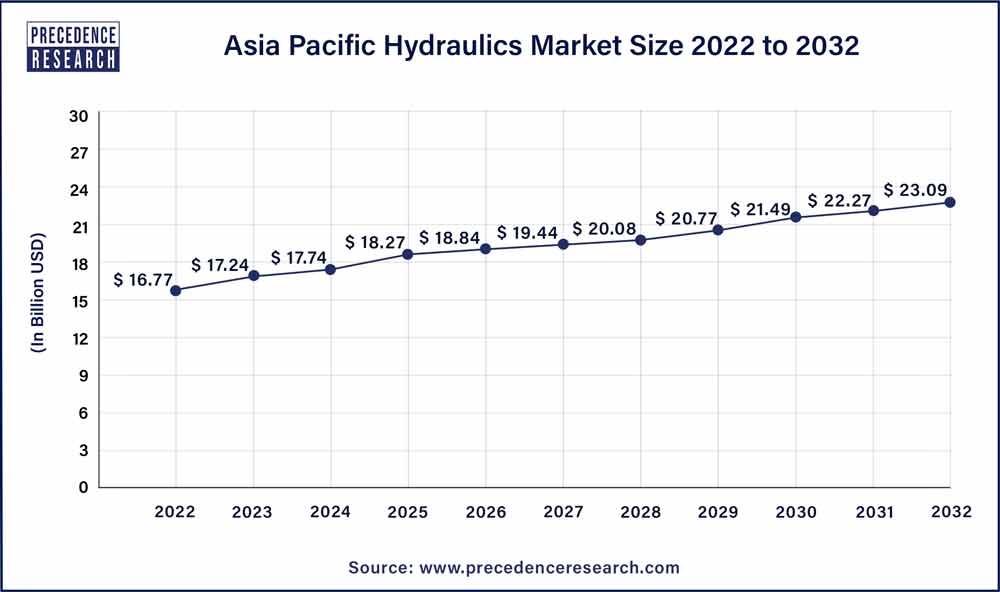 Asia Pacific dominated the market in 2022, the region is expected to sustain the position throughout the forecast period. Asia Pacific is home to numerous hydraulic component manufacturers, which benefit from a skilled workforce and lower production costs. This availability of manufacturing expertise and cost-effective production has allowed the region to dominate the hydraulics market. The Asia Pacific region, especially countries like China, India, South Korea, and Japan, has experienced rapid industrialization and manufacturing growth over the past few decades. Hydraulics are essential components in various industries, including construction, agriculture, automotive, and manufacturing. As these industries expand, the demand for hydraulic systems and components also increases.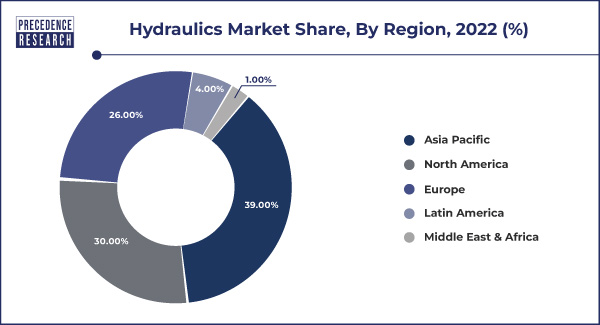 North America held the second-largest share in the hydraulics market, growing at the fastest rate. Hydraulics plays a crucial role in various industries, including construction, agriculture, manufacturing, and mining. An increase in industrial and construction activity typically drives demand for hydraulic equipment and systems. Infrastructure projects, such as road construction, bridges, and buildings, often require hydraulic systems for heavy machinery and equipment. Investments in infrastructure can boost the hydraulics market.
Hydraulics Market Overview
The hydraulics market refers to the industry that manufactures and sells hydraulic systems, components and equipment. Hydraulics is a powerful technology which can be seen in every industry. Hydraulics come in a variety of sizes and shapes. Hydraulics can be used in several industries such as manufacturing, construction, and others and it also works on other applications. There are many types of hydraulics systems or components used in several industries all of which work on the same principle. Hydraulics systems are flexible and can work in different kinds of industries and there are a number of types of hydraulics systems. Higher demand for the hydraulics system in expanding industries is driving the growth of the hydraulics market.
Growth Factors
Modern agricultural machinery, such as tractors and combine, use hydraulics for precision control and power, increasing the market's size in the agricultural sector.
The need for more eco-friendly and energy-efficient solutions drives the development of hydraulic systems that reduce energy consumption and environmental impact.
Growing industrialization in emerging economies increases the adoption of hydraulic systems in various sectors, contributing to market expansion.
The presence of robust manufacturing bases for hydraulic components and systems in regions like Europe, North America and Asia Pacific fuels market growth.
Regulations and standards related to safety and emissions drive the adoption of advanced hydraulic technologies to meet compliance requirements.
Hydraulics Market Scope
| | |
| --- | --- |
| Report Coverage | Details |
| Market Size in 2023 | USD 44.29 Billion |
| Market Size by 2032 | USD 60.36 Billion |
| Growth Rate from 2023 to 2032 | CAGR of 3.5% |
| Largest Market | Asia Pacific |
| Base Year | 2022 |
| Forecast Period | 2023 to 2032 |
| Segments Covered | By Component, By Application, and By End-Use |
| Regions Covered | North America, Europe, Asia-Pacific, Latin America, and Middle East & Africa |

Hydraulics Market Dynamics
Drivers
Requirement of higher efficiency in industrial operations
Hydraulic systems can easily lift huge objects owing to their incredible strength. Hydraulic systems can easily move heavy loads by applying pressure and fluid power, which enables them to complete tasks that would otherwise be difficult. Because they are efficient and portable, hydraulic systems are perfect for many uses. Hydraulic parts can be carefully placed, just like a well-organized toolbox, to conserve space and improve functionality. Their small size makes it possible to build powerful machines that can fit in small locations. Precision control over machinery and equipment is provided by hydraulic systems.
These devices permit fine changes and movements, much like a good artist's brush. Hydraulic systems enable operators to move with greater precision whether controlling heavy machines or guiding a vehicle. Industries such as manufacturing firms, automotive industries and many others require higher efficiency in industrial operations, where hydraulics equipment can be considered an ideal option. Thereby, the factor is observed to act as a driver for the market.
Restraint
Complicated maintenance of hydraulics
Maintaining hydraulic systems often requires specialized knowledge and proficiency. Hiring technicians and professionals for the same can be challenging for manufacturers, especially for small-scale manufacturers. Maintenance activities can lead to downtime, which can be costly for industries where continuous operation is crucial, such as manufacturing and construction. Complex maintenance procedures may prolong downtime. Complex hydraulic systems may require more frequent maintenance, including the replacement of components, fluid changes and troubleshooting. This can deter potential buyers and users. Thus, the element is observed to act as a major restraint for the market.
Opportunity
Advancements in hydraulic pumps
Advanced hydraulic pumps are designed to be more energy-efficient, which can result in substantial cost savings for users. They reduce power consumption while maintaining high performance, making hydraulic systems more attractive to a wider range of industries. More efficient pumps contribute to reduced energy emissions, aligning with environmental regulations and sustainability goals.
Modern hydraulic pumps can offer higher flow rates and better controllability, which enhances the productivity and performance of machinery and overall equipment. Advancements in pump design have led to smaller, more compact pumps with reduced weight. All these advancements are observed to offer a growth opportunity for the market.
Component Insights
The cylinder segment dominated the market in 2022. The position of the segment is attributed to the rising use of cylinder hydraulics in multiple industry applications. Hydraulic cylinders are mechanical components that can generate linear movement in chemistry by using a piston. The cylinder is used to convert linear movement energy to energy which can be stored and used in the entire hydraulic system.
The hydraulic cylinders are also considered the heart of the hydraulic system due to being the place where the energy is generated. Cylinder hydraulics are placed in the manner in which they are interconnected stored oil in it and fitted with pistons on both sides. It works when the force is given on the smaller side of the piston, the pressure is transmitted throughout the fluid. There are five major types of hydraulic cylinders such as single-acting hydraulic cylinders, double-acting hydraulic cylinders, tie-rod hydraulic cylinders, welded-rod hydraulic cylinders, and telescopic cylinders.
On the other hand, the hydraulic pumps segment is expected to witness a significant rate of growth during the forecast period. Hydraulic pumps can be hydrodynamic or hydrostatic, e pumps are mainly used to drive the hydraulic system in an equipment. Hydraulic pumps are used to convert mechanical energy into hydraulic energy. It creates enough power flow to overpower the pressure induced by the pump. In addition, the emergence of energy-efficient hydraulic pumps with the rising emphasis on reducing the energy consumption in industries creates a significant opportunity for the segment to grow.
Application Insights
The mobile hydraulic segment dominated the market in 2022. Ongoing innovations in hydraulic technology, including the development of electro-hydraulic systems and smart hydraulic components, have further enhanced the appeal of hydraulic systems in mobile applications. With proper maintenance, hydraulic components can have a long service life, which is important for mobile equipment that often has a high upfront cost. Mobile hydraulic systems are designed to withstand harsh operating conditions, including exposure to dust, dirt, extreme temperatures, and heavy vibrations. Their durability and reliability make them suitable for demanding environments.
The industrial hydraulic segment is expected to grow at a notable rate during the forecast period. Industrial hydraulics is used in a variety of industries. There are several varieties of machinery that can be used in the manufacturing process, metal formation, printing, stamping, injection molding, etc.
End-Use Insights
The construction segment dominated the market in 2022. The growth of the segment is attributed to the rising use of hydraulic technology in the industry or construction machinery. The majority of the machinery or equipment in construction sites is propelled by hydraulic power. In this kind of equipment, the hydraulic system drives motors and converts the hydraulic power into torque for pushing the diggers, bulldozers, and backhoes carrying a heavy load.
Construction equipment is subjected to harsh conditions, including extreme temperatures, heavy loads, and rough terrain. Hydraulics are known for their durability and resistance to wear and tear, ensuring that construction machinery can withstand the demands of the job site.
On the other hand, the agriculture industry segment is anticipated to generate a significant revenue share during the forecast period. The growth of the segment is attributed to the use of hydraulic power in agricultural machines and equipment which is driving the growth of the hydraulic market in the agriculture industry. The use of hydraulic power is changing the agriculture industry significantly through the adoption of the latest methods and manner of production. Adopting hydraulic power in the agriculture industry results in the reduction of the manual power amount, lowering the injury risks, limiting the amount and time of agricultural operations, and increasing the overall productivity of the individuals. The use of hydraulics is visible in the domestic and international agricultural systems.
The heavy equipment outlook of 2022 was received by AEM, 65% of the fall member survey thought demand for agricultural equipment was above the normal level.
Recent Developments
In October 2023, the latest electric tractor was launched by Fendt. The tractor was designed and manufactured for use in orchards, vineyards, greenhouses, and urban areas. The electric tractor is powered by a battery of e107 V Vario advantages of the FendtONE operating system and Fendt's Vario transmission.
In October 2023, the latest two utility track loaders were launched by the Wacker Neuson to its lineup. The two-utility named SM60 and SM120 is now available in Canada, with the successful launch of SM100 in 2021.
In October 2023, a fully electric heavy jaw crusher named UJ443E was launched by Sandvik Mobile Crusher and Screens. Companies constantly focus on the shift in the screening and crushing industry. The latest jaw crusher is made on a fully electronic platform and attributes reputable componentry and high quality throughout the Sandvik CJ412 jaw crusher new generation.
Hydraulics Market Players
Bosch Rexroth (Germany)
Danfoss (Denmark)
Parker-Hannifin Corporation (US)
Enerpac Tool Group (US)
HYDAC (Germany)
Kawasaki Heavy Industries (Japan)
KYB Corporation (Japan)
SMC Corporation (Japan)
Wipro Enterprises (India)
Caterpillar (US)
Segments Covered in the Report:
By Component
Cylinders
Pumps
Motors
Valves
Filters
Accumulators
Transmissions
Others
By Application
Mobile Hydraulics
Industrial Hydraulics
By End-Use
Construction
Agriculture
Aerospace
Metals & Machinery Manufacturing
Automotive
Mining
Marine
Oil & Gas
Material Handling
By Geography
North America
Europe
Asia-Pacific
Latin America
Middle East and Africa