The global hyperconnectivity market size was valued at USD 339.03 billion in 2022 and is expected to hit around USD 2,426.14 billion by 2032, growing at a notable CAGR of 21.8% during the forecast period from 2023 to 2032. The Asia Pacific hyperconnectivity market was valued at USD 72 billion in 2022.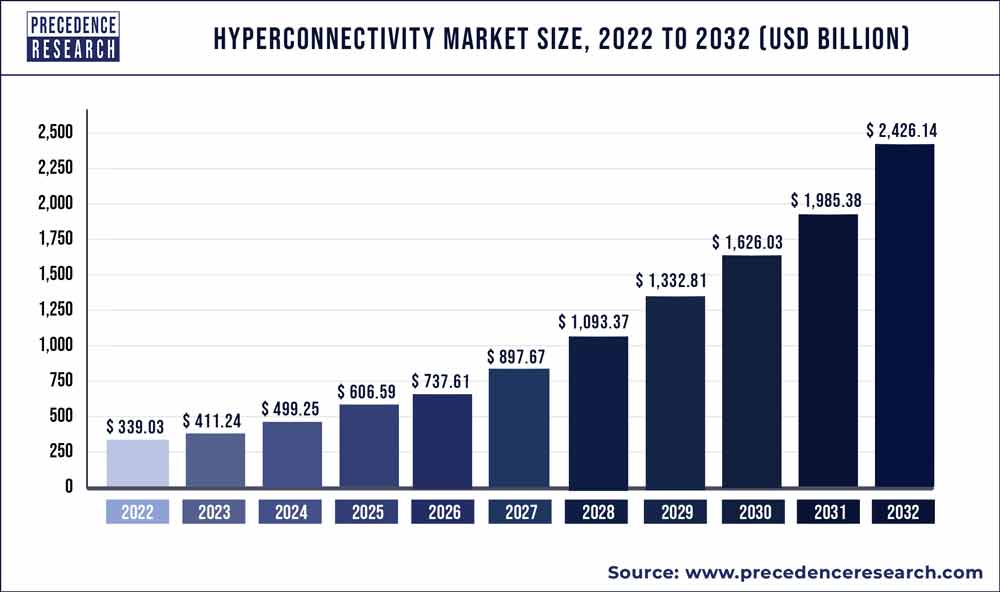 To maintain a connection to information and social networks while using unified communications that delivers traffic handling capacity and network bandwidth, one must employ numerous devices and systems. This is known as hyper connectivity. It makes it possible for businesses to move, exchange, and share data and information. Additionally, businesses use hyper connection to engage staff in a variety of activities including globalisation, competitive employment possibilities, new working practises, general expectations, and health and well-being. Integrating data from physical devices into the creation of new data-driven scenarios and services, such as eHealth, transportation, energy, or Internet of Things, is an advantage of hyper connection (IoT). The growing use of streaming content, sophisticated software, and network integration will be the main factors driving demand for linked living.
With over 4 billion internet users, over 5 billion mobile phone users, and 3.2 billion active social media users worldwide which are increasing at a rate of an average of 11 new users per second the globe is becoming increasingly hyperconnected in 2017. Traditional apps may be moved from users' constrained PCs to the theoretically limitless cloud thanks to computing resource virtualization. Everyone now has access to the advantages of high-performance computing through their linked gadgets. In order to increase service dependability and security as well as resource efficiency, virtualization is crucial.
One of the factors enabling a hyperconnected world is the Internet of Things (IoT). IoT is a network that links the digital and physical worlds. By 2025, there may be more than 55 billion IoT devices, up from the estimated 9 billion linked gadgets in 2017. In order to minimise technological obsolescence in a society that is highly linked without impeding on technological advancement and commerce, it is difficult to handle issues with standardisation and interoperability. The primary benefit of a hyper-connected world is the incorporation of data from physical devices into the creation of new data-driven services and scenarios, such as those in the fields of transportation, eHealth, Industry 4.0, and energy.
Key Takeaways:
North America region has made up 44% market share in 2022.
By organizational size, large enterprises segment has generated 69% revenue share in 2022.
By component, the software segment has held revenue share of 60% in 2022.
By product, the cloud platforms segment has generated revenue share of 47% in 2022.
By end-use, the IT & Telecommunication segment has generated revenue share of 24% in 2022.
Growth Factors
The expansion of the hyper connectivity market is being driven by the increase of internet connectivity, the use of smartphones, and the Internet of Things. A multiplicity of data contact points is being created by the rise of connected gadgets, giving marketers improved understanding of customer behaviour. Additionally, more firms are using hyperconnected devices since they offer a way to boost employee engagement through ongoing communication, which drives the market's expansion. Additionally, the development of 5G technology is anticipated to fuel the demand for hyperconnected devices. As gadgets become more interconnected, 5G technology lays the groundwork for frictionless data transfer between them, allowing the network of smart devices to grow even more.
Report Scope of the Hyperconnectivity Market
| | |
| --- | --- |
| Report Coverage | Details |
| Market Size in 2023 | USD 411.24 Billion |
| Market Size by 2032 | USD 2,426.14 Billion |
| Growth Rate from 2023 to 2032 | CAGR of 21.8% |
| Base Year | 2022 |
| Forecast Period | 2023 to 2032 |
| Segments Covered | Organizational Size, Component, Product, Industry Vertical, and Geography |
| Companies Mentioned | Avaya, Extreme Networks, Fujitsu Limited Iberdola SA, International Business Machines Corporation, Microsoft Corporation, Orange IT Solutions, Oracle Corporation, PathPartner Technology, Broadcom Inc |

Key Market Drivers
Growing use of hyper connection technologies across several organisations: Due to the proliferation of new mobile devices and increasing internet speeds, hyper connection creates new business model possibilities and days of occupation. As workforces become more virtual, they will need to use a variety of technologies to connect to one or more corporate networks. In order to increase engagement and productivity, the workforce will also want to build teamwork tools and approaches. By using hyper connection technologies, firms may profit from increased output and better decision-making.
An increase in IoT technology use: One of the main forces behind a market that is extremely linked is the IoT. IoT is a framework that connects the digital and physical worlds. IoT, on the other hand, organises due to a lack of compatibility across platforms. As a result, developers face difficulties such as expensive expenses, data silos, and a small market. As a result, cutting-edge technology like the web of things, or WoT, works to prevent damage by creating a web-based construct layer that may link IoT platforms, cloud services, devices, and standards. This is anticipated to accelerate the market's growth for hyper connectivity.
Key Market Challenges
Lack of awareness among people about IoT and smart cities that require hyper connectivity solutions
IoT projects benefit businesses and government infrastructure efforts in all areas, including transportation, construction, utilities, and citizen services. These locations can benefit from enhanced management and monitoring of equipment and services thanks to hyper connection technologies. Industries must direct their resources in order to take full use of the advantages of hyper connection. It has been noted in a number of businesses that only a tiny portion of the workforce is aware of the advantages of hyper connection.
One major obstacle impeding the growth of a smart ecosystem is the general lack of knowledge among the populace. Additionally, inhabitants in many locations lack knowledge of smart city initiatives, which weakens government motivation to deploy smart city solutions.
Key Market Opportunities
Growing trend for smart homes: A "central hub" for linked living will be the future house. As a result of the COVID-19 outbreak in 2020, demand for connected living solutions increased dramatically since they enable houses to change into on-demand offices and much more. Connected technology and service providers will enter new innovation frontiers as connectivity technologies like cloud services, video conferencing, the Internet of Things (IoT), mobility, robots, and AI continue to progress. Because 5G and Wi-Fi 6 will enhance consumer experience, communication network speed, and long-term cost effectiveness, their convergence will be a key enabler for connection.
Digital workflows: By 2030, 70% of businesses are anticipated to use a mixed work style. By eliminating manual, repetitive procedures, digital workflows free up employees to concentrate on enhancing performance and adding value for clients. In order to profit from digital workflows, which will result in streamlined procedures, businesses must adopt an organisational strategy.
Connected services ecosystem: Governments must collaborate with connected service providers (CSPs) to offer greater social benefits, enhance public service outreach, and increase citizen awareness with a digital-first strategy in place. Government, IT businesses, and CSPs should work together to promote smooth and effective integration of online services and access for all citizens.
Segments Insight
Organizational Size Insights
The large scale enterprise sector led the total Hyper connectivity in 2022 based on organizational size, and this trend is anticipated to continue throughout the forecast period. This is due to a surge in IoT technology adoption by businesses seeking to acquire a strategic and competitive edge over their rivals. Customers employ hyper connection technologies to have new perspectives on big different datasets which includes recent as well as historical data. The technology is suitable for data collecting, algorithm execution, and analysis across vast data sets to unhide entities, relationships, and insights.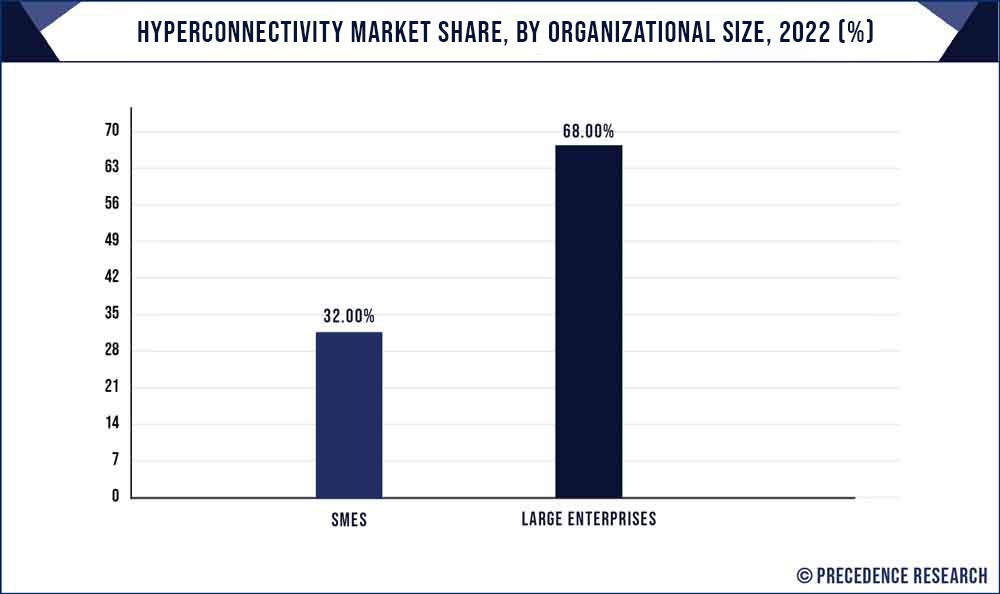 Additionally, as more significant businesses examine the extraction capabilities for obtaining priceless insights from big data, which is advantageous for the industry, hyper connection keeps gaining popularity. The category for small and medium-sized businesses, however, is anticipated to develop at the fastest rate. This is a result of SMEs moving their operations to digital platforms and utilising hyper connection technologies, which is assisting them in being more productive, efficient, and intelligent.
Components Insights
Business applications which enhance operational efficiencies, improvise customer experience, as well as provide new potential for income generation are offered by hyper connection software solutions. IoT devices that are internet-connected communicate with other connected devices, apps, and objects in a simple way to exchange information and offer the consumer with transparent data decisions. Increased connection Software solutions provide a wide range of technologies which help businesses in achieving its goals and preserving a key competitive advantage.
In order to automate various tasks at vital infrastructure, industry, and other places, software solutions are gaining popularity for the established infrastructure systems. However, several locations have stopped receiving money from new projects during the 2020–2021 term. Additionally, software solutions provide excellent asset visibility and control from a distance, enabling flexibility in dispersed settings. Therefore, over the projection period, software solutions are anticipated to have the greatest market size.
Hyper Connectivity Market Share, By Region, 2022 (%)
| | |
| --- | --- |
| Regions | Revenue Share in 2022 (%) |
| North America | 43% |
| Asia Pacific | 22% |
| Europe | 27% |
| Latin America | 5% |
| MEA | 3% |

Regional Insights
North America is one of the key contributors to the global market for hyper connectivity because of its technological improvement. Because both the United States Canada are developed economies, they can invest a lot of money in R&D initiatives. Rapid industrial focus area digitalization, increased use of smart connected devices, and technological advancements have all contributed to the growth of the North American hyper connectivity industry. The primary drivers of the market's expansion in the North American region are the use of connected devices and the corresponding network infrastructure, as well as the increasing collaboration between hardware, network, and software vendors.
Smart transportation is commonly employed in the region, which helps commuters get to their destinations safely. Canadian organizations are improving and optimizing their company processes by embracing IoT capabilities. Additionally, the companies create and sell IoT technologies to assist businesses in operating more effectively. Smart citizen services are a development enabler in North America, where there are numerous well-known public health and safety organizations, including firefighting and emergency medical services. As a consequence of technology advancements, there has been a rise in the usage of smart solutions installed, which has helped the area create a safe environment that is focused on the needs of its citizens.
Recent Developments
In July 2021, China Mobile Group and Huawei formed a cooperation to create the largest IoT support platform in the world. The two businesses are expected to work closely together through this relationship to address service needs in the IoT through effective O&M and service innovation.
The GSMA and the 5G Alliance for Connected Industries and Automation (5G-ACIA) signed a Memorandum of Understanding in January 2022 to collaborate on the demands of industrial manufacturing as well as service requirements. According to this agreement, the GSMA and 5G-ACIA will increase knowledge about industrial 5G deployment factors, including networks, infrastructure alternatives, devices, applications, and deployment models.
Segments Covered in the Report
(Note*: We offer report based on sub segments as well. Kindly, let us know if you are interested)
By Organizational Size
By Component
By Product
Enterprise Wearable Devices
Middleware Software
Cloud Platforms
Business Solutions
By Industry Vertical
BFSI
Healthcare & Life Sciences
Telecommunications & IT
Government & Public Sector
Manufacturing
Consumer Goods & Retail
Media & Entertainment
Others
By Geography
North America
Europe
Asia-Pacific
Latin America
Middle East & Africa (MEA)