The global hyperloop train market size was estimated at USD 1.35 billion in 2022 and it is expected to hit around USD 39.19 billion by 2032, expanding at a CAGR of 40.1% during the forecast period from 2023 to 2032.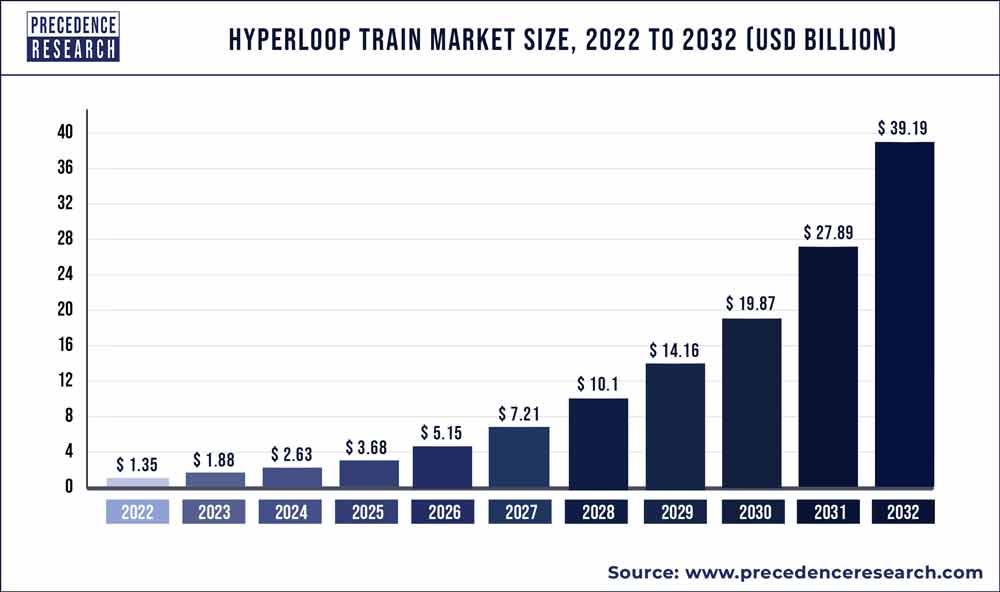 Access our Premium Real Time Data Intelligence Tool, Visit: Precedence Statistics
The term "hyperloop train" describes the fastest intercity surface transportation system that makes use of pod- or capsule-shaped vehicles that operate in a sealed tube with low pressure. The Hyperloop train technology is expected to move at an average speed of 600–760 mph, which is quicker than existing forms of transportation like water, air, rail, and road.
Growth Factor
On the strength of a rise in the need for speedier transportation options throughout the world, the worldwide market for Hyperloop trains is anticipated to grow at a promising rate in the forecast future. The Hyperloop train technology is also gaining popularity because of all the benefits it offers over other forms of transportation, including cost-effectiveness, energy efficiency, and environmental friendliness. These benefits have led to a significant increase in investments in Hyperloop train technology, which is supporting the growth of the worldwide Hyperloop train market. The increased need for traffic decongestion throughout the world is anticipated to benefit the worldwide market for hyperloop trains. Players in the worldwide Hyperloop train market are working harder to discover answers to several technical problems that would arise throughout the use of this technology. Additionally, a number of businesses in the market for Hyperloop trains are concentrating on finding solutions to the issues brought on by a lack of electricity. In addition, it is anticipated that an increase in R&D initiatives by several top firms would fuel the growth of the worldwide Hyperloop train market in the years to come.
In the coming years, the worldwide market for hyperloop trains is projected to experience rapid growth. The main variables that are anticipated to benefit the worldwide hyperloop train market are the desire for speedy, inexpensive forms of transportation that have minimal base costs, are constructed on infrastructure that is simpler to develop, and is immune to natural disasters like earthquakes. With a tremendous increase in population and a worrisome loss of available space to handle the expanding population, necessary means of transportation, and the need for efficient transport technologies that are rapid and affordable, emerging economies are predicted to have the highest demand.
The high speed of hyperloop technology as compared to other modes of transportation is fuelling the growth of the market.
The rise in environmental concerns and safety and security concerns associated with hyperloop train technology
Low cost of hyperloop train technology as compared to other similar technologies
Decongestion of traffic is also a major factor that is helping the growth of the market.
Report Scope of the Hyperloop Train Market
Report Coverage
Details
Market Size in 2023
USD 1.35 Billion
Market Size by 2032
USD 39.19 Billion
Growth Rate from 2023 to 2032
CAGR of 40.1%
Largest Market
North America
Fastest Growing Market
Asia Pacific
Base Year
2022
Forecast Period
2023 to 2032
By Product Type
By Speed

More than 700 kmph
Less than 700 kmph

Regions Covered

North America
Europe
Asia-Pacific
Latin America
Middle East & Africa

Key Market Drivers
Low cost Fare
Although the speed of hyperloop trains is equivalent to that of aircraft and bullet trains, their cost is comparably extremely cheap, which may increase customer interest in them. The combination of low cost and lightning-fast speeds may make hyperloop trains one of the most popular transit choices for future generations, potentially altering the face of the transportation industry. In addition, the hyperloop technology reduces noise and traffic congestion, and its network uses less space than traditional forms of transportation. Additionally, because it is built on pylons and has passenger pod tubes that are elevated above the ground, it is resilient to earthquakes and other natural disasters.
The rise in demand for faster transportation
The market for hyperloop technology is expanding as a result of the growing need for speedier modes of transportation. The Hyperloop system consists of pressurized vehicles, usually known as pods, that can move at high speeds, as well as sealed and partially evacuated tubes that link mobility hubs in sizable urban areas. This is made feasible by technologies of contactless levitation and propulsion as well as reduced aerodynamic drag. This hyperloop technology enables passengers to travel between cities in less than 45 minutes at a peak speed of 760 mph. For instance, Virgin Hyperloop announced in November 2021 that the Smithsonian Arts and Industries Building will host the public debut of the Pegasus passenger-carrying vehicle. Visitors will be able to see the Pegasus vehicle at the Futures show between November 2021 and July 2022. During the projected period, there will likely be a rise in demand for hyperloop technology because of the growing need for speedier means of transportation.
Key Market Challenges
Safety and security concerns
One of the main issues for the commercial expansion of the hyperloop train is the safety and security of the passengers. The new hyperloop train technology allows for elevated movement at speeds of up to 650 miles per hour within a tube with low air pressure. Hyperloop trains bear no similarity to any of the traditional modes of transportation, unlike bullets and aircraft, which have historical predecessors in the shape of ordinary trains or commercial jets. The existence of the hyperloop trains is still disputed. After the first hyperloop train is put into service, the government and many financial investors will have greater faith in the technology. To speed up the development, organizations like Virgin Hyperloop One and HTT are now conducting trials.
Key Market Opportunities
Support from several governments
This sector is mostly driven by support from various governments. For instance, Slovakia and Hyperloop Transportation Technologies recently signed a deal to implement the idea in Europe, linking the capital city of Bratislava with the cities of Vienna in Austria and Budapest in Hungary. If everything works well, it would only take 8 minutes to go from Vienna to Bratislava and 10 minutes to get from Budapest to Bratislava. These two trips presently take one hour and two hours, respectively, in a vehicle. These large time savings is anticipated to spur investment in the idea of the hyperloop train in numerous other European nations, increasing demand in the market for the same.
A five-mile test track in Quay Valley is now being approved by the state of California in the United States, and the building is scheduled to start in 2017. On the other hand, the idea of a hyperloop train has not yet been implemented, and its business plan is still in the works. Additionally, the exorbitant cost of construction is delaying the global hyperloop market's ability to reach its full potential.
Increase in the R&D
Investments in R&D and testing are a significant trend that is becoming more and more popular in the hyperloop technology sector. The firms creating hyperloop technology items are expanding their investments in the creation of cutting-edge technology with excellent operational potential and in the testing of produced products before they are put into production. For instance, in April 2022, China-East Resources Import and Export Company and Broughton Capital Group of the UK each contributed $550 million to TransPod, a Canadian developer of hyper technology, to be utilized for the project's development.
Segments Insight
Product Type Insights
As most businesses are concentrating on commuters and linking large cities and nations to get a greater portion of the industry, passenger transportation is anticipated to hold a significant share of the hyperloop train market. It is anticipated to drastically cut down on travel time. Only people can be transported on a railway with passenger carriages. Each capsule or pod would be able to travel at a speed of 760 miles per hour and hold about 40 passengers, according to the design or prototype. The Alpha Document from Spacex states that passenger carrier pods are intended to have a diameter of 7 feet 4 inches. According to many industry analysts, given the potential risks to human health and safety presented by traveling at such a high speed, passenger hyperloop trains are anticipated to begin operations after freight hyperloop trains.
Speed Insights
Speeds of more than 700 kmph in the market for hyperloop trains are expected to have the greatest CAGR. With the hyperloop, it is challenging to alter the direction since trains are enclosed inside a solid tube. The size of the train is severely limited since accidents with the tube wall at 1200 km/h are intolerable due to weight, energy, and steering issues. In order to maintain a comfortable level, it is also required to avoid the guideway's curves and gradients as much as possible. Additionally, a lateral acceleration of 0.2 g should not be surpassed, which implies that at a top speed of 1200 km/h, the allowed curve radius would be greater than 100 km. Existing interstates are an option because of the hundreds of feet-wide public rights of way on either side. At greater speeds, it is impossible to negotiate a curve.
Regional Insights
Due to the existence of well-known hyperloop technology providers like Hyperloop Technologies, North America has a sizable market share. Virgin's first and second Hyperloops. In the early adoption of the hyperloop train industry, North America emerged as the main area due to increased R&D spending and technical improvement. As a result, North America is delaying its ascent to the top of the market. The major companies in this area are concentrating on a strategy of partnership to increase their capacity for manufacturing. For instance, in June 2019, Virgin Hyperloop One collaborated with Washington University in St. Louis' Sam Fox School of Designs and Visual Arts. The objective is to introduce hyperloop technology to Missouri and to continue investigating several designs for the Missouri hyperloop train.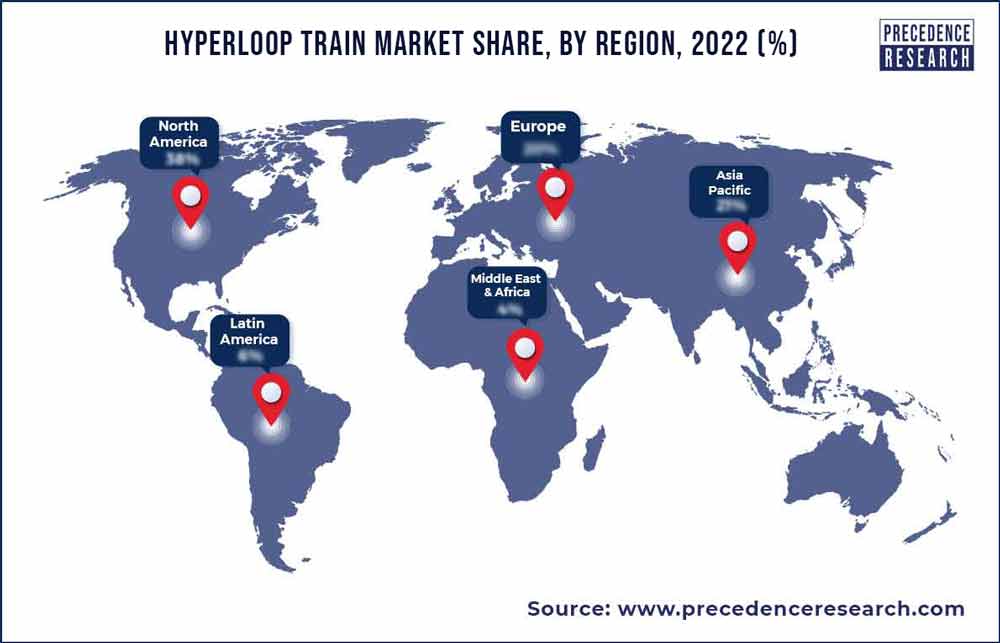 The world's fastest-growing region is Asia Pacific. The government agencies' increasing interest in determining if hyperloop technology trains are feasible is expected to boost market expansion. For instance, in July 2019, Virgin Hyperloop One and the Maharashtra government signed a memorandum of understanding to build a hyperloop rail system connecting Mumbai and Pune in India. The objective is to provide end users with the fastest and most affordable form of transportation possible. As a result, the Asia Pacific region is anticipated to become a significant market contributor in the future.
Recent Developments
The European Institute of Innovation & Technology (EIT), an organization of the European Union, supports EIT InnoEnergy, the innovation engine promoting sustainable energy across Europe. ING announced in January 2022 that it had become the first financial institution stakeholder in the organization.
Tata Steel Europe and POSCO of South Korea will work together in December 2020 to create the steel tubes required for high-speed hyperloop transit systems.
Key Market Players
Altium Ltd.
Arrivo Corp.
Badgerloop
Delft Hyperloop
Dinclix GroundWorks Pvt. Ltd.
Hardt B.V.
Hyperloop Technologies Inc.
Hyperloop Transportation Technologies Inc.
Nevomo Poland Sp. z o.o
NEXT Prototypes e.V
The Boring Co.
TransPod Inc.
Zeleros Global SL
Segment Covered in the Report
(Note*: We offer reports based on sub-segments as well. Kindly, let us know if you are interested)
By Product Type
By Speed
More than 700 kmph
Less than 700 kmph
By Geography
North America
Europe
Asia-Pacific
Latin America
Middle East & Africa (MEA)