The global infant incubator market size was evaluated at USD 331.79 million in 2022 and is expected to hit around USD 522.43 million by 2032 with a noteworthy CAGR of 4.64% from 2023 to 2032.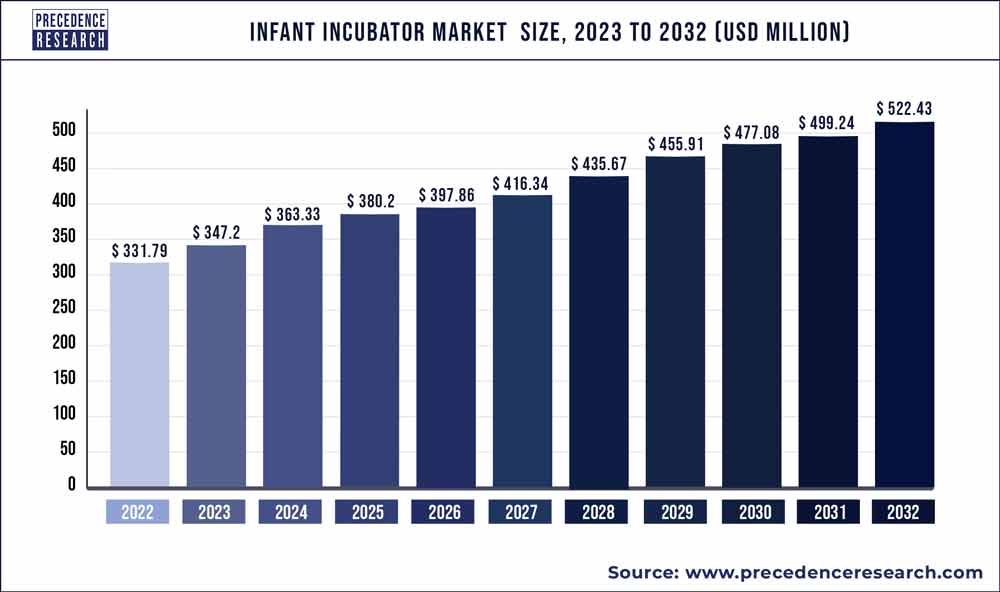 Access our Premium Real Time Data Intelligence Tool, Visit: Precedence Statistics
Key Points:
By geography, The North America is anticipated to dominate the market between 2023 and 2032.
By product, the intensive care incubator segment registered the fastest-growing CAGR from 2023 to 2032.
By application, the neonatal hypothermia segment is projected to lead the market.
Market Overview:
The infant incubators market is growing due to rising concerns about newborn health, an increase in the occurrence of chronic infections and a number of infants dying suddenly and unexpectedly in hospitals. According to the World Health Organization (WHO), an estimated 15 million premature babies are born yearly, more than one in every ten babies. Each year, approximately 1 million children die from preterm birth complications.
Many surviving babies are disabled for the rest of their lives, including learning disabilities and visual hearing impairments. Furthermore, the occurrence of numerous epidemics, as well as the looming health consequences they pose, has increased the requirement for intensive care incubators across healthcare facilities, promoting market growth. Moreover, the increasing acceptance of newborn incubators by several end users, such as hospitals and pediatric and neonatal intensive care units, will drive the market forward in the coming years.
The healthcare industry has emphasized the benefits of government bodies cooperating to advance healthcare facilities in the United States.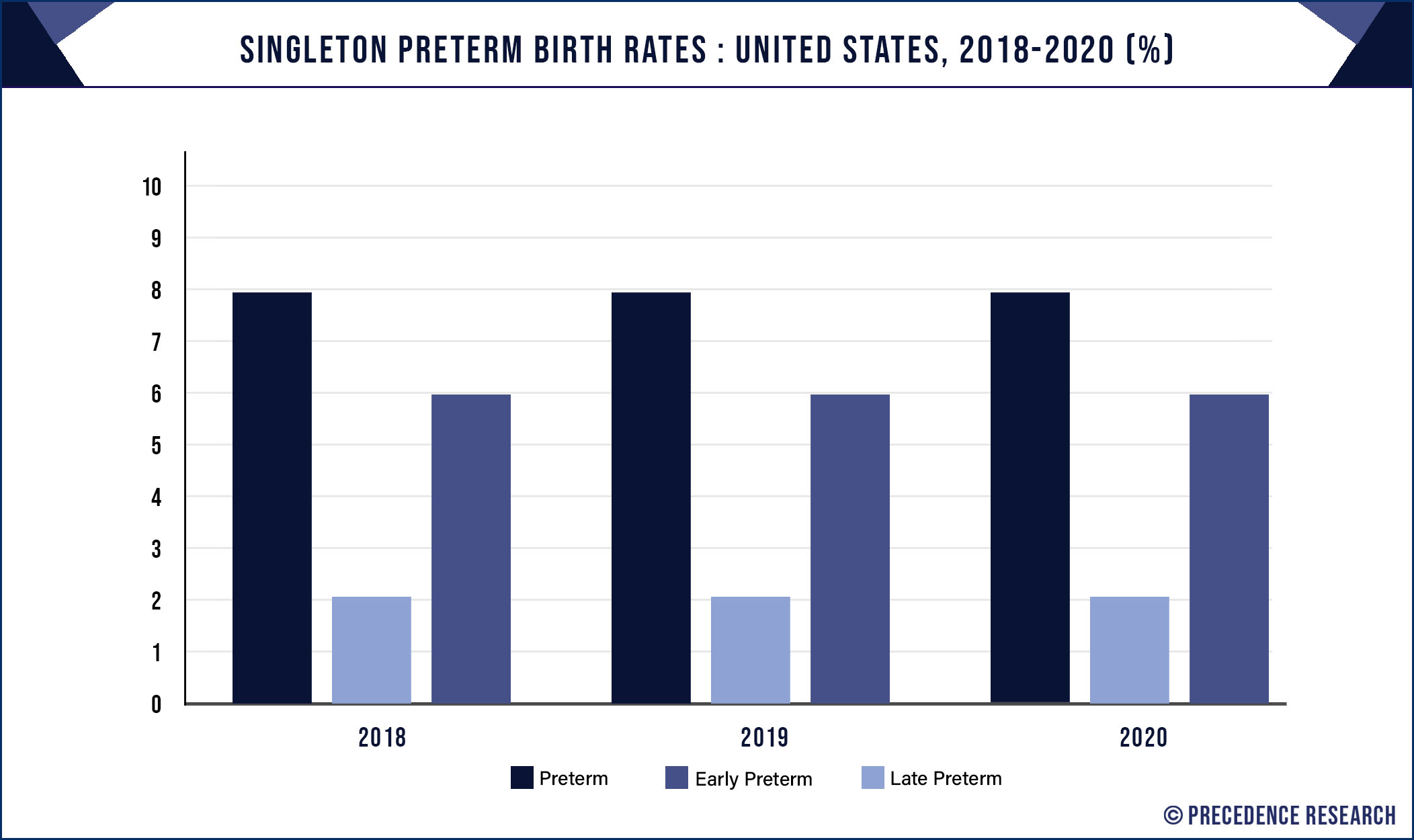 Report Scope of the Infant Incubator Market
| | |
| --- | --- |
| Report Coverage | Details |
| Market Size in 2023 | USD 347.2 Million |
| Market Size by 2032 | USD 522.43 Million |
| Growth Rate from 2023 to 2032 | CAGR of 4.64% |
| Base Year | 2022 |
| Forecast Period | 2023 to 2032 |
| Segments Covered | By Product, By Application and By End User |
| Regions Covered | North America, Europe, Asia-Pacific, Latin America and Middle East & Africa |

Market Dynamics:
Drivers
New incubators with top adjustment elements are now available
Due to various ongoing advances in neonatal care, premature infants have greater access to medical therapy than before. If the newborn requires surgery, preserving them in an incubator increases their probability of recovery because the equipment allows medical experts to prepare them in the best possible environment. Furthermore, as innovative technologies such as using webcams in NICUs allowed families to connect with their infants, this advancement has resulted in visible positive therapy outcomes in hospitals and enhanced patient satisfaction.
For instance, the Fluke Biomedical INCU II is a complete incubator/radiant warmer analyzer that, by adhering to global standards, simplifies testing while guaranteeing the proper operation and security of transport incubators, infant incubators, and as radiant warmers.
Restraints
Loud noises produced by premature infant incubators may lead to hearing loss
Newborn incubators play a significant role in the healthcare sector to provide better healthcare services. Despite their dominance, incubators have limited drawbacks. The neonatal intensive care unit (NICU) requires radiant warmers and incubators to offer a thermo-neutral surroundings for preterm infants. Various hospitals in middle-income and low-income countries cannot afford the high maintenance and capital costs of presently available thermoregulation gadgets, so affordable, high-quality equipment is needed.
Furthermore, preterm infants necessitate specific care and must spend days, if not months, in neonatal units equipped with monitoring devices and incubators to help control their cardiorespiratory and temperature function. Such devices produce noise from switches, fans, and alarms. Environmental noise has been associated with a greater risk of brain development issues and disrupting activities such as recreation and sleep. The abovementioned factors may cause a decline in infant incubator demand over the following decade.
Opportunities
The use of neonatal intensive care units is increasing.
The natality of underweight babies and other baby abnormalities is the primary driver of market expansion. The increasing use of neonatal intensive care units for premature babies further improves the market.
According to the National Library of Medicine, 39 220 infants (12.4%) were admitted to the NICU among the live births, resulting in a mean of 1.46 NICU patient days per birth. High GA and BW newborns reported 96% of births (307 417), admission in NICU is 69% (26 918), and 25% (118 027) of NICU patient days.
COVID-19 Impact:
The pandemic adversely influenced the neonatal incubator industry worldwide in 2020 due to the global economic decline caused by COVID-19. The outbreak of COVID-19 has hampered the global healthcare sector. Due to this disease, numerous businesses involving parts of the healthcare sector were forced to be temporarily closed.
The worldwide economic slowdown affected by COVID-19 slowed the development of the infant incubator market in 2020. Drager, for example, witnessed a decline in the need for thermoregulation gadgets in the first quarter of 2020 as hospitals around the world focused exclusively on corona affected patients and gave less importance to services unaffected by the pandemic.
The global infant incubator industry declined in 2020 due to the global economic recession. COVID-19 has slowed population growth by lowering birth rates in many countries. According to the Guttmacher Institute Study 2020, 41% of women with children expressed concern about their ability to care for their children, 40% of women reported changes to their childbearing plans as a result of the COVID-19 pandemic, and 33% of women delayed or canceled an appointment for reproductive health or contraception care. As a result, falling birth rates indirectly impact the infant incubator sector.
However, in 2022 there was a rise in production and demand for infant incubators due to the concern regarding premature babies' health and the increase in the birth rate of premature babies. Based on Dimes March data, the number of preterm births in the US increased from 364,487 in 2012 to 383,082 in 2022. Black and Native American women are 62% more likely than White women to have a premature birth, and their babies are twice as likely to die. Black mothers' preterm birth rates have risen from 14.4% to 14.7% in 2021, while Native American/Alaska Native mothers' rates increased from 11.6% to 12.3%.
Segments Insight
Product Insights
"Requirement for Intensive Care Neonatal Incubators with Various Growth Aiding Features"
Based on the product, the infant incubator market is segmented into Transport Infant Incubators and Neonatal Intensive Care Unit Incubators. Intensive care incubators are anticipated to increase, registering the fastest-growing CAGR over the projected period. Pathogens, dangerous light levels, climate control and defense against allergens, and loud noise are among the features of an intensive care incubator.
This incubator's ability to control humidity protects a baby's skin from brittleness or cracking and extreme water loss. As a result, intensive care incubators will grow rapidly during the anticipated period. For instance, in December 2021, the US Food and Drug Administration (FDA) approved 510(k) authorization to Medtronic plc., a world leader in healthcare technology, for its INVOS 7100 cerebral/somatic oximetry system for children aged newborn to 18.
In 2022, the transport infant incubator segment was the largest An infant incubator called a neonatal transport incubator offers medical attention and transportation for premature or ill neonates. Neonatal transport incubators are designed to keep young children safe and secure while being transported, as well as to keep an eye on their vital signs and administer life support as necessary. The device is designed with special care to be quite compact, which makes movement easier.
A baby tray is on a trolley covered by a fiberglass or acrylic structure to provide the baby with a closed environment. Openings allow medical personnel to access the baby as needed, and separate openings are provided to insert oxygen tubes, etc. For instance, the TI-2000 transport incubator is designed for the short-distance transportation of preterm births.
It offers a more convenient transport operation process and establishes a comfortable transfer environment by keeping comfort and convenience as the primary design concepts while maintaining a constant temperature.
End-User Insights
"Hospitals Will Make Extensive Use of Infant Incubator Machines"
Based on the end-user, the infant incubator market is segmented into hospitals, pediatric and neonatal intensive care units, and others. Hospitals had the largest market share in 2022. This segment growth has been driven by the rising prevalence of chronic and infectious diseases in infants and an increase in the number of preterm births, propelling the sales of infant incubators worldwide.
On the other hand, the pediatric and neonatal intensive care unit is the fastest-growing segment over the forecast timeframe. The NICU incubator has a water bath to add humidity, a heating element, an oxygen inlet, a fan for forced convection, and an access port for nursing care. According to research, the global neonatal critical care equipment market size was valued at USD 649.7 million in 2021 and is projected to witness a compound annual growth rate (CAGR) of 8.70% from 2022 to 2030.
The sector is anticipated to be influenced by the high prevalence of neonatal jaundice, a growing proportion of preterm births, and the development of new products for use in Neonatal Intensive Care Units (NICU).
Application Insights
The global infant incubator market is segmented into neonatal hypothermia, lower birth weight, genetic defects, and others. The neonatal hypothermia sector is predicted to lead the worldwide infant incubator industry.
The market is expanding due to a rise in the incidence of preterm birth, which causes low body temperature, particularly in the delivery room, due to a lack of stored body fat. Neonates suffering from cold stress or hypothermia require a thermostable environment to maintain their body temperatures. According to the World Health Organization, hypothermia is a leading cause of infant illness and mortality.
Furthermore, the lower birth weight segment is estimated to grow the fastest. Intrauterine growth restriction, prematurity, or both cause low birth weight. It contributes to various adverse health outcomes, including fetal and neonatal mortality and morbidity, impaired growth and cognitive development, and later NCDs. Infants with low birth weight are approximately 20 times more likely to die than heavier infants. WHO defines low birth weight as a birth weight of fewer than 2500 grams (5.5 pounds).
Regional Insights
North America is anticipated to dominate the global infant incubator market between 2023 and 2032. Infant incubators are necessary for nations with dense populations due to the rise in preterm birth rates. Furthermore, technological advances in the neonatal care sector, including developing cutting-edge incubators such as double-walled incubators, microprocessor-based servo-controlled temperature systems, and incubators with thermal-neutral environments, aided market growth.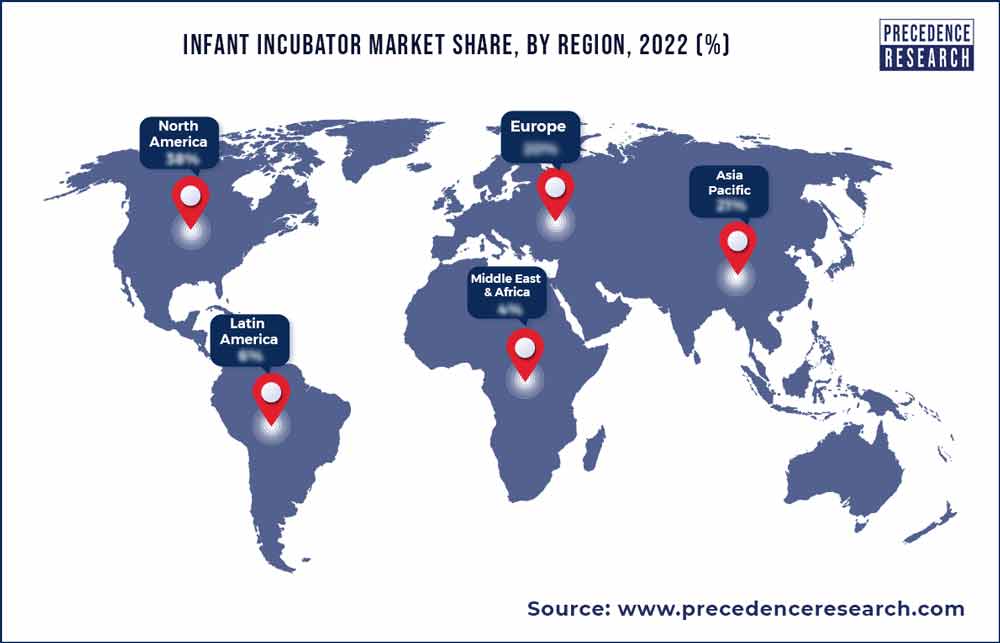 Europe is projected to grow due to various benefits that promote newborn health. The infant incubator industry is being driven by advancements in neonatal care, an increase in the birth rate of premature babies, and increased awareness. Furthermore, the increased number of NICU unit installations drives market growth over the projected period. Baby incubators improved premature baby survival and reduced neonatal hypothermia.
Recent Developments:
In April 2022, nearly 200 portable incubators developed with technology co-invented by a Stanford MBA were sent to Ukraine to provide life-saving warmth to premature babies born in hospitals and bomb shelters.
Govind Rao, a UMBC chemical, biochemical, and environmental engineering professor, confirmed in February 2021 that he was designing a low-cost way to enhance premature infant therapies. An innovative incubator estimated to cost less than $200 has undergone successful clinical testing due to the public impact research launched by UMBC students and Rao.
Key Market Players
GE Healthcare
Inspiration Healthcare Group plc.
Natus Medical Incorporated.
Koninklijke Philips N.V.
Fisher & Paykel Healthcare
International Biomedical Ltd.
Drägerwerk AG & Co. KGaA
Atom Medical Corporation
Novos Medical Systems
Fanem Ltda
Pluss Advanced Technologies Pvt. Ltd.
Weyer GmbH
Medical Technology Transfer and Services in Asia
BabyBloom Healthcare BV
Segments Covered in the Report
(Note*: We offer report based on sub segments as well. Kindly, let us know if you are interested)
By Product
Transport Incubator
Intensive Care Incubator
By Application
Neonatal Hypothermia
Lower Birth Weight
Genetic Defects
Others
By End User
Pediatric and Neonatal Intensive Care Units
Hospitals
Others
By Geography
North America
Europe
Asia-Pacific
Latin America
The Middle East and Africa