Generative AI is a method that employs AI and machine learning (ML) to develop algorithms for producing fresh digital texts, pictures, videos, audio, or code. It is driven by algorithms that identify underlying input patterns and provide comparable results. As a result, it is widely utilized across many different areas, such as banking and finance, robotics, healthcare, and information technology. Factors associated with the developing uses of technologies including text-to-image conversion, super-resolution, and text-to-video conversion, as well as the increasing desire to modernize workflow across organizations, are driving an increase in the need for generative AI applications across sectors.
The growing product usage of 3D printing technologies to make a variety of products, including molecules of organic material and prosthetic limbs, from scratch is a key growth-inducing element in the healthcare industry. For instance, Jen Owen established the Enable organization in the United States, also known as Enabling the Future, in 2022. The goal of this project is to bring together makers and enthusiasts to create a global network of 3D printable prosthetics models. Additionally, the industry is being propelled ahead by the growing use of generative AI, which aids chatbots in having fruitful dialogues with users and raising their satisfaction levels. An open-domain program called a generative chatbot creates unique phrase combinations rather than choosing from pre-written replies.
The generative AI market size was evaluated at USD 10.79 billion in 2022 and it is predicted to be worth around USD 118.06 billion by 2032, expanding at a CAGR of 27.02% between 2023 and 2032. The U.S. generative AI market was worth USD 2.7 billion in 2022.
The demand for generative AI is driven by the use of technologies like higher resolution, text-to-image conversion, and text-to-video conversion. Growth in the market will also be fueled by the rising requirement for contemporary workflow across sectors, including automation and remote monitoring.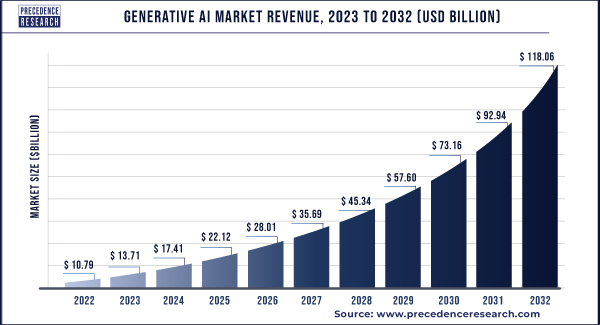 The market is expanding as a result of the widespread use of artificial intelligence-integrated systems across several industrial verticals, the growing need for building virtual worlds in the metaverse, and the need to update the workforce generally. The market for generative AI is expanding as a result of the increasing use of generative AI in the healthcare sector to create a variety of products. The security risks associated with some of these models can promote identity theft, and the market's expansion is constrained by a lack of experienced labor and expensive implementation costs. On the other hand, it is projected that throughout the forecast period, a rise in demand for machine learning and deep learning would present several potentials for the market to grow.
Rise in usage of artificial intelligence-integrated systems across industry verticals
The intelligent upgrade of low-resolution images to high-resolution shots is also made easier with its help. ancient photos and ancient films are often scaled up to 4K or greater, which generates 60 frames per second, to manage it. By reducing noise, introducing colors, and sharpening the image, it gets even better. A generative AI collectibles campaign, for instance, was developed in January 2023 by Alethea AI and Polygon. It enables quick development, training, and trade of AI characters as NFTs on Polygon. For the generative AI characters project, Alethea AI got funding from Polygon. With generative AI, computers are creative enough to respond to human interactions and inquiries with novel material that draws on ingested data. The market for generative AI has expanded as a result of such developments.
A variety of industries, including banking and healthcare, have been touched by generative AI, which creates new data or content using machine learning algorithms. An explosion of creativity and new ways to express oneself is brought about by the use of technology to produce new kinds of literature, music, and art. Additionally, generative AI is used to create novel medications and therapies, as well as to analyze medical imagery and aid in diagnostics. Additionally, it is employed in the development of new financial services and products, the analysis of financial data, and market forecasting. Additionally, audience data may be analyzed and personalized content can be produced using generative AI. Additionally, it is employed to increase power plant efficiency, maximize energy efficiency, and create new energy sources.
It is crucial for the industry that technological behemoths like Microsoft, Google, Apple, and IBM contribute to the healthcare sector. AI is now being used for a variety of healthcare services, including medical imaging, medication administration, drug development, robotic surgery, and data mining for pattern recognition and subsequently carrying out more precise evaluation and management of medical disorders. For instance, IBM Watson (an AI tool) may be used to analyze a patient's medical record to find prospective treatments after determining the meaning and context of a combination of unstructured and structured information that may be important for choosing a treatment plan. In other words, IBM Watson behaves like a real physician. Similar to this, a platform created by the biopharma business NuMedii called Artificial Intelligence for Drug Discovery (AIDD) uses big data and AI to identify the relationship between illnesses and medications at the systems level.
Rising in Virtual Mode in the Metaverse
Generative AI has a wide range of possible applications that have the significant potential to transform industries and business models by altering how businesses carry out their operations. For the creation of new virtual worlds and gaming experiences, AI developers frequently utilize generative AI. Implementing generative AI inside relevant use cases, such as VR games and VR training simulations, has the potential to dramatically increase their efficiency since it lets virtual reality (VR) creators construct a limitless library of distinctive & immersive gaming worlds. Therefore, the early implementation of generative AI in business is anticipated to concentrate on human-AI workforce augmentation (human employees collaborate with digital workers, cobots, or intelligent virtual assistants), which is significantly facilitating market expansion around the world.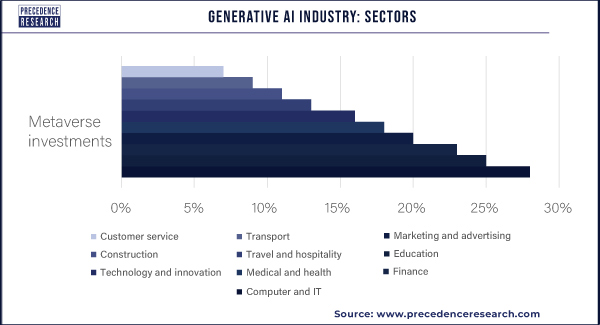 Additionally, generative AI in the metaverse needs a small number of human-made assets—such as pictures, audio files, or 3D models—before using computer processing power and randomness to generate comparable new assets. As an illustration, Nvidia unveiled new metaverse technologies for businesses in January 2023, including augmented reality (AR) and virtual reality (VR) portals. It unveiled upgrades to its Omniverse Enterprise platform, generative AI for 3D and RTX, and early access for developers wishing to create avatars and virtual assistants. Users may now create 3D figures thanks to Nvidia's new suite of experimental generative AI tools for 3D artists, which includes Audio2Face, Audio2Gesture, and Audio2Emotion. With the upgrades to these tools, producers are now also able to produce movements with Audio2Gesture, emotions with Audio2Emotion, and facial expressions from audio files with Audio2Face. Such strategic breakthroughs or advancements made by major companies are anticipated to drive the generative AI market's expansion.
Regional Overview Generative AI
In 2022, North America would dominate the market and earn more than 41% of total revenue. Due to the expanding use of pseudo-imagination and financial frauds, the trend is anticipated to continue over the projection period. Additionally, businesses like Google LLC, Meta, and Microsoft are projected to propel the growth of the generative AI industry. Because machine learning and deep learning are being used more and more, governments of many nations are encouraging end users to develop novel technologies like generative AI across a variety of industry verticals. To assist in optimizing, managing, and improving procurement activities, for instance, the General Services Administration (GSA) in the United States used generative AI and machine learning in August 2022. The capacity to optimize procurement procedures, offer visibility into important data, and produce insights and projections for purchasing patterns is being provided through generative AI and machine learning.
The increasing prevalence of various lifestyle-related chronic diseases, such as cancer and cardiovascular conditions, as well as the rising demand for advanced imaging solutions integrated with A.I. and additional investments in AI-enabled solutions, are some of the main factors expected to fuel the overall market growth. The American Cancer Society predicts that there will be 236,740 new cases of lung and bronchus cancer in the country overall in 2022. Additionally, a CT scan can help in cases when there is a danger of developing lung cancer without the person seeing any symptoms of the disease by indicating the shape, size, and precise location of any lung tumor.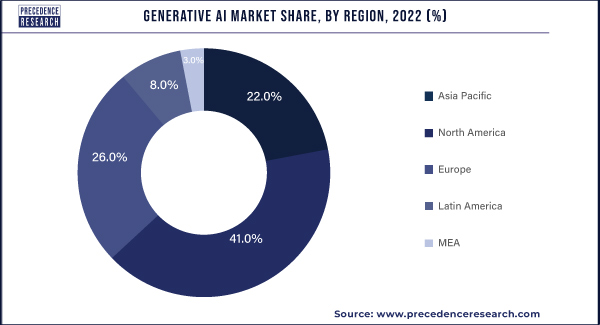 The market for AI in medical imaging is being driven by the presence of several industry competitors and favorable government laws in the area. Due to its highly superior infrastructure and large per capita wealth, North America dominated the industry. For instance, Avicenna AI reported in June 2021 that the FDA had approved its CINA-LVO, CINA-ICH, and neurovascular emergency applications, which are available on the Nuance AI marketplace. This is the largest and first gateway of its sort in the United States, providing a single point of access to a broad range of AI diagnostic models within the radiology reporting platform. Along with this AccentCare, a U.S.-based healthcare provider, announced cooperation with Swift Medical in June 2020 to supply technology to thousands of healthcare professionals. This will make it possible for the authorities to decide on treatments quickly.
SWOT Analysis of the Generative AI Market:
Strength
Increase workplace productivity.
Adopted into many industries
Better quality of life
Weakness
Criticism over labor practices in its supply chain
High prices compared to competitors
Opportunity
Combing AI with newer forms of tech
Smart cars drive progress for people with disabilities
Increasing demand for renewable energy solutions
Threats
Job stealing
Rapidly changing consumer preferences and technological advancements
The automotive sector is booming Generative AI Market
Artificial intelligence (AI) offers a number of possible real-world applications in the automobile sector, including self-driving cars, driver support systems, and traffic prediction to increase safety and decrease traffic congestion. It may be used to power autonomous vehicles, assisting them in making deft judgments, navigating through traffic, and dodging hazards. Artificial intelligence may be used to improve driver assistance systems like adaptive cruise control, lane-departing warning, and automated emergency braking. These systems monitor and account for traffic conditions using radar, cameras, and other sensors, making driving safer and more effective. To improve traffic flow and lessen congestion on the roads, artificial intelligence may be used to update traffic lights, signage, and other infrastructure in response to changes in traffic conditions. AI can predict when maintenance will be required, even when a component may break, by analyzing data from automobiles. Automakers and fleet operators may cut costs and downtime by planning maintenance before a problem arises.
The main motivation is to prevent accidents because computers can react to hazardous situations 1,000 times more quickly than a human can. Additionally, after a lengthy journey, people may arrive more at ease. When traffic flows smoothly, cars can move closer to one another and use their fuel more efficiently. Autonomous vehicles can foresee future dangers, such as oncoming or subsequent car collisions, and make an instantaneous decision to avoid them. These bits of information are analyzed by effective data-gathering sensors, leading to outcomes in the form of actions. Self-driving cars include five essential parts that enable them to operate more efficiently in real-time, in addition to the neural network and particular algorithms: sensor fusion, computer vision, path planning, localization, and control.
Additionally, they have more advanced AI vision technology for 300-yard-distance detection of pedestrians, vehicles, bicycles, work, and obstacles. These vehicles' inbuilt algorithms enable them to identify and recommend alternate routes based on current traffic conditions. A truly remarkable technology. Recently, some automakers have created autonomous vehicles with improved AI features like built-in cameras, radar detectors, and personal AI assistants, all of which prioritize security among other tasks. The AI-enhanced capabilities that these self-driving cars have included represent a significant improvement over their predecessors.
Self-driving vehicles can pick up on characteristics such as the driver's preferred speed, desired driving mood, car temperature, attention to traffic signals, regular song choices, or favorite radio stations. These driverless cars have assisted in modifying bad driving patterns and behaviors by rating driving abilities. By using driverless automobiles, road accidents can be decreased by 90%, greatly boosting road safety. In some countries, Phoenix, Arizona, Waymo will be the first cable operator to provide the general public with driverless taxi rides in December 2020.
The installation of connectivity and vehicle-to-vehicle communication technologies, high-definition mapping, and the development of these technologies are motivating various enterprises to increase their production capabilities and advance vehicle automation. Increasing the use of automated vehicles is projected to save vehicle running costs, improve travel comfort and convenience, and promote longer commutes. Significant players are also working to produce high and completely automated cars, and they expect them to be available by the end of this decade.
Key Investment Pockets
The widespread use of generative AI technologies in marketing departments suggests a long-term shift in the sector rather than a passing trend. Marketing professionals may anticipate seeing even more cutting-edge and effective methods to produce content and communicate with their clients as technology develops and its applications grow. Although many businesses are now utilizing generative AI or soon will, there are still problems with the technology. The dispute over how much-created material is morally acceptable is one of these key challenges, as is the requirement to handle privacy and security concerns.
A large language model (LLM), such as ChatGPT, is software that has been trained on massive amounts of text data to do specified tasks, including concluding a phrase or running a line of code. The number of variables (parameters) that LLMs may modify as they learn is in the trillions, and as a result, the commercial use cases grow as their accuracy rate does. For instance, an AI-driven chatbot may be able to respond to 90% of consumer inquiries about banking, freeing up staff to spend more time pitching services or giving the bank's most valuable customers a better in-person experience.
Market Overview
The efficacy and efficiency of various development programs are increased using generative AI. For instance, we can analyze enormous volumes of data using machine learning algorithms to spot patterns and trends, which may then be used for decision-making and enhance program outcomes. Additionally, generative AI market analysis is utilized to provide tailored learning opportunities that can assist communities and people develop their digital and literacy abilities.
A more accurate picture of target audiences is produced by generative AI since it can create data more precisely than traditional data-gathering techniques, such as pricey social listening platform subscriptions. As a result, it enables researchers to comprehend customers and their attitudes and behaviors on a deeper level. Because generative AI may generate fresh data relatively fast, researchers can begin developing insights earlier. Artificial neural networks, which can analyze enormous quantities of data and intricate algorithms, are used to achieve this speed.
Additionally, generative AI improves vintage photos and films by scaling them to 4K and higher resolutions, which creates 60 frames per second and eliminates noise, adds colors, and sharpens the image. Additionally, it can transform any artificial voice into one that sounds like a human voice. Furthermore, a comprehensive and all-encompassing approach to electronic literacy and education is essential if we want to guarantee that the advantages of generative AI are equal and accessible to all. Access to technology, the internet, and training and resources to help people gain the skills necessary to utilize and profit from these technologies are all included in this.
Key Market Player
On June 20, 2022, Amazon Web Services Inc. announced the addition of new capabilities to its cloud platform. This functionality allows programmers to efficiently develop code, train datasets, and incorporate AI into their applications.
In June 2021, Scale AI and the Massachusetts Institute of Technology's Media Lab teamed together to integrate machine learning into the healthcare sector for increased productivity.
As part of its continuous commitment to democratizing AI and partnering with OpenAI, Microsoft announced the broad availability of its Azure OpenAI Service in January 2023.
NASA's Marshall Space Flight Centre and IBM announced a partnership in February 2023 to leverage IBM's artificial intelligence (AI) technology to unearth novel insights in NASA's vast repository of Earth and geospatial scientific data.
Microsoft released new Microsoft Dynamics 365 "Copilot" artificial intelligence (AI) capabilities in February 2023 to support sales teams.
The ChatGPT and Whisper models were made available via the API in March 2023, providing developers with access to state-of-the-art language and speech-to-text capabilities.