The global generative AI market size was estimated at USD 10.79 billion in 2022 and is projected to hit around USD 118.06 billion by 2032, growing at a CAGR of 27.02% during the forecast period 2023 to 2032. U.S. generative AI market was valued at USD 2.7 billion in 2022.
Using technologies like superior resolution, text-to-image, and text-to-video conversion drives the demand for generative AI. Furthermore, the expanding need to modernize workflow, including automation and remote monitoring across industries, will drive market growth.
Key Takeaways:
North America market captured 41% revenue share in 2022.
Asia Pacific market will reach at a CAGR of 27.6% from 2023 to 2032.
By component, the software segment captured more than 65.50% revenue share in 2022.
By technology, the transformers segment accounted for the highest revenue share exceeding 42% in 2022.
By end-use, the media & entertainment segment captured more than 34% of revenue in 2022.
By end-use, the business and financial services segment is expected to grow at the fastest rate of 36.4% from 2023 to 2032.
Market Overview:
A technique that uses AI and machine learning (ML) to create algorithms for generating new digital videos, images, texts, audio, or code is referred to as generative AI. It is powered by algorithms that recognize an underlying input pattern and generate similar outputs. Several advantages of generative AI include the following:
Creating high-quality content.
Improving identity protection.
Enhancing comprehension of abstract theories.
Reducing financial & reputational risks.
As a result, it is used widely in various industries, including healthcare, information technology, robotics, banking, and finance.
The demand for generative AI applications is increasing across industries due to factors corresponding to the expanding applications of technologies like super-resolution, text-to-image conversion, and text-to-video conversion, as well as the growing need to modernize workflow across firms. A significant growth-inducing factor in the healthcare sector is the increasing product adoption of 3D printing technologies to create various products, including organic molecules and prosthetic limbs, from scratch.
For instance, in 2022, Jen Owen founded the organization known as Enable, often referred to as Enabling the future, in the United States. This project aims to unite makers and enthusiasts to build a global network of prosthetics models that can be quickly 3D printed. Along with this, the market is also being driven forward by the rising popularity of generative AI, which helps chatbots create effective conversations and increase customer satisfaction. A generative chatbot is an open-domain program that generates original language combinations rather than selecting from pre-defined responses.
Report Scope of the Generative AI Market
| | |
| --- | --- |
| Report Coverage | Details |
| Market Size in 2022 | USD 10.79 Billion |
| Market Size by 2032 | USD 118.06 Billion |
| Growth Rate from 2023 to 2032 | CAGR of 27.02% |
| Base Year | 2022 |
| Forecast Period | 2023 to 2032 |
| Segments Covered | By Component, By Technology, By End-Use |
| Regions Covered | North America, Europe, Asia-Pacific, Latin America, Middle East & Africa |

Market Dynamics:
Drivers
Audio synthesis - Generative AI can transform any computer-generated voice into one that sounds authentically human. Synthesis is one of the most well-known and influential AI text-to-speech generators; with just a few clicks, anyone can create a polished AI voiceover or movie. This platform is at the forefront of developing algorithms for videos with text-to-voiceover and usage in advertising. Imagine having a natural human voice to improve website explainer films or product tutorials in minutes, with the help of Synthesis Text-to-Video (TTV) and Text-to-Speech (TTS) technologies, which turn a script into engaging media presentations.
Application in healthcare
When actuated by 3D printing, CRISPR, and other technologies, generative AI can create prosthetic limbs, organic molecules, and other items from the start. It can also lead to earlier detection of potential cancers and more effective treatment plans. For instance, in June 2020, IBM used this technology to investigate antimicrobial peptides (AMP) in searching for COVID-19 drugs.
The growing demand for advanced manufacturing with complex designs and the need to reduce size while improving automotive performance is expected to drive the growth of the global generative AI market. It compels automotive manufacturers to increase their R&D investments and use generative design, which fuels market growth.
Identity protection as well as image processing
In October 2022, generative AI avatars were deployed in news reports regarding the prejudice towards LGBTQ people in Russia to obfuscate the identities of interviewees. The LGBTQ community has been under threat in Russia for quite a while, and generative AI helped some community members protect their identity and ensure their safety.
Restraints
Lack of skilled personnel
While generative AI allows machines to create new content effectively, it also has some limitations. Generative AI is still in its early stages, necessitating a trained workforce and significant investment in implementation. According to IBM's global AI adoption index report 2022, approximately 34% of respondents thought that a shortfall of AI knowledge, skills, or expertise prevented industries from adopting AI. As a result, the need for an experienced workforce and high implementation expenses are anticipated to hinder the market's growth.
Opportunities
Investment in R&D and technological advancement
Major market players such as Apple and Microsoft, based in the US, are increasing their investments in R&D. Additionally, these businesses are investigating technologies such as AI and machine learning (ML). Worldwide Technology, an AI service provider, launched an initiative focused on AI and ML in May 2020, with some of the most advanced experiments and work on generative AI planned.
The market is anticipated to experience promising growth opportunities as many businesses are continually developing & experimenting with embedding generative AI in their services and products. The global generative AI market will be driven by the rising use of generative AI for building virtual worlds in the metaverse. Additionally, the increasing trend of creating digital artworks using only text-based descriptions will augment market growth.
Challenges:
Control limitations
The Generative AI technique may appear unstable at times or in certain situations, resulting in uncontrollable behavior. For instance, a Generative Adversarial Network (GAN) may produce output that fails to meet expectations without providing an understandable explanation, making it challenging to find the best solution to the problem.
Pseudo image generation - While the Generative AI algorithm uses a large amount of data to perform tasks, it cannot create genuinely new images because the image it created is simply a combination of information gathered in novel ways.
Security concern - Since generative AI can generate fake photos and images identical to the real ones, it may increase identity theft, fraud, and counterfeiting cases.
Data privacy concerns - Generative AI in healthcare may raise data privacy concerns because it involves collecting personal information.
Covid 19 Impact:
COVID-19 mandated remote working across all sectors boosting the generative AI market growth. According to IBM's Global AI Adoption Index 2022 report, over 53% of IT professionals stated that they have sped up the roll-out of Artificial Intelligence (AI) in the last 24 months in response to the pandemic. In addition, during the pandemic, innovative diagnostic methods based on AI were created to detect the virus.
According to World Meter, the significant outbreak of COVID-19 in North America affected over 101 million people as of 2022, significantly driving the market for 3D printing in various regions. The need for generative AI has grown in combination with the increased demand for 3D printing, particularly in the healthcare sector for the manufacture of ventilators.
Segments Insight
Component Insights
The industry is split into software and services. The software sector, which had the most significant value share of 65.50% in 2022, will likely dominate the market during the forecast period. The expansion of the software market can be attributable to several variables, including an increase in fraud, capabilities overestimation, unforeseen results, and growing privacy concerns.
On the other hand, the service sector is expected to grow at the fastest CAGR during the projected period. Increasing concerns about stock exchange trading forecasts, data security, fraudulent activity detection, and modeling of risk factors will drive growth.
Technology Insights
The generative AI technology is divided into variational auto-encoders, GANs, diffusion networks, and transformers. In 2022, transformers generated the highest revenue share exceeding 42%, driven by the growing popularity of transformer applications such as text-to-image. For instance, the transformer DALL-E comprehends text and converts it to an image.
The diffusion network is expected to grow at the fastest CAGR during the projected timeline. Image creation has become crucial to many industries to deliver high-value services to the private sector, the public sector, and the government to meet the growing demands of image creation.
End-Use Insights
The end-user segment includes media & entertainment, healthcare, business & financial services, IT & telecom, and automotive & transportation. The other smaller segments include security, aerospace, and defense. Media & entertainment generated more than 34% revenue in 2022, exceeding USD 1.5 billion, where generative AI helps improve advertisement campaigns.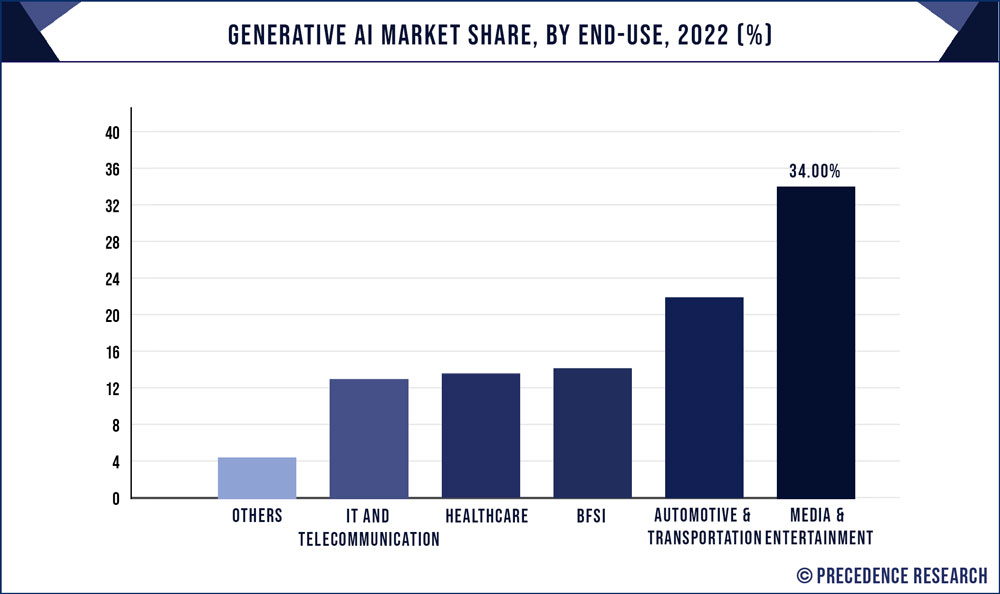 During the forecast period, the business and financial services segment is expected to grow at the fastest rate of 36.4%. The market expansion in this sector is attributed to the growing use of artificial intelligence (AI) and machine learning (ML) in the industry to stop fraud, secure data, and satisfy the changing demands of various stakeholders in financial services.
Regional Insights
North America led the market and generate more than 41% revenue share in 2022. The trend is expected to continue during the forecast period, owing to the increasing adoption of pseudo-imagination and rising banking frauds. Furthermore, companies such as Meta, Google LLC, and Microsoft are anticipated to drive the generative AI market development.
During the forecast period, Asia Pacific will grow at the fastest CAGR. The region's growth in generative AI is fueled by expanding government initiatives and a rise in the deployment of AI-based applications.
Generative AI Market Share, By Region, 2022 (%)
| | |
| --- | --- |
| Regions | Revenue Share in 2022 (%) |
| Asia Pacific | 22% |
| North America | 41% |
| Europe | 26% |
| Latin America | 8% |
| MEA | 3% |
Recent Developments:
SXiQ, an Australia-based digital transformation services company with expertise in cloud applications, platforms, and cybersecurity, was acquired by IBM in November 2021.
ALTAIR ENGINEERING INC announced the release of Thea Render V3.0 in March 2021. The Thea Render is a 3D renderer that uses state-of-the-art and unbiased graphic refining unit engines.
Altair announced in February 2021 that it had adopted GE Aviation's Flow Simulator.
In May 2020, Archistar, an Australian property intelligence platform that combines architectural design with artificial intelligence to inform property decision-making, closed a USD 6 million Series A funding round led by AirTree to accelerate international growth and expand its product and engineering team.
Key Market Players
Synthesia
MOSTLY AI Inc.
Genie AI Ltd.
Amazon Web Services, Inc.
IBM
Google LLC
Microsoft
Adobe
Rephrase.ai
D-ID
Segments Covered in the Report
(Note*: We offer reports based on sub-segments as well. Kindly, let us know if you are interested)
By Component
By Technology
Generative Adversarial Networks (GANs)
Transformers
Variational Auto-encoders
Diffusion Networks
By End-Use
Automotive & Transportation
BFSI
Media & Entertainment
IT & Telecommunication
Healthcare
Others
By Geography
North America
Europe
Asia-Pacific
Latin America
Middle East & Africa (MEA)