The global generative AI in e-commerce market size was valued at USD 624.51 million in 2022 and it is expected to reach around USD 2,530.89 million by 2032, poised to grow at a CAGR of 15.02% during the forecast period from 2023 to 2032.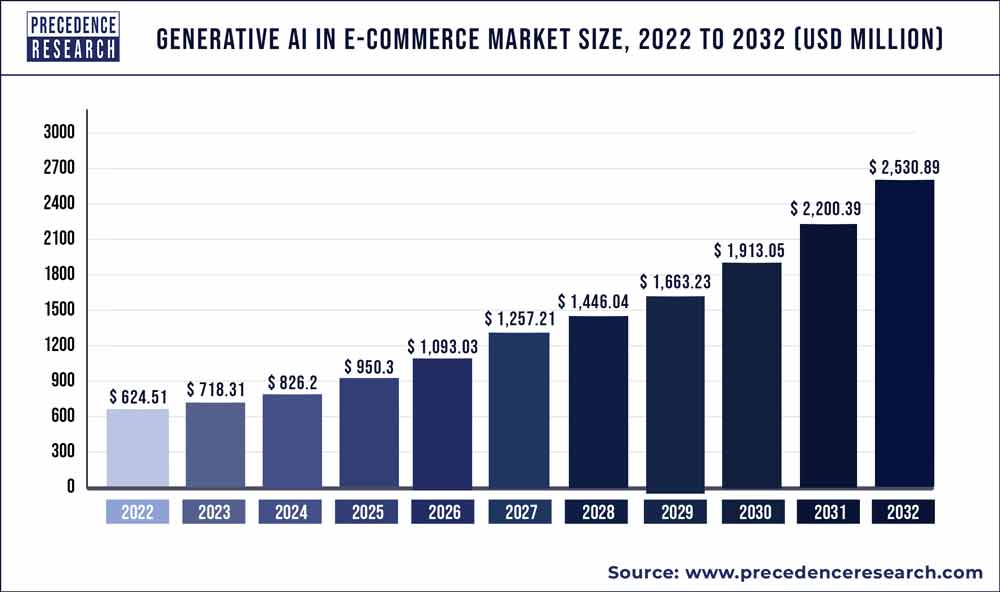 Key Takeaways:
North America contributed more than 43% of revenue share in 2022.
By deployment mode, the on-premises segment shows a leading growth in the generative AI in the e-commerce market.
By technology, the machine learning segment accounted for more than 38% of revenue share in 2022.
By application, the B2C segment is projected to share the maximum CAGR in the generative AI in e-commerce during the projection period.
Market Overview:
While using generative AI-powered solutions, e-commerce companies can provide a more specialized shopping experience by proposing goods and services based on client data and behavior. It has transformed e-commerce and offered creative ideas to improve almost all facets of online enterprises. Generative AI has multiple uses in e-commerce, including making product recommendations, interacting with customers about their purchases, and creating content. Well-known firms, including Alibaba Group, Magento, Walmart, Shopify, and IBM Corporation generate significant annual revenue.
It can process and analyze enormous amounts of market data, customer feedback, and social media sentiment to produce useful business insights. To stay competitive in the e-commerce sector, businesses must understand client preferences, spot new trends, and make data-driven decisions. It analyzes previous sales data, industry trends, and outside influences to accurately estimate demand and improve inventory management. Businesses benefit from this capability by having fewer stockouts, a more efficient supply chain, and lower inventory expenses.
Growth Factors:
The demand for generative AI in e-commerce is increasing during the forecast period. E-commerce assists in online marketing, finance, manufacturing, online publishing, online booking, auctions, and digital advertising and is mostly used by retailers and wholesalers. Generative AI can create realistic and high-quality product images and videos, even for items that may not exist physically. This technology enables businesses to showcase products visually appealing and engagingly, capturing customer attention and driving conversions. By examining patterns and identifying anomalies, it can assist in identifying fraudulent activities in e-commerce transactions. Businesses can improve their security procedures and reduce risks related to fraud and cyberattacks by using generative models. All these elements and enormous requirements for faster services at e-commerce firms promote the growth of the market.
Report Scope of the Generative AI in E-Commerce Market:
| | |
| --- | --- |
| Report Coverage | Details |
| Market Size in 2023 | USD 718.31 Million |
| Market Size by 2032 | USD 2,530.89 Million |
| Growth Rate from 2023 to 2032 | CAGR of 15.02% |
| Largest Market | North America |
| Fastest Growing Market | Asia Pacific |
| Base Year | 2022 |
| Forecast Period | 2023 To 2032 |
| Segments Covered | By Deployment Mode, By Deployment Mode, and By Application |
| Regions Covered | North America, Europe, Asia-Pacific, Latin America, and Middle East & Africa |

Driver:
Increasing demand for product recommendations
E-commerce sales heavily rely on product recommendations, and generative AI has changed this area by offering more precise and pertinent ideas. Personalized suggestions can be created using various client data, including surfing history, purchasing patterns, and demographic data, via AI algorithms like ChatGPT. The probability of conversion and client satisfaction can be increased by e-commerce companies using generative AI to give targeted suggestions that fit each customer's tastes. Thus, as e-commerce companies start focusing on offering product recommendations for consumers, the market for generative AI in e-commerce is expected to be fueled.
Restraint:
Data privacy and protection concerns
E-commerce platforms work on collecting vast client data to personalize experiences and finally to improve sales. However, when utilizing generative AI, handling customer data carefully and adhering to privacy regulations is important. Companies should provide transparent information about data usage, obtain user consent, and implement strong security measures to safeguard sensitive information, hindering market growth as sometimes the data gets hacked. Thus, the concerns with the privacy of data create a major restraint for the market.
Opportunity:
Penetration of voice recognition
Generative AI can utilize voice recognition to understand and process user queries accurately. By integrating natural language processing (NLP) capabilities, the AI can interpret spoken search queries and generate relevant product recommendations to streamline the search process, improve user satisfaction, and increase conversion rates. It also allows online store customers to shop, order, and listen to order details using voice assistant AI technology. The admin can also develop and deploy the skills' JSON modules to the system's dashboard. It can accurately understand and handle user requests via speech recognition.
The AI can read spoken search queries and produce pertinent product recommendations by incorporating natural language processing (NLP) capabilities. These speed up the search process, boost user satisfaction and raise conversion rates. Additionally, voice recognition can support safe and effective payment procedures. Generative AI can include voice biometrics to confirm user identity and enable voice-powered transaction authentication. Considering the rising emphasis on boosting consumer engagement and satisfaction, the penetration of voice recognition systems in generative AI models is expected to open a plethora of opportunities for the market.
Segments Insight:
Deployment Mode Insights:
The on-premises segment is expected to hold a notable share of the generative AI in the e-commerce market during the predicted period. On-premises implementations may provide more freedom for modifying and adjusting AI models and algorithms to suit business requirements. This level of control can be useful for e-commerce businesses seeking to distinguish their AI-generated content or algorithms. It gives businesses complete control over the information, which may be essential in sectors with stringent rules or worries about the security and privacy of customer data.
The cloud-based segment is expected to generate significant revenue during the forecast period. Every aspect of e-commerce, such as website hosting, inventory management, payment processing, and customer data storage, are handled by cloud-based generative AI solutions, which are software-as-a-service (SaaS) solutions that allow an online store to create and manage its online stores in the cloud. These platforms provide tools for creating and managing e-commerce websites and applications and storage, processing power, database administration, and other services.
Technology Insights:
The machine learning segment is expected to register a dominant position in the market during the forecast period. With the help of statistical studies, machine learning technology in generative AI tries to create algorithms that can gather input data and predict appropriate output values. The data can now be used for the intended purpose because of the ML method. In the ever-evolving e-commerce sector, data is the key to thriving. Online merchants are evolving into stable industrialists owing to the intelligent and proper use of data. Algorithms for machine learning can handle important pricing factors, including seasonality, supply, and demand. With the ability to give the correct price at the right moment, this feature helps the online retailer increase sales. Instead of promoting misfit things, machine learning systems can produce individualized choices for the best-suited products.
The computer vision segment is the fastest growing in the generative AI in e-commerce market throughout the forecast period. The role of computer vision in enhancing product suggestions, particularly in terms of how well-targeted and customized manner. Customers who use platforms with machine vision-powered product suggestions are given products with visual characteristics comparable to the items they search for. It provides clients with efficient product discovery and a smooth buying experience.
The natural language processing segment shows a significant growth in the generative AI in e-commerce market during the predicted period. Natural language processing (NLP) might consider additional factors to choose which goods to recommend to the buyer. NLP can assist in determining the products consumers will most likely buy from online stores that can lower site desertion and, as a result, boost sales. e-commerce businesses may offer quicker customer support by implementing natural language processing technologies. Some clients dislike having to wait for a live support representative. The benefit of NLP is that it lessens issues and, over time, saves money.
Application Insights:
The B2C segment is expected to be the dominating in the generative AI in e-commerce market during forecast period. Business-to-consumer e-commerce is the term used to describe the exchange of products, services, and data between companies and customers over the Internet. It also refers to using web-based technology to sell items or services to final customers. The application of generative AI solutions here are observed to fuel the pace of customer support services. Generative AI can leverage the overall speed of text, recommendation or comment generation for e-commerce businesses. The emphasis on better consumer support services and quick responses for queries on e-commerce platforms are factors to promote the growth of B2C segment.
On the other hand, the B2B segment is expected to show significant growth during the forecast period. Business-to-business refers to the online exchange of products, services, or data between firms and the use of web-based technologies for such transactions between two or more enterprises. Generative AI algorithms and models have a huge potential to improve businesses by involving in selling and other management services. Security is given higher weight in B2B transactions because it is a bigger commodity. B2B is the ideal channel for a generative AI solution to boost as brands start focusing on their image.
Regional Insights:
North America is dominating and expected to remain a significant region in the generative AI in the e-commerce market throughout the predicted timeframe. Customer behavior in North America has changed because of the availability of multiple e-commerce businesses. Consumers in the region demand more control and higher standards for convenience and individualized experiences. Online shopping has increased significantly as a result of the growth of e-commerce. The whopping rate of rising e-commerce businesses in the region highlights the growth of generative AI in the e-commerce market. Online shopping has replaced traditional brick-and-mortar retail as consumers now can access many goods and services from domestic and foreign suppliers. Moreover, the transformation of the retail industry in the region is observed to grow the adoption of generative AI solutions.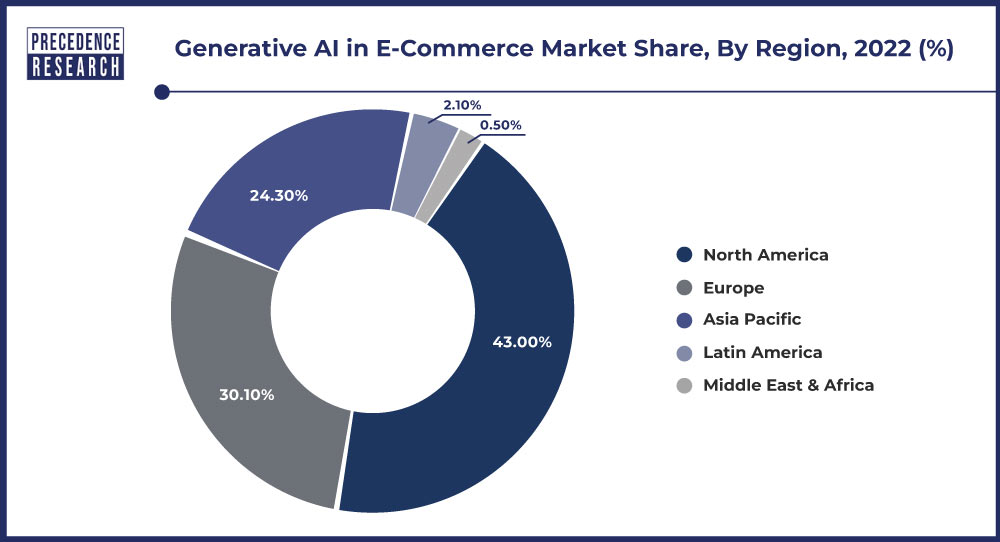 Asia Pacific is expected to witness the fastest rate of growth in the generative AI in e-commerce market during the forecasted timeframe. E-commerce has been essential in helping Asia Pacific's digital economy. Due to the e-commerce boom, online marketplaces, payment systems, logistical networks, and digital marketing platforms have all developed and grown in recent years. While, with the enormous demand for automation in all such services, the adoption rate for generative AI systems in the region is observed to grow. New jobs and business opportunities have been produced because of this. Rapid adoption of smartphones, the rollout of the 5G network, and increased disposable income in the region will promote the growth of the e-commerce sector, subsequently highlighting the growth of generative AI in the e-commerce market.
For instance, in April 2023, India's leading e-commerce giant, Flipkart announced that it is using machine learning to manage its business performance. The company has also implemented generative AI solutions to boost the consumer experience and provide pricing recommendations.
Recent Developments:
In May 2023, based in Germany, Otto Group partnered with robotics company Covariant in a long-term strategic alliance to automate its supply chain. Through the partnership, Otto can use Covariant's AI-based robotic solutions to automate manual fulfillment tasks that normally involve object handling and hand-eye coordination. This action is anticipated to boost Otto Group's aim to enhance client offerings and digitize services utilizing AI-driven technologies.
In April 2023, Myntra announced that customers of Myntra can now conduct product searches in their native languages. Given that 20% of all queries on the platform are executed in languages other than English, Myntra hopes to increase its position in Tier 2 and above regions with the most recent launch.
In February 2023, Alibaba started developing an internal generative AI as China speeds up its entry into the contest. As more tech companies disclose the projects on generative AI tools that resemble ChatGPT, the pace of research in China is quickening.
In August 2022, a formal merging deal between Amazon and iRobot was revealed, under which Amazon would purchase iRobot. iRobot has a history of simplifying customers' lives with modern home cleaning solutions.
Key Market Players:
Amazon, Inc
Jingdong
Meituan
Suning.com
Otto Group
Shein
Rakuten, Inc
Wayfair
eBay
Zalando
B2W Companhia Digital
Groupon
Segments Covered in the Report:
(Note*: We offer reports based on sub segments as well. Kindly, let us know if you are interested)
By Deployment Mode
Cloud-based
On-premises
Hybrid
By Technology
Natural Language Processing
Computer Vision
Machine Learning
Speech Recognition
Augmented Reality
By Application
B2B
B2C
Personal
Business Use
Seasonal Use
Other Applications
By Geography
North America
Europe
Asia-Pacific
Latin America
Middle East and Africa