The global 3D printing market size is projected to hit around USD 98.31 billion by 2032 from USD 17.38 billion in 2022 and poised to grow at a CAGR of 18.92% during the forecast period 2023 to 2032.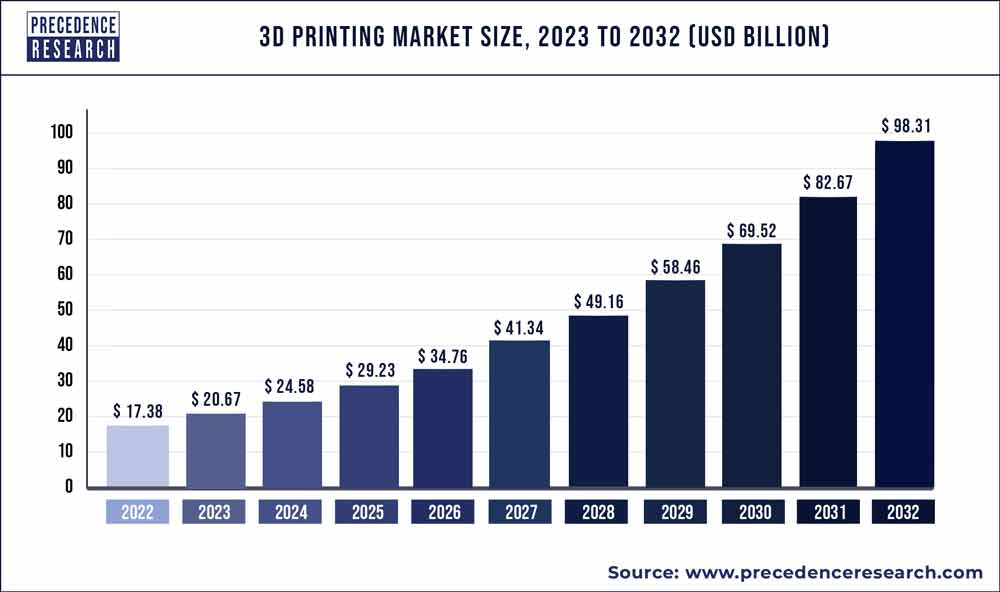 Key Takeaways:
North America captured more than 34% of the revenue share in 2022.
By printer type, the industrial printer segment generated more than 77% of total revenues in 2022.
By technology, the stereolithography segment generated more than 11% of total revenues in 2022.
By application, the prototyping segment generated more than 55% of total revenues in 2022.
By vertical, the automotive segment captured more than 25% of revenue share in 2022.
By material, the metal segment contributed of over 53% of global revenue in 2022.
By component, the hardware segment recorded more than 65% of total revenue in 2022.
Market Overview:
In 2021, 2.2 million 3D printers were transported globally, with shipments anticipated to exceed 21.5 million shares by 2030. Aggressive R&D in three-dimensional printing as well as the increasing demands for prototyping tools from numerous sectors, particularly automotive, healthcare, aerospace along with defense, are predicted to propel market growth. Additive manufacturing (AM) is the term used to describe the application of 3D printing in industrial applications. With the assistance of software as well as a 3-dimensional printer, the additive manufacturing process involves the layer-by-layer incorporation of material to produce an object, related to a 3-D file.
To integrate the process, an appropriate 3D printing technique is chosen from the offered collection of techniques. The final step entails deploying this process all over various industry verticals depending on the need.
Report Scope of the 3D Printing Market
| | |
| --- | --- |
| Report Coverage | Details |
| Market Size in 2023 | USD 20.67 Billion |
| Market Size by 2032 | USD 98.31 Billion |
| Growth Rate from 2023 to 2032 | CAGR of 18.92% |
| Largest Market | North America |
| Base Year | 2022 |
| Forecast Period | 2023 to 2032 |
| Segments Covered | By Component, By Printer Type, By Technology, By Application, By Vertical and By Material |
| Regions Covered | North America, Europe, Asia-Pacific, Latin America and Middle East & Africa |

Market Dynamics:
Drivers:
Governments as well as IT powerhouses have made significant investments to assist market growth.
Digital technology is significantly disrupting the application of present manufacturing techniques in a number of countries around the world. The United States is one of the promising customers of 3-D technology. Likewise, China is striving to maintain its manufacturing industry position in the global sector. Chinese firms typically invest in this technology's advancement and research as they view it as a threat and a possibility for Chinese industrialization.
The United Kingdom government has developed a 3-D printing innovation policy; however, the industrial region is concerned about Brexit-related uncertainties. Germany, which has a firm Industry 4.0, will most probably generate modern innovation strategies.
In 2022, the government expects to collect 5% of the worldwide market portion in additive manufacturing (AM) or 3D printing, adding approximately 2-3 billion dollars to the GDP over the next 3 years.
Restraints:
High start-up expenses constrain market expansion.
The huge obstacle to the adoption of this technology is its rising initial costs. Technology, supplies, software, certification, employee training, and additive manufacturing education are all part of the investment. The development of the industrial desktop 3D printer, on the other hand, is assisting end customers in lowering the high initial costs of 3D printing devices. Desktop printers remain more user-friendly and much less costly than 3-D technology.
Opportunities:
An increase in healthcare sales due to the outbreak of COVID-19.
The outbreak of COVID-19 had a substantial influence on the medical industry. Due to the increased supply of personal protective equipment, masks, and testing tools along with other medical supplies, manufacturers of healthcare components have been forced to focus on their production. The growing percentage of patients, combined with a shortage of raw materials for 3D printing medical equipment as well as PPE, caused a massive disturbance in the distribution chain. As a result, producers are searching for replacements that will allow them to produce these parts in massive amounts while remaining as efficient as the primary industrial equipment.
Impact of COVID-19:
COVID-19 had a notable impact on the world economy and, as a result, the 3-D printing field. Initially, Asia Pacific, as well as Europe, was among one the worst regions in terms of COVID-19-affected patients worldwide. Furthermore, the scenario in the United States deteriorated. As a result of the virus's rapid expansion, governments ordered the closure of some major population centers. The complete shutdown had an impact on 3D printing producers' manufacturing. This is due to a worker shortage as well as the disruption of the country's supply chain and logistics.
The slowdown in 3D printing production had a detrimental effect on overall industry growth during the initial stage of COVID-19. Furthermore, due to the relaxation of the COVID-19 lockdown as well as the application of 3D printing in the healthcare sector for PPE kits, the market is anticipated to expand the market over the forecast period.
Segments Insight:
Printer Type Insights:
In 2022, the industrial printer section is expected to account for more than 77% of total revenues. The common use of industrial printers in industries such as electronics, automotive, defense and aerospace, and healthcare is attributed to the large part of industrial 3-D printers. A few of the prevalent industrial applications in these industries are prototyping, design, and tooling. The widespread use of 3-D printing for prototyping, design, and tooling is promoting rising industrial demand. As a result, the industrial printer segment is predicted to maintain its dominance throughout the projected period.
Furthermore, desktop 3-D printers are anticipated to expand at the fastest pace between 2023 to 2032. Desktop 3-D printers were generally restricted to hobbyists as well as small businesses. Though, currently, they are used for domestic and household needs. Desktop printers are also being used in higher education, which includes schools, institutes as well as universities, for technical research and education. Small businesses, in particular, are embracing desktop printers and expanding their operations to include 3-D printing and some other related activities. For instance, 'fab shops' is gaining traction in the United States. These fab shops include 3D printing of parts and components based on customer specifications and designs. As a result, usage of desktop printers is anticipated to skyrocket during the projected period.
Technology Insights:
In 2022, the stereolithography sector has driven the market, accounting for over 11% of total revenues. Stereolithography is among the most ancient and widely used printing technologies. Furthermore, the advantages and the convenience associated with stereolithography technology encourage its adoption, technological advancements, and research and development events performed by industry researchers and experts are opening up possibilities for a variety of other reliable and efficient techniques.
Due to its widespread adoption across various 3DP processes, Fused Deposition Modeling (FDM) attributed to a sizable market share in 2022. Since these technologies are applicable in specialized additive manufacturing techniques, the DLP, inkjet printing, DMLS, and EBM segments are anticipated to witness increased adoption during the projected period. The increasing popularity of these innovations in the aerospace and defense, automotive, and healthcare sectors would provide opportunities for their adoption.
Application Insights:
In 2022, the prototyping sector ruled the market, accounting for approximately 55% of total revenues. This is due to the vast use of the prototyping procedure all over a variety of industry sectors. Prototyping is used extensively in aerospace as well as defense, and automotive industries to precisely develop and design components, and parts along with complex techniques. Manufacturers achieve greater precision and develop more reliable finished products by using prototyping. As a result, the prototyping sector is projected to maintain its market dominance throughout the predicted period.
Furthermore, the functional part segment is anticipated to expand at the fastest rate between 2023 to 2032. Smaller joints as well as metallic hardware involving components are instances of functional parts. The precision and accuracy of such functional parts are critical when developing systems and hardware. The functional parts portion is anticipated to expand at a major CAGR between 2023 and 2032, representing rising demand for manufacturing and designing functional parts.
Vertical Insights:
The market is distributed into two verticals: desktop 3D printing and industrial 3D printing. Automotive, healthcare, aerospace and defense, consumer electronics, energy and industry, power, and other verticals are being regarded as industrial 3D printers. In 2022, the automotive sector held the largest market, accounting for more than 25% of total revenue.
Due to the active technology adoption in various processes of production associated with these verticals, the aerospace and defense, healthcare, and automotive verticals are predicted to contribute greatly to the expansion of industrial additive manufacturing in the projected period. AM assists in the production of artificial muscles and tissue that mimic human tissues as well as are applied in replacement reconstructive surgery in the healthcare sector. These functionalities are anticipated to assist 3D printing adoption throughout the medical vertical and make a significant contribution to the industrial segment's expansion.
Desktop 3D printing applications include educational purposes, fashion as well as jewelry, dental, objects, food, and others. During the forecast period, the dental, fashion and jewelry, and food verticals are predicted to contribute substantially to the expansion of the desktop 3-D printing sector. The dental vertical ruled the market in 2022 and is projected to expand during the projected period. The use of 3-D printing in the production of miniatures, replica jewelry, craft and art, clothing, as well as apparel is also growing rapidly.
Material Insights:
In 2022, the metal sector has driven the 3D printing market and is estimated to account for approximately 53% of global revenue. Stainless Steel in powdered for the sintering/melting/EBM procedures is among the strongest and hence the most frequently used metals for 3D printing.
In 2022, the polymer sector was the fastest-growing segment. Polymer 3D printing is expected to generate $11.7 billion in revenue in 2020, which includes hardware, materials, and 3D-printed parts sales. The medical field was an early adopter of polymer 3D printing. Currently, the technique has a variety of applications in the medical field, ranging from 3D-printed surgical tips and tools to human tissue replacement for pre-surgical preparation. Polymer 3D printing has proven to be a practical technology for producing safety goggles, ventilator valves, protective face shields as well as testing swabs since the start of the pandemic.
Component Insights:
In 2022, the hardware sector dominated the market, accounting for 65% of total revenue. The growing importance of accelerated prototyping as well as innovative manufacturing practices has benefited the hardware industry significantly. Rapid industrialization, rapid urbanization, the rising popularity of customer electronic devices, improving civil infrastructure, and optimized labor expenses are the primary drivers of the hardware sector's expansion. The demand for hardware is also increasing as leading players enhance their product investments and develop new techniques to meet the increasing needs of various industrial verticals.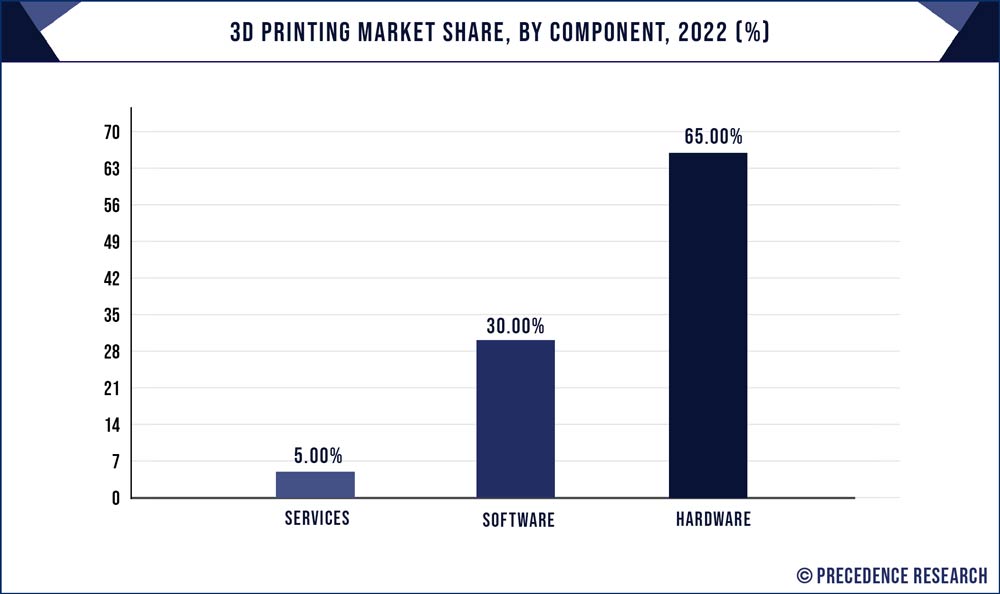 During the forecast period, the software sector is expected to grow at a rapid CAGR. 3D printing software is often used to develop products as well as parts that will be printed in a wide range of business verticals. In 2021, the increasing practice of scanning items as well as saving scanned articles will increase demand for the software sector. During the forecast period, the scanning software market is projected to be driven by the potential to keep scanned pictures of objects, irrespective of their size or dimensions, in order to generate 3-dimensional prints of such products as needed.
Regional Insights:
North America dominated the market and generated more than 34% of total revenues in 2022. This is related to the region's widespread use of additive manufacturing. The Canada and US are amongst the leading as well as initial implementers of these innovations in a variety of manufacturing processes. Fitness trackers as well as smart clothing are also predicted to propel 3D printing technologies in the United States. Furthermore, shifting customer preferences as well as an increasing need for personalization had also generated a need for flexible bands and electronics systems that use 3D printing technology, thus driving its growth.
Furthermore, Europe is the fastest-growing region in 2022. It is a powerhouse for a number of additive manufacturing players in the industry who have extensive technical knowledge of additive manufacturing techniques. As a result, the European market will be the fastest market sector in 2022.
Recent Developments:
AML3D, an Australian metal 3D printing company, expanded its collaboration with the Boing aircraft manufacturer in October 2022.
South Africa's Department of Science and Innovation launched a project in March 2022 to build roughly 15 homes using 3D printing to resolve the country's lack of housing.
The INDUSTRY F421 was launched in March 2022 by 3DGence. AS9100, a modern high-temperature filament made from PEEK (polyether ether ketone) as well as approved for use in the defense and aerospace industries, was also revealed by the company.
Stratasys launched a carbon fiber based on ABS in February 2021 to be used with their F123 Series 3D printers.
Key Market Players:
Stratasys Ltd.
EnvisionTec, Inc.
Materialise
3D Systems, Inc.
Autodesk Inc.
GE Additive
Voxeljet AG
Made In Space
Canon Inc.
Segments Covered in the Report:
(Note*: We offer report based on sub segments as well. Kindly, let us know if you are interested)
By Component
Software
Hardware
Services
By Printer Type
Industrial 3D Printer
Desktop 3D Printer
By Technology
Selective Laser Sintering
Stereolithography
Fuse Deposition Modeling
Direct Metal Laser Sintering
Inkjet Printing
Polyjet Printing
Electron Beam Melting
Laminated Object Manufacturing
Digital Light Processing
Laser Metal Deposition
Others
By Application
Functional Parts
Tooling
Prototyping
By Vertical
Industrial 3D Printing

Automotive
Aerospace & Defense
Healthcare
Consumer Electronics
Industrial
Power & Energy
Others

Desktop 3D Printing

Educational Purpose
Fashion & Jewelry
Objects
Dental
Food
Others
By Material
By Geography
North America
Europe
Asia-Pacific
Latin America
The Middle East and Africa