The global aerospace market size was estimated at USD 321.5 billion in 2022 and is projected to reach around USD 678.17 billion by 2032, growing at a CAGR of 7.80% during the forecast period from 2023 to 2032.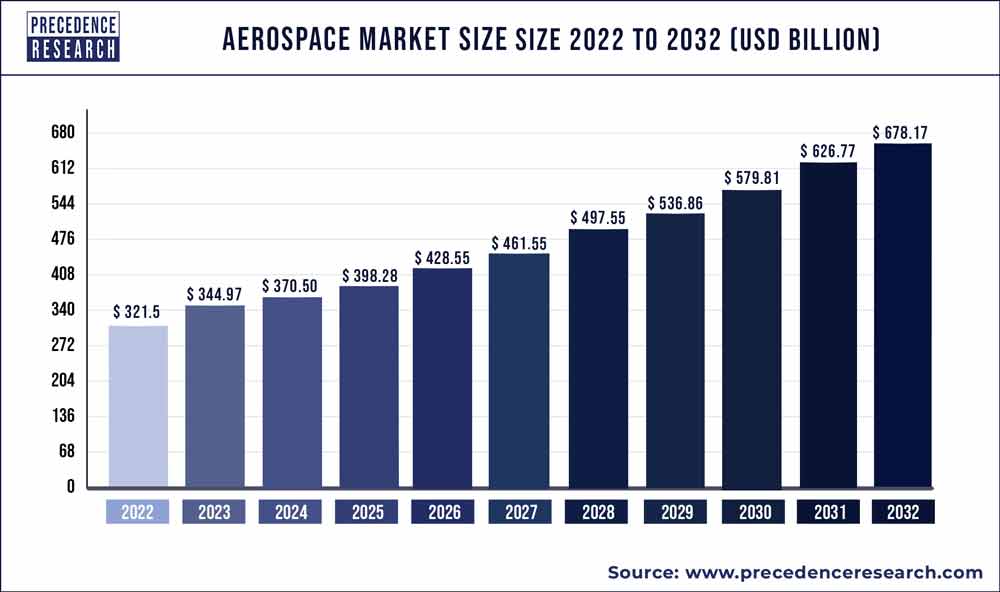 Access our Premium Real Time Data Intelligence Tool, Visit: Precedence Statistics
Key Takeaways
North America contributed more than 46% of revenue share in 2022.
Asia-Pacific region is estimated to expand the fastest CAGR between 2023 and 2032.
By Type, the Commercial Aircraft segment has held the largest market share of 43.5% in 2022.
By Type, the Aerospace Support segment is anticipated to grow at a remarkable CAGR of 8.5% between 2023 and 2032.
By Size, the Narrow Body segment generated over 78.2% of revenue share in 2022.
By Size, the Wide Body segment is expected to expand at the fastest CAGR over the projected period.
By End-user, the Private Sector segment had the largest market share of 65.4% in 2022.
By End-user, the Government Sector segment is expected to expand at the fastest CAGR over the projected period.
By Operation, the Manual Aircraft segment generated over 68.5% of revenue share in 2022.
By Operation, the Autonomous Aircraft segment is expected to expand at the fastest CAGR over the projected period.
Aerospace Market Overview
The aerospace market is a global industry encompassing the design, production, and maintenance of aircraft, spacecraft, and related systems. It includes commercial and military sectors, as well as the space exploration field. Key players include aerospace manufacturers, defense contractors, and space agencies.
This market involves the development of cutting-edge technology, from advanced materials and propulsion systems to satellite communication and space exploration initiatives. Demand is driven by factors like passenger travel, defense needs, and the increasing interest in space exploration. It's a highly competitive and dynamic industry, with constant innovation and international collaboration playing a crucial role in shaping its future.
Aerospace Market in the U.S. 2023 To 2032
The U.S. aerospace market size was valued at USD 103.52 billion in 2022 and is projected to hit around USD 218.37 billion by 2032, registering a CAGR of 7.80% between 2023 and 2032.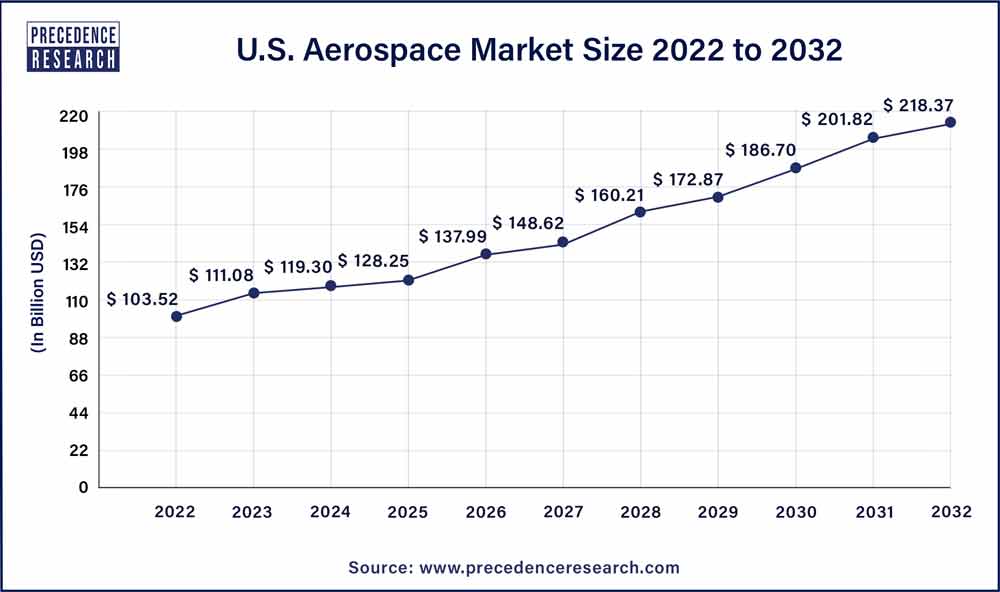 North America has held the largest revenue share 46% in 2022. North America remains a global aerospace powerhouse, home to industry giants like Boeing and Lockheed Martin. The region boasts a mature aerospace market with a strong focus on innovation and advanced technology. Notable trends in North America include a push towards sustainable aviation, the rise of space exploration endeavors driven by companies like SpaceX, and increasing defense spending. Additionally, a competitive commercial aviation sector continuously strives to improve efficiency and passenger experience, making North America a critical hub for aerospace advancements.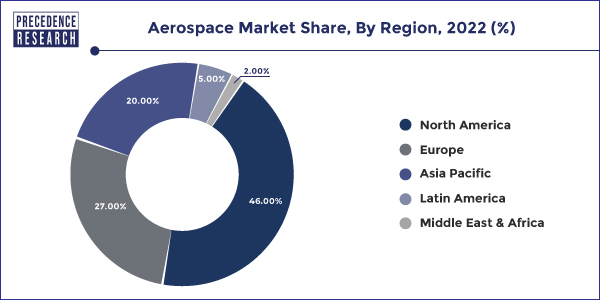 Asia-Pacific is estimated to observe the fastest expansion. The Asia-Pacific region is rapidly emerging as a key player in the aerospace market. It's witnessing substantial growth in commercial aviation due to rising passenger numbers, particularly in countries like China and India. Additionally, governments are investing in defense aerospace capabilities. The region is also becoming a significant contributor to space activities, with countries like China making strides in lunar exploration and satellite technology. Trends include increased aircraft production, aerospace innovation, and international collaborations in space endeavors.
Europe's aerospace market is renowned for its cutting-edge technology and innovation. It hosts major industry players like Airbus and Rolls-Royce. The region exhibits a strong demand for commercial and military aircraft, alongside a keen focus on sustainable aviation practices and stringent safety regulations. European space agencies, such as ESA, contribute to space exploration. Europe's aerospace sector is marked by a commitment to excellence and environmental sustainability.
Growth Factors
Commercial Aviation: The aerospace market continues to experience robust growth due to the escalating demand for commercial aircraft. This demand surge, particularly prominent in emerging markets, is driven by factors such as increasing middle-class populations and urbanization, resulting in higher passenger travel.
Defense Needs: Elevated global defense spending and the persistence of geopolitical tensions stimulate the military aerospace sector. Governments worldwide prioritize enhancing their military capabilities, thus fueling demand for advanced aircraft and defense technologies.
Space Exploration: The space exploration segment is in the midst of a renaissance, with burgeoning interest in scientific missions, satellite technology, and even commercial space ventures. This surging curiosity and investment are propelling innovation and expansion within the aerospace market.
Technological Advancements: The aerospace industry remains at the forefront of technological innovation, consistently pushing the envelope in materials, propulsion systems, and avionics technology.
Sustainable Aviation: Sustainability is increasingly at the forefront of aerospace concerns. The industry is experiencing a notable shift towards eco-friendly and fuel-efficient aircraft. This change is propelled by both consumer demand for greener travel options and stringent environmental regulations.
Digital Transformation: Big data analytics, IoT, and AI are transforming maintenance, operations, and passenger experience.
Space Tourism: The emerging space tourism sector presents exciting business opportunities, with numerous companies venturing into commercial space travel. As technology advances and regulatory frameworks evolve, this segment holds immense potential for those willing to invest in its growth.
Maintenance Main Services: The need for maintenance, repair, and overhaul (MRO) services remains constant. Companies offering reliable MRO services have a steady revenue stream and can capitalize on the growing number of aircraft and spacecraft in operation.
Electric Propulsion: Companies investing in this technology are well-positioned to cater to the increasing demand for sustainable and fuel-efficient air travel.
Safran has established a 5-year general term agreement with Air France Industries KLM engineering & maintenance (AFI KLM E&M) for the maintenance of auxiliary power unit generators. The Power by the hour contract entails safran electrical & power servicing the generators in its pitstone, UK facility.
Aerospace Market Scope
| | |
| --- | --- |
| Report Coverage | Details |
| Growth Rate from 2023 to 2032 | CAGR of 7.80% |
| Market Size in 2023 | USD 344.97 Billion |
| Market Size by 2032 | USD 678.17 Billion |
| Largest Market | North America |
| Base Year | 2022 |
| Forecast Period | 2023 to 2032 |
| Segments Covered | By Type, By Size, By End User, and Operation |
| Regions Covered | North America, Europe, Asia-Pacific, Latin America, and Middle East & Africa |

Aerospace Market Dynamics
Driver
Commercial aviation growth, defense and security needs
The continuous expansion of commercial aviation serves as a paramount catalyst for the aerospace market. To keep pace with this escalating demand, airlines are in a perpetual quest to modernize and expand their fleets. Consequently, aircraft manufacturers are compelled to pioneer innovations aimed at creating aircraft that are not only more fuel-efficient but also offer heightened comfort and environmental sustainability. This substantial growth in commercial aviation also mandates sustained progress in air traffic management systems. These advancements are essential to ensure the safe and efficient operation of increasingly crowded skies. Furthermore, it's imperative to acknowledge that the burgeoning commercial aviation sector doesn't solely fuel the production of new aircraft; it also spurs significant demand for maintenance, repair, and overhaul (MRO) services, which constitute a pivotal and enduring facet of the aerospace industry.
The aerospace market experiences substantial growth due to heightened global defense and security requirements. In an increasingly complex and volatile geopolitical landscape, governments worldwide prioritize enhancing their military capabilities. As defense budgets expand, this segment generates substantial demand for aerospace companies, fostering innovation in military aviation and technology while bolstering the industry's overall economic health. Defense and security needs are thus instrumental in propelling aerospace market growth and supporting the industry's long-term sustainability.
Restraints
Geopolitical uncertainty and regulatory compliance
Geopolitical instability and tensions can significantly restrain market demand in the aerospace industry. These uncertainties encompass trade disputes, sanctions, and diplomatic conflicts that can disrupt the global supply chain, impact international collaborations, and alter defense procurement decisions. For instance, trade restrictions imposed on critical materials or technology transfers can lead to delays in production, increased costs, and supply chain vulnerabilities. Moreover, geopolitical tensions can reduce the willingness of countries to collaborate on space missions and research projects, which may hinder the growth of the aerospace sector.
Regulatory Compliance: Stringent regulatory requirements can also act as a restraint on aerospace market demand. The aerospace industry is subject to a plethora of safety, environmental, and airspace management regulations. Compliance with these regulations often necessitates substantial investments in research, development, and ongoing adherence. This can lead to increased costs for aerospace manufacturers and operators, impacting their profit margins. Moreover, the complex and evolving nature of these regulations can introduce uncertainty and complexity into business planning, making it challenging to navigate the market effectively. To address these challenges, aerospace companies must invest in compliance measures, thereby diverting resources that could be used for innovation and market expansion.
Opportunities
Space tourism and urban air mobility (UAM)
The aerospace market is currently witnessing a remarkable upswing, primarily fueled by two groundbreaking developments: the advent of space tourism and the emergence of urban air mobility (UAM). Space tourism, championed by industry leaders like SpaceX, Blue Origin, and Virgin Galactic, has given rise to an entirely new market focused on suborbital and orbital travel experiences. This sector not only captivates the imagination of high-net-worth individuals but also triggers substantial investments aimed at creating secure and accessible commercial space travel. As this field continues to mature, it promises to generate increased demand for spacecraft, advanced propulsion systems, and cutting-edge technologies, thereby stimulating growth throughout the broader aerospace industry.
Similarly, UAM, characterized by eVTOL aircraft and autonomous air taxis, is revolutionizing urban transportation. With increasingly congested city streets and a growing emphasis on sustainable mobility solutions, UAM offers a compelling alternative for short-distance travel within cities. As UAM takes off, it will create a demand for innovative aircraft designs, electric propulsion systems, air traffic management solutions, and the necessary infrastructure, which will further stimulate growth in the aerospace sector. Together, space tourism and UAM represent key drivers in shaping the future of the aerospace industry, pushing the boundaries of technology and redefining the way we perceive and utilize air travel.
Type Insights
According to the type, the Commercial aircraft has held 43.5% revenue share in 2022. Commercial aircraft refer to airplanes and jets designed for passenger and cargo transport. Within the aerospace market, the commercial aircraft category comprises narrow-body, wide-body, and regional aircraft. A noteworthy trend within this segment centers on the evolution of eco-friendly and fuel-efficient airplanes. Manufacturers are incorporating advanced materials and innovative aerodynamics, including composite structures and winglets, to enhance aircraft performance while addressing environmental concerns. Moreover, the widespread adoption of digital technologies, such as advanced avionics systems and data analytics, is crucial for improving safety, elevating the passenger experience, and streamlining operational efficiency.
The aerospace support segment is anticipated to expand at a significant CAGR of 8.5% during the projected period. Aerospace support encompasses a wide range of services, including maintenance, repair, and overhaul (MRO), as well as logistics and technical support for aircraft and related systems. The aerospace support sector is witnessing a shift towards predictive and proactive maintenance, driven by data analytics and IoT technology. These advancements enable more efficient and cost-effective operations, reducing downtime and ensuring aircraft remain in optimal condition. Furthermore, the increasing adoption of 3D printing and additive manufacturing in aerospace support offers innovative solutions for component replacement and repair, further enhancing the sector's capabilities.
Size Insights
Based on the size, Narrow-body is anticipated to hold the largest market share of 78.2% in 2022. Narrow-body and wide-body aircraft are distinct categories in the aerospace market. Narrow-body planes, such as the Boeing 737 and Airbus A320, typically have a single aisle, making them suitable for short to medium-haul routes, accommodating 100-240 passengers. They are popular for their efficiency and versatility, driving significant demand, especially in regions with growing air travel.
On the other hand, the Wide-body segment is projected to grow at the fastest rate over the projected period. Wide-body aircraft, like the Boeing 777 and Airbus A350, feature two aisles and a larger passenger capacity (typically over 240 passengers). These planes are favored for long-haul international flights. Recent trends show a shift toward fuel-efficient engines in both categories, reducing environmental impact and operating costs while increasing passenger comfort.
End-user Insights
In 2022, the private sector segment had the highest market share of 65.4% on the basis of the end user. In the aerospace market, the private sector primarily includes commercial airlines, aerospace manufacturers, space tourism companies, and private space exploration ventures. This sector is driven by profit motives, innovation, and competition, and it has been witnessing remarkable growth due to surging demand for air travel and the emerging space tourism industry.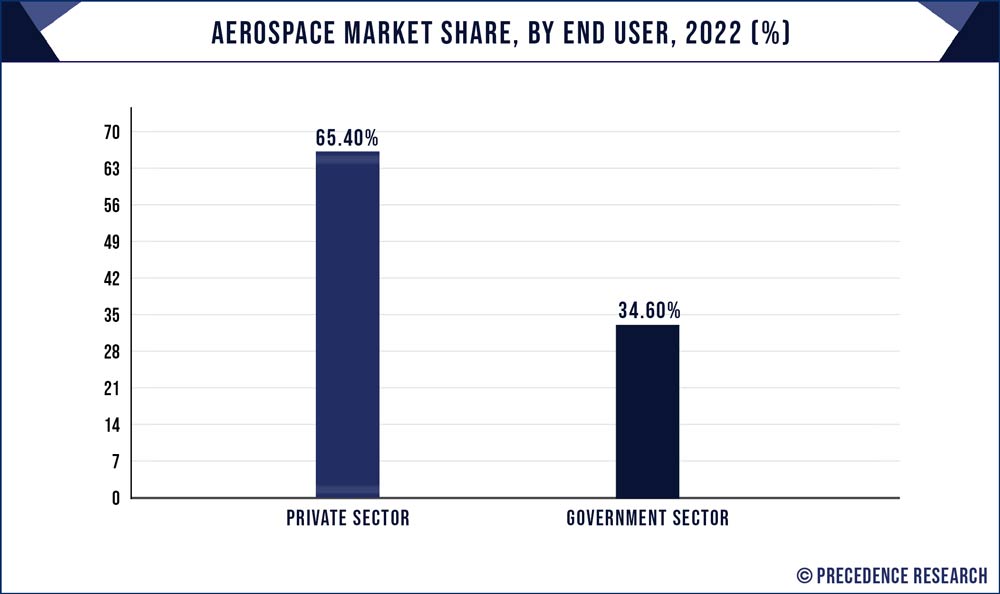 The government sector is anticipated to expand at the fastest rate over the projected period. The government sector, on the other hand, encompasses defense and space agencies. It's characterized by government-funded research, development, and procurement. In recent trends, governments worldwide are increasing their defense budgets, fostering innovation in military aerospace, and promoting international collaboration in space exploration, thereby influencing the aerospace market's trajectory.
Operation Insights
Based on the size, Manual aircraft is anticipated to hold the largest market share of 68.5% in 2022. Manual aircraft are traditional aircraft operated by human pilots who directly control the vehicle's flight, navigation, and decision-making processes. While advancements in automation have reduced pilot workload, manual aircraft continue to be crucial in commercial and military aviation. Trends in the aerospace market for manual aircraft include the integration of advanced avionics, human-machine interface enhancements, and pilot training improvements to enhance safety and efficiency.
On the other hand, the Autonomous aircraft segment is projected to grow at the fastest rate over the projected period. Autonomous aircraft, also known as unmanned aerial vehicles (UAVs) or drones, are aircraft capable of operating without human intervention. These aircraft find applications in surveillance, delivery, and data collection. Trends in the aerospace market for autonomous aircraft involve the development of advanced artificial intelligence, improved sensors, and regulatory frameworks to support safe and expanded use in various industries, such as e-commerce, agriculture, and defense.
Recent Developments
In 2023, Jamco Corporation unveiled the Venture premium class seats with a reverse herringbone configuration, a collaborative project with KLM Royal Dutch Airlines. These seats are now part of KLM's B777 Fleet's World Business Class, focusing on comfort, sustainability, and cost-effective operation.
In 2023, Thales is set to acquire Cobham Aerospace (AeroComms) to enhance its avionics offerings. This move will enable Thales to leverage AeroComms' safety cockpit communication systems, positioning the company to capitalize on the shift towards connected cockpits.
In 2022, Mitsubishi Heavy Industries, Ltd and Boeing signed an MoU to jointly pursue climate solutions within their longstanding partnership. Their collaboration will focus on researching and promoting sustainable technologies such as electrification, hydrogen, eco-friendly materials, innovative aircraft designs, zero climate impact propulsion, and the commercialization of sustainable aviation fuels.
In 2019, Solvay and SGL Carbon formed a joint development agreement (JDA) to introduce composite materials utilizing large-tow intermediate modulus (IM) carbon fiber. These materials aim to reduce costs, lower CO2 emissions, enhance production processes, and boost fuel efficiency in future commercial aircraft.
Aerospace Market Players
Boeing Company
Airbus SE
Lockheed Martin Corporation
Northrop Grumman Corporation
Raytheon Technologies Corporation
General Dynamics Corporation
Safran S.A.
BAE Systems plc
Honeywell International Inc.
General Electric Company
Thales Group
Rolls-Royce Holdings plc
United Technologies Corporation
Leonardo S.p.A.
Segments Covered in the Report
By Type
Commercial Aircraft
Aircraft Maintenance
Repair and Overhauling Services
Aerospace Support
Auxiliary Equipment
By Size
By End User
Private Sector
Government Sector
By Operation
Manual Aircraft
Autonomous Aircraft
By Geography
North America
Europe
Asia-Pacific
Latin America
Middle East and Africa