The global aerospace electronics market size was estimated at USD 105.8 billion in 2022 and is expected to reach around USD 197.66 billion by 2032, poised to grow at a CAGR of 6.5% during the forecast period from 2023 to 2032.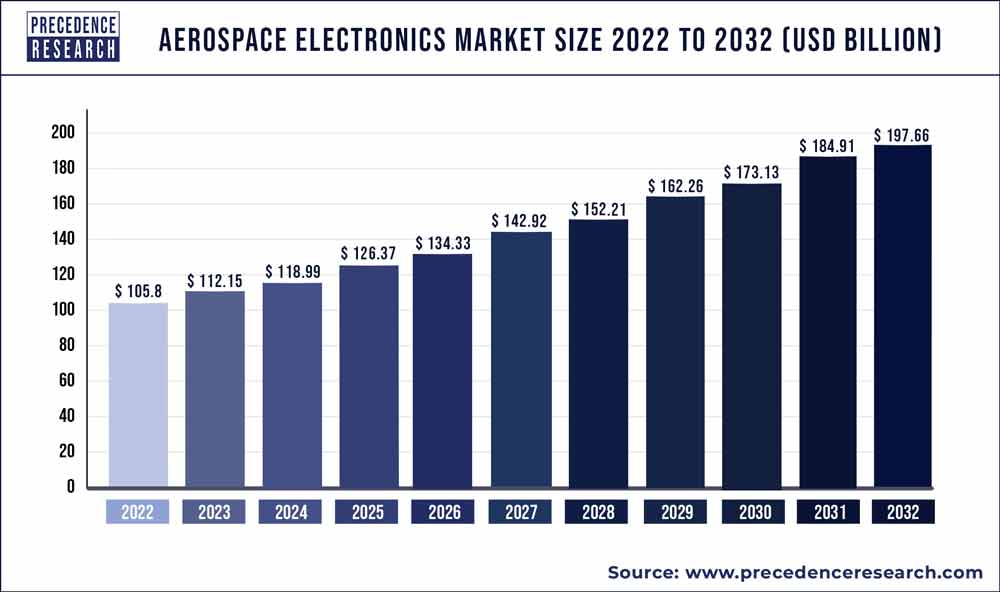 Access our Premium Real Time Data Intelligence Tool, Visit: Precedence Statistics
Key Takeaways
By region, North America contributed more than 42% of revenue share in the aerospace electronics market in 2022. On the other hand, Asia-Pacific is estimated to expand the fastest CAGR between 2023 and 2032.
By type, the avionics segment has held the largest market share of 35% in 2022. Meanwhile, the radar systems segment is anticipated to grow at a remarkable CAGR of 7.5% between 2023 and 2032.
By application, the commercial aerospace segment had the largest market share of 55% in 2022. Whereas the military aerospace segment is expected to expand at the fastest CAGR over the projected period.
Aerospace Electronics Market Overview
The aerospace electronics industry pertains to the manufacturing and trade of electronic components and systems utilized in aviation and space exploration. This encompasses electronic hardware for flight control, navigation, communication, radar technology, and avionics. Market dynamics are shaped by the pursuit of enhanced safety and efficiency in aircraft and spacecraft, in addition to ongoing efforts to upgrade existing aerospace platforms.
The sector's growth is significantly influenced by the rising volume of global air travel, increased space exploration endeavours, and ongoing military technology enhancements. With continual advancements in automation, connectivity, and miniaturization, the aerospace electronics sector remains dynamic, offering scope for innovation and expansion.
Aerospace Electronics Market in the U.S. 2023 To 2032
The U.S. aerospace electronics market size was valued at USD 26.66 billion in 2022 and is expected to grow to USD 50.28 billion by 2032, growing at a CAGR of 6.6% from 2023 to 2032.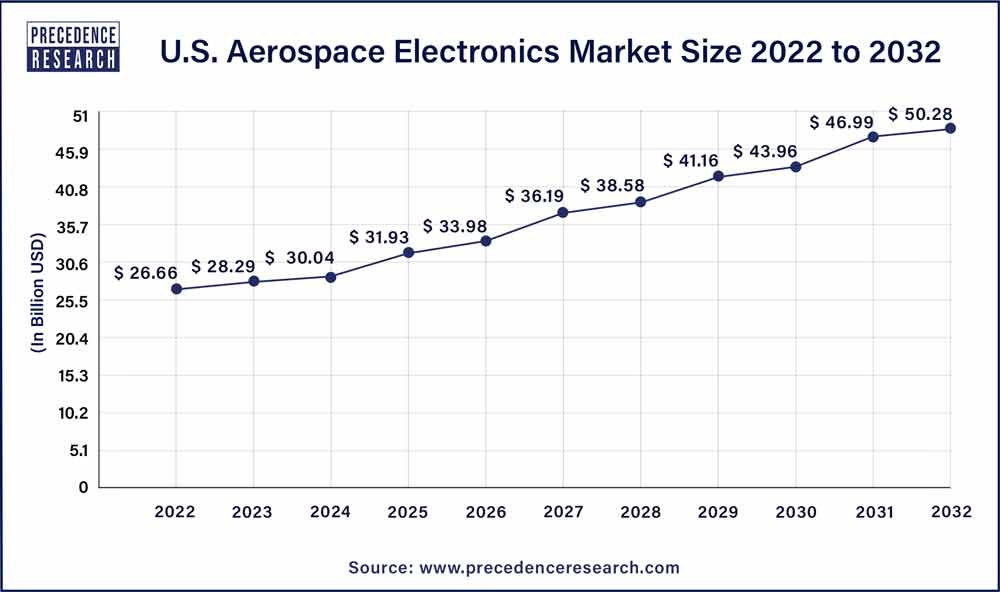 North America held the largest revenue share 42% in 2022. North America dominates the aerospace electronics market due to several key factors. First, the region is home to numerous major aerospace and defence companies, fostering a strong industrial base for electronics production. Second, North America's robust military and civil aviation sectors drive substantial demand for advanced electronics systems. Third, significant investments in research and development and government contracts further bolster the industry's presence. Moreover, the region's commitment to innovation and technological advancements maintains its competitive edge. These factors collectively contribute to North America's significant share in the aerospace electronics market, setting it apart as a global leader in this sector.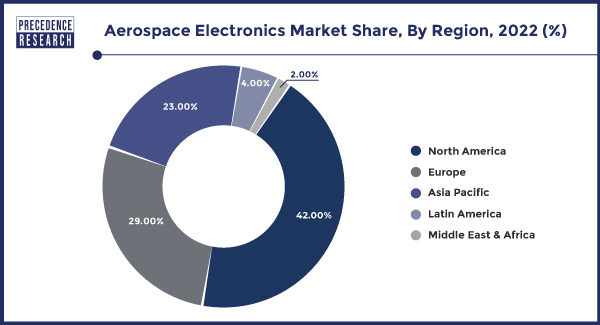 Asia-Pacific is estimated to observe the fastest expansion during the predicted timeframe. The ascendancy of Asia-Pacific in the aerospace electronics market can be attributed to a confluence of distinct factors. Primarily, this dynamic region is witnessing an upsurge in economic prosperity, leading to an escalating appetite for air travel and a flourishing aerospace industry. Moreover, Asia-Pacific nations are strategically channelling substantial resources into defence modernization efforts, thereby propelling the demand for cutting-edge aerospace electronics.
The region's competitive edge is further fortified by its adept workforce and a proliferating array of aerospace manufacturers and suppliers, prominently exemplified in countries like China, India, and Japan. These factors collectively position the region as a commanding force in the aerospace electronics market, fostering innovation and advancement while providing cost-effective solutions.
Growth Factors
The soaring demand for air travel on a global scale remains a pivotal catalyst behind the flourishing aerospace electronics sector. The burgeoning middle-class populace, augmented affordability of air journeys, and the emergence of novel air routes have ignited the call for more advanced and proficient aircraft.
The evolution and integration of state-of-the-art aerospace electronics is vital to augment safety, bolster navigation, invigorate communication, and heighten the passenger experience. With the surge in passenger numbers, airlines are perpetually on the lookout for cutting-edge avionics and in-flight entertainment systems, to uphold their competitive standing and ensure passenger contentment.
The forward thrust of aerospace electronics finds its roots in the perpetual headway of celestial exploration. Government space agencies and private enterprises are progressively venturing into the cosmos, instigating an augmented necessity for intricate electronics, facilitating satellite communication, interplanetary expeditions, and the smooth functioning of space stations. Furthermore, the burgeoning industry of commercial space travel mandates top-notch avionics and communication systems to warrant the security and accomplishment of these missions.
Governments worldwide are channelling substantial resources into the revamping of their military aircraft and equipment. This includes the modernization of aging fleets with cutting-edge electronic systems, securing a tactical edge in defence capabilities. Aerospace electronics play a pivotal role in the development of advanced radar, communication, and surveillance systems. As geopolitical tensions endure, nations persist in earmarking substantial budgets for aerospace electronics, ensconcing military preparedness and national security.
The rapid headway in electronic technology, including the downsizing of components, the augmentation of computational prowess, and the refinement of materials, has paved the way for the production of more compact, effective, and potent aerospace electronics. This empowers the creation of lightweight, high-performance systems, accentuating the capabilities of aircraft and spacecraft while mitigating fuel consumption and operational expenses. As these technologies continue to advance, aerospace electronics corporations need to be innovative to remain at the forefront of the market.
The aerospace sector faces mounting pressure to mitigate its environmental footprint. Aerospace electronics emerge as instrumental in achieving this objective by fine-tuning fuel efficiency, diminishing emissions, and enhancing the overall sustainability of aviation and space exploration. Electronic systems that are geared toward more efficient flight control, engine administration, and power allocation can be instrumental in fostering a greener aerospace domain.
Aerospace Electronics Market Scope
| | |
| --- | --- |
| Report Coverage | Details |
| Growth Rate from 2023 to 2032 | CAGR of 6.5% |
| Market Size in 2023 | USD 112.15 Billion |
| Market Size by 2032 | USD 197.66 Billion |
| Largest Market | North America |
| Base Year | 2022 |
| Forecast Period | 2023 to 2032 |
| Segments Covered | By Type and By Application |
| Regions Covered | North America, Europe, Asia-Pacific, Latin America and Middle East & Africa |

Aerospace Electronics Market Dynamics
Driver
Rapid technological advancements
The relentless technological progress stands as the paramount impetus behind the burgeoning aerospace electronics market. These headway strides manifest across multifarious dimensions, encompassing electronics, materials, and software, and exert profound influence on the augmentation of aircraft and spacecraft's functionality, safety, and adaptability. In avionics, the relentless evolution of compact yet efficient microprocessors, sensors, and communication systems yields notable enhancements in flight control, navigation precision, and communication reliability. These developments not only optimize the operational efficiency of aircraft but also fortify passenger well-being and in-flight comfort.
Materials science breakthroughs usher in the era of lighter yet sturdier materials, affording the construction of aerospace components that shed excess weight, culminating in heightened fuel efficiency. Composite materials and cutting-edge alloys contribute to the crafting of structures that are both robust and aerodynamically optimized. Furthermore, the software landscape witnesses a proliferation of increasingly intricate flight management systems, data analytics solutions, and predictive maintenance tools. These software innovations amplify situational awareness, streamline maintenance protocols, and furnish a substantial boost to overall operational efficacy.
Beyond these, strides in autonomous technologies and the maturation of artificial intelligence bestow enhanced capabilities upon unmanned aerial vehicles and drones, expanding their utility in domains spanning surveillance, cargo logistics, and remote sensing. In summation, the ceaseless momentum of technological progression serves as a driver within the aerospace electronics market, persistently elevating the benchmarks for performance, efficiency, and safety in aviation and space exploration. This catalytic force simultaneously kindles innovation and sustains market expansion.
Restraint
Complexity and integration
Complexity and integration present a significant restraint to the growth of the aerospace electronics market. As technology advances, the integration of new, sophisticated electronic systems into existing aircraft and spacecraft becomes more intricate and time-consuming. This complexity often necessitates extensive redesign and testing of systems to ensure compatibility, safety, and performance. It can also lead to budget overruns and project delays. Moreover, the aerospace industry relies on a multitude of legacy systems, which were not originally designed to accommodate the level of connectivity and automation now demanded. Adapting these older platforms to incorporate modern electronics can be a resource-intensive process.
In addition, integration challenges can compromise system reliability and safety. Errors in integration can have critical consequences in aerospace applications, making thorough testing and validation paramount. The effort required for seamless integration poses a significant hurdle for aerospace electronics manufacturers, especially when they must balance performance improvements with certification and regulatory compliance. These constraints hinder the industry's ability to swiftly adopt the latest technologies, slowing overall growth.
Opportunity
Emergence of unmanned aerial vehicles (UAVs) and drones
The ubiquity of unmanned aerial Vehicles (UAVs) and drones has forged compelling pathways within the aerospace electronics market. UAVs find themselves increasingly deployed across a spectrum of applications, spanning surveillance, agricultural practices, logistics, and ecological monitoring. Central to the success of these unmanned systems lies the critical role of aerospace electronics, encompassing elements like guidance and control systems, sensory apparatus, advanced communication technologies, and data analytics prowess.
In the backdrop of soaring demand for UAVs and drones, aerospace electronics manufacturers are confronted with opportunities to engineer avant-garde, compact, and super-efficient electronic components and systems. These not only amplify the performance and capabilities of these unmanned contraptions but also align with the ever-evolving regulatory frameworks. This burgeoning market stratum not only sparks a cauldron of innovation but also furnishes aerospace electronics firms with the prospect of broadening their product array, diversifying their clientele, and reaping the rewards of the escalating requisition for unmanned systems in commerce and defence.
Impact of COVID-19
The COVID-19 pandemic led to extensive disruptions in global supply chains, severely affecting the aerospace electronics market. Restrictions on international trade, factory closures, and reduced production capacity created shortages of critical electronic components. This resulted in delays in the manufacturing and delivery of aerospace electronics systems, causing setbacks in various projects. Many aerospace electronics manufacturers had to reevaluate their supply chain strategies to ensure resilience against future disruptions.
The sharp decline in air travel due to lockdowns and travel restrictions during the pandemic significantly impacted the aerospace industry. Airlines and aircraft manufacturers faced financial difficulties, leading to reduced orders for new aircraft and avionics systems. The reduced demand for new aircraft translated into lower demand for aerospace electronics. This, in turn, forced companies to recalibrate their production and growth expectations.
Aerospace electronics manufacturers faced financial challenges as airlines and other customers deferred or cancelled orders, resulting in reduced revenue. Many companies were compelled to implement cost-cutting measures, including layoffs and postponing research and development projects. The pandemic amplified the need for financial prudence and flexibility in the industry.
COVID-19 prompted a heightened focus on safety and hygiene in air travel. This led to an increased interest in touchless and contactless technologies, which, in turn, influenced the development of aerospace electronics for cabin systems. Airlines and aircraft manufacturers started looking for solutions to enhance cabin air quality and touchless controls, such as sensors and interfaces, creating new opportunities for aerospace electronics companies.
Type Insights
The avionics segment held a 35% market share in 2022. The avionics segment commands a substantial share in the aerospace electronics market due to its critical role in ensuring the safety, navigation, and communication systems of aircraft. Avionics encompass a wide range of electronic systems, including flight management, radar, autopilot, and in-flight.
entertainment, vital for efficient aircraft operation. With an increasing emphasis on safety, automation, and connectivity in modern aviation, the demand for advanced avionics solutions has surged. Additionally, stringent regulatory standards mandate the use of state-of-the-art avionics systems, driving continuous innovation and making it a dominant sector within the aerospace electronics market.
Radar systems hold a major growth in the aerospace electronics market due to their critical role in aviation and defence. These systems are indispensable for aircraft navigation, collision avoidance, weather monitoring, and military applications. With increasing global air traffic, the demand for advanced radar technology to enhance safety and air traffic management is substantial.
Moreover, radar systems are continuously evolving with the integration of modern technologies like phased-array radar and synthetic aperture radar, ensuring their relevance and prominence in the aerospace electronics sector. Their versatility, efficiency, and multifaceted applications cement their growth as a significant market segment.
Application Insights
The commercial aerospace segment held the largest market share of 55% in 2022. The commercial aerospace segment holds a significant share in the aerospace electronics market due to the surging demand for air travel, the expansion of commercial aviation, and the continuous modernization of aircraft. Airlines and aircraft manufacturers prioritize advanced electronics systems to enhance safety, efficiency, and passenger experience. Moreover, the commercial aerospace sector benefits from frequent technological advancements, inflight connectivity, and passenger entertainment systems. The competitive landscape also drives innovation as aerospace electronics companies strive to meet the growing needs of the commercial aviation industry, making it a dominant and lucrative segment in the market.
On the other hand, the military aerospace segment is projected to grow at the fastest rate over the projected period. The military aerospace sector commands a substantial growth in the aerospace electronics market, primarily due to its distinct and demanding requirements. Defence applications necessitate cutting-edge electronics for vital functions such as communication, radar systems, surveillance, and precise navigation. Advanced avionics and electronics are paramount in military endeavours, providing the crucial tactical edge requisite for contemporary warfare scenarios.
The sector's unwavering commitment to pioneering research, development, and stringent security standards fosters a culture of continuous innovation, securing lucrative high-value contracts. Furthermore, the military's steadfast dedication to enhancing situational awareness, data processing, and the deployment of unmanned systems consistently fuels substantial investments in aerospace electronics, reinforcing its dominant influence within the market.
Recent Developments
In March 2022, BAE Systems unveiled an innovative Electronic Warfare (EW) suite, introducing a comprehensive set of both offensive and defensive EW capabilities that can be integrated into a diverse range of platforms. This groundbreaking technology, termed the Storm Electronic Warfare Module system, offers adaptable integration options, spanning fixed-wing aircraft, helicopters, unmanned aerial vehicles, and missiles.
Aerospace Electronics Market Players
Honeywell International Inc.
Thales Group
BAE Systems
Raytheon Technologies Corporation
Northrop Grumman Corporation
Safran Electronics & Defense
L3Harris Technologies, Inc.
Collins Aerospace (a Raytheon Technologies business)
General Electric Company
Cobham plc
Moog Inc.
Teledyne Technologies Inc.
Garmin Ltd.
Curtiss-Wright Corporation
Esterline Technologies Corporation
Segments Covered in the Report
By Type
Avionics
Communication, Navigation, And Surveillance (CNS) Systems
Electronic Warfare (EW) Systems
Radar Systems
Space Electronics
By Application
Commercial Aerospace
Military Aerospace
By Geography
North America
Europe
Asia-Pacific
Latin America
Middle East and Africa