The global data analytics market size was exhibited at USD 41.39 billion in 2022 and is projected to surpass around USD 346.33 billion by 2030, poised to grow at a projected CAGR of 30.41% during the forecast period 2022 to 2030.
Data analytics is a statistical strategy for evaluating and looking at a lot of data to get a good result. Insightful knowledge that can aid in corporate growth can be gained from the data processed in this way, which can be gleaned from historical trends.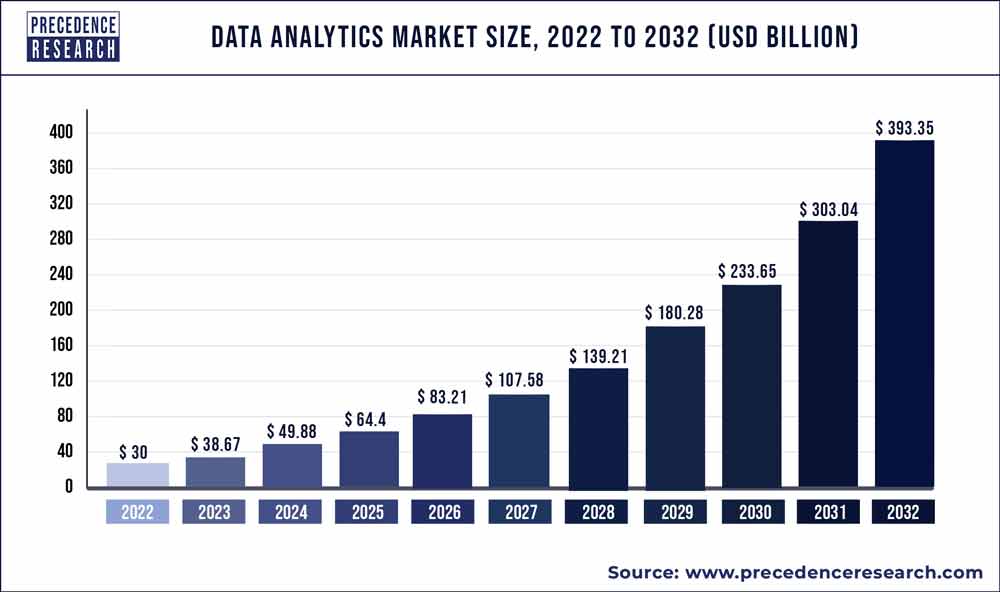 Key Takeaways:
Big data analytics market share was greater than 35% in 2021.
On-premise market share was greater than 45% in 2021.
By enterprise size, the large enterprise segment has captured a market share of over 60% in 2021.
The BFSI sector held the greatest share of almost 25% in 2021.
North America contributes the highest share around 45% in 2021.
The Asia Pacific market is projected to display a noteworthy CAGR of 23.5% from 2022 to 2030.
Growth Factor
Businesses need data analytics because it gives them the ability to manage, process, and simplify large datasets in real time while also enhancing their capacity for data-driven decision-making. Additionally, the main objective of big data and business analytics is to help businesses better understand their clients and target markets, hence enhancing marketing efforts. These qualities are anticipated to boost acceptance by numerous companies from various industries, which would propel the expansion of the big data market.
Numerous new business prospects are anticipated to arise as a result of recent breakthroughs in big data analytics, including social media analytics and text analytics. Furthermore, many businesses have turned to social media as their main source for a range of advertising campaigns, product promotions, and events because it is more efficient than traditional advertising. Additionally, the expansion of social media analytics is encouraged by the rise in popularity of internet-connected mobile devices like smartphones and tablets as well as the rising number of users on social media platforms. Client demands are always changing in a business climate where organizations must operate quickly.
Companies look to historical data about their past performances in addition to current information about their customers, goods, services, and business processes in order to obtain insights and discover historical trends and patterns. In order to examine these patterns, find new business opportunities, and create strategies based on recent insights, several industries have adopted business analytics software and solutions. This is then anticipated to further accelerate the expansion of the big data market.
Due to its ability to help businesses manage, streamline, and analyze massive amounts of data, data analytics has become an essential component of big businesses.
Due to factors including the growing need for improved insights, rising disposable incomes, and competitive advantages, the worldwide data analytics market has grown recently.
The rise of SaaS-based big data analytics, the rise of virtual offices generating large data volumes, and rising cloud technology expenditures are all anticipated to accelerate the market's growth.
Emerging trends like social media analytics are projected to accelerate the rise of the market over the course of the forecast period.
Report Scope of the Data Analytics Market
Report Coverage
Details
Market Size in 2022
USD 41.39 Billion
Market Size by 2030
USD 346.33 Billion
Growth Rate from 2022 to 2030
CAGR of 30.41%
Base Year
2021
Forecast Period
2022 to 2030
Segments Covered

By Type
By Deployment
By Enterprise Size
By End Use

Regions Covered

North America
Europe
Asia-Pacific
Latin America
Middle East & Africa

Key Market Drivers
The growing trend of edge computing
IoT device connectivity is growing as a result of machine learning algorithms, the internet of things, and artificial intelligence. The international data corporation predicts that by 2025, 152,200 IoT devices would link every minute. The need for connected devices is growing, which speeds up the implementation of edge computing. Edge computing solutions are structures that, as opposed to clouds, situate the processors closer to the data source or destination.
Data that is located close to the source or the destination reduces network and server strain and speeds up data uploads to on-premises or cloud systems. Along with the ability to process data in real-time and with a speedier response time, edge computing is particularly applicable to the industrial IoT
Key Market Challenges
Growing security concerns
The technology raises serious security issues, including the necessity for real-time security, the privacy of client data, and security, among others. Some of the most pressing issues that require attention are remote storage, shoddy identity administration, a lack of investment in the system and network security, human error, linked devices, and IoT applications. The company faces a significant task in overcoming these difficulties. The rise in data loss incidents and cyberattacks on customer data that have been kept across businesses is anticipated to impede market expansion.
Key Market Opportunities
Consumption of the data is rising
Because of the development of mobile technology like smartphones or tablets and advancements in mobile networks and Wi-Fi, both data generation and consumption are constantly rising. The amount of data created, stored, duplicated, and used worldwide increased by almost 5,000 % between 2010 and 2020, going from 1.2 trillion GB to 59 trillion GB
The data analytics industry is essential for improving business operations and minimizing data loss. The four key components of this service are volume, diversity, and velocity. Data analytics gives firms leverage by creating greater insight through unstructured data and finding data that might support business ideas. The use of analytical tools may give business analysts as well as other corporate users a competitive advantage and generate company value. Additionally, it gives companies the ability to develop their marketing strategies, accelerate corporate growth, and differentiate themselves from competitors while maintaining procurement efficiency.
Segments Insight
Type Insights
In 2021, the big data analytics market share was greater than 35%. The segment's expansion can be ascribed to the rising use of social media sites and the rise in virtual businesses that generate significant amounts of data. Additionally, the development of SaaS-based data analytics has helped automation installation simpler and permitted the creation of powerful analytical models using self-service paradigms. Big data solutions providers have been urged to enhance their funds in cloud technology in order to acquire a competitive advantage to the increased demand for big data analytics solutions.
With the rising demand for customer retention, better lead management, and client experience management, the customer analytics segment is anticipated to enjoy a remarkable CAGR of 20.1%. The retail sector makes extensive use of customer analytics to create individualized communications in addition to marketing initiatives.
The retail industry's customers' rising demand for an omnichannel experience has fueled the segment's rise. Well-known businesses like Walmart and Amazon have been effective in leveraging the advantages of various social media sites like Facebook. The segment is expected to develop as a result of more retail businesses focusing on providing omnichannel services to their customers.
Deployment Insights
In 2021, the on-premise market share was greater than 45%. On-premise installations give businesses more freedom and control over how to tailor their IT infrastructure, also decreasing their reliance on the web and safeguarding sensitive company information from theft and fraud. It is projected that these advantages will persuade major enterprises to choose an on-premise deployment.
In addition, businesses in the BFSI industry favor the on-premise method due to increased worries about scams such as new account fraud and account takeovers. On-premise businesses are more resistant to these scams, which is good news for the segment's expansion.
Over the course of the projected period, the cloud segment is anticipated to experience significant expansion. Cloud solutions demand is anticipated to expand as IoT and cloud computing becomes more widely adopted. Modern cloud analytics tools continue to have an impact on how businesses manage, organize, and utilize the data produced by digital channels.
Enterprise Size Insights
In 2021, the large companies' market share was over 60%, making it the largest. The increased use of sophisticated analytics solutions, like customer & business analytics, for major organizations' efficient management of their enormous customer and asset databases, can be contributed to the segment's growth.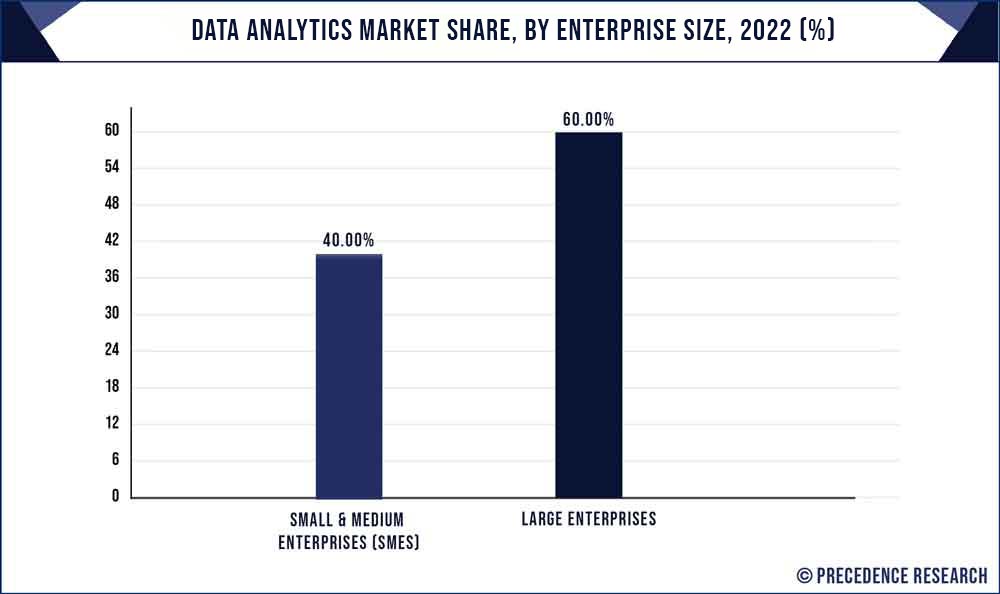 In addition, a number of significant businesses are implementing data analytics to boost their revenues, advance analytics expertise, and strengthen risk management competencies. Data analytics also helps businesses better analyze the data and disseminate critical information to those who need it.
In 2021, the SME sector controlled more than 35% of the market. It is projected that SMEs would increase their need for data analytics solutions due to the increased need for dashboards for data visualization. Additionally, SMEs choose data analytics tools to improve customer service and take better risk-related decisions.
End User Insights
In 2021, the BFSI sector held the greatest share of almost 25%. The continued use of data analytics for spotting fraudulent transactions, streamlining workflows, and managing data risks can be blamed for the segment rise. In addition, it is anticipated that the market would grow as a result of the increased utilization of BI software to offer continuous access to customer databases, secure transactions, and advance the client experience.
These technologies assist financial organizations in sorting unstructured data, guaranteeing regulatory compliance, and improving operational efficiency and consumer experiences.
In 2021, the IT and telecom sectors had a share of more than 20%. The increase in demand for tools like video conferencing and web conferencing is responsible for the market growth. Additionally, businesses in this industry are implementing cutting-edge analytical techniques to stop fraud like unauthorized access, or cloning.
Furthermore, thanks to big data analytics, telecom businesses can create micro-segments for the numerous clients they service. As a result, these businesses might be able to identify their most important clients and tailor their offers to suit their demands.
Regional Insights
In 2021, North America accounted for a significant 45% of the worldwide market for data analytics. This is due to the availability of infrastructure that supports the use of cutting-edge analytics and the rise in the usage of cutting-edge technologies like AI and machine learning.
Over the course of the projected period, the Asia Pacific market is predicted to display a noteworthy CAGR of 23.5%. The regional market is expanding as a result of big data analytics tools and solutions being widely used there. Additionally, a number of businesses in the area are making significant investments in customer analytics to boost productivity and efficiency. Additionally, regional travel agencies including TNT Korea Travel, China Ways LLC, and Trafalgar are implementing analytical tools for uses like monitoring bus timetables, railway schedules, train breakdowns, and traffic management.
Recent developments
On April 20, 2022, An Augmented Intelligence business named DataRobot and Wipro formed a strategic alliance. The goal of the alliance is to accelerate the business impact of customers by delivering augmented intelligence at scale and assisting them in becoming AI-driven organizations. This collaboration will ensure that AI strategy is implemented more quickly and that businesses receive their "data to value" more quickly. During August 2021
Key Market Players
Alteryx, Inc (US)
IBM Corporation (US)
SiSense Inc (US)
Microsoft (US)
Zoho Corporation Pvt. Ltd. (India)
Oracle (US),
ThoughtSpot, Inc. (US)
SAP SE (Germany),
Mu Sigma (US)
Dell Inc. (US)
Amazon Web Services, Inc. (US)
Looker Data Sciences, Inc. (US)
Tableau Software, LLC. (US)
Datameer, Inc. (US)
SAS Institute Inc. (US)
Segment Covered in the Report
(Note*: We offer reports based on sub-segments as well. Kindly, let us know if you are interested)
By Type
Big Data Analytics
Business Analytics
Customer Analytics
Risk Analytics
Statistical Analysis
Others (Predictive Analytics, Text Analytics, and Prescriptive Analytics)
By Deployment
By Enterprise Size
Large Enterprises
Small & Medium Enterprises (SMEs)
By End Use
BFSI
Government
Healthcare
IT & Telecom
Military & Defense
Others
By Geography
North America
Europe
Asia-Pacific
Latin America
Middle East & Africa (MEA)