The global unmanned aerial vehicle (UAV) market was valued at US$ 14.3 billion in 2020 and is expected to hit around US$ 53 billion by 2030, growing at a CAGR of 14% over the forecast period 2021 to 2030.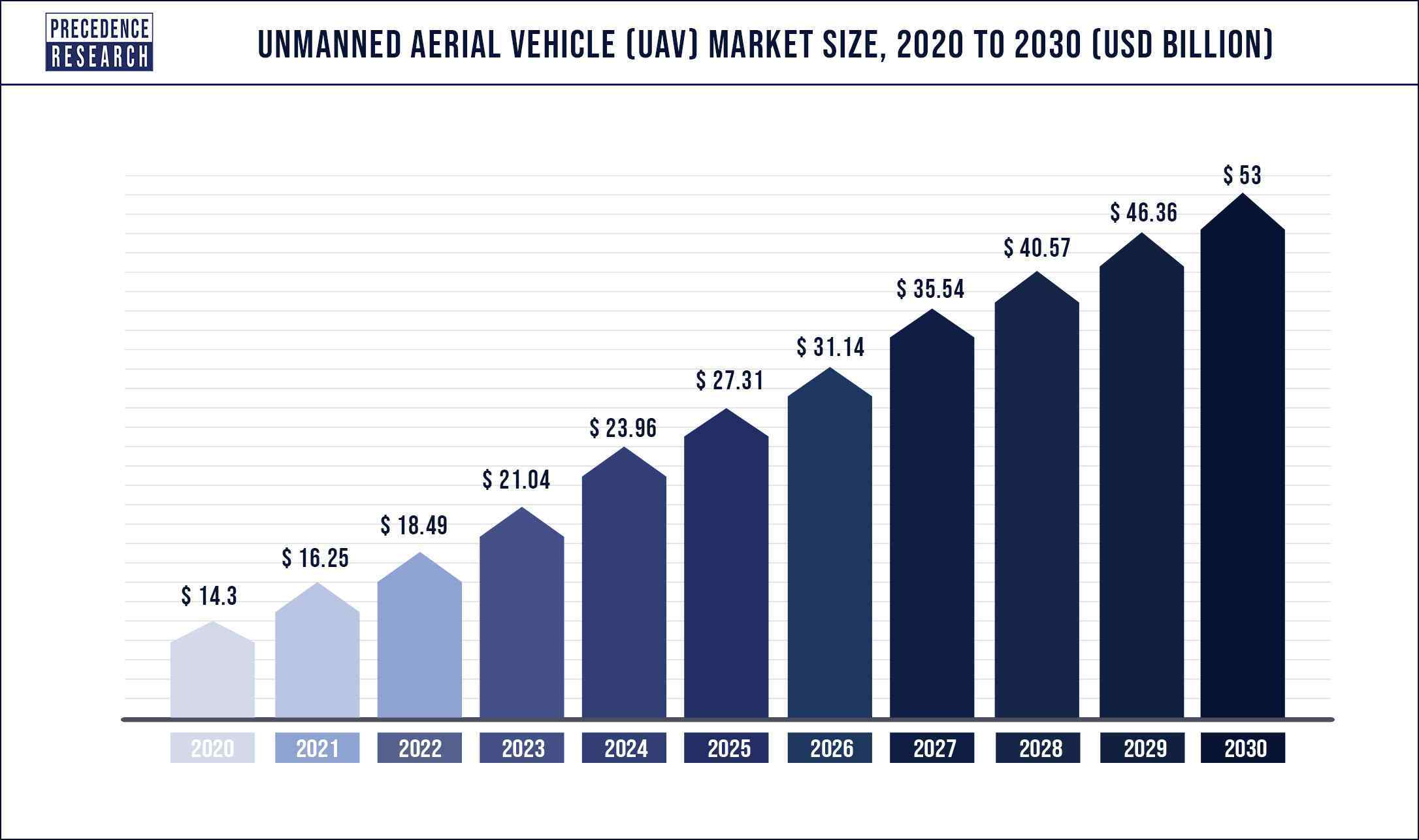 Unmanned Aerial Vehicles (UAVs) commonly recognized as drone are equipped with internal computers that can be controlled from ground. Their advanced aerodynamic structures are designed with a vision to perform multiple functions using the desired navigation system. Initially, the technology was designed for dangerous military mission to save human life from risk. UAVs specifically designed for the military applications are well equipped with missiles in order to hit the specific targets when operated from high altitude.
Prominent growth of construction industry across the globe is one of the key factors likely to propel the market growth for Unmanned Aerial Vehicle (UAV) during the upcoming years. As per the report published by PwC in the year 2018, the global construction sector predicted to grow by 85% in terms of volume and estimated to reach US$ 15.5 trillion by the year 2030. In addition, 57% of the volume share analyzed to be contributed by key countries that include China, U.S., and India across the overall industry growth.
Moreover, the construction industry has greater significance in planning and design before heading towards the major construction and infrastructure projects. Hence, there is strong requirement for map designing and surveying for collection data of complex surface area. This requires prominent amount of time and money as well as man power to accomplish the mapping and surveying of such larger construction areas, whereas commercial UAVs can do this in seconds and also saves millions of dollars.
The global pandemic because of COVID-19 has greatly affected the construction as well as various other industries and disrupted their supply chain model. Because of ineffective supply of raw materials and other products the market faces various challenges to continue with the same rate and witnessed a steep decline in their sales and operations. However, as per the post-COVID analysis the markets across the globe expected to flourish steadily.
| | |
| --- | --- |
| Report Highlights | Details |
| Market Size | USD 53 Billion by 2030 |
| Growth Rate | CAGR of 14% From 2021 to 2030 |
| Base Year | 2020 |
| Historic Data | 2017 to 2020 |
| Forecast Period | 2021 to 2030 |
| Segments Covered | Class, Technology, System, Application |
| Regional Scope | North America, Europe, Asia Pacific, Latin America, Middle East & Africa (MEA) |
| Companies Mentioned | General Atomics Aeronautical Systems Inc., Northrop Grumman Corporation, Israel Aerospace Industries Ltd., Elbit Systems Ltd., Parrot, SZ DJI Technology Co. Ltd., Others |
Technology Analysis
Based on technology, the fully-autonomous technology segment expected to grow at the fastest rate over the forthcoming period because it offers fully controlled operation without any control from ground. The flight planning system and command delivery system helps to decide the flight range and route earlier from its operation. These are mission critical UAVs and seeks prominent demand from military sector.
The remotely operated UAVs capture the majority of the global UAV market revenue share in the year 2020 and likely to pertain its hold during the analysis time frame. This is majorly attributed to wide range of UAV products operated by remote sensing technology. The remote sensing technology has larger applications across various commercial sectors to gather crucial set of information such as forest monitoring, agriculture, and aerial mapping.
Application Insights
In terms of application, the unmanned aerial vehicle (UAV) market is classified into commercial, military and recreational.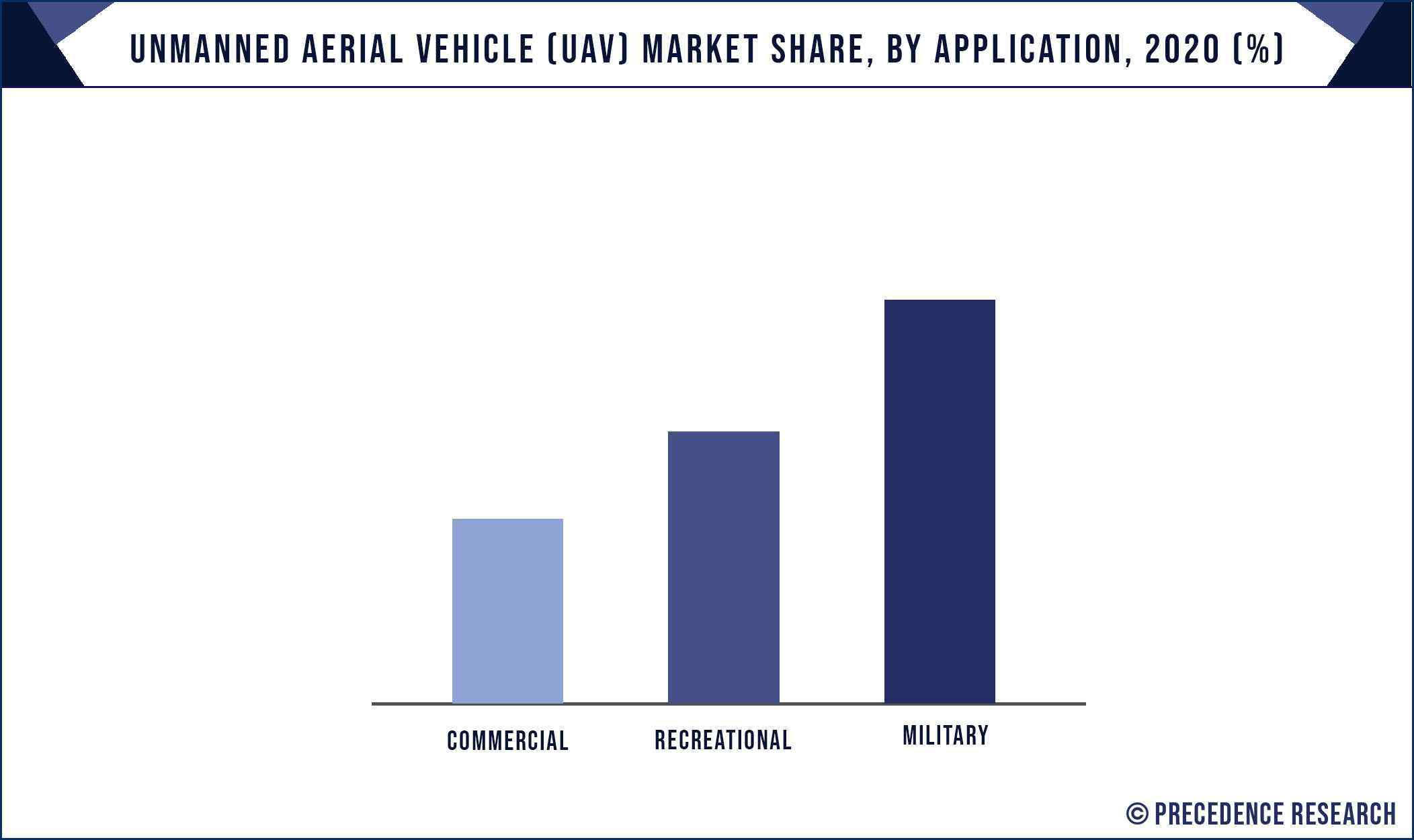 In 2020, the military segment anticipated to hold the major revenue share during the upcoming years owing to significant rise in the demand for strategic and tactical UAVs in military sector. Several countries have also increased their purchase for particular UAVs for special missions such as High Altitude Long Endurance (HALE) UAV and Medium Altitude Long Endurance (MALE) UAV. Hence, the rising demand for special purpose UAVs for military operation are likely to boost the segment growth over the forthcoming years.
Regional Insights
Regionally the UAV market is classified into North America, Europe, Asia-pacific, Latin America, Middle East and Africa. The Asia pacific region is expected to account highest growth rate in the forecast period of 2021 to 2030. In china military UVA market hit largest revenue share.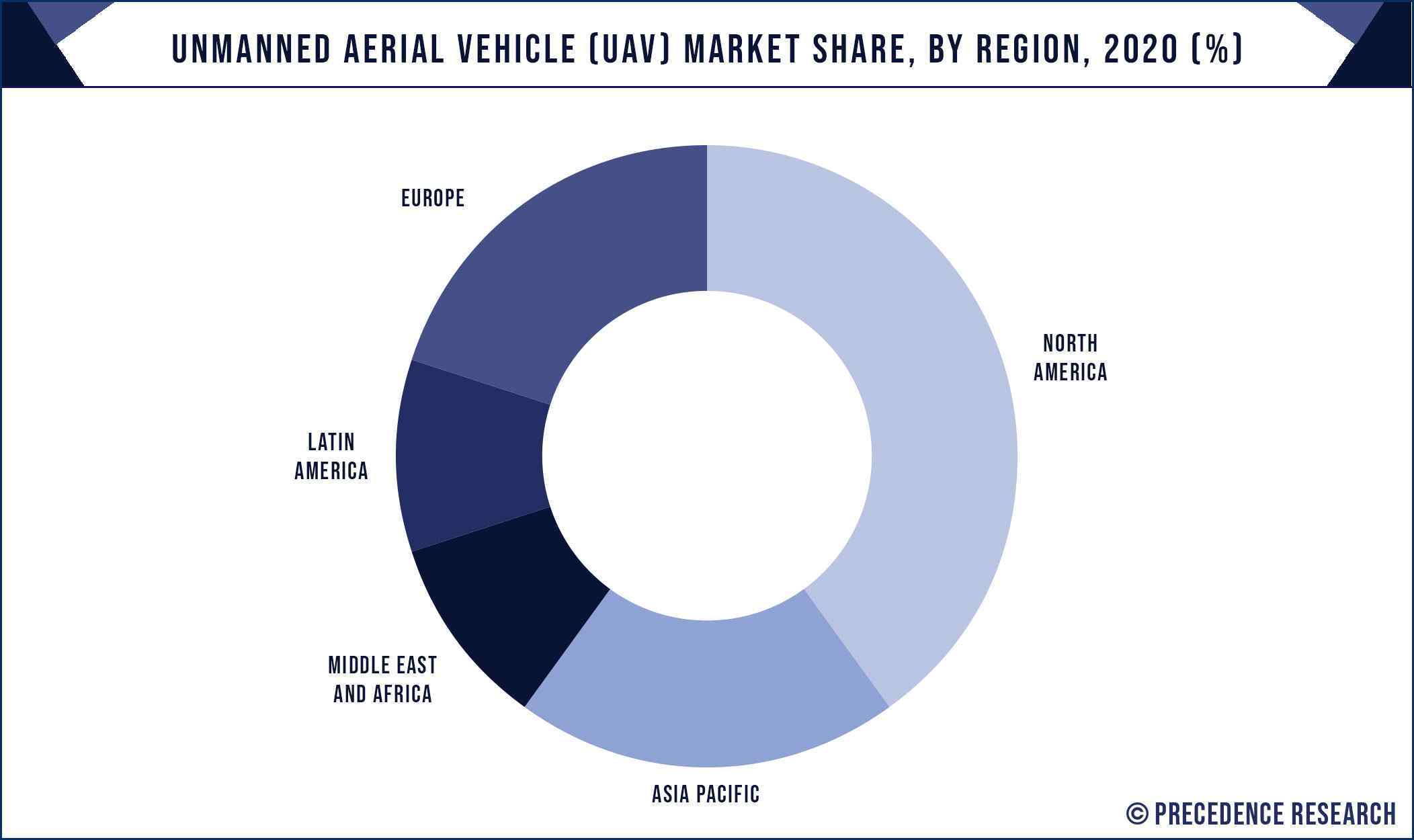 North America market for UAVs captured the majority of revenue share across the globe and anticipated to maintain the same trend over the forecast time frame owing to significant application of UAVs in aerial mapping, surveying, military operations, and forest monitoring. The U.S. is the front-runner across the North America region and is one of the prominent manufacturers of military UAVs that also exports its UAVs to several other countries. This is mainly because the country spends significantly on the defense sector and armaments. For instance, military spending or defense budget in the U.S. recorded to be US$ 731.75 billion in the year 2019 witnessing a rise of 7.22% from the past year. Further, the strong presence of key market players in the regions also supports the positive outlook for the market growth.
Key Companies
Industry giants such as Boeing, Airbus, Amazon, DHL, Uber, and Google have invested significantly in the research & development sector over the past few years owing to lucrative opportunities offered by the market. This is also attributed to the expanding application of UAVs in all sectors such as photography, residential, spy & detective, scientific, government, and various other commercial activities. Further, the application of UAVs has also expanded to natural disaster relief activities for supplying necessary life saving product to the relief camp. Moreover, their application has also penetrated in forest monitoring, surveying, cinematography, aerial monitoring, and vegetation monitoring applications. Hence, the rising penetration of UAVs across various application has opened up alluring opportunities for the market players to excel their growth.
Some of the prominent players covered under the global Unmanned Aerial Vehicle (UAV) market report include General Atomics Aeronautical Systems Inc., Northrop Grumman Corporation, Israel Aerospace Industries Ltd., Elbit Systems Ltd., Parrot, SZ DJI Technology Co. Ltd., Lockheed Martin Corporation, Yuneec Thales Group, Go Pro, 3D Robotics, Holy Stone Autel Robotics, Kesper Drone, Sense Fly, Delair, Hexagon, and AeroVironment Inc. among others.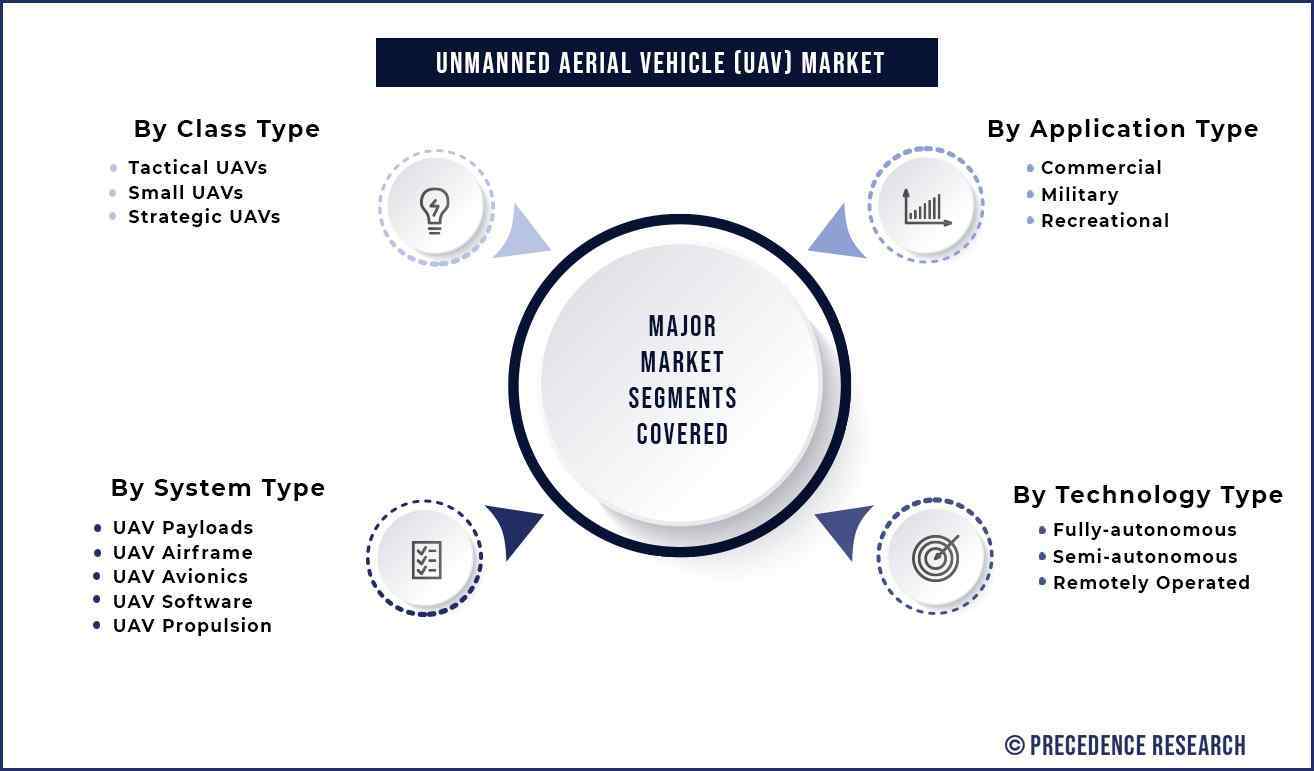 The global Unmanned Aerial Vehicle (UAV) market research report classifies the market as follows:
By Class
Tactical UAVs
Small UAVs
Strategic UAVs
By Technology
Fully-autonomous
Semi-autonomous
Remotely Operated
By System
UAV Payloads
UAV Airframe
UAV Avionics
UAV Software
UAV Propulsion
By Application
Commercial
Military
Recreational
By Regional Outlook
North America
Europe

UK
Germany
France
Rest of Europe

Asia Pacific

China
Japan
India
Rest of Asia Pacific

Latin America

Brazil
Rest of Latin America

Middle East & Africa (MEA)

GCC
North Africa
South Africa
Rest of the Middle East & Africa