The global unmanned ground vehicles market size accounted for USD 3.4 billion in 2021 and is expected to hit around USD 7.8 billion by 2030, poised to grow at a compound annual growth rate (CAGR) of 9.67% from 2022 to 2030.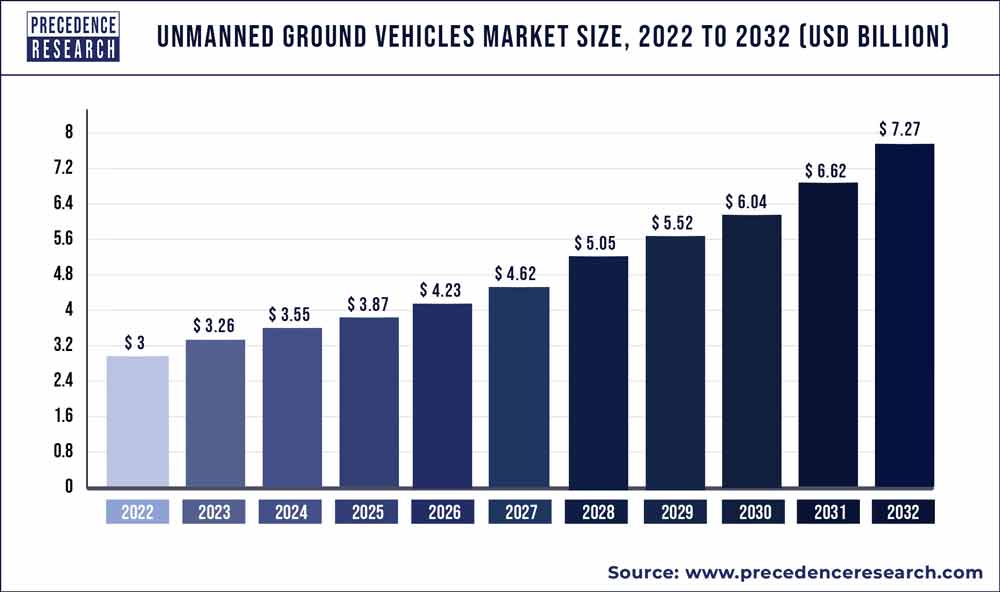 Key Takeaways:
By application, the defense segment held 68% market share in 2021.
By size, the small segment accounted 58% market share in 2021.
By mode of locomotion, the tracked segment hit 65% market share in 2021.
By operation, the teleoperated segment has garnered 81% market share in 2021.
Asia Pacific region is growing at a CAGR of 13.6 from 2022 to 2030.
North America region generated highest revenue share of over 40.2% in 2021.
Unmanned ground vehicle (UGV) is a robotic vehicle that operates on the ground without presence of an onboard human. These vehicles are remotely controlled with the help of a fixed or handheld control station, or operate autonomously. It is mainly developed to enhance human capability in civilian and military activities in an open terrain that is unpleasant or hazardous to humans and for tasks that are dull, difficult, or poses intolerable risks. The UGV requires wireless communications technologies for remote operation and to relay video footage or other sensor data. It is usually equipped with a range of payloads and sensors such as chemical & explosives sensors, manipulator arms, thermal cameras, and weapons systems among others.
In past few years, UGVs are seeing rapid demand from civic applications including crowd control, urban search and rescue, nuclear plant operations, firefighting, and agricultural spraying & harvesting. Also, there is wide adoption of UGVs in defense sector for equipment carrying, manned-unmanned teaming, mobile weapons platforms, and forward reconnaissance. On the other hand, integration of advanced technologies in UGVs has further ensured an intelligent execution of tasks. For instance, the evolution of UGVs with advanced technologies such as AI, ML, Virtual Reality, Augmented Reality, Data Science, Cloud Computing, and Internet of Things (IoT) is anticipated to play the prominent role in future battlefields.
Report Scope of the Commercial Greenhouse Market
| | |
| --- | --- |
| Report Coverage | Details |
| Market Size in 2022 | USD 3.73 Billion |
| Market Size by 2030 | USD 7.8 Billion |
| Growth Rate from 2022 to 2030 | CAGR of 9.67% |
| Base Year | 2021 |
| Forecast Period | 2022 to 2030 |
| Segments Covered | Application, Mobility, Size, Mode of Operation, System, and Geography |
| Companies Mentioned | BAE Systems, QinetiQ, Rheinmetall AG, Teledyne FLIR, ECA Group, Lockheed Martin, General Dynamics, Leonardo S.p.A., Autonomous Solutions Inc., and Northrop Grumman |

Growth Factors
Growing demand for autonomous vehicles in defense sector has significantly contributed to growth of unmanned ground vehicles market. Also, the global defense sector is seeing abundant research for advanced UGVs development to execute numerous missions such as transportation, rescue, reconnaissance, combat operations, extended tunnel mapping, distribution of medication & supplies in isolated areas, acquisition of targets, and more. For instance, in January 2022, The South Korean military initiated deployment of multi-purpose UGVs post six-month trials. These UGVs are developed by Hyundai Rotem and are capable to detect images up to 4 kilometers in real-time with the help of cameras. Also, the Seoul International Aerospace and Development Exhibition (ADEX) concluded in October 2021 showcased the increasing ability of defense industry in South Korea with a mounting push towards development of unmanned and autonomous systems for use on-air, land, and sea.
In addition, there is an increasing use of robots in regions that are affected by the chemical, biological, radiological, nuclear, and explosive (CBRNE) attacks. Rescue missions in CBRNE incidents are extremely risky and often it is nearly impossible for rescuers to perform. In such scenarios, AGVs helps in sample collection, detection, and marking of CBRN contaminated regions by eliminating the risk of exposing personnel. For example, Viking, the multirole UGV is manufactured by Horiba Mira, the UK-based provider of automotive research, engineering, and test services. This UGV is mainly designed to reduce risk in CBRN threat detection missions. Also, this vehicle is capable of performing operations including last-mile logistics support, target acquisition, security & surveillance, intelligence, soldier support, surveillance, and reconnaissance.
On the other hand, emerging research and development in fully autonomous UGVs is expected to create lucrative growth opportunities for the global unmanned ground vehicles market in upcoming years. Currently, a number of market players are actively working of the development of fully autonomous AGVs by using artificial intelligence (AI) & machine learning (ML) techniques. For instance, in October 2021, Otokar, a Turkish bus and military vehicle manufacturer signed a partnership agreement with Milrem Robotics, an Estonian robotic vehicle manufacturer to combine their resources and experience for application and development for military UGVs. Also, both of the companies will work together on introduction of innovative systems by developing encryption, intelligent functions, and safety features along with environmental awareness.
Application Insights
Depending upon the application, the military segment accounted highest revenue share in 2021. In the defense sector, various military functions ranging from area recognition to equipment and supplies provisioning makes use of UGV systems. These systems are helping military personnel to determine unsafe zones for soldiers, carry supplies, deliver surveillance information, and explosive activation. Hence, demand for UGVs in such critical military applications is mainly fueling growth of this segment.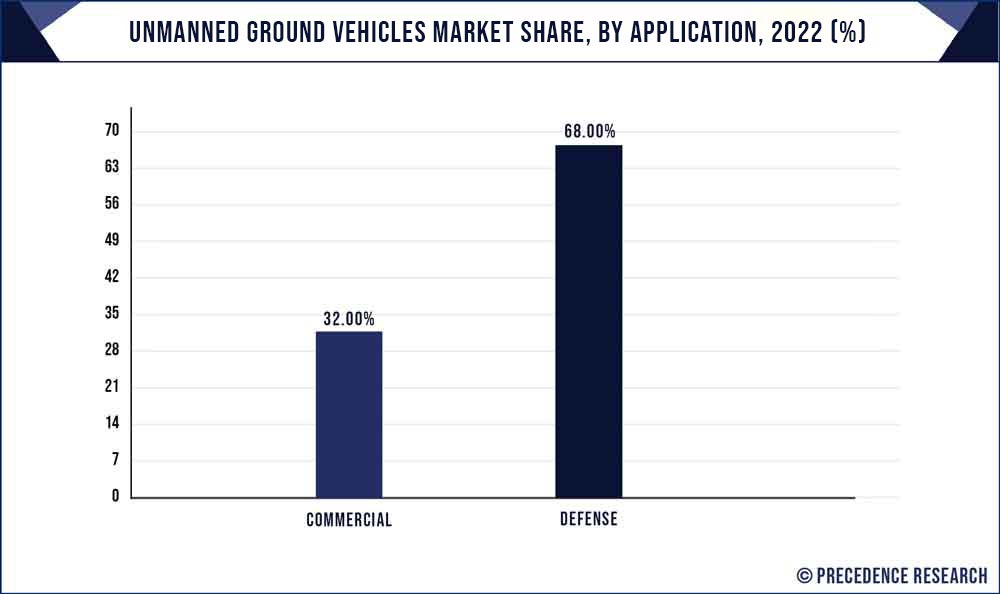 In addition, growing defense budgets is further contributing to development of UGVs. According to Stockholm International Peace Research Institute (SIPRI), United States, China, India, the United Kingdom and Russia are the top five countries accounting for about 62% of global military spending. Countries also needs to invest in R&D for the development of essential technologies to enable robotic and unmanned systems to perform efficiently. Therefore, increasing number of countries are focusing on research and development of UGVs for military applications, creating a lucrative growth opportunity for this segment. For instance, in past several years, U.S. has been a largest R&D spender in defense with significant investment in disruptive technologies.
On the other hand, commercial segment is expected to witness highest CAGR during the forecast period due to increasing demand for UGVs in urban search and rescue, firefighting, nuclear plant operations, and agricultural spraying & harvesting applications. Also, rising development trend of commercial UGVs is projected to be opportunistic for growth of the segment. For instance, in December 2021, XAG Co., the Chinese company launch drones and robots for precision agriculture applications. This launch included the updated XAG R150 unmanned ground vehicle (UGV).
Mode of Operation Insights
Depending upon the mode of operation, the autonomous segment dominated the market in 2021. The autonomous mode of operation in UGVs enables them to perform aspects of their operations by eliminating the need for direct human inputs. These vehicles are equipped with technologies for allowing the machine to be self-regulating and self-acting. Rise in demand for more tactical vehicles to assist in surveillance or improvised explosive device (IED) search-and-destroy missions. Growing number of nations are being aware of autonomous UGVs and its merits as combat vehicles and force enabler.
Furthermore, autonomous UGVs are rapidly being developed by companies to meet rising demand for effective defense equipment by countries. For instance, in March 2020, HORIBA MIRA, one of the leaders in advanced vehicle engineering received a £2.3m contract to supply VIKING, the autonomous to the Defense Science and Technology Laboratory (Dstl), an executive agency of the Ministry of Defense of the UK.
Unmanned Ground Vehicles Market Share, By Region, 2021 (%)
| | |
| --- | --- |
| Regions | Revenue Share in 2021 (%) |
| North America | 40.2% |
| Asia Pacific | 22% |
| Europe | 28.6% |
| Latin America | 5% |
| MEA | 4.2% |

Regional Insights
The highest market share and dominant position in the unmanned ground vehicles market belongs to North America during the forecast period. Growth of the market in this region is mainly attributed to increasing defense spending and R&D activities in UGVs sector coupled with the significant presence of key market players. According to latest Stockholm International Peace Research Institute (SIPRI) data, defense spending by the U.S. has seen increase of $22 billion from 2020 to 2021. Also, the U.S. Department of Defense (DoD) has allocated around $7.5 billion in financial year of 2021 for a range of robotic platforms and associated technologies. This huge spending by DoD on unmanned systems technologies is projected to boost growth of North America unmanned ground vehicles market.
Also, the U.S. military is actively acquiring advanced UGVs to deal with chemical, biological, radiological, and nuclear (CBRN) threats. For instance, in May 2021, the U.S. armed forces acquired 600 additional Centaur unmanned ground vehicles (UGVs) from FLIR Systems, one of the leading technology companies. An authorized army personnel can attach different payloads and sensors to these UGVs to deal with CBRN threats. This demand for UGVs in U.S. to deal with CBRN threats is anticipated to be opportunistic for growth of the market.
Asia-Pacific is considered as highest growing region in unmanned ground vehicles market. This region includes China, India, Japan, South Korea, and rest of the world. Huge defense spending in China, India, and Japan is one of the major factor contributing to growth of Asia-Pacific unmanned ground vehicles market. Also, these countries are actively developing indigenous defense systems to strengthen their defense equipment manufacturing capabilities. For instance, in April 2022, Defense Research and Development Organisation (DRDO) of India announced to develop an innovative combat unmanned ground vehicle (UGV) to strengthen country's position on the western borders. This system will make use of an Indigenous Geographic Information System (INDIGIS) to help UGV pilot with a visual perspective of the platform's location as well as operational terrain.
Key market developments
In April 2022, UnmannedSystemsTechnology.com (UST) announced a collaboration with BAE Systems to encourage and facilitate engagement among the SMEs to develop advanced technologies for unmanned systems applications.
Key market players
BAE Systems
QinetiQ
Rheinmetall AG
Teledyne FLIR
ECA Group
Lockheed Martin
General Dynamics
Leonardo S.p.A.
Autonomous Solutions Inc.
Northrop Grumman
Segments covered in the report
(Note*: We offer report based on sub segments as well. Kindly, let us know if you are interested)
By Application
By Mobility
Wheeled

Tracked

Legged

Hybrid
By Size
Small

Medium

Large

Very Large

Extremely Large
By Mode of Operation
Autonomous

Teleoperated

Tethered
By System
Payloads

Navigation System

Controller System

Power System

Others
By Geography
North America
Europe
Asia-Pacific
Latin America
Middle East & Africa (MEA)