The global virtual reality market size was evaluated at USD 23.92 billion in 2022 and is projected to hit around USD 187.28 billion by 2032, growing at a CAGR of 22.9% over the forecast period 2023 to 2032.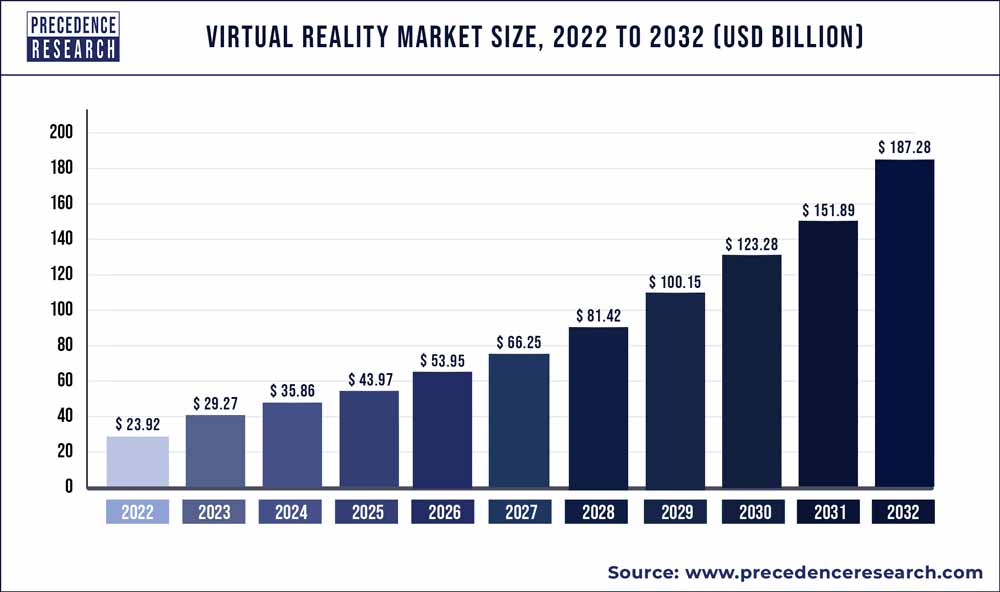 Key Takeaways:
Asia Pacific has generated more than 41% of revenue share in 2022.
By Device, the head-mounted display (HMD) device segment has contributed around 60.40% of revenue share in 2022.
By Technology, the semi- and fully-immersive segment has recorded more than 83% of the total revenue of revenue share in 2022.
By Component, the hardware segment has captured more than 66% of revenue share in 2022.
By Application, the commercial segment has generated more than 56% of the revenue share in 2022.
Market Overview:
Computer technology is used to build virtual reality settings. Users can explore a three-dimensional environment in the real world via virtual reality (VR). Consumers enjoy this immersive experience due to VR technology, which is used in devices like bodysuits, glasses, or gloves. As it allows users to immerse themselves in a highly realistic game environment, virtual reality technology has also revolutionized the gaming and entertainment industries.
Growth Factors:
The market is expanding due to the growing acceptance of VR technology across industries like gaming and entertainment, healthcare, automotive, architecture, and education. Over the course of the projection period, it is anticipated that the gaming and entertainment industry would drive VR market expansion more. Players in the market are spending more money creating new game content, software, and gear. Additionally, the expansion of the virtual reality industry is being aided by the increasing demand for theme parks, gaming arcades, and virtual worlds.
Report Scope of the Virtual Reality Market:
| | |
| --- | --- |
| Report Coverage | Details |
| Market Size in 2023 | USD 29.27 Billion |
| Market Size by 2032 | USD 187.28 Billion |
| Growth Rate from 2023 to 2032 | CAGR of 22.9% |
| Largest Market | Asia Pacific |
| Base Year | 2022 |
| Forecast Period | 2023 to 2032 |
| Segments Covered | By Device, By Technology, By Component, and By Application |
| Regions Covered | North America, Europe, Asia-Pacific, Latin America and Middle East & Africa |

Market Dynamics:
Driver:
Growing adoption HMDs in different industries
Modem-equipped devices are compact, transportable, and simple to operate. They are used to present data in graphical and pictorial formats. These devices need to be simple and compact with high-quality displays. Demand for HMDs, HUDs, and VR projectors has significantly increased across many industries, including consumer electronics, aerospace & defence, health and transportation. The majority of these systems use direct-view OELD displays with panels that range in size from 2 to 6 inches, despite the fact that VR HMDS are becoming more and more popular in consumer applications for entertainment and gaming. Given the popularity and demand for VR HMDS, the leading display manufacturers are developing better displays for VR HMDs. For instance, Kopin has developed a microdisplay especially for VR HMDS.
CMOS/OLED microdisplays for use in mobile devices have been developed as a result of the large, affordable OLED microdisplay (LOMID) initiative.
Given the advancements in VR display discussed above, it is projected that the demand for VR HMDS would soar among technologists, which will propel the growth of the worldwide VR market. In addition, HMDs are essential for a variety of applications, including flight simulation, scientific visualization, engineering for the medical field, designing and prototyping, instruction and training, wearable computing, and entertainment options. Compared to 3D screens, they offer a decent mix between price and distinctive features.
Restraint:
Cybersecurity threats
Cybersecurity concerns are one of the major obstacles to the virtual retail business. The virtual retail business is extremely vulnerable to cyberattacks due to the growing reliance on technology and the rise in online sales. Hackers and online criminals are constantly looking for new methods to use flaws in online systems to steal information or money from unwary customers. Such occurrences not only compromise the privacy and personal information of customers but also harm the standing and confidence of online merchants.
Opportunity:
Personalization
Personalization is an opportunity that has the potential to have a big impact on the online retail sector. Retailers are able to customize the online buying experience for customers because of the availability of customer data and sophisticated analytics tools. Retailers can customize product recommendations and marketing messages to each customer's unique requirements and preferences by utilizing consumer data such as purchase history, browsing habits, and demographics.
Personalization may boost revenue, client loyalty, and engagement. Additionally, it can enhance the entire client experience, resulting in higher customer retention and satisfaction. Additionally, personalization can give merchants insightful information about consumer behavior and preferences that they can use to enhance their product offerings, marketing plans, and customer service.
Impact of Covid-19:
The COVID-19 pandemic has had a significant impact on the virtual retail market, also known as e-commerce. With people across the world being encouraged to stay home to prevent the spread of the virus, the demand for online shopping has increased substantially.
Firstly, the pandemic has led to a surge in e-commerce sales. Secondly, the pandemic has changed the way people shop online. Consumers are now looking for more efficient and seamless online shopping experiences. Retailers have responded to this by offering features such as the contactless delivery, curbside pickup, and real-time inventory updates to improve the online shopping experience.
Thirdly, the pandemic has led to changes in the product demand. With people spending more time at home, there has been an increase in the demand for items such as home office equipment, home entertainment, and home fitness equipment. Online retailers have responded to this by expanding their product ranges and making it easier for the consumers to find what they need.
Fourthly, the pandemic has accelerated the adoption of the new technologies in the virtual retail market. For example, the use of augmented reality and virtual reality has become more prevalent in the online shopping, allowing the consumers to visualize products before they buy them. In addition, chatbots and artificial intelligence (AI) have also been used to improve customer service and enhance the shopping experience.
Finally, the pandemic has also highlighted the importance of online marketplaces. With many small businesses struggling during the pandemic, online marketplaces such as Amazon, eBay, and Etsy have provided a lifeline for these businesses to reach customers and continue trading.
Segments Insight:
Device Insights:
The head-mounted display (HMD) device sector is anticipated to continue to dominate the market through 2030, recording a revenue share of around 60.40% in 2022. Virtual reality headset demand is being fueled by the technology's expanding use in both consumer and commercial applications. The segment is expanding as a result of the variety and type of HMDs available, including tethered, hybrid, and wireless HMDs.
The HMD devices are used to train people in a variety of fields, including research, aerospace, engineering, the military, and medicine, as well as to show a wide range of application cases utilizing interactive elements. Businesses also commonly make strategic alliances and investments in technological advancements to give customers a very immersive experience.
Technology Insights:
In 2022, the semi- and fully-immersive segment accounted for more than 83% of total revenue. Additionally, the segment is anticipated to have the greatest CAGR of over 15.45% during the forecast period. The continuous increase in the demand for virtual reality HMDs for commercial and academic purposes can be credited to the segment growth.
For complex work and planning, fully and partially immersive technology replicates the architecture of real environments in a virtual platform. It uses multiple emulators, powerful personal computers, and monitors with high resolution. Additionally, virtual reality technology is in demand for educational applications because it enables students to engage in motor and thinking exercises that are impossible to carry out in a traditional classroom.
In 2022, the non-immersive market accounted for around 17.40% of total revenue. In contrast to immersive virtual reality, which immerses users in a lifelike environment, non-immersive virtual reality provides them with a workstation-generated or virtual environment. This technology is popular because it is more broadly accessible and more effective at managing networks.
Component Insights:
In 2022, the hardware sector's revenue share was above 66%, which was the highest. The widespread adoption of smartphones, tablets, and other cutting-edge electronic portable devices is anticipated to support the segment's expansion as more device manufacturers include virtual reality-based capabilities.
The market also comprises consoles, input devices, and output devices that consumers purchase as add-ons for virtual reality setups. In addition, it is projected that the expanding use of virtual reality headsets in business settings, theme parks, and other locations would present growth prospects for original equipment manufacturers (OEMs) to turn into VR equipment providers.
During the projected period, the software segment is expected to have the highest CAGR, at around 15.46%. The software's ability to generate feedback, analyze data, and manage the input/output sources can be credited with the segment's expansion. Virtual reality technology is widely utilized in product development because it creates a three-dimensional environment that allows people to interact with jobs and apps in an impressive way.
The technology can be utilized in training, simulation, building virtual tools, VR applications, VR game development, learning experience platforms, and segment reality, therefore it is projected that the segment would see rising demand.
Application Insights:
In 2022, the commercial segment's revenue share was the highest at about 56%. The business sector, which includes real estate, auto showrooms, and retail outlets, is using virtual reality headsets and experience rooms more frequently, which offers fresh market growth potential.
Additionally, the commercial use of VR technology is anticipated to increase as smartphones and other handheld devices become more prevalent. Similar to this, companies are introducing new items to the public through virtual reality to entice customers with a more immersive experience.
Over the forecast period, the healthcare segment is anticipated to have the highest CAGR, at around 15.40%. The usage of virtual reality in the healthcare industry, particularly in disease awareness, operational procedures, learning, and training, can be ascribed to this.
As hospitals and medical schools adopt VR solutions and technologies to instruct students and professionals, the need for the segment is anticipated to increase. Additionally, the tendency towards complex procedures and remote surgeries is anticipated to fuel the segment's expansion. For instance, before performing difficult surgery on live patients, surgeons can test the likelihood of success in virtual reality.
Regional Insights:
Because of the rapid advancements in VR technology, Asia Pacific held the greatest revenue share of almost 41% in 2022. The development of the regional market can be linked to nations like China, who are important manufacturers and suppliers of gear related to virtual reality.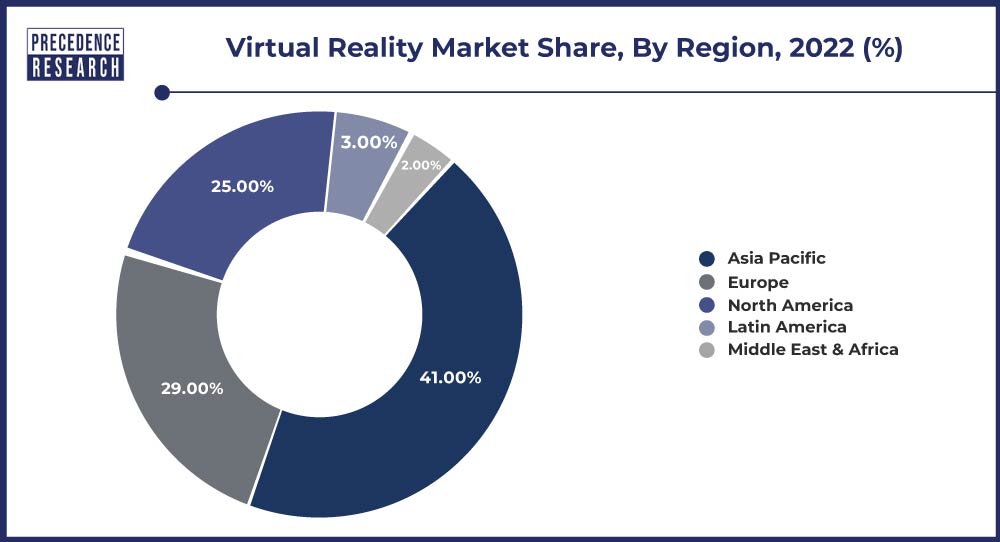 Due to the drive towards automation, the area is also home to numerous businesses and factories that use virtual reality in a variety of operations. Additionally, market growth is anticipated to be fueled by the Asia Pacific region's increasing use of handheld devices with VR capabilities.
Recent Developments:
HTC partnered with Holoride, a provider of in-car VR entertainment, in March 2022 to broaden the range of AR and VR hardware products it offers. Specifically, HTC Vive Flow glasses for the backseats of Audi sedans and SUVs will allow users to experience in-car VR for the first time.
Since the PSVR headgear will be directly connected to the PlayStation 5 system, Sony said in January 2022 that it was developing a PSVR headset for a better virtual reality experience on PlayStation.
HTC announced the release of a new item in its lineup of gear for augmented reality and virtual reality in October 2021. It announced the introduction of VR eyewear that, in contrast to previous VR eyewear or headsets, focuses more on physical and mental wellness than gaming. It is sleek and light, and because it supports 30 virtual realities and 3D spatial audio, it provides consumers with lighter and more passive entertainment.
Key Market Players:
Meta Platforms Inc.
GoerTek Inc.
Google LLC
Samsung Electronics
NVIDIA Corp.
Microsoft Corp.
Spectra7 Microsystems
Unity Technologies Ltd.
HTC Corp.
Sunny Optical Technology
Segments Covered in the Report:
(Note*: We offer report based on sub segments as well. Kindly, let us know if you are interested)
By Device
Head-mounted Display (HMD)
Gesture-tracking Device (GTD)
Projectors & Display Wall (PDW)
By Technology
Semi & Fully Immersive
Non-immersive
By Component
By Application
Aerospace & Defense
Consumer
Commercial
Enterprise
Healthcare
Others
By Geography
North America
Europe
Asia-Pacific
Latin America
Middle East and Africa