The global augmented reality (AR) and virtual reality (VR) in manufacturing market size was estimated at USD 8.2 billion in 2022 and is expected to hit around USD 74.1 billion by 2032, growing at a CAGR of 24.62% from 2023 to 2032.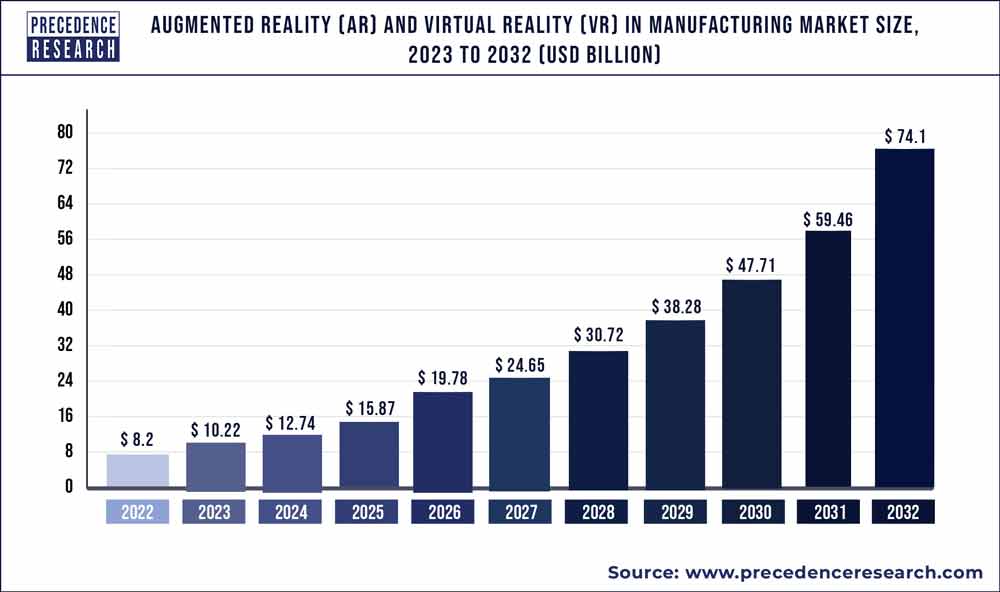 Access our Premium Real Time Data Intelligence Tool, Visit: Precedence Statistics
Augmented reality and virtual reality manufacturing is an advanced form of automation that incorporates digital technology into the production line. It combines the physical world with computer-generated graphics, data, and interactive elements to create an enhanced reality.
Growth Factor
Augmented reality (AR) and virtual reality (VR) are technologies that offer a 360-degree immersive experience in a simulated environment, driven by analytical insights. Manufacturers have increasingly adopted AR and VR devices for simulative applications, and their use for plant improvement and workforce training has further fueled industry growth. Recent advancements in AR and VR technologies for image and sound capture, as well as the availability of compatible electronic products such as tablets and headsets, have created significant market opportunities.
For example, Microsoft launched its HoloLens 2 mixed reality headset in India in January 2022, which enables users to handle holograms more realistically. The demand for AR and VR technologies in manufacturing has also increased due to the application of industrial robots, which can identify errors and offer real-time virtual support, reducing production downtime. The adoption of AR and VR can also assist organizations in cutting down R&D costs and redistributing resources for improved outputs, especially in the context of the Covid-19 pandemic.
The integration of VR, AR, and MR is expected to enhance interactive experiences, and the supply of new AR, VR, and MR products is likely to expand the market. This trend is driven by the adoption of these technologies in the context of the Fourth Industrial Revolution.
AR and VR technologies are highly complementary and provide an immersive experience that simulates a 360-degree view, driven by actionable insights. There is an increasing demand for AR and VR devices in the manufacturing industry, particularly for simulative applications and workforce training.
Advancements in the image and sound-capturing technologies have led to wider adoption, and the availability of compatible electronic devices such as tablets and headsets has created significant market opportunities. AR and VR technologies are particularly useful in manufacturing processes as they can reduce downtime by identifying errors and offering virtual support in real-time.
Additionally, they can help organizations reduce R&D and training costs, particularly during the Covid-19 pandemic. The integration of VR, AR, and MR is expected to enhance experiences, and the market is expected to expand due to the narrowing supply-demand gap of raw materials and components.
By enabling workers to envision designs and processes in 3D, AR/VR technologies are increasing output and effectiveness in the industrial sector. This decreases errors and speeds up production.
By allowing virtual testing and prototyping, AR/VR technologies are lowering production costs by obviating the need for real prototypes and testing tools.
By giving employees access to real-time information and training in a simulated environment, AR/VR technologies are enhancing safety in the industrial sector and lowering the likelihood of mishaps and injuries.
Interactive product demonstrations and immersive encounters made possible by AR/VR technologies can improve the consumer experience and boost sales and customer happiness.
Report Scope of the Augmented Reality (AR) and Virtual Reality (VR) in Manufacturing Market
| | |
| --- | --- |
| Report Coverage | Details |
| Market Size in 2023 | USD 10.22 Billion |
| Market Size by 2032 | USD 74.1 Billion |
| Growth Rate from 2023 to 2032 | CAGR of 24.62% |
| Largest Market | North America |
| Fastest Growing Market | Asia Pacific |
| Base Year | 2022 |
| Forecast Period | 2023 to 2032 |
| Segments Covered | By Component, By Technology, By Device and By Application |
| Regions Covered | North America, Europe, Asia-Pacific, Latin America and Middle East & Africa |

Key Market Drivers
Rise in government initiatives
Manufacturing sites need to be designed with emerging technologies in mind, and augmented reality can be utilized to improve worker safety and productivity. Many developing nations are taking initiatives and setting industry standards to drive the adoption of AR and VR on a global scale. For example, the National Electronics Policy proposed by MeitY aims to encourage innovation in emerging technologies such as 5G, IoT/sensors, AI, machine learning, VR, drones, robotics, additive manufacturing, photonics, and nano-based devices, particularly for early-stage startups.
There are also favorable initiatives to promote automation and innovation in the industry, and government support is increasing. The IEEE Standards Association has developed numerous IT and BP standards in Europe, which aim to develop global standards related to digital reality, AR, VR, human augmentation, and related areas, all of which are contributing to market growth.
Key Market Challenges
The potential for privacy and security issues with virtual reality
Augmented reality can give rise to privacy and security concerns. It blurs the line between what is real and what is not, which can lead to fears of being deceived or manipulated. This is particularly true in instances where social media users might be inclined to believe fake news if they see it posted by their Facebook friends. Augmented reality involves overlaying digital content onto the real world, and it has applications in entertainment and gaming, among other things.
Key Market Opportunities
Simplified repair process and improved quality management
AR technology can provide manufacturing companies with a more efficient way to manage equipment maintenance and quality control. In the past, employees had to rely on outdated manuals to identify and address problems with production equipment. However, augmented reality can eliminate the need for these traditional guides. By wearing AR-enabled wearable technology, employees can save time by quickly identifying and resolving issues, without having to refer to a manual.
Segments Insight:
Component Insights
The hardware segment was the leading revenue generator in 2022, accounting for more than 56% of the market share, and is expected to maintain its dominance over the forecast period. The growth of the hardware segment is attributed to the increasing adoption of AR and VR devices across various industries. Additionally, technological advancements, networking, and connectivity improvements are likely to drive the demand for AR and VR headsets in the market.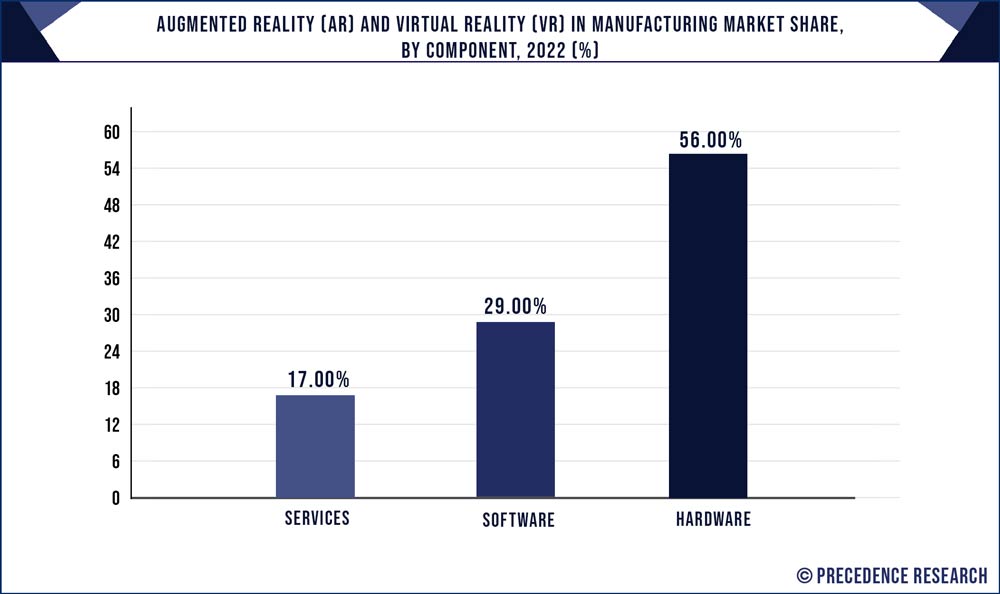 On the other hand, the services segment is projected to expand at the highest compound annual growth rate (CAGR) of 31.2% during the forecast period. This growth is primarily due to the rise in immersive technology-related consulting and service offerings, including maintenance, training, and security services, which are expected to witness continued growth in the future.
The services segment is a new market, and several augmented and virtual reality technology companies are investing in service firms. For instance, in February 2022, ESI Group and CIMPA partnered to offer manufacturers integrated VR solutions with existing product lifecycle management processes.
Technology Insights:
The augmented reality (AR) technology sector had the largest share of revenue at over 71.5% in 2022, mainly because manufacturers prefer AR technology since it enables them to access both manual and automated data simultaneously. This growth is also attributed to the use of AR technology for production training, improving process efficiency, and employee well-being, leading to an increase in the AR in manufacturing market. Additionally, the use of AR for maintenance in manufacturing plants is contributing to industry growth.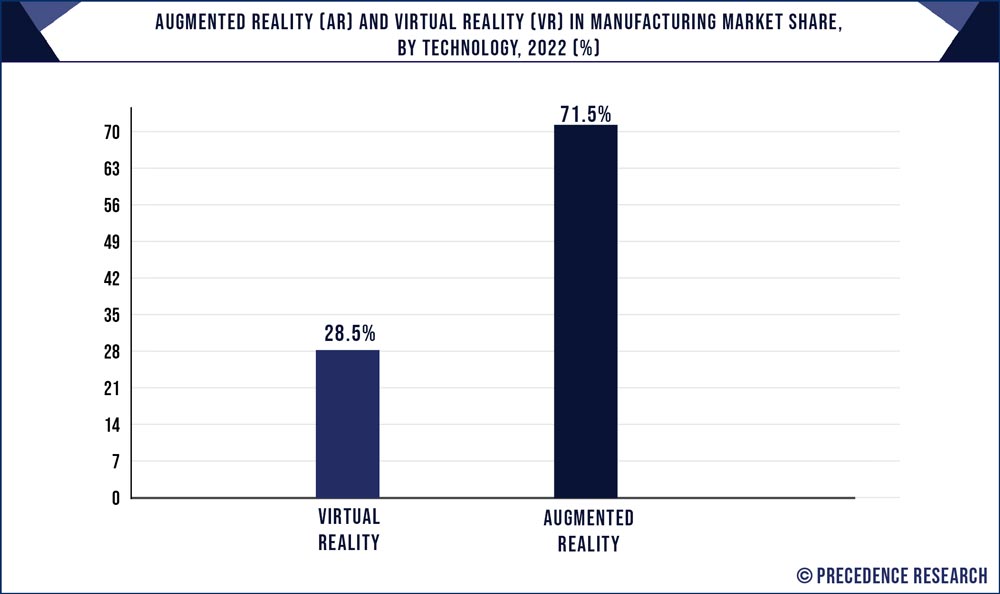 The virtual reality technology sector is expected to have the highest CAGR of 32% from 2023 to 2032. This growth can be attributed to the widespread adoption of virtual reality and the increasing popularity of industrial IoT, industrial robots, and smart factories, which have created a primary platform for VR applications in the manufacturing industry. The ability of VR to offer a 360-degree content view experience in a highly immersive environment during modern production presents many opportunities for market growth.
Device Insights:
In 2022, the head-mounted display (HMD) segment held the largest revenue share of more than 61%, driven by the growing demand for HMD devices and smart glasses for enterprise and industrial applications. This trend is expected to continue throughout the forecast period due to the use of HMDs for product improvement.
On the other hand, the handheld devices segment is predicted to have the highest compound annual growth rate (CAGR) of 30.3% from 2023 to 2032. This growth is due to the increasing demand for high-quality immersive technology. Hand-held AR and VR devices provide users with the freedom to experience technological advancements without having to wear devices on their heads or sit near any display terminal. The rising popularity and growing user base of handheld devices are projected to further boost market demand.
Application Insights
The product design and development segment accounted for the largest revenue share of over 52% in 2022 and is expected to continue dominating the market over the forecast period. By utilizing AR and VR technologies in product creation and development uses, manufacturers have boosted market competition. Therefore, the convenience of using AR and VR technologies for product design and development fuels the market growth.
The safety and training segment is expected to expand at a lucrative CAGR of 29.1% over the forecast period. The maintenance and repair sector is driven by the demand for efficient enterprise maintenance and repair tools across companies. AR and VR in security and training have been gaining momentum due to the adoption of advanced technologies in training programs.
Regional Insights
In 2022, North America had the largest revenue share of over 37% and is expected to grow in the forecast period. The U.S. contributed the most to this share due to the growing adoption of industrial revolution 4.0 in the manufacturing market.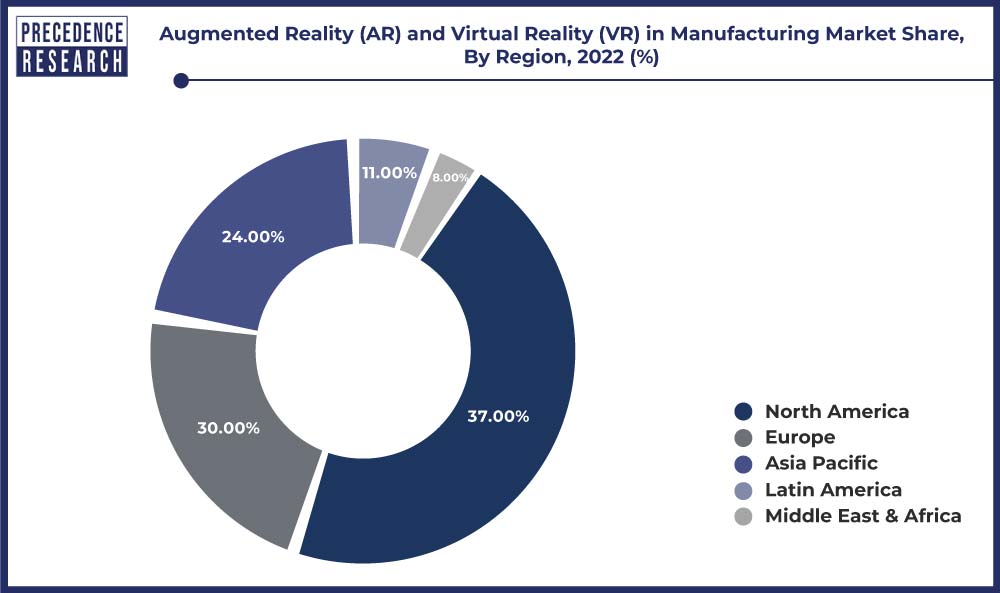 Meanwhile, Asia Pacific is expected to emerge as the fastest-growing region with a CAGR of 33.2% from 2023 to 2032. Japan and China held a significant share in the Asia Pacific market in 2022, and the continued rollout of 5G networks in the region is expected to further accelerate the adoption of AR and VR technologies in the manufacturing sector.
Recent Developments
Vuzix Corporation collaborated with KTI Ingeniería SpA in September 2021 to deploy their Smart Glasses in several Chilean companies such as Dior, Statkraft, Komatsu, CMPC, FCAB, SQM, and Molycorp.
In August 2022, Vuzix Corporation launched Blade 2 smart glasses, which is the third generation Blade model. This AR workforce solution is developed to meet the requirements of connected workers and comes with improved features and high performance.
In May 2022, Microsoft partnered with Kawasaki, a group of motorsport vehicles, making them a new customer for the tech giant's "industrial metaverse." It involves factory floor workers wearing a HoloLens headset to help with production, repairs, and supply chain management.
Key Market Players
Microsoft Corporation
Google LLC
Samsung Group
Vuzix Corporation
SkillReal
Ediiie
EON Realty, Inc.
Kaon Interactive Inc.
Worldviz, Inc.
SoluLab
ESI Group
Segments Covered in the Report:
(Note*: We offer report based on sub segments as well. Kindly, let us know if you are interested)
By Component
Hardware
Software
Services
By Technology
Augmented Reality
Virtual Reality
By Device
Head-mounted Display
Head-up Display
Handheld Devices
By Application
Product Design & Development
Safety & Training
Maintenance & Repair
By Geography
North America
Europe
Asia-Pacific
Latin America
The Middle East and Africa