The global augmented reality market size was estimated at USD 40.12 billion in 2022 and is predicted to hit around USD 1,188.98 billion by 2032, poised to grow at a CAGR of 40.34% during the forecast period from 2023 to 2032.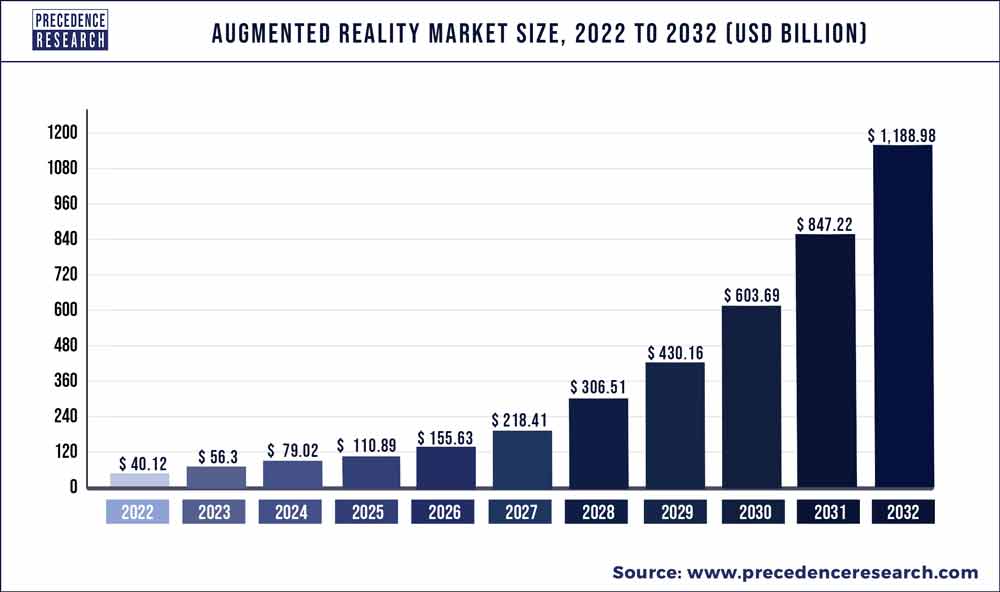 Access our Premium Real Time Data Intelligence Tool, Visit: Precedence Statistics
Key Takeaways:
North America has generated more than 36% of revenue share in 2022.
Asia-Pacific is expected to expand at the fastest CAGR between 2023 and 2032.
By Component, the software segment has contributed more than 61% of revenue share in 2022.
By Industry Vertical, the healthcare segment is predicted to grow at a remarkable CAGR between 2023 and 2032.
Market Overview:
Augmented reality has emerged as an essential component of innovation in the industry for organizations of all sizes. AR technology enables users to view and interact with digital information in real-time by using equipment such as head-mounted displays, glasses, or mobile devices. Users can, for example, see virtual items superimposed on an image or live video feed. A user can use AR to integrate location-specific information such as the names of towering buildings, and instructions to the next restaurant, or bus station wait times.
By superimposing digital content over real-world work surroundings, augmented reality provides a better approach to develop, curate, and deliver consumable instructions. When a company understands what augmented reality is and how to use it effectively, everybody can work remotely while still interacting effectively. Augmented reality is classified into two types: marker-based and marker-less. Choosing one of these forms of AR will impact how images and information are shown. The advancements in AR technology, such as the development of AR headsets and smart glasses, are expected to fuel the growth of the AR market in the coming years.
Growth Factors:
The augmented reality (AR) market is expected to witness growth over the forecast period as companies seek to leverage this technology in novel ways, with a particular emphasis on providing a distinctive and engaging experience for end-users. One of the key drivers of this growth is the rising adoption of mobile AR technology, facilitated by the increasing prevalence of handheld devices like smartphones and smart glasses. This trend is expected to contribute significantly to the expansion of the market, allowing for a more immersive and interactive experience that can be enjoyed on the go.
The outbreak of the COVID-19 pandemic has spurred the adoption of augmented reality (AR) technology for marketing and advertising purposes, particularly for hosting virtual events, product launches, online commercials, and virtual exhibitions. An example of this was the use of the AR platform Blippar to launch the OnePlus Nord smartphone in July 2020. Furthermore, the healthcare industry is increasingly interested in implementing AR technology, which is projected to play a major role in driving market growth. Several AR solution companies are working with healthcare organizations to develop AR-powered healthcare products. For example, Altoida Inc., an augmented reality firm, stated in February 2022 that it had teamed with click therapeutics to use AR technology to better understand baseline cognition metrics and their potential impact on patient outcomes.
Report Scope of the Augmented Reality Market:
| | |
| --- | --- |
| Report Coverage | Details |
| Market Size in 2023 | USD 56.3 Billion |
| Market Size by 2032 | USD 1,188.98 Billion |
| Growth Rate from 2023 to 2032 | CAGR of 40.34% |
| Largest Market | North America |
| fastest Growing Market | Asia-Pacific |
| Base Year | 2022 |
| Forecast Period | 2023 to 2032 |
| Segments Covered | By Component, By Technology, By Device Type and By Industry Vertical |
| Regions Covered | North America, Europe, Asia-Pacific, Latin America and Middle East & Africa |

Market Dynamics:
Driver:
Rising adoption of AR technology in the healthcare sector
The growing implementation of AR technology in the healthcare industry is expected to fuel the growth of the augmented reality market during the forecast period. Augmented reality (AR) is reshaping the healthcare industry, due to the growing use of connected devices, computer vision, and artificial intelligence. Mobile phones and head-mounted displays are enabling novel interactions between the real world and virtual things, transforming healthcare delivery and improving overall patient care quality. For example, by wearing an AR-enabled head-mounted device during a procedure, surgeons can now check patient vitals without having to turn away and gather data from several displays. As a result, surgeons are less likely to make mistakes due to misreading and/or misinterpreting data.
Furthermore, using AR, patients may see how the drug works in 3D right in front of their eyes, rather than just reading long details on the container. Using augmented reality devices, lab employees may observe their trials. Workers in pharmaceutical plants might begin working without any hands-on training because the device would tell them what to do and how to accomplish it. AR can also help surgeons become more efficient during procedures. AR healthcare apps may save lives and cure patients effortlessly, whether they are performing a minimally invasive treatment or identifying a tumor in the liver. Sync AR created a software program that gives surgeons "X-ray vision" by merging digitally augmented photos directly into a surgical device's microscope. Thus, the rising number of applications of AR in the healthcare industry is expected to increase the demand for AR during the forecast period.
Restraints:
Lack of standards
It's hard to meet standards in this industry. There are a number of areas where standards development will be necessary in order for AR to reach its full potential. Fortunately for AR developers, many of these problems are not just AR problems but rather part of the larger story of digital change. Additionally, there are a number of standards in existence that can be used to other technologies that are a part of the ecosystem for augmented reality, like communication protocols. The need for a single source of truth data and, specifically in regard to augmented reality (AR), how to ensure that the accessed information is accurate, at the correct time, and in the correct location, would fall under the narrative of digital transformation.
In the past, the industry has made an effort to set in place standards for content translation and optimization, but the creation of 3D engineering information is such a complicated process that there are variations evident not only cross-sectorally but also at the user and business levels. It is exceedingly challenging to implement all-encompassing standards that will regulate translation and optimization. When the storage, maintenance, and certification of this duplicate data are taken into account in connection to the single source of truth narrative, there is an increase in complexity. These difficulties are the cause of the development of various types of standards or of standards that are included within another standard. Thus, this is likely to limit the growth of the market in the years to come.
Opportunities:
Implementation of augmented reality in manufacturing
The increasing adoption of augmented reality in manufacturing is likely to offer growth opportunities for the market in the years to come. Consumers are the main focus in many AR applications. AR has a lot of promise for use in sectors like manufacturing, though. For instance, CAD data-driven AR experiences can improve worker training. AR can help personnel with routine maintenance procedures as well. Utilizing AR software, personnel can be guided through a procedure by highlighting specific components of the equipment they are working on. In general, head-mounted solutions are easier to use than mobile apps for this.
When configured properly, AR can assist provide workers with more contextual information about items in a factory in more straightforward applications. A worker can learn more about an object and determine whether any actions, such as maintenance, are required by highlighting it using a mobile device. The promise of AR extends to remote troubleshooting as well. Workers on the other end of the conversation can follow virtual markers that remote support agents can place on the screen. As a result, factory locations may receive more thorough and beneficial remote support. This is expected to create opportunities for the growth of the market in the future.
Impact of COVID-19:
The COVID-19 pandemic had a considerable impact on the augmented reality (AR) market. Many AR hardware manufacturers and suppliers have experienced delays or disruptions due to lockdowns, border closures, and other pandemic-related measures. This has led to a shortage of AR devices and components, which has affected the growth of the AR market. However, the pandemic has also created new opportunities for AR-based solutions, particularly in healthcare and e-commerce. For example, AR technology has been used to develop virtual healthcare services, such as remote consultations and training programs for medical professionals. In the e-commerce sector, AR technology has been used to create virtual try-on experiences for customers, which has helped to increase online sales. Thus, it is anticipated that the market will continue to grow due to the increasing demand for these solutions across various industries in the years to come.
Segments Insight:
Component Insights:
On the basis of component, the software segment held largest revenue share of 61% in 2022. While offering considerable advantages in terms of safety, efficiency, and productivity, AR interfaces can improve operational efficiency and enhance the work environment. Costs associated with design, production, and maintenance can be decreased because to augmented reality. For instance, employing augmented reality to maintain machinery enables issues to be resolved more quickly and effectively, cutting down on the amount of time needed to look for and identify defects as well as the time needed for repairs. Also, a dentist can create exact crowns or caps by using real-time data directly from a dental scanner that is superimposed using augmented reality (AR) software incorporated into smart glasses. These factors are likely to create demand for the software segment of the augmented reality market during the forecast period.
Industry Vertical Insights:
Based on industry vertical, the healthcare segment is expected to grow at a significant CAGR during the forecast period. For medical education, dentistry, imaging, and nurse training, augmented reality (AR) incorporates digital data with the patient's environment in real-time and is getting more widely available and reasonably priced. Among the AR healthcare options now on the market are ARnatomy, AccuVein, VIPAR, and VA-ST. By overlaying stereoscopic projections during a surgical operation, AR improves the visualization of MRI data or CT.
This knowledge is essential for surgeries that call for exact navigation to a certain organ. For procedures like radical prostatectomy or minimally invasive partial nephrectomy, where the difficult anatomy of the vascular or nervous system could make the removal of the tumor more difficult, AR can be used to improve the accurate localization of tumors and surrounding structures. This has created immense opportunities for AR in the healthcare industry.
Regional Insights:
North America held the largest revenue share of 36% in 2022. The US dominated the North America region in 2022. This is attributable to the presence of major players such as Google LLC, Microsoft, Apple, Inc. among others offering this solution in this region. Further, these solutions are widely adopted across various industries in the region which is also expected to support the growth of the market. Additionally, the early adoption and deployment of the newest technologies are also likely to create immense growth opportunities for the market in the region.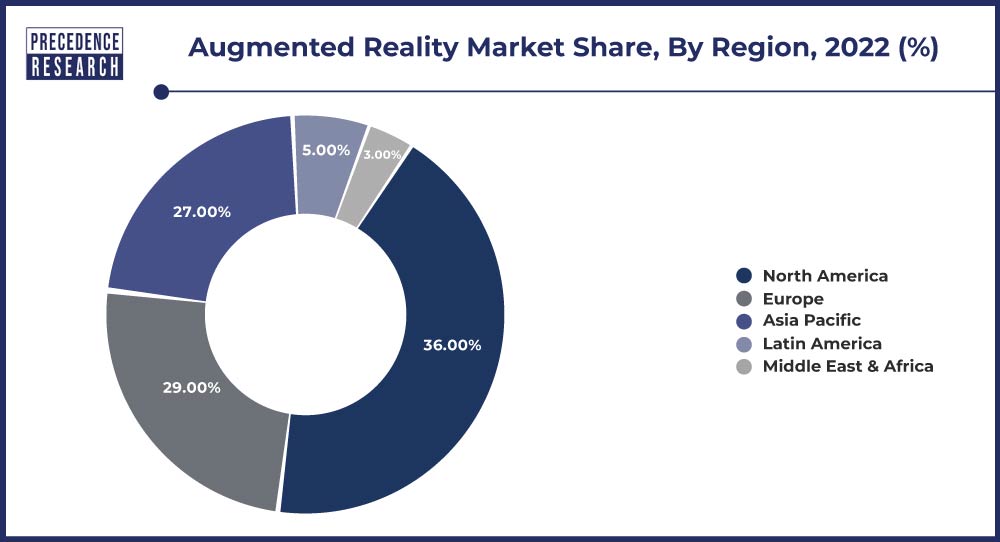 Asia-Pacific is expected to grow at the fastest CAGR during the forecast period. This is attributable to the increasing adoption of most of the industry verticals across developing economies such as India and China in the region. Additionally, the increasing internet penetration and smart devices are also expected to support the regional growth of the market in the years to come. Further, the growing healthcare and manufacturing sectors along with a rising number of local players in the region are also expected to support the growth of the market within the estimated timeframe.
Recent Developments:
In May 2022, a fully decentralized augmented reality social media network for users has now gone into beta, according to ThirdEye, a pioneer in Augmented Reality & Artificial Intelligence (AR/AI) systems. This comes after ThirdEye's AR/AI products were successfully introduced to the healthcare/hospital, e-commerce, telecommunications, and government/military markets.
In February 2023, the original creator of Pokemon Go, Niantic, has revealed it is working on Monster Hunter NOW. Niantic, which has previously released a number of huge hits, is currently working on another project to create an AR game based on Capcom's renowned property. According to the release, the Niantic and Capcom augmented reality project will debut in September 2023. Players can sign up for the closed beta on April 25 for free.
In June 2022, two augmented reality (AR) capabilities that Walmart, a US-based retail behemoth, has introduced for its mobile app are meant to enhance the shopping experience. Customers will be able to browse furniture and other home goods digitally from Walmart's mobile website due to the first functionality. A retail utility that will let customers get product information on particular items is the second AR feature.
In November 2021, Snapdragon Spaces XR Developer Platform, a head-worn Augmented Reality (AR) developer kit, was unveiled by Qualcomm Technologies, Inc. to enable the development of immersive experiences that seamlessly blend our physical and virtual realities. With tried-and-true technology, an open, cross-device horizontal platform, and ecosystem, Snapdragon Spaces offers the resources needed to make developers' visions for headworn AR a reality.
Key Market Players:
Google LLC
Microsoft
Samsung Electronics Co. Ltd.
RealWear, Inc.
Qualcomm Technologies, Inc.
Niantic, Inc.
Innowise Group
HQSoftware
Apple, Inc.
AugRay LLC.
Segments Covered in the Report:
(Note*: We offer report based on sub segments as well. Kindly, let us know if you are interested)
By Component
By Technology
Marker-based AR
Marker-less AR
By Device Type
Head-Up Display
Head-Mounted Display
By Industry Vertical
Gaming
Retail and Ecommerce
Healthcare
Aerospace and Defense
Automotive
Education
Industrial and Manufacturing
Others
By Geography
North America
Europe
Asia-Pacific
Latin America
Middle East and Africa