The global software market size was estimated at USD 589.6 billion in 2022 and it is anticipated to reach around USD 1,789.14 billion by 2032, poised to grow at a CAGR of 11.74% during the forecast period from 2023 to 2032.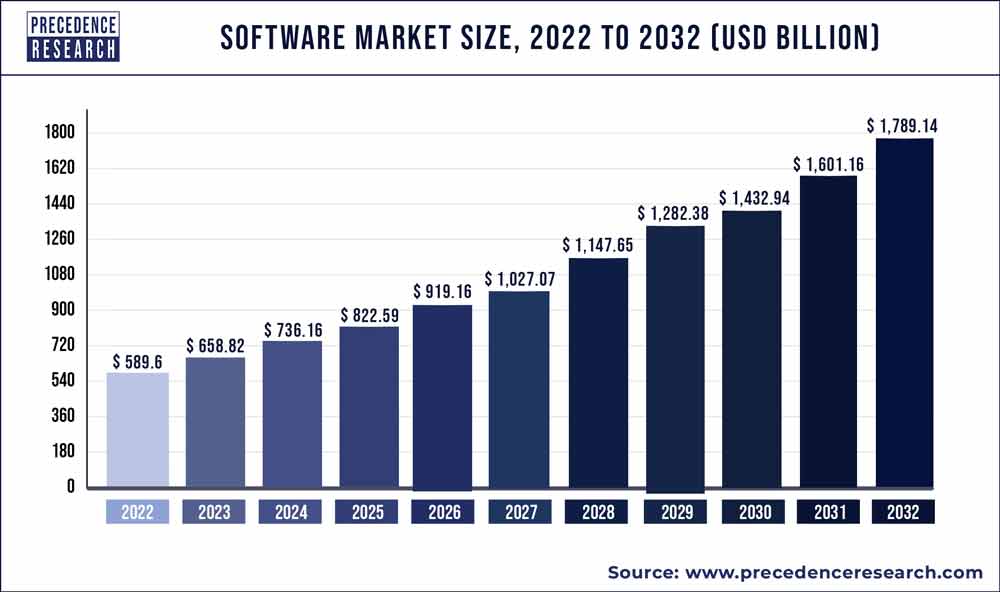 Key Takeaways:
North America contributed more than 44% of revenue share in 2022.
By Enterprise Size, the big firms dominated the global market in 2022.
By Vertical, the BFSI segment captured the largest market share in the year 2022.
By Deployment, the On-premises segment dominated the global market in 2022.
By Type, productivity software led the global market in 2022.
Market Overview:
The software market refers to the industry that encompasses the development, distribution, and sale of software products and services. The software market is characterized by a wide range of software types and categories. Some common types of software include operating systems (e.g., windows, macOS), productivity software (e.g., word processors, spreadsheets), business applications (e.g., CRM, ERP), design and multimedia software (e.g., graphic design tools, video editing software), and specialized industry-specific software (e.g., healthcare management systems, banking software). The software market has been shaped by several trends in recent years. The transition to cloud computing and software-as-a-service (SaaS) models is a significant development. Cloud-based software offers scalability, flexibility, and cost-effectiveness by enabling users to access programs and data remotely through the Internet.
The increased emphasis on software development for mobile devices is another trend. Mobile applications have become a crucial component of people's everyday lives as a result of the widespread use of smartphones and tablets. The expansion of mobile app development and the demand for software that supports mobile platforms are both results of this trend. The software market has been significantly impacted by machine learning and artificial intelligence. With AI and ML technologies, software can automate procedures, make informed predictions, and improve user experiences. Applications powered by AI have been developed as a result of this trend in many different sectors. In the software industry, data security and privacy have evolved into major issues. There is a rising need for reliable cybersecurity software and solutions to secure sensitive data due to the increase in cyber threats and data breaches. The software market's constant change is affecting how the software market function, communicates, and exist.
Growth Factors:
The popularity of smartphones, tablets, and internet access has increased dramatically the demand for mobile and online apps. Mobile and web applications are essential for corporate and consumer communication, entertainment, e-commerce, productivity, and more. As a result of software developers creating and delivering cutting-edge and streamlined mobile and web apps, this trend fuels the expansion of the software market. Organizations are placing a higher priority on data security and privacy due to the frequency and sophistication of cyberattacks and data breaches. Strong data protection and cybersecurity software solutions are increasingly in demand. The software industry is addressing this need by providing cutting-edge compliance solutions, encryption technology, and security applications.
Report Scope of the Software Market:
| | |
| --- | --- |
| Report Coverage | Details |
| Market Size in 2023 | USD 658.82 Billion |
| Market Size by 2032 | USD 1,789.14 Billion |
| Growth Rate from 2023 to 2032 | CAGR of 11.74% |
| Largest Market | North America |
| Base Year | 2022 |
| Forecast Period | 2023 To 2032 |
| Segments Covered | By Enterprise, By Vertical, By Deployment, and By Type |
| Regions Covered | North America, Europe, Asia-Pacific, Latin America, and Middle East & Africa |

Market Dynamics:
Driver:
Cloud computing and remote employment
Cloud computing has completely changed the software business driving its growth by providing scalable and affordable infrastructure. Cloud-based software solutions are being used by businesses in greater numbers to increase accessibility, save costs, and streamline operations. The demand for software solutions that promote collaboration and communication across geographically distributed teams has increased as a result of globalization and remote work. Both enterprises and individuals now require software solutions for remote project management, video conferencing, and virtual collaboration.
Restraint:
Complexity and rapidly advancing technology
The software market is expanding as a result of technical developments, yet these advancements can also pose difficulties. Frequent technological advancements necessitate ongoing product updates from software providers in order to remain competitive. It may be challenging for businesses to keep up with the rate of change and invest in research and development. It can be challenging to guarantee compatibility and interoperability between different software engineers as software systems get more complex. When attempting to link software solutions from several suppliers or when upgrading existing systems, integration problems might occur. The adoption and application of software solutions may be hampered as a result.
Opportunity:
Machine learning (ML) and artificial intelligence (AI)
The software industry has the potential to undergo a revolution in AI and ML technology. There are several possibilities for creating AI-powered apps that streamline operations, offer insightful data, improve judgement, and enhance user experiences. Numerous industries, including healthcare, banking, retail, and manufacturing, need AI-driven software solutions.
Challenge:
Legal and regulatory issues regulation observance
The software industry is governed by several laws, including those pertaining to data protection, intellectual property rights, and business-specific rules. It can be difficult and time-consuming to ensure compliance with these rules, especially for software firms that operate across different jurisdictions. Non-compliance may have legal repercussions and harm the reputation of the business.
Impact of Covid-19:
Rapid shifts towards remote labor and virtual operations were brought on by the pandemic. To support distant collaboration, communication, and business continuity, organizations adopted digital technologies. The demand for software programs and platforms that facilitate remote work, video conferencing, project management, and cybersecurity increased as a result. Organizations used cloud computing to help their operations as remote work became more common. The ability to access data, apps, and resources from a distance has been made possible by cloud-based software solutions.
During the pandemic, the demand for cloud services, notably software-as-a-Service (SaaS) solutions, increased significantly. During the pandemic, the healthcare industry faced unprecedented difficulties. However, usage of software programs that assists in telemedicine, remote patient monitoring, contact tracking, vaccination delivery, and data analytics spiked in demand for health technology (Health Tech) software solutions.
The need for educational technology software solutions increased as more schools and educational institutions shifted to remote learning. Virtual classrooms, learning management systems, and software for creating digital material all saw significant growth. During the epidemic, EdTech providers saw a rise in use and expansion. Cyber risks and assaults increased as a result of the pandemic. The significance of cybersecurity solutions increased as a result. In order to protect their data and provide enhanced threat detection, businesses started investing in software solutions.
Segments Insight:
Enterprise Size Insights:
Big firms dominated the software market in 2022. These enterprises run complicated operations; therefore, they need all-encompassing software solutions to handle several facets of their operations. Big firms frequently use business intelligence tools, supply chain management solutions, customer relationship management (CRM) software, and enterprise resource planning (ERP) systems. They frequently have specialized IT teams and the funds to buy software that suits their requirements and advances their expansion plans.
Startups are frequently freshly formed or tiny firms with minimal financial means. They frequently look for flexible software solutions that are economical to help them start and grow their businesses. Due to their adaptability, scalability, and affordability, cloud-based software, open-source software, and software-as-a-service options are attractive alternatives for microenterprises and startups.
Vertical Insights:
The BFSI sector had the largest market share in year 2022. BFSI is a major user of software solutions. For fundamental banking operations, payment processing, risk management, fraud detection, and compliance, financial institutions need reliable software programs. Software solutions that enable online banking, mobile payments, wealth management, and financial analytics are in great demand as a result of the growth of digital banking and fintech advancements.
The rise of e-commerce and online shopping has led to a digital shift in the retail sector. Online retail administration, inventory management, order processing, customer relationship management, and logistics all depend heavily on software solutions. Retailers frequently use point-of-sale (POS) systems, e-commerce platforms, and consumer analytics software. To improve consumer experiences, the retail sector also uses software for supply chain optimization, demand forecasting, and personalized marketing.
Deployment Insights:
The deployment category of the market was dominated by on-premises software in 2022. On-premises software is the process of installing and using software applications on a company's own servers and infrastructure. On-premises deployment has always been the preferred method for implementing software. This kind of deployment gives businesses immediate access to their software and data, making it appropriate for sectors with strict security and compliance standards, including government, healthcare, and finance.
Type Insights:
In 2022, the productivity software market was the most popular and well-known, and it dominated the industry. Office suites are popular choices for productivity software, including Microsoft Office and Google Workspace. Individuals and teams may organize and prioritize their work with the use of time and task management software. Organizations can efficiently store, arrange, and retrieve digital documents with the use of document management software. CRM software controls marketing initiatives, sales funnels, and customer relationships.
Inventory management, supply chain management, production, human resources, and other corporate functions are all integrated by ERP software. Data analytics and BI technologies enable businesses to analyze vast amounts of information, offer insights, and make decisions based on that data. The production, administration, and publication of digital material, which is often utilized for websites or blogs, are made easier by CMS software. Industry-specific software meets the distinct requirements of many industries.
Region Insights:
In 2022, the United States was the market leader for software worldwide. The market in the region is developed, and software use is substantial across several industries. It is distinguished by the prominence of large software companies, the health of startup ecosystems, and considerable investments in software innovation. Industries like technology, banking, healthcare, and e-commerce are the ones driving the need for software solutions.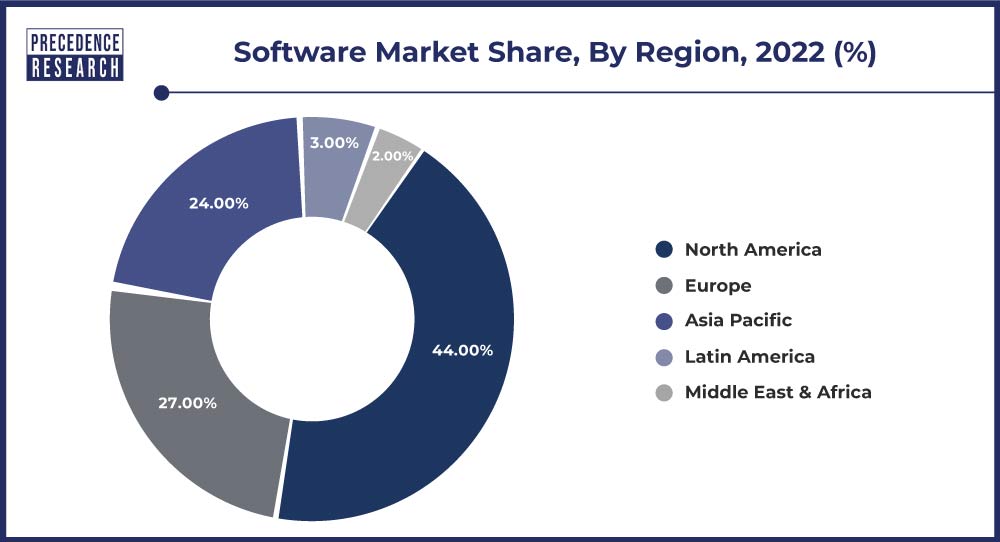 The software market is expanding quickly in the Asia-Pacific region. The use of technology, digitization, and rising internet penetration are major priorities in the region. In industries like e-commerce, mobile apps, banking, and logistics, there is a significant need for software solutions.
Additionally, developing Southeast Asian economies like Vietnam and Indonesia have tremendous development possibilities for the software industry. The software market in Latin America is developing, and usage and acceptance are rising. The area offers prospects for software businesses providing solutions for industries including retail, banking, healthcare, and agriculture and has a growing startup community.
Recent Developments:
In June 2023, the Gujarat Industrial Development Corporation considered giving the Gift City administration control over the construction of the planned IT cluster. Prior to the pandemic, the project was scheduled; However, due to delays, it is currently anticipated that GIDC would transfer the project to Gift City for construction.
In May 2023, Apax Funds disclosed that it had reached a legally binding agreement to pay $450 million for Blackstone's minority stake in the travel technology business IBS Software. IBS Software's founder and executive chairman, V. K. Mathews, would still own a majority interest in the company after the transaction. Blackstone acquired a minority stake in IBS Software in 2015 for $170 million, or roughly 30% of the business. Since its founding in 1997, IBS Software has provided SaaS (software as a service) solutions to companies operating in the logistics, airline, hotel, tour, and cruise sectors. The 4,000-person company has offices in Singapore, Chennai, Kochi, Bengaluru, and Trivandrum for its product, research, and development teams.
In June 2023, the computer operating system OpenKylin made its debut in China. To reduce the country's dependency on US technology, a group of Chinese companies working under the guidance of China Electronics Corp. developed OpenKylin 1.0. The OpenKylin 1.0 Linux operating system was created by a team of nearly 4,000 programmers. The system, which is based on the open-source, free Linux operating system, is used by several industries, including banking, energy, and even the national space project. In recent years, the creation of an operating system that is independent on US technology has taken primacy in China's IT industry. The development of the OpenKylin system has involved contributions from several companies and organizations.
Key Market Players:
International Business Machines Corporation.
Microsoft Corporation.
Oracle Corporation.
SAP SE.
Cisco Systems Inc.
Alphabet Inc. (Google)
Salesforce.com Inc.
Adobe Inc.
Red Hat, Inc.
Dassault Systems SE
Segments Covered in the Report:
(Note*: We offer reports based on sub segments as well. Kindly, let us know if you are interested)
By Enterprise
By Vertical
Banking, Financial Services and Insurance
Retail
By Deployment
By Type
Productivity Software
Application Software
By Geography
North America
Europe
Asia-Pacific
Latin America
Middle East and Africa