The global mobile application market size accounted for USD 161.12 billion in 2022 and it is expanding over USD 1,191.44 billion by 2032, poised to grow at a noteworthy CAGR of 22.2% from 2023 to 2032.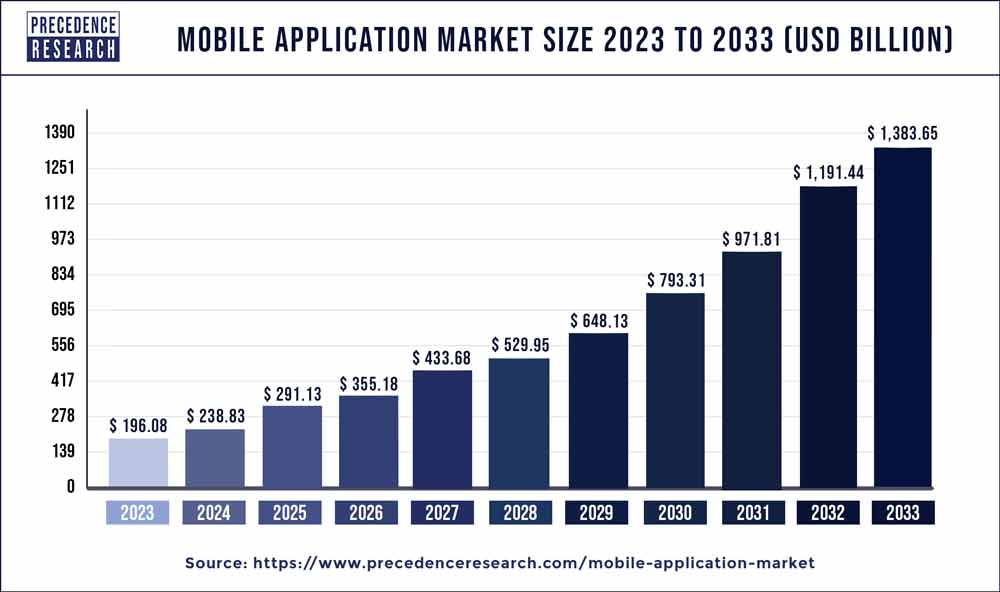 Mobile applications often deliver operators with facilities that are alike to those accessible on desktop computers. The major purpose of the mobile application is to link consumers to internet services by allowing them to access the internet on their mobile devices. The acceptance of various gadgets and the development of the e-commerce sector's consumer population are two important drivers driving the market's growth. Furthermore, the market's growth is fueled by continued growth in enterprise applications, increased attention on apps designed for health and fitness, and high downloads and in-app purchases for gaming apps.
Increasing consumer base for e-commerce industry along with rising adoption of smart phones are some of the major factors that drives the growth of mobile application market. In Asia Pacific the smartphone penetration will reach 62.4% by 2021. Furthermore, rising application of virtual and augmented reality triggers the market growth significantly. At present, the smartphones are equipped with various sensors such as accelerometers, gyroscopes, and motion sensors to verify the capability of AR and VR through various mobile apps. In gaming apps such as 'Pokemon Go' AR and VR feature enhances the user experience. Besides entertainment business, mobile applications are also largely used for health care and medical benefits. It helps to connect to doctor from various places at a single platform. Other than this, there are several health monitoring apps where users can check their daily exercise routines and improve it accordingly.
However, lack of high-speed connectivity in under-developed and developing nations is expected to impede the market growth. Nonetheless, rising adoption as well as investment in digitization projected to flourish the market growth in the coming years.
Market Dynamics
Drivers
Expansion of e-commerce sector
Many retailers are looking for ways to expand their market without expanding their physical footprint. Consumers prefer to buy things online rather than in physical stores, especially cellphones. This shows that there is a global opportunity for e-commerce and mobile application companies. In addition, numerous investors have recently expressed interest in e-commerce platforms. Alibaba, a Chinese e-commerce platform, for example, committed $25 billion in an initial public offering in e-commerce in September 2014. As a result, market growth is projected to be supported in the near future by the continued expansion of the e-commerce industry.
Restraints
Lack of advanced mobile devices
Manufacturers of mobile devices are struggling to stay up with the fierce competition and keep up with mobile app developers. Applications created for specialized purposes necessitate the use of advanced device features. To remedy this challenge, consumers must switch to devices with advanced features that allow mobile apps to run more efficiently. As a result, these factors are likely to stifle market expansion over the forecast period.
Opportunities
Shift in consumer patterns and lifestyle
A person's habits, views, financial condition, morals, and buying parity can all change as their lifestyle changes. Understanding the population's lifestyle patterns allows a company to better promote itself and adapt its approach quickly if those trends shift. Over the forecast period, rapidly changing lifestyles and spending patterns are likely to propel market growth.
Challenges
Saturation of smartphone
Downloads of free apps are projected to decline at a slower rate than paid app sales. According to recent disclosures from two global heavyweights in the global mobile application business such as Apple and Google, the number of apps installed is anticipated to decrease over time as customer demand for mobile apps is met. Another issue contributing to the worldwide mobile application market's fall is smartphone market saturation, which will result in fewer total mobile app installations.
Marketplace Insights
Apple iOS Store segment dominated the global mobile application market with around half of the revenue share in 2022. Significant demand for apple and iPhones has triggered the market growth. For instance, in February 2020, Forbes has predicted that Apple's iPhone business projected to contribute USD 151 Bn to its 2020 revenue that contributes approximately 53% of the total revenue generated.
The substantial share of the segment is due to iOS apps' considerably higher monetization rate for revenue generated from premium apps and in-app purchases. A rise in the number of iPhone and iPad users around the world is also contributing to the segment's growth.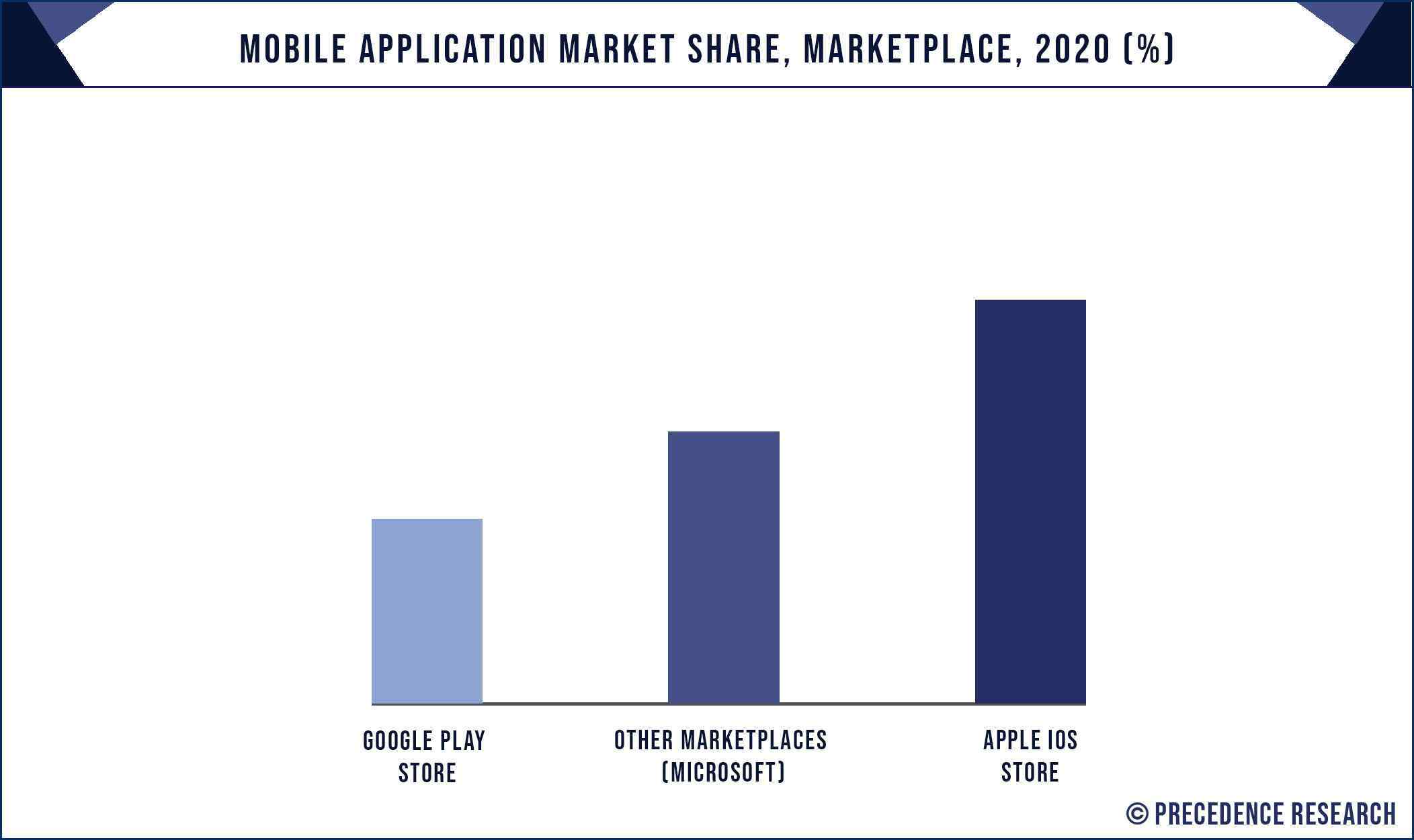 Meanwhile, Google Play Store seeks lucrative growth during the forecast period. The percent growth of Google Play Store is higher as compared to Apple iOS Store. As per statistics, Google Play Store encountered revenue growth of 27.3% between 2017 and 2018, however, Apple iOS Store registered 20.4% growth during the same period. This is attributed to the rising demand for android phones as they are more compatible with apps.
App Category Insights
Gaming segment led the global mobile application market with significant revenue share in 2022. Owing to an unexpected expansion in the gaming populace and, as a result, the quantity of mobile gaming claims in nations like as India and China, the segment is expected to maintain its dominance over the projection period. Increased application of augmented and virtual reality (AR and VR) in the gaming applications and high-level graphics are accounted as the prime factors contributing to its revenue growth. Furthermore, rising investment in gaming applications expected to fuel its growth during the forecast period. For instance, in August 2021, the global mobile gaming industry has received USD 9.6 Bn of investment and has reached at USD 68.4 Bn market revenue by the end of the year 2021.
On the other hand, entertainment & music segment encountered prominent growth rate during the forecast period. The growth of the segment is mainly due to rising demand of online music and entertainment. Netflix, Pandora, Hulu, HBO NOW, YouTube, and many more entertainment apps are available in the market. Additionally, the entertainment app developers are incorporating 3D features to enhance the picture quality.
Regional Insights
Rising smartphone penetration along with high adoption rate of advanced technologies such as IoT, artificial intelligence, and augmented & virtual reality (AR & VR) have significantly triggered the Asia Pacific market with a rapid pace. The region accounted as the most lucrative region and predicted to witness the highest growth rate during the forecast period. In terms of revenue share, the Asia Pacific expected to dominate the global mobile application market during the analysis period. Among Asian countries, China encountered as the leading destination for mobile application download in 2016. However, India recorded the highest percentage of daily use of approximately 27%. In the future years, rising disposable income combined with government initiatives is likely to boost regional market growth. Additionally, the accessibility of low-price mobile informationingesting packs and networking developments are two significant growth drivers in the region. In addition, adoption of smartphone and internet penetration is also driving the expansion of mobile application market in Asia-Pacific region.
On the other hand, being technologically forward and developed economies North America and Europe held prominent position in the global mobile application market in 2021, with more than 60% revenue share collectively. Presence of magnificent players in the North America such as Apple Inc., IBM Corp., Microsoft Corp., Google LLC, Cognizant, and many others has led the region at the dominant position. In addition, early adoption of technologies in the region along with significant investment in the mobile application to transform the world into fully digitized are another prime factors that drives the market growth. According to world investment report 2017, media & entertainment industry is the most affected industry by digitization and the percentage of impact should be nearly 62%.
The U.S. is dominating the mobile application market in the North America region. In standings of in-app compensation, rewarded mobile games, and a fast-increasing user base of mobile applications in the country, the U.S. is projected to arise as a profitable market for mobile gaming applications. The growth of the North America mobile application market is being attributed to the existence of major market players.
Recent Developments
MobileIron Inc. bought incapptic Connect GmbH, a mobile applicationcreator, in May 2020 with the purpose of developing and deploying protected mobile business applications.
Mitsui & Co., Ltd., a Japanese corporation and prominent healthcare investor, revealed in November 2018 that GOQii had raised funds. Following the project, GOQii set its sights on expanding its presence in India and entering the Japanese market through its health shop.
AppSheet, a supplier of a no-code development platform for application software, was purchased by Google LLC in January of 2020.
Qualcomm Inc., a semiconductor and telecom equipment company based in the United States, spent $150 million in Indian startups in September 2015. Market companies are likely to benefit from such investments by expanding their product portfolios, increasing their market presence, and gaining a competitive advantage.
Key Companies & Market Share Insights
The global mobile application market is highly competitive with presence of established and big market players. In addition, several new players such as Xiaomi, and OnePlus have also established their strong footprint in the recent past. The companies are largely focused to provide user-friendly application with enhanced experience. In addition, they also incorporated advanced technologies such as augmented and virtual reality in the new application to satisfy the customer requirement and experience.
Some of the prominent players in the mobile application market include:
Apple Inc.
Cognizant
CA Technologies
Hewlett Packard Enterprise
China Mobile Ltd
Google LLC
Intellectsoft
Microsoft Corporation
International Business Machines Corporation
Verbat Technologies
Report Scope of the Mobile Application Market
| | |
| --- | --- |
| Report Highlights | Details |
| Market Size in 2032 | USD 1,191.44 Billion |
| Growth Rate | CAGR of 22.2% from 2023 to 2032 |
| Largest Market | Asia Pacific |
| Fastest Growing Market | North America |
| Base Year | 2022 |
| Forecast Period | 2023 to 2032 |
| Segments Covered | Marketplace, App Category, Regional Outlook |
| Companies Mentioned | Apple Inc., Cognizant, CA Technologies, Hewlett Packard Enterprise, China Mobile Ltd, Google LLC, Intellectsoft, Microsoft Corporation, Verbat Technologies |
Segments Covered in the Report
This research report includes complete assessment of the market with the help of extensive qualitative and quantitative insights, and projections regarding the market. This report offers breakdown of market into prospective and niche sectors. Further, this research study calculates market revenue and its growth trend at global, regional, and country from 2020 to 2032. This report includes market segmentation and its revenue estimation by classifying it on the basis of marketplace, app category, and region:
By Marketplace
Google Play Store
Apple iOS Store
Other Marketplaces (Microsoft)
By App Category
Music & Entertainment
Gaming
Health & Fitness
Education & Learning
Retail & e-Commerce
Travel & Hospitality
Others (Navigation, Utilities, and News)
By Regional Outlook
North America
Europe
Asia Pacific

China
India
Japan
South Korea

Rest of the World