The global mobile gaming market size accounted for USD 184.4 billion in 2022 and is expected to hit around USD 775.69 billion by 2032, growing at a remarkable CAGR of 15.5% during the forecast period 2023 to 2032.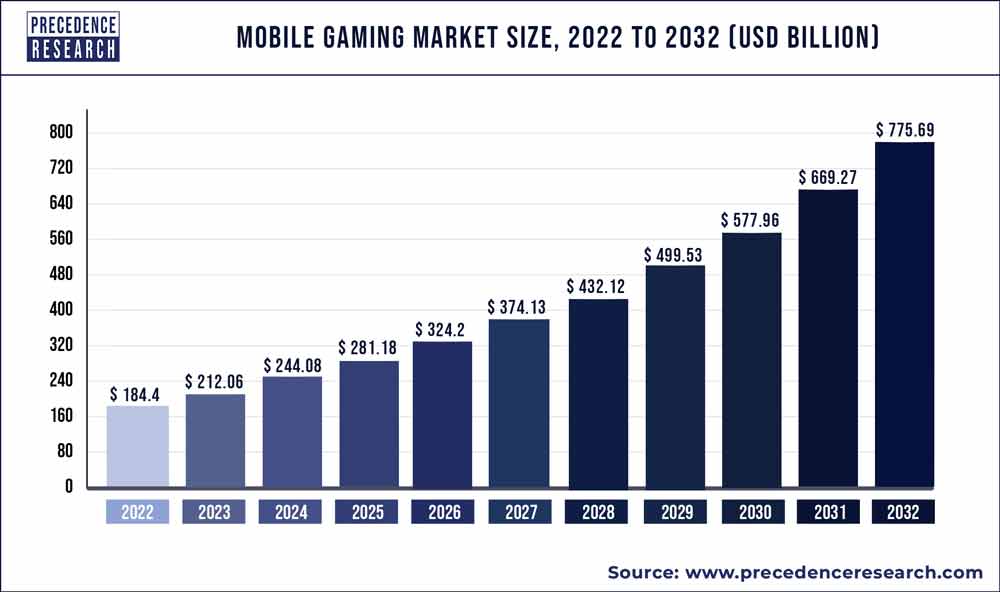 Access our Premium Real Time Data Intelligence Tool, Visit: Precedence Statistics
Key Takeaways:
Asia-Pacific is predicted to dominate the global market from 2023 to 2032.
By Platform, the IOS segment has generated more than 61% of revenue share in 2022.
By Age Group, the 22–24 age group segment had the highest market share in 2022.
By Business Model, the freemium segment has captured the largest market share in 2022.
Market Overview:
The mobile gaming market is experiencing significant growth in a major trend called technology advancement. For immersive gaming experiences, augmented Reality and Virtual Reality technologies are being integrated into mobile gaming in the market. While AR integrates virtual data with the actual world, virtual reality is a computer-generated environment with scenes and objects that appear to be real. Through the use of VR eyewear, players can escape reality by submerging themselves in an alternative gaming world or the actual world. In a game, augmented reality (AR) enhances or modifies some parts of the existing surroundings rather than transporting the player to a different area.
The range of mobile games starts from the simplest ones to the most complex games including AR (augmented reality), 3Ds, among others by utilizing the internet to do brainstorming.
Growth Factors:
A significant driver of the market's expansion is the expanding use of smartphones and the deployment of cutting-edge game making technologies. Additionally, esports' rising recognition is a significant industry driver. Additionally, consumers will have access to better connection rates as 5G technology spreads, which will increase the market for mobile gaming. Additionally, when people's disposable money rises, they are able to purchase cell phones, which leads to an increase in the number of gamers.
Report Scope of the Mobile Gaming Market:
| | |
| --- | --- |
| Report Coverage | Details |
| Market Size in 2023 | USD 212.06 Billion |
| Market Size by 2032 | USD 775.69 Billion |
| Growth Rate from 2023 to 2032 | CAGR of 15.5% |
| Largest Market | Asia-Pacific |
| Base Year | 2022 |
| Forecast Period | 2023 to 2032 |
| Segments Covered | By Platform, By Age Group, and By Business Model |
| Regions Covered | North America, Europe, Asia-Pacific, Latin America and Middle East & Africa |

Market Dynamics:
Driver:
Internet penetration
Online gaming has become largely practical in the past few years as a result of the raised accessibility of the internet, primarily in emerging nations. Gaming is one of the fastest-growing industries in India's media and entertainment business. One of the top five mobile gaming markets in the world is in this country as it has limitless potential and can be downloaded for free, the Free-to-Play price model is also a popular choice for mobile games. Players can do this so they can test out a game before investing their time or money, and as a result, they usually increase their earnings.
For instance, Pokemon GO is a free game that was played by Americans in 2016 and is expected to reach 67 million players by the year 2020, according to data from Bank of America. This approach may change if new technologies like augmented reality and 5G become accessible. The market for mobile gaming is anticipated to grow also as a result of the widespread adoption of 5G and better download rates.
Restraint:
Monetization challenges
The difficulty of monetizing is one of the major restraint for the mobile gaming market. Although many mobile games can be downloaded for free, they frequently rely on in-app sales or adverts to make money. It can be difficult to strike the perfect mix between user experience and monetization, though. In-app purchases may be viewed as obtrusive or forceful, which adversely affects user satisfaction. In addition, some users could be reluctant to spend money on games, particularly if they feel under pressure to do so. Similar to how advertising can hurt user experience, it can likewise reduce player engagement and reduce revenue for game producers.
The complexity of anticipating revenue streams is another obstacle with monetization. The revenue sources for mobile games can be erratic, making it difficult for game developers to efficiently plan and implement their business strategies. For game makers, especially tiny or new entrants in the industry, this might cause financial instability.
Opportunity:
Growing smartphone adoption
The increasing use of smartphones is one of the key potentials for the mobile gaming sector. Mobile games are now more accessible than ever because of smartphones' rising price and availability. Additionally, improvements in smartphone technology have enhanced the overall gaming experience, increasing player engagement and the opportunity for game producers to earn more money. The mobile gaming market has the potential to appeal to a wider audience as more people embrace smartphones, perhaps including new geographic and demographic groups.
The industry for mobile gaming has expanded to become a substantial source of income for game creators with the rise of mobile devices. The market's revenue potential is anticipated to rise as more people continue to use smartphones and mobile gaming is made more widely available.
Impact of COVID-19:
The mobile game market is just one of many sectors that have been significantly impacted by the COVID-19 pandemic. Lockdowns and other social isolation tactics have caused more individuals to turn to mobile gaming for enjoyment and socializing, which has increased demand for mobile games.
Increased user engagement is one of the main effects of the COVID-19 epidemic on the mobile gaming industry. Mobile games have gained popularity as a kind of entertainment as people spend more time at home, giving users a way to kill time and interact with friends and family. For game creators, this has enhanced player engagement and financial possibilities.
According to research by App Annie, the average weekly time spent on mobile games climbed by 35% in Q1 2021 compared to pre-pandemic levels, and mobile game downloads increased by 30% year over year. The study also discovered that customers in March 2021 spent a record-breaking $1.7 billion on mobile games in a single week, setting a new benchmark for the sector.
The COVID-19 pandemic's effects on the mobile gaming business also include changes in user preferences and behavior. More people are turning to mobile gaming as a way to interact with others and take part in virtual events as a result of the closure of physical gaming facilities and the postponement of live events. New gaming fads have resulted as a result, including social gaming, esports competitions, and virtual concerts.
The pandemic has also increased the popularity of mobile gaming among older age groups, which may have previously been less likely to do so. Older age groups are turning more and more to mobile gaming as a form of leisure and social interaction as they grow more accustomed to technology and digital devices.
The COVID-19 epidemic has, however, also presented some of difficulties for the mobile gaming industry. For instance, the pandemic has slowed down the development of new gear and devices by disrupting global supply chains. Furthermore, the epidemic has reduced advertising costs, which has made it more difficult for game makers to advertise their titles and find new fans.
Additionally, the epidemic has also increased fraudulent activities, like the phone reviews and account takeover fraud, which can harm the reputation and credibility of mobile games.
Segments Insight:
Platform Insights:
The market segments include retailers depending on the platform for Android, iOS, and other third parties. During the projected period, IOS is anticipated to generate the greatest share. More than one billion active iPhones, according to Apple Inc., is a significant accomplishment for the company and evidence of the phones' enduring popularity and toughness. Around 1.65 billion Apple devices will be in use globally in 2021.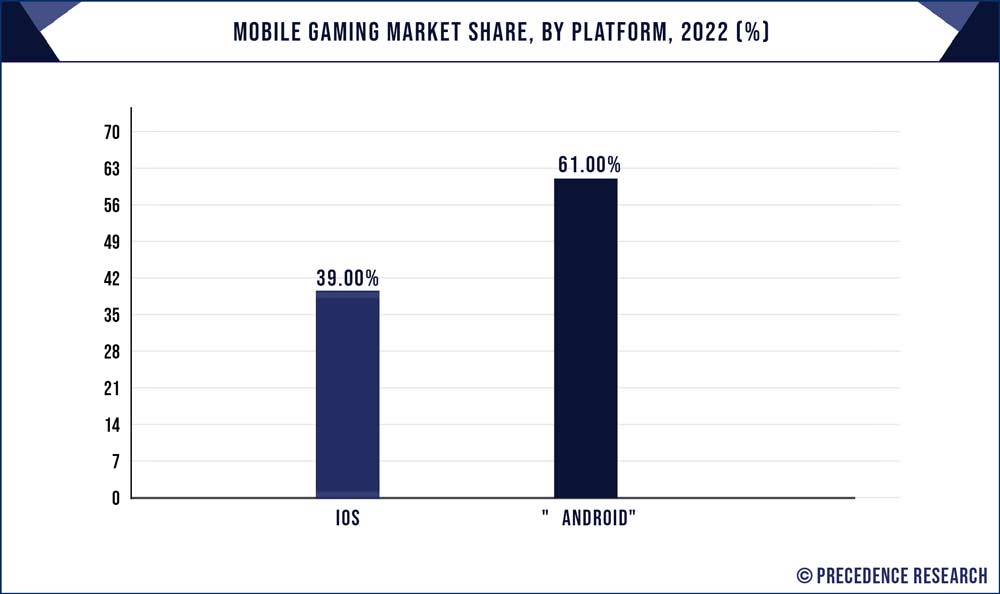 In 2021, there were over a million gaming apps available on the App Store. Less than one-third of mobile gaming apps are conventionally paid downloads, with in-app purchases and advertising providing the majority of their revenue. The top games on the App Store include Candy Crush Saga, Clash of Clans, Clash Royale, and casino games, the largest-grossing iOS title.
Age Group Insights:
In 2022, the 22–24 age group had the largest market share due to their stronger use of cutting-edge technologies. Furthermore, because they are technologically savvy and eager to explore new things, the bulk of smartphone users fall into this age group. The introduction of new cellphones with unique capabilities that support sophisticated games has an impact on gamers' involvement because these gadgets provide positive user experiences.
Business Model Insights:
The freemium business model held the maximum share in 2022. The growth is attributed to the additional incentive of making in-game purchases offered by freemium games. In a freemium game, the user must pay to access the extra features like level upgrades even when the basic game edition is fully free to access. The architecture of freemium games is crucial since the player should not feel that a level is either too challenging to advance or too simple to pass. A sizable percentage of the money for freemium game developers comes from advertisements, in-app sales, and virtual item purchases. Additionally, the availability of several payment methods with such businesses enables players to select according to preferences, thereby increasing the revenue from mobile games. For instance, Candy Crush Saga generates income via a freemium business model.
Regional Insights:
Asia-Pacific are expected to dominate the regional market. During the forecast period, it is expected that Asia-Pacific would grow at a remarkable CAGR. China is the main country responsible for a sizable portion of the region's economy. One of the biggest mobile gaming markets in Asia-Pacific, China, has expanded due to Covid. Mobile games' ability to provide continual enjoyment through cloud-based and offline applications has completely changed the gaming industry. Millions of people are projected to continue to be drawn to the entertainment available on the go, particularly in developing economies like China.
The rapid growth of minigames played without downloading a separate application within mobile applications like WeChat aids in the development of the Chinese gaming market. These minigames are easy to play, usually include important social components, and have gained a lot of popularity across the country. The pragmatism of mobile phones, which was less costly than gaming PCs and occasionally offered Chinese customers with their only internet access, contributed to this boom in part.
Recent Developments:
In June 2022, Marmalade Game Studio disclosed that a very popular game JUMANJI: The Curse Return got available to millions of gamers through the eShop of Nintendo.
In May 2021, tasks Arena, a single location for casual tasks that offers an unrivalled gamified experience, has been released by OnMobileGlobal Limited, a global provider of mobile entertainment.
Key Market Players:
Tencent Holdings Limited
Activision Blizzard, Inc
Electronic Arts Inc.
Nintendo Co., Ltd.
GungHo Online Entertainment, Inc (SoftBank Group)
Gameloft
The Walt Disney Company
Glu Mobile Inc.
Rovio Entertainment Corporation
Supercell Oy
Segments Covered in the Report:
(Note*: We offer report based on sub segments as well. Kindly, let us know if you are interested)
By Platform
By Age Group
Below 24 Years
24-44 Years
Above 44 Years
By Business Model
Freemium
Paid
Free
Paymium
By Geography
North America
Europe
Asia-Pacific
Latin America
Middle East and Africa