The global eSports market size surpassed USD 4.4 billion in 2022 and is expected to attain around USD 33.38 billion by 2032, growing at a CAGR of 22.47% throughout the projection period 2023 to 2032. The US dominated the North America region in 2022.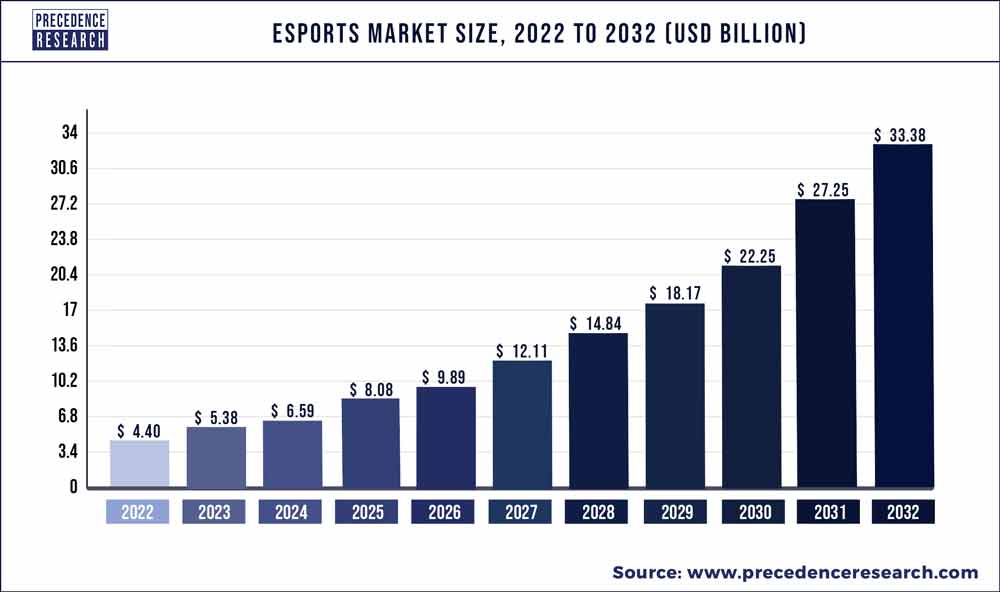 Key Takeaways:
North America has generated the largest revenue share of 38% in 2022.
Asia-Pacific is expected to expand at the fastest CAGR from 2023 to 2032.
By Streaming Type, the live segment has generated more than 41% of revenue share in 2022.
By Revenue Streams, the advertising segment is expected to expand at a remarkable CAGR from 2023 to 2032.
Market Overview:
Online gaming is turned into a spectator event through the phenomenon known as "esports," or "electronic sports." Watching video gamers fight against one another in a virtual setting is analogous to watching a professional sporting event, except there is no physical competition to watch. Competent video gamers compete in esports, a developing global sector. In the same way that there are games played in football, basketball, and other traditional sports, there are games played in esports as well.
Contrary to popular belief, esports is not only a fad taking place in the unemployed 20-somethings' basements; the sector is legitimate, expanding globally, and investable. In addition to more commonplace sports-related video games like NBA 2K and FIFA, this sector also contains games like Counter-Strike, League of Legends, and Dota. This ecosystem is surrounded by several technology platforms, events, services, analytics platforms, and significant investor capital as it grows.
Growth Factors:
Electronic sports, sometimes known as "esports," have become a worldwide sensation in recent years. The esports industry has expanded as a result of increasing video game demand over time. From being only leisure to the professional competitions that now command worldwide interest, gaming has gone a long way. The accessibility of new technology is enhancing the potential of video products, content, and virtual reality, enhancing game tournament excitement, and attracting a steadily expanding fan following. The way that people consume entertainment has changed as a result of how deeply ingrained video games are in the life of the current generation.
A Wall Street investment bank and other industry professionals have declared that the competitive gaming and esports industries have finally reached the mainstream as a result of the remarkable growth of competitive gaming and the increasing popularity of esports. Nevertheless, the recent rapid growth in the popularity of competitive gaming and the enormous sums of money attracted by these events has all but propelled esports into the major league. The esports sector, which is dominated by a young, digital, and international audience, is powered by financial potential measured by merchandise, sponsorships, advertising, ticket sales, and media rights.
Report Scope of the eSports Market:
| | |
| --- | --- |
| Report Coverage | Details |
| Market Size in 2023 | USD 5.38 Billion |
| Market Size by 2032 | USD 33.38 Billion |
| Growth Rate from 2023 to 2032 | CAGR of 22.47% |
| Largest Market | North America |
| Fastest Growing Market | Asia Pacific |
| Base Year | 2022 |
| Forecast Period | 2023 to 2032 |
| Segments Covered | By Streaming Type, By Revenue Streams, and By Gaming Genre |
| Regions Covered | North America, Europe, Asia-Pacific, Latin America and Middle East & Africa |

Market Dynamics:
Driver:
Growth of mobile eSports
The increase in mobile eSports is expected to fuel the growth of the eSports market during the forecast period and this trend is likely to continue in the future. The growth is being driven by the increasing number of people playing games on their smartphones and tablets. This is owing to the emergence of 5G technology which offers gamers with more reliable and faster mobile internet speeds. More mobile eSports tournaments and events are expected to occur in the coming years.
Among the mobile Esports games that have generated a lot of excitement are Call of Duty Mobile, Fortnite, PUBG New State, Free Fire, and many others. The affordability and accessibility of smartphones as well as fast internet have led to a significant increase in the popularity of gaming across the globe. Mobile gaming offers freedom since it allows players to play whenever and wherever they want. This is not a possibility for PC gamers, making mobile gaming more widely available. Thus, the surge in mobile eSports is expected to support the market growth during the forecast period.
Restraints:
Lack of regulation
In the esports sector, regulation is still in its infancy. Some see this as a benefit, arguing that it permits cybersport organizations to actively develop with little intervention in their operations. This point, however, has a drawback. The absence of a regulatory framework also means the lack of an efficient process for resolving conflicts and comprehending the overall game rules. Naturally, this has a detrimental impact on the growth of the sector.
Esports require proper regulation just like any other sport. This is required to establish common guidelines for setting up and running competitions as well as to make the esports industry transparent and appealing to investors. Participants in the eSports market only need to embrace the restrictions that have proven effective in traditional sports, such as signing contracts outlining the parties' rights and obligations, abiding by laws and regulations, and strictly adhering to standards that have been independently verified. Thus, this is likely to limit the growth of the market in the years to come.
Opportunities:
Introduction of metaverse immersion
The introduction of metaverse immersion is likely to offer growth opportunities for the market in the years to come. The trend at hand is the most radical and uncommon one. The metaverse presents an enormous potential for both the gaming sector and brands in general by allowing users to immerse them in an action-packed, realistic (yet unreal) environment. As a side note, this type of technology is so promising that it is starting to slow down the development of traditional consoles. UCAM eSports is among the most cutting-edge of these initiatives. Through the use of VR headsets, the Universidad Católica de Murcia has developed a gaming environment.
It is so comprehensive that it even has its own space where participants may socialize during breaks. In the years to come, there will be a significant transformation in the eSports industry. For what lays ahead, developers, IT firms, players, and viewers are preparing. Due to the current and firm dedication towards modernization, the previously notable numbers are anticipated to set new benchmarks.
Also, consumers may already experience virtual reality and, soon, the metaverse, due to headsets made by a number of technological companies, including Sony, Meta and Apple. Although it will take time to develop this integrated virtual experience, businesses that capitalize on it right away will have an advantage in the market and create opportunities for the growth of the market in the future.
Impact of COVID-19:
The COVID-19 pandemic had a positive impact on the eSports market. As more people were encouraged to practice social isolation, gaming provided a means for friends to interact and maintain connections. Viewership skyrocketed in the early stages of the lockdown in many economies. Particularly, the rise of streaming services gave people numerous chances to interact with others in a social atmosphere, even when they were thousands of miles apart. Professional, traditional athletes can use streaming to stay in touch with their fan groups on a medium that they are already familiar with.
The prevalence and popularity of streaming services and online gaming also create the potential for some truly amazing crossovers that were previously unimaginable. Further, now players may live to stream every minute of gaming while traditional sports announcers provide live commentary using remote production technologies. Real-time viewing of the announcer and gamer's reactions is possible thanks to studio-style cameras, making the situation just as intense as it would be in person. Thus, it is anticipated that the market will continue to grow in the years to come.
Segments Insight:
Streaming Type Insights:
On the basis of streaming type, the live segment held the largest revenue share of 41% in 2022. The demand for live electronic sports events is projected to increase as the emphasis on fan participation increases. Additionally, the use of smartphones is anticipated to increase interest in live electronic sports competitions. The increasing popularity of esports has led to greater demand for live events, with more people willing to attend in-person events to watch their favorite players and teams compete. Further, a significant increase in investment in recent years, with major brands and organizations investing in live events to reach new audiences and build brand awareness is also likely to augment the segmental growth of the eSports market during the forecast period.
Revenue Streams Insights:
Based on revenue streams, the advertising segment is expected to grow at a significant CAGR during the forecast period. Advertising includes the revenue from esports viewers' targeted commercials, such as those broadcast during livestreams on internet platforms, on esports video-on-demand, or on esports TV. The esports audience is already being targeted by companies like Intel, Coca-Cola, Samsung, Arby's, and Redbull—especially given their significant purchasing power. Currently, advertising on the numerous esports platforms is still far less expensive than it is on more conventional sports. Exposure to this fan demographic will become more expensive as esports popularity and viewership grow.
Regional Insights:
North America held the largest revenue share of 38% in 2022. The US dominated the North America region in 2022. This is owing to the availability of a significant number of online gamers in the region. The increasing research & development activities and strategic moves by various key players such as Activision Blizzard, Inc., X1 Esports and Entertainment Ltd., and Riot Games, Inc., among others to obtain a competitive edge is also likely to support the growth of the market in the region. Additionally, the early adoption of advanced technologies is also likely to create immense growth opportunities for the market in the region.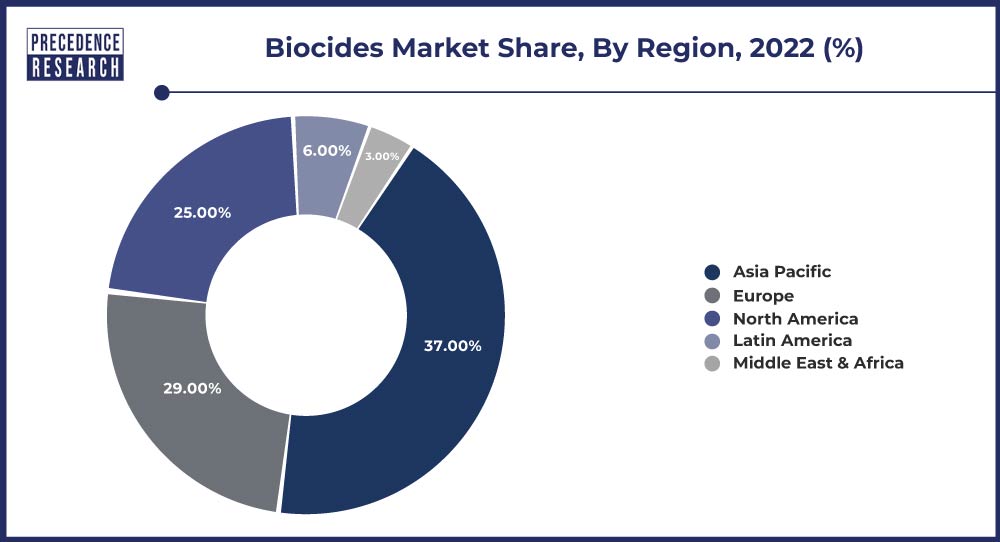 Asia-Pacific is expected to grow at the fastest CAGR during the forecast period. This is attributable to the increasing internet penetration and smart devices across developing economies such as India and China in the region. Additionally, the increasing shift towards digital platforms is also expected to support the regional growth of the market in the years to come. Further, rapid urbanization and advances in IT infrastructure in the region is also expected to support the growth of the market within the estimated timeframe.
Recent Developments:
In April 2023, the merger of Counter Logic Gaming and NRG was announced by Madison Square Garden Sports Corp. and NRG. MSG Sports, which previously possessed a majority stake in CLG, has now acquired a non-controlling equity interest in the combined NRG/CLG Company as a result of the acquisition. This purchase broadens the NRG family by bringing together two famous businesses with a shared passion for gaming.
In January 2023, TGS Esports Inc. revealed that it reached an agreement into a non-binding term sheet with Midnight Gaming Corporation for a prospective acquisition on January 26, 2023. Midnight is expected to purchase all of TGS's outstanding securities under the terms of the Transaction.
In June 2022, FanClash, the e-sports platform operated by Fanbuff Technology, announced securing Series B funding worth US $40 from Info Edge India, Sequoia Capital India, Matic Networks and Falcon Edge. The funding came right after ten months the company received US $10 million from Falcon Edge, Sequoia Capital India, and Info Edge India in a Series A funding round for FanClash.
In August 2020, FC Barcelona entered into a strategic collaboration deal with Chinese game creators Tencent. The news was made during the Tencent Esports event in Hainan, China. Barcelona already owns an esports team that competes in Rocket League by Psyonix and Pro Evolution Soccer (PES) by Konami.
In February 2019, Comcast Spectacor and SK Telecom agreed to establish a worldwide esports partnership. The deal involves T1 Entertainment & Sports, which includes the hugely successful SK Telecom T1 League of Legends Champions Korea team, along with teams competing in various gaming segments such as PlayerUnknown's Battlegrounds, Fortnite, Hearthstone, Super Smash Brothers, and Apex Legends. The alliance is a symbol of a major advancement for Comcast Spectacor's esports business, which is expanding worldwide and partnering with the most successful League of Legends team ever.
Key Market Players:
Tencent Holding Limited
Nintendo of America Inc.
Valve Corporation
Activision Blizzard, Inc.
Electronic Arts Inc.
Gameloft SE
Modern Times Group (MTG)
Gfinity plc
Allied Esports
Take-Two Interactive
Huya
Fragbite Group
Segments Covered in the Report:
(Note*: We offer report based on sub segments as well. Kindly, let us know if you are interested)
By Streaming Type
By Revenue Streams
Media Rights
Tickets and Merchandise
Sponsorship
Advertising
Publisher Fees
By Gaming Genre
First Person Shooter Games
Real-time Strategy Games
Fighting Games Multiplayer
Mass Multiplayer Online Role-playing Games
Online Battle Arena Games
Others
By Geography
North America
Europe
Asia-Pacific
Latin America
Middle East and Africa