The global autonomous mobile robots market size accounted for USD 2.76 billion in 2022 and is projected to hit around USD 19.78 billion by 2032 with a registered CAGR of 22.3% during the forecast period 2023 to 2032.
An autonomous mobile robot is a kind of robot that can understand and explore its environment on its own. AMRs differ from autonomous guided vehicles (AGVs), which are typically supervised by humans and depend on tracks or predefined trajectories.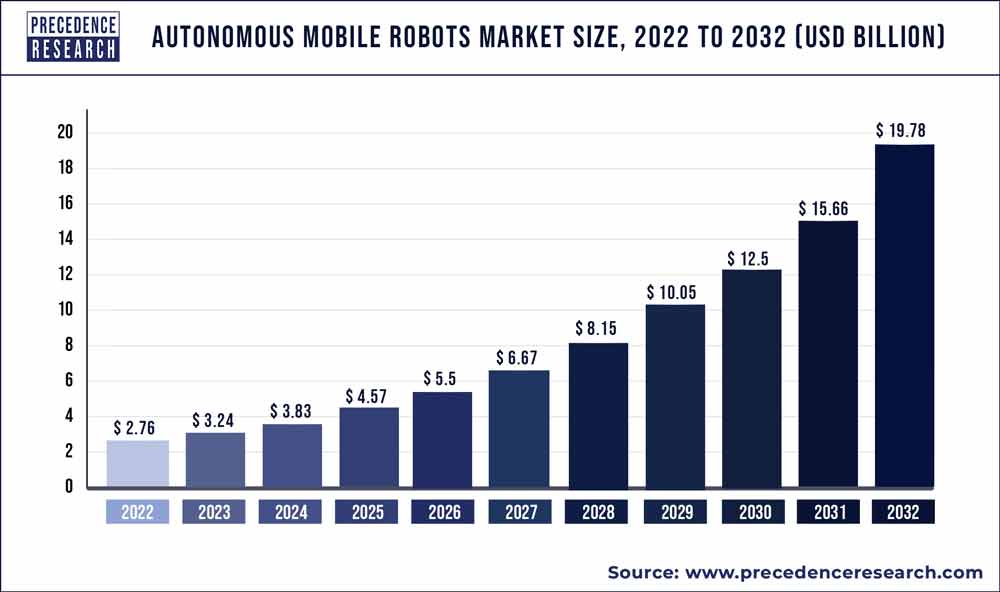 Access our Premium Real Time Data Intelligence Tool, Visit: Precedence Statistics
Key Takeaways:
By component, the hardware sector had the highest revenue share of around 68.40% in 2022.
By type, the goods-to-person picking robots captured more than 50% of the revenue share in 2022.
By battery type, the lead battery market sector accounted for more than 50% of revenue share in 2022.
By end use, the manufacturing sector had the biggest revenue share of around 77% in 2022.

The Europe region held the highest revenue share of around 30.40% in 2022.
Growth Factor
One of the key elements that are anticipated to assist the market's growth is the expanding use of robots in numerous industrial sectors. Some of the reasons that are projected to fuel the expansion of the market include technical advancement, increasing awareness of the advantages of autonomous robots in emerging economies, and expanding application areas for autonomous robots. However, some of the key restraints that may have an impact on the market's expansion are the slow pace at which robots move and the malfunction of robots. Additionally, the industry has a chance to expand due to the growing use of mobile robots for patrolling.
The market is growing as a result of factors including the increased demand for smart devices in automobiles and the increasing use of advanced driver assistance technologies. The government's enforcement of stringent telematics regulations has also accelerated the market's growth. Real-time traffic and event notifications are also necessary, and this is helping the industry grow. However, market development is being hampered by the high cost of implementation and the unequal distribution of internet access.
Growing Need for Smooth Workflow in the Face of the Epidemic Promoted Market Growth
The rise in global e-commerce activity is driving up demand for autonomous mobile robots.
Growing usage of these robots across a variety of sectors and expanding warehouse automation are anticipated to drive the market's expansion. This is due to these robots' independence in navigating complex situations.
The growing use of automated material handling combined with developments like lights-out automation
Report Scope of the Autonomous Mobile Robots Market
Report Coverage
Details
Market Size in 2023
USD 3.24 Billion
Market Size by 2032
USD 19.78 Billion
Growth Rate from 2023 to 2032
CAGR of 22.3%
Base Year
2022
Forecast Period
2023 to 2032
Segments Covered

By Component
By Type
By Battery Type
By End Use

Regions Covered

North America
Europe
Asia-Pacific
Latin America
Middle East & Africa

Key Market Drivers
Growth of the e-commerce sector
The e-commerce sector's explosive growth over the past several years is what is primarily driving up AMR demand in the logistics sector. For instance, Walmart's online sales increase by 300% during the beginning of the epidemic. Walmart expanded several of its stores with Market Fulfillment Centres, a sort of small warehouse, in order to handle the increase in online orders. In these centers, mobile robots are used to acquire goods and prepare them for pickup.
Another factor encouraging warehouses to deploy more mobile robots is the high cost of labor and pay. The expenditures of AMR's acquisition, installation, and maintenance are comparatively affordable. Long-term, purchasing AMRs is less expensive than paying compensation to employees.
The use of AMR in various industries is becoming considerably simpler thanks to new technologies. Utilizing fleet management software for more intelligent and adaptable navigation is one recent development in AMR. This makes it easier for AMRs to maneuver in situations that are more intricate than warehouses, such as those seen in the manufacturing industry, which has more complex operations and sectors. AMRs can see and manage pathways in real-time thanks to fleet management software, which increases flexibility.
Key Market Challenges
The cost of purchasing market tools and using the services provided by the major participants in the world market is rather significant. Small and emerging businesses lack the necessary resources to buy these robots and use them in a variety of departments and industry verticals. This is probably going to prevent the predicted growth of the market for autonomous robots.
Key Market Opportunities
Rising e-commerce industry - Due to the e-commerce sector's exponential growth, warehouse and distribution center operators may now concentrate on turning manual processes into automated ones in order to adapt to consumers' shifting purchasing habits. The U.S. Department of Commerce announced in February 2020 that 15.9% of all sales in 2019 were made online. In the end, it is helping the top e-commerce companies integrate autonomous technology throughout their fulfillment operations.
Segments Insight
Component Insights
In 2022, the hardware sector had the highest revenue share at over 68.40%. The section discusses the components that go into making the AMRs, including the controllers, encoders, wheels, brakes, motors, sensors, actuators, batteries, and power systems.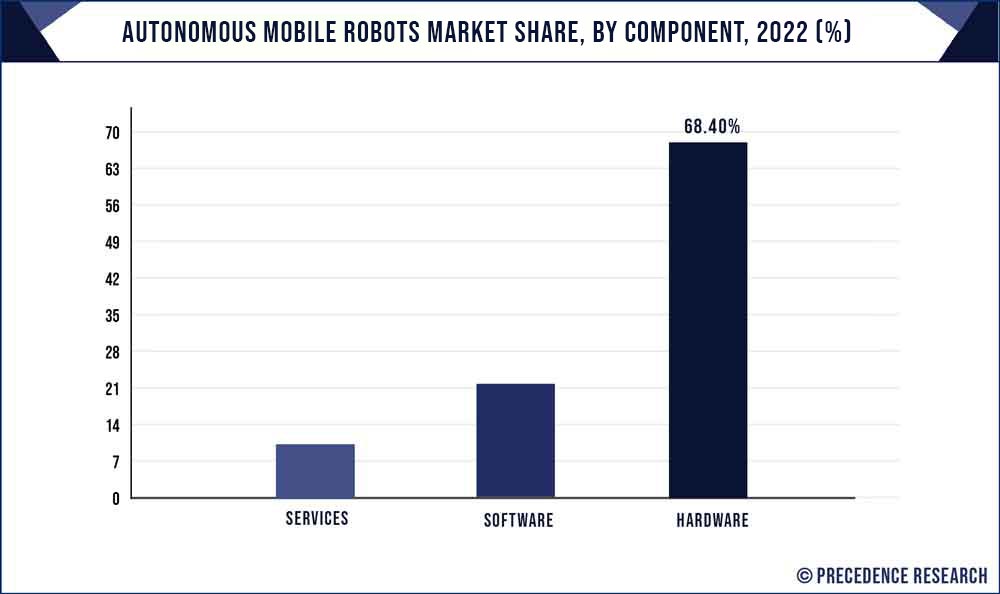 Over the projection period, the software category is anticipated to have the greatest CAGR. The section discusses the tools used to create the AMRs. Software for autonomous mobile robots comprises, among other things, motion planning, safety systems, navigation systems, control systems, fleet management systems, payload, and software for scanning and visual processing.
Type Insights
In 2022, the category for goods-to-person picking robots was responsible for more than 50 percent of the revenue share. The ongoing use of autonomous robots to replace manual picking techniques is responsible for the high share. Robots that pick up items for people can also be programmed to push carts and take a variety of paths to get the commodities from one station to another.
Autonomous mobile robotic picking systems are provided by a number of robotics firms, such as Blum, and IAM Robotics, and they may be able to bring new levels of efficiency to warehouse and industrial processes. For example, Locus Robotics, a business that automates robotic processes, asserts that their picking robots may boost production by 3 to 5 times by cutting personnel costs associated with overtime, travel time, and training expenses.
Over the course of the projection period, a noticeable shift in demand is anticipated in the self-driving forklift market. Forklifts which are self-driven are perfect for routine cargo handling tasks that frequently require traveling great distances. Automated forklifts are available from Linde Material Handling, a German producer of warehouse equipment and forklift trucks, and they come with the front as well as rear scanners, navigation lasers, auditory and visual warning signs, and 3D camera vision.
Battery Type Insights
The lead battery market sector kept the top rank in 2022 with a revenue share of more than 50%. The high percentage can be attributed to lead batteries' low-cost advantages over other battery types. Because they ensure stable voltage, high reversibility, and long useful life, lead batteries are appropriate for a range of industrial applications.
The lithium-ion battery category is predicted to have substantial growth throughout the forecast period. Compared to lead batteries, lithium-ion batteries frequently cost more. However, lithium-ion batteries deliver high-power charge and discharge while also satisfying a variety of industrial requirements, such as high energy density, exceptional temperature tolerance, and prolonged cycle life.
It is anticipated that certain advantages associated with lithium-ion batteries would persuade manufacturers of AMR to utilize them as a power source. For instance, Tennant Company, a supplier of automated floor cleaning tools, declared in April 2022 that lithium-ion batteries will be made available in its AMRs. Two benefits of the advanced battery technology employed in its autonomous mobile robots are long run times and easy maintenance. Long run times will improve cleaning effectiveness and make the most use of staff resources.
Application Insights
In 2022, the manufacturing sector had the highest revenue share at almost 77%. The substantial proportion can be attributable to the global manufacturing industry's ongoing process automation. The market is further divided into the following subsectors: FMCG, automotive, aerospace, electronics, chemicals, medicines, and plastics.
The automotive industry also had a sizable market share as a result of the aggressive adoption of AMRs for a variety of operations, including assembly, sealing, machine tending & part transfer, painting, coating, materials removal, as well as internal logistics related to automotive manufacture.
Over the projection period, it is predicted that the aerospace and military industries would display a significant CAGR. Due to the necessity to handle large-sized components like fuselages, nacelles, engine pods, and wings, production facilities related to the aerospace and military sector verticals are sometimes enormous. However, the lanes that these parts must go through to get to the production plant are frequently rather small. Aerospace and defense businesses are rapidly implementing AMRs to move bulky components inside the facility on predetermined or changing routes in order to prevent any potential accidents and mishaps resulting from human mistakes when transferring large parts through constrained spaces.
Regional Insights
With a market share of almost 30.40%, Europe dominated the market in 2022. This might be linked to the incumbents in the manufacturing industry's increasing need for material-handling tools. Growth is also being fueled by ongoing process automation in other industry verticals and sectors.
Over the projection period, Asia Pacific is predicted to experience a considerable CAGR. The use of autonomous mobile robots for warehouse inventory management is being encouraged by the expanding electronic commerce sector in Asia Pacific's rising nations. Due to the fierce rivalry that exists within the e-commerce sector as e-commerce businesses attempt to differentiate themselves by slashing the time it takes to deliver items, the adoption of AMRs is also gaining momentum.
AMRs are being used by e-commerce businesses to automate intra-logistics processes including sorting, picking, and palletizing. For instance, Hai Robotics, a producer of ACRs located in Shenzhen, raised $200M in two stock transactions in September 2021. The money will be used to modernize the robot fleet and enable it to compete on a global scale, as well as to assist supply chain management and hire new personnel.
Recent Developments
To expand its current product range and better meet the demands of its clients, Mobile Industrial Robots (MiR) released two autonomous mobile robots (AMRs) with the names MiR600 and MiR1350 in August 2020. The new mobile autonomous robots have a larger cargo capacity. The company aims to develop its business in the North American market with this launch.
The ASTI Mobile Robotics Group (ASTI), a producer of autonomous mobile robots (AMR), was bought by ABB in June 2021. ABB will be able to increase its selection of automation and robotics thanks to the purchase. The full range for the upcoming generation of flexible automation will now be offered by ABB.
Key Market Players
Material Handling Systems. (U.S.)
Fetch Robotics, Inc. (U. S.)
IAM Robotics (U. S.)
NextShift Robotics (U.S.)
Stanley Robotics (U.S.)
Robotnik. (Spain)
SESTO Robotics. (Singapore)
HAHN Robotics GmbH (Germany)
Vecna Robotics (U.K.)
AutoGuide Mobile Robots (England)
SoftBank Robotics (France)
Segment Covered in the Report
(Note*: We offer reports based on sub-segments as well. Kindly, let us know if you are interested)
By Component
Hardware
Software
Services
By Type
Goods-to-Person Picking Robots
Self-Driving Forklifts
Autonomous Inventory Robots
Unmanned Aerial Vehicles
By Battery Type
Lead Battery
Lithium-Ion Battery
Nickel-Based Battery
Others
By End Use
Manufacturing

Automotive
Aerospace
Electronics
Chemical
Pharmaceuticals
Plastics
Defense
FMCG
Others

Wholesale & Distribution

E-commerce
Retail Chains/Conveyance Stores
Others
By Geography
North America
Europe
Asia-Pacific
Latin America
Middle East & Africa (MEA)