The global logistics market size was accounted for USD 7.98 trillion in 2022 and it is expected to be worth around USD 18.23 trillion by 2030 with a noteworthy CAGR of 10.7% from 2023 to 2030. North America logistics market was valued at USD 1,971.87 billion in 2022.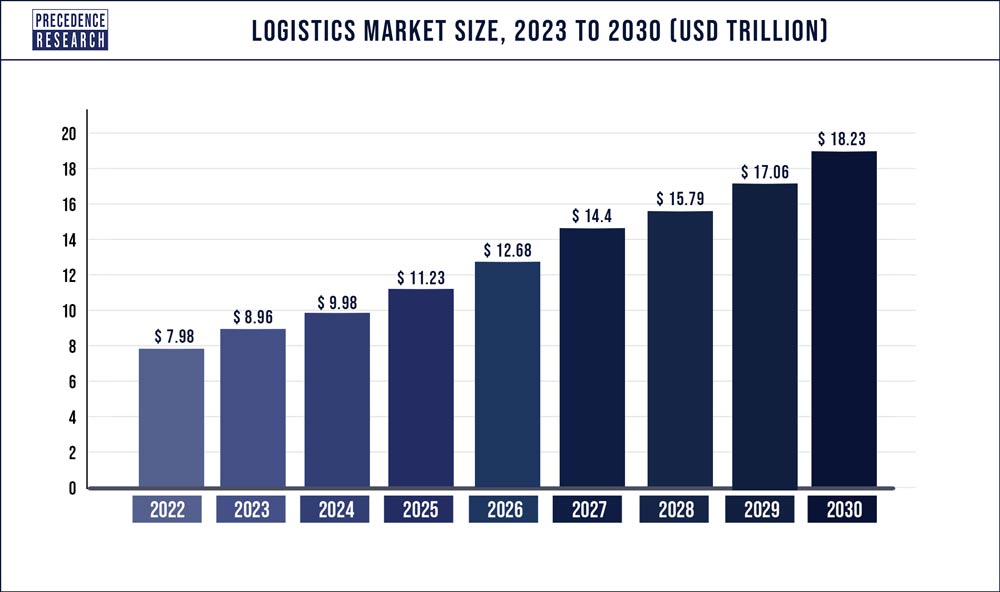 Key Points:
Asia Pacific logistics market was valued USD 3,480.71 Billion in 2022 and exhibiting a CAGR of 11.9% over the forecast period.
Europe logistics market was valued USD 1,748.34 Billion in 2022 and exhibiting a CAGR of 10.2% during the forecast period.
Oil & gas segment was valued USD 600.09 billion in 2022 and witnessing a CAGR of 12.0% from 2023-2030.
Healthcare segment valued at USD 899.54 billion in 2022 and poised to grow at a CAGR of 13.1% from 2023-2030.
Roadways segment was valued at USD 3,168.25 Bn in 2022 and is expected to reach at a CAGR of 9.7% from 2023 to 2030.
Airways segment is expected to exhibit at a CAGR of 11.7% over the forecast period.
Market Overview:
One of the key factors positively influencing the market is the booming e-commerce industry, as well as the improving availability of high-speed network connectivity. The need for effective logistics services is rising as the e-commerce industry grows. Furthermore, the market is being driven by a shift in customer preference toward online purchases.
Online retail networks provide convenient home delivery facilities, which aid in market expansion. Aside from that, manufacturers are aiming for green logistics solutions to diminish environmental impact as well as improve their business's green credentials. They also provide logistics monitoring systems that incorporate cutting-edge technologies like blockchain, artificial intelligence (AI), the internet of things (IoT), and augmented reality (AR).
Market Trends
Increasing digitization and automation
Logistics is a part of supply chain in which the process of transportation of goods, services, and related information is done from the point of origin to the point of consumption. Nowadays, the logistics industry is experiencing a significant shift toward digitization and automation. Logistic companies are increasingly adopting technologies such as internet of things (IoT), Artificial Intelligence(AI), Machine learning, and robotics to streamline operations, improving efficiency and reduce cost. This includes warehouse automation, autonomous vehicles, predictive analysis, and others.
Increasing demand for waterways transportation
Waterways transportation is also called as inland waterways transportation and it refers to movement of goods and passenger through rivers, canals, lakes, and coastal waters. Water transport is generally cost effective for transporting large volume of goods over a long distance and it has high carrying capacity. Hence, the demand for water transportation is increasing. Such a factors are driving the growth of global logistics market in the forecast period.
Report Scope of the Logistics Market
| | |
| --- | --- |
| Report Coverage | Details |
| Market Size in 2023 | USD 8.96 Trillion |
| Market Size by 2030 | USD 18.23 Trillion |
| Growth Rate from 2023 to 2030 | CAGR of 10.7% |
| Largest Market | North America |
| Second Largest Market | Europe |
| Base Year | 2022 |
| Forecast Period | 2023 to 2030 |
| Segments Covered | By Transportation Type, By Logistics Type and By End User |
| Regions Covered | North America, Europe, Asia-Pacific, Latin America and Middle East & Africa |

Market Dynamics:
Drivers
The expanding e-commerce industry and an increase in trade-related agreements will drive market growth.
E-commerce belongs to the buying and selling of goods over the internet. Shipping goods to customers is handled by third-party service providers. Logistics services are also used in the e-commerce sector to manage and oversee e-commerce businesses' supply chains, allowing these businesses to focus on marketing and other company operations.
As a result of the numerous benefits that logistics provides the e-commerce business, the adoption of these services is increasing significantly, boosting market expansion. For instance, the most recent UNCTAD (United Nations Conference on Trade and Development) study, released in April 2020, estimates that e-commerce sales reached $25.6 trillion in 2018, equivalent to 30% of GDP.
In 2018, B2B e-commerce was worth $21 trillion, accounting for 83% of all e-commerce, while B2C e-commerce was worth $4.4 trillion. Cross-border sales and rapid customer expansion are credited with the expansion. According to one report, over 1.4 billion people made online purchases in 2018, with the US, China, and Japan dominating consumer e-commerce sales.
During the predicted period, the global logistics market is expected to grow due to the emerging popularity of outsourcing in multinational corporations (MNCs) to distribute and manufacture on a global scale.
Logistics provides numerous benefits, including improved delivery performance, lower operational costs, and higher levels of customer satisfaction. As a result, many manufacturers and retailers around the world consider it a critical aspect of their business. Additionally, it contributes to an organization's competitiveness in terms of flexibility, delivery, quality, and cost.
Globalization is a new factor driving market growth, with many multinational corporations outsourcing logistics results. Furthermore, logistics enables organizations to separate different stages of a manufacturing process across multiple countries. It further reduces the total cost of manufacturing.
Restraints
Inconsistent governance standards
To increase profitability and viability, transportation and logistics companies around the world are concentrating on improving supply chain efficiency. Common governance guidelines are necessary for the logistics sector.
The lack of government involvement and the absence of regional organizations, that may actively launch and coordinate global logistics standardization activities, has hampered the level of logistics standardization in European nations like the United Kingdom, Germany, and France. Every vendor is able to offer the majority of solutions in one package due to the common standardization in logistics management.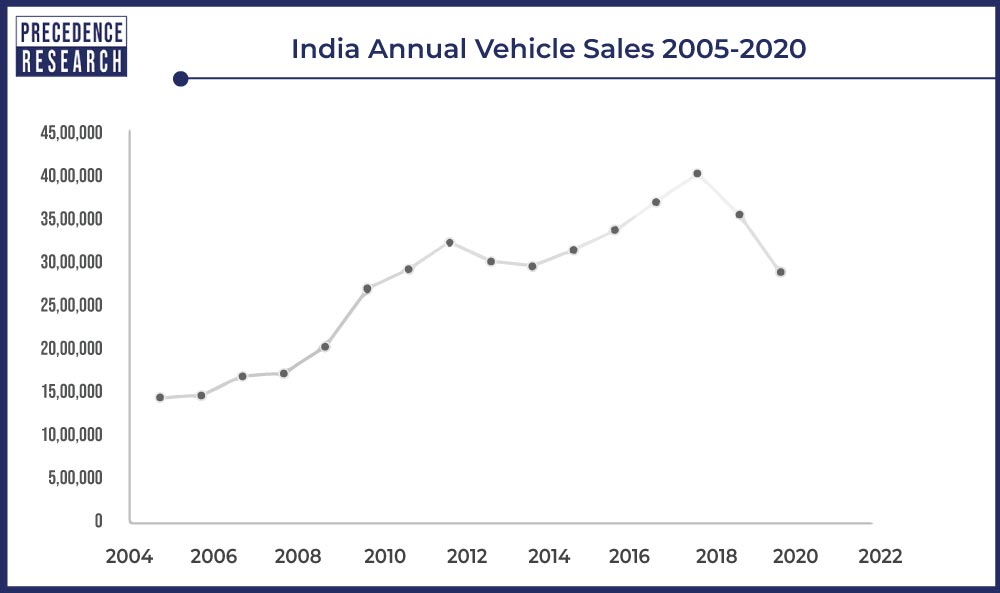 Opportunity
The introduction of warehouse management systems (WMS) opens new business opportunities.
Many businesses lack a Warehouse Management System (WMS) or have a WMS that does not have features such as directed put away, interfacing with a TMS or ERP system, and zone picking. WMS upgrade is expected to increase in future years as companies focus on improving these services.
For instance, Manhattan Associates launched a novel Manhattan Active Warehouse Management solution in May 2020, a cloud-native corporate warehouse management system that unifies all factors of distribution without requiring any upgrades.
Impact of COVID-19:
The pandemic had an adverse impact on the Logistics Market with regard to the industries. Major corporations have postponed operations in various locations due to the lockdown as well as social distancing norms. Following the pandemic, the industry expects a surge in requirements and demand as a result of rapid urbanization and the growing need to make efficient use of available space. This led to an expansion in the logistic market post-COVID.
Segments Insight
Transportation Type Insights
In 2022, the roadways segment held the majority share. The roadways segment has grown in response to increased demand for roadway vehicles to transport retail products over long distances, particularly in domestic markets. When choosing road transportation, retail businesses use trucks and cargo with large carrying capacities.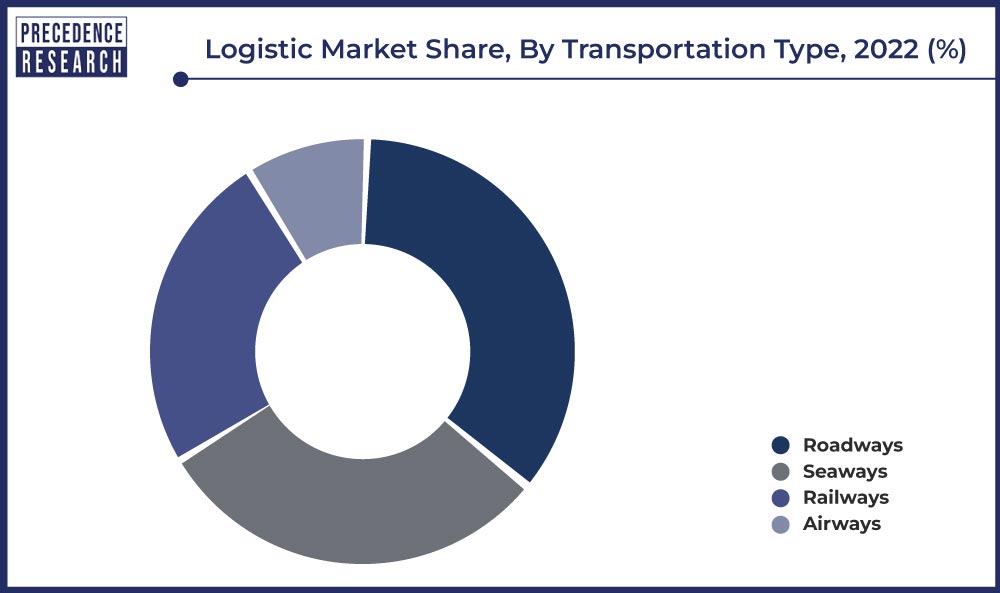 Furthermore, improved road connectivity in developing nations, as well as excellent road connectivity in all developed countries, is vital in driving the expansion of the highway mode of transportation. Most tier 2, as well as tier 3 cities in various countries, are well linked by roadways, allowing retail logistics companies to deliver and pick up products. This trend is anticipated to continue in the upcoming years due to advancements in road transportation systems and the improvement of highways around the world.
On the other hand, the waterway sector was the fastest-growing segment in 2022. Water transport is a transportation mode that uses ships as well as boats which have the ability to float on water surfaces to transport people, goods, barges, and freight. The aforementioned mode of transportation is less pricey than air, rail, and road transportation, and it is beneficial in international trade for transporting heavy goods over long distances.
It is also utilized to defend navies' borders in military operations. Sensor technologies are increasingly being used by water transportation service providers to monitor ships in remote locations. The sensor's data allows ship owners to improve the overall maintenance cycle of visits, which includes condition monitoring and condition-based monitoring. NoraSens and Silicon Radar, for example, are two companies that make sensors for ships.
Logistics Type Insights
Third-party logistics dominated the market in 2022 and is expected to grow at the fastest rate during the projected period, 2023-2030. Third-party logistics outsource the management of multiple supply chain operations. The ability of third-party logistics to reduce overall distribution and warehousing costs allows for greater flexibility. As a result, providing outsourced services to handle various supply chain functions has a positive impact on market growth.
The growing need for outsourcing major logistics and transportation services to decrease shipping costs as well as manage delivery span is attributed to being widely used in the retail, telecommunications, automotive, construction, e-commerce, manufacturing, food and beverage (F&B), and hospitality industries. As a result, the market is currently expanding.
Furthermore, the second-party logistics sector was the fastest-growing segment in 2022. Second-party logistics is the transportation of goods from one supply chain transport area to another, such as rail, road, sea, or air. Second-party logistics providers are asset-based carriers that include transport via their ships and contracted airlines. They are primarily used for international transportation of heavy and wholesale goods, as well as for trading. By utilizing a second party, the company frees up time and resources to focus on other aspects such as growth. They may also save money by not hiring additional staff and trucks to handle their deliveries.
End User Insights
Application segmentation of the logistics market includes industrial and manufacturing, oil and gas, retail, and healthcare. The industrial and manufacturing sector ruled the market in 2022 and is expected to be the fastest-growing segment between 2023 and 2030 as logistics improve efficiency and productivity while lowering costs and enhancing consumer satisfaction. The anticipated growth in the segment is due to a rise in the need for industrial manufacturing facilities.
On the other hand, the healthcare sector was the fastest-growing segment in 2022. Healthcare logistics is a critical component of the medical system since medical devices and pharmaceuticals need to be transported and handled with extreme care. Healthcare logistics is a subgroup of logistics services that deal with storing, transporting, delivering, and handling medical products from the production unit to the final destination.
Increased consumption and production of pharmaceutical drugs as well as innovative medical devices, in addition to intense development in the target patient group, are predicted to drive expansion in the healthcare logistics sector over the projected period.
Regional Insights
North America is anticipated to grow at a significant CAGR during the analysis period. The region's growth can be attributed to the existence of a well-developed infrastructure in terms of road and rail connectivity. The US is the primary logistics market, with a highly combined supply chain network that connects consumers and producers through various modes of transportation such as express and air delivery services, rail, truck transport, and maritime transport.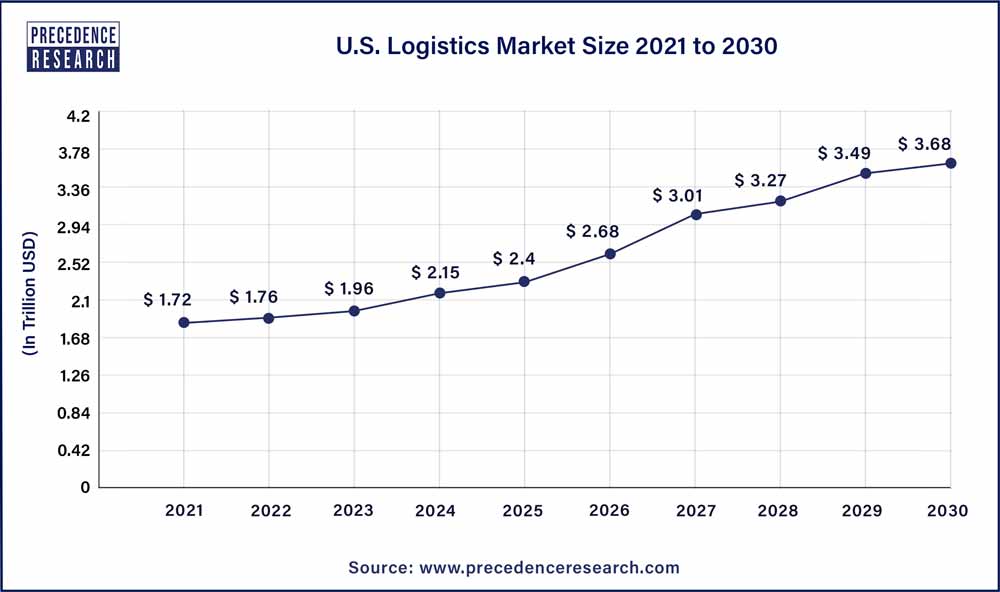 In 2022, the Europe logistics market accounted for the second-largest market share. The market's growth is being fueled by expanding e-commerce trends as well as a region that is becoming increasingly reliant on it. Additionally, European countries are financing logistics research and development.
Furthermore, the region's labor availability and potential infrastructure provide European nations with a profitable opportunity to propel this division. Furthermore, the logistics market in Germany had the largest market share, while the logistics industry in the United Kingdom was the fastest-expanding market in the European region.
Logistics Market Revenue, By Region, 2022-2030 (US$ Billion)
| | | | | |
| --- | --- | --- | --- | --- |
| By Region | 2022 | 2023 | 2027 | 2030 |
| Asia Pacific | 3480.70 | 3952.34 | 6633.62 | 8684.20 |
| Europe | 1748.34 | 1955.51 | 3090.40 | 3860.00 |
| Latin America | 455.05 | 502.60 | 755.35 | 907.13 |
| Middle East & Africa | 327.32 | 359.22 | 526.35 | 619.72 |
| North America | 1971.87 | 2193.70 | 3393.21 | 4167.76 |
Recent Developments:
United Parcel Service Inc. acquired the Bomi Group, a European company specializing in temperature-controlled transport and warehousing, in November 2022.
H. Robinson paid $225 million for Prime Distribution Services in January 2020. The acquisition includes 2.6 million square feet of warehouse space and provides the corporation with retail consolidation services such as distribution, fulfillment, and inventory control.
Key Market Players
United Parcel Service Inc. (UPS)
MOLLER – MAERSK
DSV (DSV Panalpina)
Robinson Worldwide Inc.
FEDEX
Kuehne+Nagel
GEODIS
Nippon Express
Segments Covered in the Report
(Note*: We offer report based on sub segments as well. Kindly, let us know if you are interested)
By Transportation Type
Airways
Waterways
Railways
Roadways
By Logistics Type
First Party
Second Party
Third Party
Contract Logistics

Freight Forwarders
Asset-based logistics provider
Contract Warehousing
Providers
Others
By End User
Industrial and Manufacturing
Retail
Healthcare
Oil & Gas
Others
By Geography
North America
Europe
Asia-Pacific
Latin America
The Middle East and Africa