The global transportation services market size was exhibited at USD 7.31 trillion in 2022 and is projected to hit around USD 15.94 trillion by 2032, growing at a CAGR of 8.11% during the forecast period 2023 to 2032. The Asia-Pacific was the largest region in the transport services market in 2022.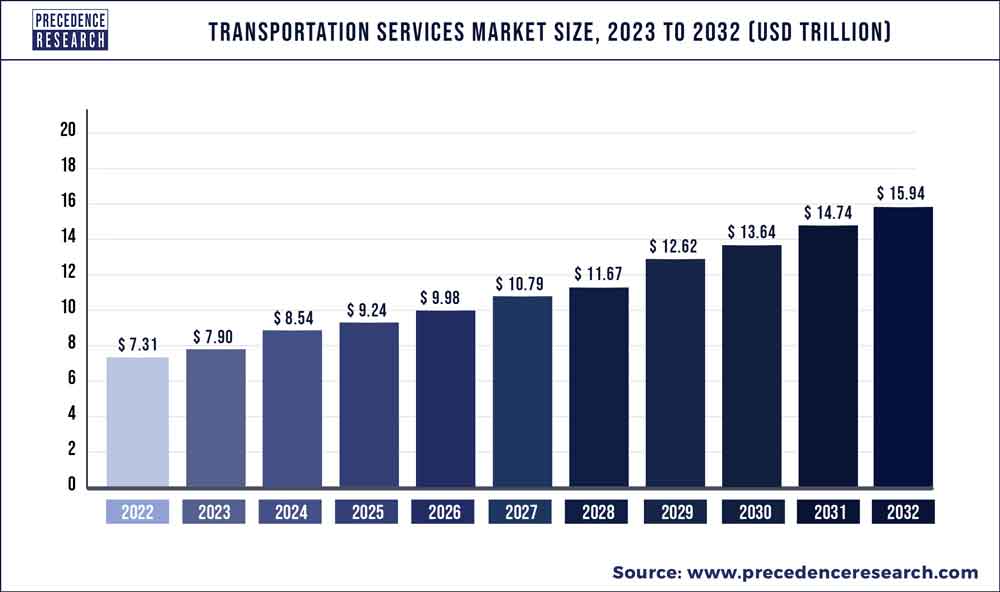 Market Overview
The market for transportation services includes companies (organizations, sole proprietors, and partnerships) that move people and products from one place to another in exchange for a fee or payment. The transportation services industry includes businesses that offer services to transfer people, commodities, and materials via pipelines, rails, and roads.
To minimize expenses and reduce carbon emissions, businesses are actively pursuing electric bus power. Solar buses are powered by electric batteries, occasionally recharged by solar panels mounted on the bus's top. This extends the life of lithium batteries and enhances the vehicle's fuel efficiency. Additionally, the system features parts that require less maintenance, saving businesses money. BYD Company, Kiira Motors, Heilongjiang QiqiarLonghua New Energy Automobile Co., Ltd., Yutong, Bauer's Intelligent Transportation, and Volvo buses are some of the major manufacturers of electric buses.
The expansion of the transportation services market is supported by the steady economic growth anticipated in many developing and developed nations. According to forecasts from the International Monetary Fund (IMF), global GDP growth will be 3.3% in 2020 and 3.4% in 2021. It is also likely that recovering commodity prices, which experienced a considerable decrease in the recent past, will support market expansion. Additionally, consistent growth is likely in developed economies over the predicted period. Additionally, emerging markets will likely grow faster during the projected period than developed markets. Investments in end-user markets will likely rise due to stable economic expansion, propelling the market throughout the forecast period.
In the United States, the market for transportation services will likely reach US$1.7 trillion by 2020. The second-largest economy in the world, China, is anticipated to grow at a 6.2% CAGR from 2020 to 2027 to achieve a projected market value of US$1.6 trillion. Canada and Japan are two geographic markets that are more notable, with growth rates of 1% and 2.6%, respectively, predicted for the years 2020–2027. Germany will likely grow in Europe at a CAGR of roughly 1.7%. By 2027, the market in Asia-Pacific will likely reach US$1.1 trillion, led by nations like India, Australia, and South Korea.
The United States, Canada, Japan, China, and Europe will propel the segment's predicted 3.2% CAGR in the worldwide truck transportation market. By the end of the analysis period, these regional markets will account for a market size of US$1.1 trillion in 2020 and will likely grow to US$1.3 trillion. China will continue to have one of these regional marketplaces with the strongest growth rates. Latin America will grow at a 4% CAGR for the analysis.
Report Scope of the Transportation Services Market
| | |
| --- | --- |
| Report Coverage | Details |
| Market Size in 2023 | USD 7.90 Trillion |
| Market Size by 2032 | USD 15.94 Trillion |
| Growth Rate from 2023 to 2032 | CAGR of 8.11% |
| Base Year | 2022 |
| Forecast Period | 2023 to 2032 |
| Segments Covered | By Purpose, By Destination, and By Type |
| Regions Covered | North America, Europe, Asia-Pacific, Latin America and Middle East & Africa |

Impact of Covid-19
In 2020, the transportation services market was severely constrained by the coronavirus disease (COVID-19) outbreak, which resulted in lockdowns and restrictions on the movement of people and commodities. National governments' efforts to stop the spread have decreased economic activity, caused several countries to go into "lockdown," and hurt enterprises throughout 2020 and 2021. The market for transportation services has begun to bounce back from the shock, though.
The pandemic also impacted the supply side of the transportation services market. Many transportation companies had to reduce their operations or suspend services completely due to restrictions and lack of demand. Some companies also faced financial challenges due to the reduced revenue and increased costs associated with implementing safety measures to protect passengers and employees.
Market Dynamics
Market Driver
Rising penetration towards enhancing the capacity of transportation modes and infrastructure is one of the major factors contributing to the growth of the industry. Moreover, increasing improvement in using advanced and better technology is also propelling market growth. Transportation companies are offering various services to the open market that further beholds the enhance the market development. Surging demand for transportation from various industries such as institution and economy is also helping the market to grow.
Market Opportunity
Stable economic growth in various developing and developed countries is expected to create lucrative opportunities in the transportation services sector. Rising investment in end user market along with emerging key players is also expected to boost the industry share. Companies are making continuous efforts to switch towards the electric transportation in order to reduce the carbon emission will expand the market revenue.
Market Restraints
The massive destruction caused due to the outburst of corona virus pandemic is likely to restrain the growth of the market. Restrictions imposed on the free movement of goods and people along with lockdown in various countries to reduce the transmission of deadly virus have declined the market growth. The virus was initially identified in china spread to the various part of the world. However, the market is expected to re-gain its growth during the coming year.
Transportation Services Market By Type
The market for transportation services includes public buses, electric buses, subways, taxis, auto rickshaws, ferries and other public transport vehicles. People and goods are moved between locations using waterways in "water transport."
Transportation Services Market By Region
Due to an increase in the manufacture and sales of passenger vehicles in China, South Korea, and India, the Asia Pacific region will likely account for a sizable portion of the global market for public transportation services.
Strong economies are present in Asia, including China, India, Japan, and South Korea. The demand for cargo transportation, material handling, and public transportation is growing due to the expansion of the e-commerce sector and the presence of a well-established supply chain network serving various industries, including shipbuilding, automotive, consumer goods manufacturing, and heavy machinery manufacturing. As a result, the area's market for public transportation services is anticipated to grow.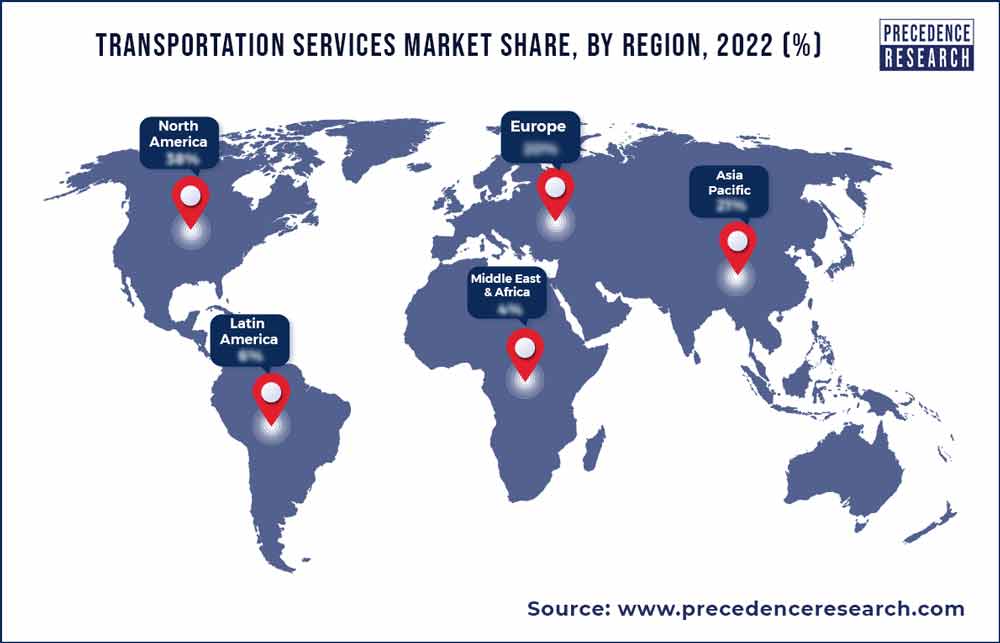 However, the market will experience a decline in 2020 as a result of supply chain disruptions affecting several industries as a result of manufacturing and production facility closures and a scarcity of raw materials brought on by the global coronavirus pandemic. The coronavirus outbreak has affected the market for public transportation services. In 2021, it was projected that the market would improve due to higher component and vehicle production volumes. In turn, this will likely present substantial potential for market participants in the public transportation service supply chain during the projected period.
Key Companies and Competitive Intelligence
The strength of the global economy, which influences commodity trade, manufacturing output, consumer and corporate spending, and leisure and business travel activity, has a significant impact on the transportation services industry. Since many expenditures are fixed, effective operations and favorable fuel and labor prices affect a company's profitability. Large businesses benefit from economies of scale in buying and have the capacity to offer a wider range of services. By providing services to local or regional markets, small businesses can compete.
Due to the presence of leading producers, the market for public transportation services worldwide is extremely consolidated. Several significant participants in the market for public transportation services include:
Chicago Transit Authority
Bay Area Rapid Transit
Cosmatis
Consat
Digigroup
Cubic Transportation Systems
GMV
GIRO
GrupoEtra
Goal Systems
Indra
Guangzhou Metro
IVU
INIT
Madrid Metro
Link Technologies
Metropolitan Transportation Authority
Massachusetts Bay Transportation Authority
MTR Corporation
Seoul Metro
Prodata Mobility Systems
The Washington Metropolitan Area Transit Authority
The San Diego Metropolitan Transit System
Transport For London
Segments Covered in the Report:
(Note*: We offer report based on sub segments as well. Kindly, let us know if you are interested)
By Purpose
Commuter Travel
Tourism and Leisure Travel
Business Travel
Cargo and Freight Travel
Shipping and Delivery Travel
By Destination
By Type
Public Buses
Electric Buses
Subways
Taxis
Auto Rickshaws
Ferries
Other Public Transport Vehicles
By Geography
North America
Europe
Asia-Pacific
Latin America
The Middle East and Africa