The global on-demand transportation market was estimated at USD 120.85 billion in 2020 and is projected to reach over USD 701.1 billion by 2030, estimated to grow at a noteworthy CAGR of 19.25% owing to the growing use of smartphones and increase in traffic congestion caused by the increased number of cars.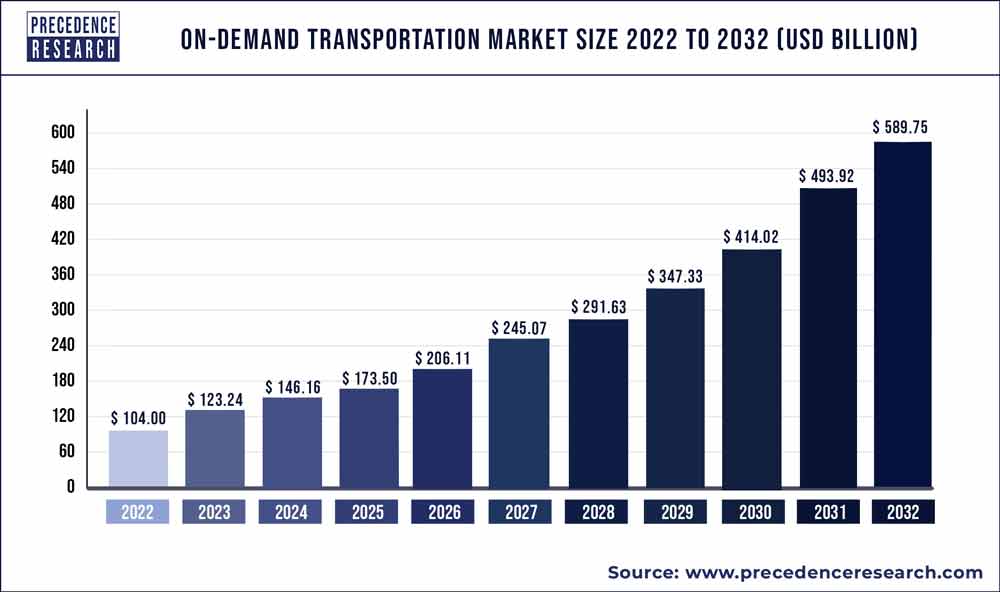 Growth Factors
To efficiently coordinate and manage transportation systems, on-demand transportation heavily relies on artificial intelligence and information technology. Artificial intelligence (AI) is a critical technology for self-driving systems because it is the only technology that enables reliable and real-time recognition of objects in the vehicle's environment. Furthermore, the function of an on-demand transportation network allows travelers to be aware of traffic for better coordination and to ensure the safety of vehicle drivers. In addition, the increase in traffic congestion caused by the increased number of cars is expected to accelerate the development of on-demand transportation.
Passenger transportation, on the other hand, is often optional (for both leisure and business travel) and is more influenced by people's decision-making processes.
Scope of the On-Demand Transportation Market Report
| | |
| --- | --- |
| Report Highlights | Details |
| Market Size in 2030 | USD 701.1 Billion |
| Growth Rate | CAGR of 19.25% from 2021 to 2030 |
| Largest Market | Asia Pacific |
| Fastest Growing Market | North America |
| Base Year | 2021 |
| Forecast Period | 2021 to 2030 |
| Segments Covered | Service Type, Vehicle Type, Region |
| Companies Mentioned | BMW Group, Daimler Group, Ford Motor Company, General Motor Company, Gett, Inc., Robert Bosch GmbH., NI Technologies Pvt. Ltd. (OLA), Lyft Inc. |
Service Type Insights
Car rental is expected to be the largest segment in terms of market share among various on-demand transportation services in 2020.
The ride sharing is emerging as the new trend in the on-demand transportation market in addition to ride-hailing. The Uberpool and Lyft provides such platform which will be beneficial for the customers due to low costing. In most geographic areas, e-hailing solutions (ride-hailing platforms) are ubiquitous. Although they still represent a small percentage of trips taken in cities – ride-hailing trips are reported to account for only about 1% of total kilometers travelled worldwide – they are expected to grow rapidly and have a growing impact on urban mobility systems as users adapt to the new paradigm. E-hailing has grown much faster in recent years than other forms of shared mobility, such as car sharing, bike sharing, and carpooling.
In Los Angeles, for example, the average travel time is 53.68 minutes. Britons have the longest commute in Europe, lasting up to 45 minutes. As a result, several governments are pushing ridesharing systems.
Vehicle Type Insights
The four-wheeler segment provides advantages such as reduced noise pollution and a more comfortable driving experience, which is critical in developed countries. Rising consumer disposable income in countries such as India and China are also helping to drive growth. Thus, the four-wheeler segment has the major share in the on-demand transportation market.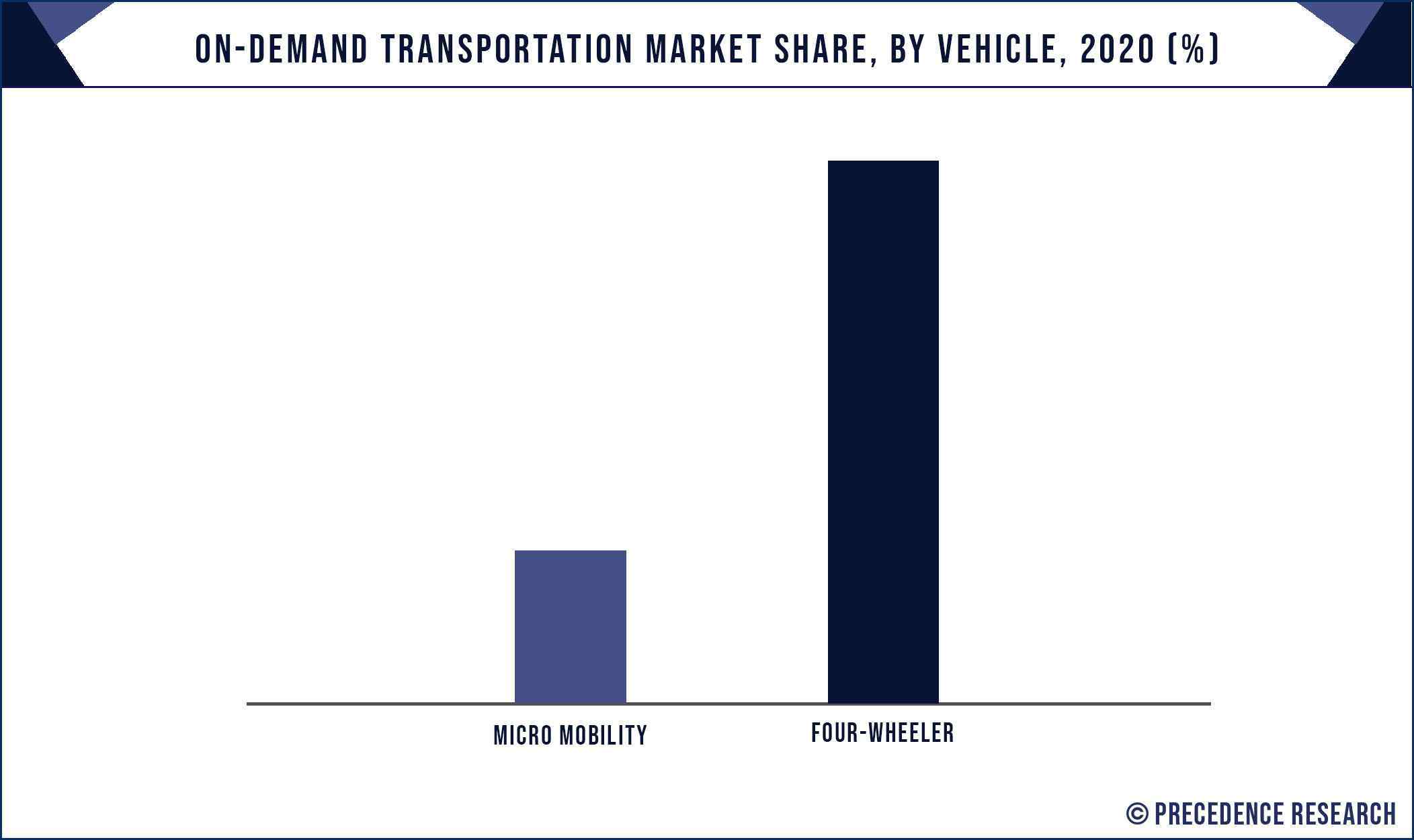 Micro mobility has numerous advantages, including lower fuel consumption and greater mobility flexibility. Furthermore, it allows for improved cost and energy efficiency, which encourages users to choose this vehicle type. Over the forecast period, users are expected to adopt micro-mobility as environmental regulations become more stringent and traffic congestion worsens. As a result, the segment is expected to grow at the fastest CAGR between 2021 and 2030. Micro-mobility sharing, such as two-wheeler, e-bike, and e-scooter sharing, is gaining traction in developing countries such as China and India. Several new companies are entering the on-demand transportation sector by providing car booking services via smartphone. On the other hand, global corporations such as BMW Group, Daimler AG, Uber Technologies, and OLA dominate the market.
Regional Insights
During the forecast period, Asia Pacific is expected to hold the largest share of the On-Demand Transportation market. The Asia-Pacific region act as a platform for reporting on transportation infrastructure and services provision, regional, urban, and rural connectivity difficulties; and public health issues such as road safety and pollutant emissions.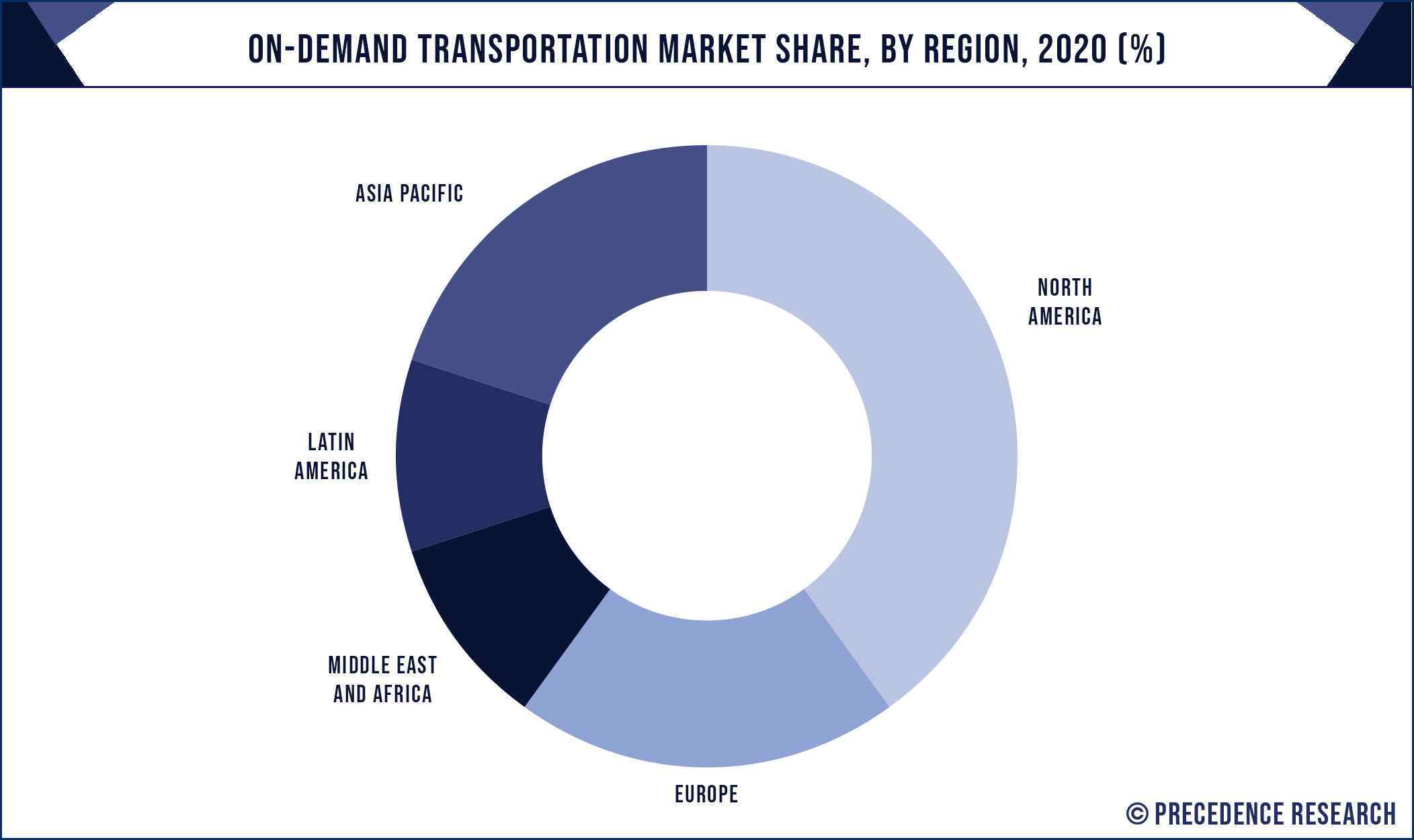 Advances in IT infrastructure, as well as millennials' increased use of car-sharing services, are expected to drive the adoption of on-demand transportation services in Europe. Due to increased traffic and fuel prices, Asia Pacific is expected to grow significantly over the forecast period. Government initiatives, such as the Land Transport Authority of Singapore's Smart Mobility 2030 plan, are also expected to boost market growth.
Key Companies & Market Share Insights
With increasing competition in the transportation sector, companies involved must deploy new existing technologies and significantly improve the quality of their services in order to stay in business. The rise of mobility-as-a-service has primarily manifested the need to make travel easier and less stressful (MaaS). However, a number of new transportation industry trends, when combined and aimed at minimizing stoppages or checkpoints, result in this one major shift to integrated travel and transportation. Several players have introduced driver-training and development programs, as well as incentive packages. Uber's EV champion effort, a pilot program to reward its drivers to utilize EVs or plug-in hybrids, is a nice example. In exchange, the project provides drivers with monetary subsidies and instructional initiatives. Lyft's collaboration with Avis gives Lyft drivers with on-demand Avis car rentals at discounted pricing, allowing people to become Lyft drivers without the cost and hassle of car ownership.
Some of the major players in the On-Demand Transportations market include:
International Business Machines Corporation (IBM)

BMW Group

Daimler Group

Ford Motor Company

General Motor Company

Gett, Inc.

Robert Bosch GmbH.

NI Technologies Pvt. Ltd. (OLA)

Lyft Inc.

Grab

Careem

Uber Technologies Inc.

Taxify OÜ

BlaBlaCar

Wingz Inc.

Curb Mobility
Segments Covered in the Report
By Service Type
E-Hailing

Car Sharing

Car Rental

Station-Based Mobility
By Vehicle Type
Four-Wheeler

Micro Mobility
By Geography
North America

Europe

Asia Pacific

China

India

Japan

South Korea

Rest of the World