The global micro-mobility market size was valued at USD 3.50 billion in 2022 and is expected to reach over USD 11.83 billion by 2032, poised to grow at a notable CAGR of 13% from 2023 to 2032.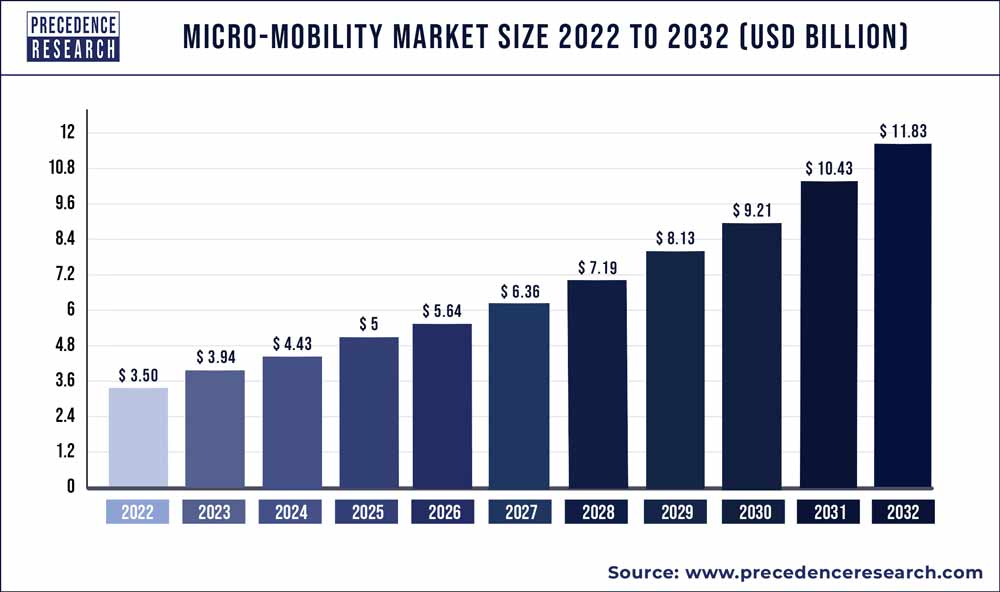 Access our Premium Real Time Data Intelligence Tool, Visit: Precedence Statistics

Micro-mobility Market Size in the Asia Pacific 2023 To 2032
The Asia Pacific micro-mobility market size reached USD 1.58 billion in 2022 and is projeted to be worth around USD 5.37 billion by 2032, growing at a CAGR of 13.10% between 2023 to 2032.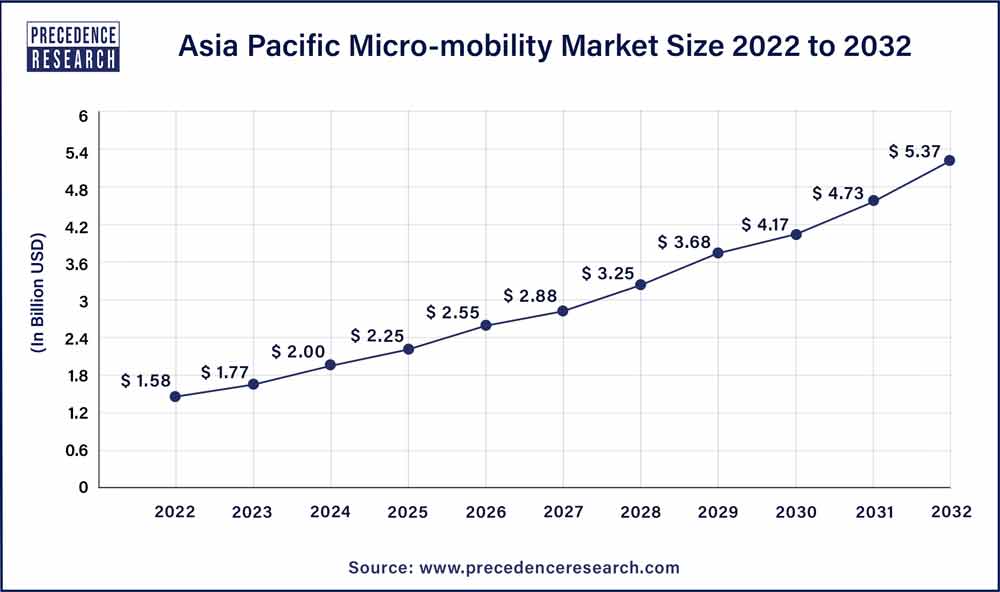 Based on the region, the Asia-Pacific region accounted 45.5% revenue share in 2022. The governments in countries such as China, Japan, and India are establishing standards and regulations for vehicle charging infrastructure, which is likely to boost regional market growth. Furthermore, over the projection period, Asia-Pacific is expected to be the fastest-growing regional market.
The North America segment is expected to hit remarkable CAGR during the forecast period. The consumer engagement, which can be measured using a variety of metrics such as performance, maintenance costs, and durability, is a critical consideration for businesses looking to keep or gain new consumers. The key market players are attempting to attract customers during the introduction of any automobile, on the other hand, focus on two primary factors such as design, style, and specifications.
Growth Factors
The micro-mobility refers to a class of small, light weight vehicles that travel at a maximum speed of 15 miles per hour and are excellent for travelling within a 10km radius. The electric bikes, bicycles, electric skateboards, electric scooters, and electric pedal assisted bicycles are all examples of active transportation. The continuous advancements in smart cities and automotive infrastructure around the world have offered several prospects for the global micro-mobility market to thrive. Furthermore, the existence of various service provider firms, as well as their investments and development goals, has enticed many small vehicles fleet owners to join hands in favor of the micro-mobility market.
The increased demand for ridesharing in metropolitan areas is driving factors for the micro-mobility market. The micro-mobility vehicles have a number of advantages, including their compact size, restricted passenger capacity, light weight, and ease of use.
The light vehicles employ the micro-mobility form of transport. The micro-mobility vehicles are miniature vehicles that are utilized for short distances. Some micro-mobility vehicles include bicycles, and electric vehicles. The micro-mobility vehicles are useful in a variety of situations nowadays. The widespread use of micro-mobility vehicles in commercial companies is well-known. The micro-mobility vehicles are becoming increasingly popular.
The factors such as the growing popularity of on-demand transportation services, government initiatives for smart cities, and an increase in venture capital and strategic investments all contribute to the global micro-mobility market's expansion.
However, the global micro-mobility market's growth is hampered by a low rate of internet penetration in developing nations and an increase in bike theft or damage. Furthermore, sophisticated transportation systems and increased government initiatives to establish bike sharing infrastructure are likely to open up several prospects for the global micro-mobility market to expand during the forecast period.
Sharing a ride is the most common kind of micro-mobility, and it causes passengers to lose their privacy while traveling. As a result, many customers are not interested in ridesharing services. Due to strong opposition from local taxi companies, some nations throughout the world, notably Germany and Japan, have prohibited ridesharing services.
Scope of the Micro-mobility Market
| | |
| --- | --- |
| Report Coverage | Details |
| Market Size in 2023 | USD 3.94 Billion |
| Growth Rate From 2023 to 2032 | CAGR of 13% |
| Revenue Projection by 2032 | USD 11.83 Billion |
| Largest Market | Asia Pacific |
| Fastest Growing Market | North America |
| Base Year | 2022 |
| Forecast Period | 2023 to 2032 |
| Segments Covered | Vehicle Type, Battery, Voltage, Region |
| Companies Mentioned | Beijing Mobike Technology Co. Ltd, Micro Mobility Systems, Dynamic Bicycles, Skip Transportation, Bird Rides Inc., Scoot Network, Easymile SAS, DoorDash, GoBike, GoJek |
Vehicle Type Insights
Based on the vehicle type, the electric bicycle segment accounted 85% revenue share in 2022. Several countries are attempting to increase the usage of electric bicycles through regulatory and subsidy changes in order to relieve pressure on public transit networks. Furthermore, when compared to other modes of transportation such as buses and taxis, electric bicycles are simple to charge, economical, and do not necessitate significant infrastructure investments. As a result, there has been a surge in demand for electric bicycles all over the world.
The electric kick scooters segment is expected to grow at a CAGR of 10.5% during the forecast period. Due to huge expenditures by market players in the electric scooter-sharing business, which is still in its early stages, demand for these scooters has surged during the forecast period.
Battery Insights
Based on the battery, the sealed lead-acid segment accounted 55.1% revenue share in 2022 and predicted to grow at a CAGR of 13% during the forecast period. The manufacturers favor these batteries because they are more cost-effective. Their low self-discharge capabilities and ease of manufacture are also driving their adoption of electric vehicles.
On the other hand, the Li-Ion is estimated to be the most opportunistic segment during the forecast period. The increased knowledge of the benefits of using environmentally friendly batteries over sealed-lead acid and NiMH batteries has boosted demand for Li-Ion batteries.
Voltage Insights
Based on the voltage, the 24V segment dominated the market with revenue share of 75.5% in 2022. The micro-mobility vehicles, such as bicycles, scooters, skateboards, often employ 12V or 18V rechargeable batteries that supply adequate power for their motors and have a shorter range than other vehicle types.
On the other hand, the 36V is projected to reach at a CAGR of 14.5 during the forecast period. The use of 36V systems in electric vehicles not only extends the range of the vehicle but also improves its performance. When compared to sealed lead-acid batteries, NiMH and Li-Ion batteries are the most popular 36V batteries since they are compact, have a faster charging time, and do not emit dangerous chemicals.
Key Companies & Market Share Insights
The micro-mobility market has a fair amount of competition. However, throughout the foreseeable term, competition is expected to increase substantially. The micro-mobility market's competitive landscape comprises new advancements, expansion strategies, and growth opportunities. The revenue rate of the micro-mobility market will increase as new products are introduced.
Some of the prominent players in the global micro-mobility market include:
Beijing Mobike Technology Co. Ltd
Micro Mobility Systems
Dynamic Bicycles
Skip Transportation
Bird Rides Inc.
Scoot Network
Easymile SAS
DoorDash
GoBike
GoJek
Segments Covered in the Report
By Vehicle Type
Electric Kick Scooters
Electric Skateboards
Electric Bicycle
By Battery
Sealed Lead Acid
NiMH
Li-Ion
By Voltage
Below 24V
36V
48V
Greater than 48V
By Geography
North America
Europe
Asia-Pacific

China
India
Japan
South Korea

Rest of the World