The global advanced aerial mobility market size was estimated at USD 7.29 billion in 2021 and is expected to hit around USD 45.12 billion by 2030 and is poised to grow at a compound annual growth rate (CAGR) of 22.45% during the forecast period 2022 to 2030.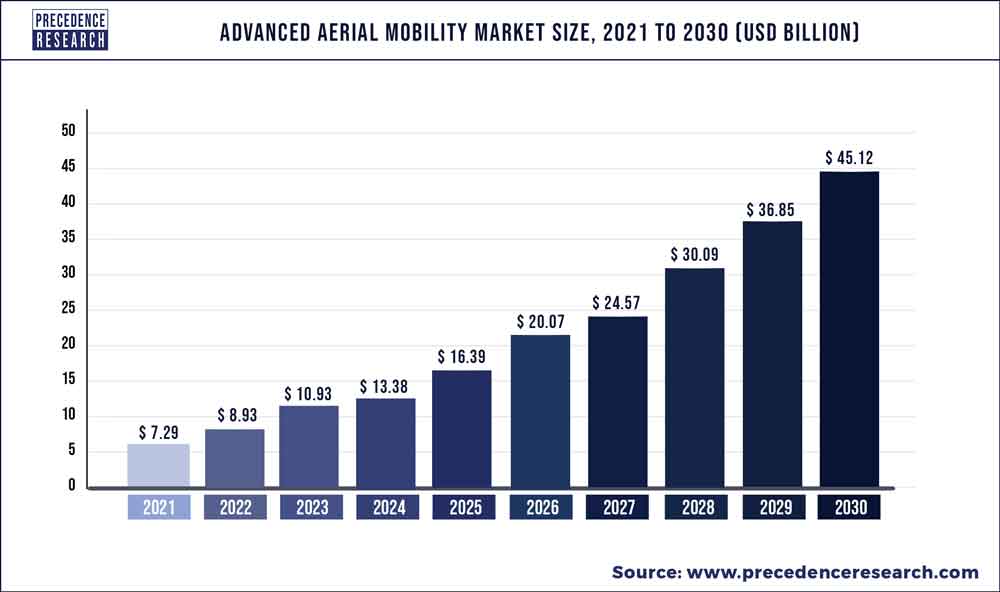 To move individuals and goods in developing aircraft marketplaces, increasing air mobility aids in the development of secure, affordable air transportation networks. Enhanced aerial mobility will enable operators to do quiet, dependable, and secure vertical flights. Air transportation, which refers to a specific type of vehicle that can function on both the ground and the air depending on the situation, is regarded as a recent advance in urban transportation.
Unmanned systems are poised to become the next generation of transportation infrastructure thanks to recent technical advancements, which will alter the transportation industry's view in the nourish term. Improved aerial transportation has been significantly hampered by the COVID-19 pandemic's unexpected increase. Because of lockdowns and other limitations, the spreading of coronavirus in wealthy nations like the United States and the UK was anticipated to harm facilities for research and development for enhanced aerial transportation. Enhanced aerial movement remains in its early stages, and it is nearly difficult to foresee how COVID-19 infections will be controlled.
Leading market participants, meanwhile, are concentrating on strategic cooperation to begin testing and certification as quickly as possible. Considering the effects of the epidemic, the participants in the sophisticated airborne movement arena have demonstrated their capacity to adapt and develop in challenging circumstances. The next-generation commuting option is the flying automobile, which can serve as private transportation and a means of air travel.
Furthermore, because of operational and architectural constraints in the urban commuting system, the plurality of self-driving cars is anticipated to include vertically launching and landing technologies. Flying cars were anticipated to be employed on both a personal and professional level to accommodate shifting commuting needs, particularly in urban regions. In comparison to other forms of transport, flying vehicles and commercial drones have higher testing and development expenses since they call for the fusion of numerous advanced technologies.
Growth Factors
The market for enhanced aerial transportation is expanding quickly on a global scale. One of the main factors driving the international industry's expansion is the increase in end-user demands for time-efficient courier companies and an expanding urban transportation perspective. The implementation of automation and robotics, customer preference for digitally enhanced technology, and technology advances in aircraft all aid in the expansion of the enhanced aerial transportation market across the globe.
Furthermore, as a result of rising ecological problems and road congestion, rapid urbanization and industrialization call for affordable and effective different transportation alternatives. Policies and guidelines must be passed by policymakers to support urban commuting alternatives. As a result, there is a growing market for airborne transportation, which will be very helpful in many places. Postal and courier businesses are permitted to use aircraft to speed up courier services by aviation agencies all over the world.
The market is anticipated to grow as more people embrace drone-based, based delivery technologies, that increase efficiency, and cut costs. Customers are increasingly demanding superior aerial movement for this same delivery service within the e-commerce sector, and they are also prepared to pay more for same-day shipping. Furthermore, the president's strict licensing requirements for pilots are predicted to impede the industry's expansion for sophisticated aircraft transportation.
Additionally, it is anticipated that growing worries about cyber security issues associated with drone operations may restrain market expansion. In addition, updated government regulatory frameworks and important players' growing emphasis on seizing Asia Pacific's untapped talent are anticipated to present profitable growth prospects for the sophisticated aerial transportation industry.
Enabling VTOL aircraft development and testing in circumstances that call for specially constructed test ranges in constrained airspace.
Using ground infrastructure to facilitate various flight-testing situations by monitoring and altering it.
Effectively simplifying the procedure for certifying airplanes, which has developed over time to take into account more conventional modes of air transportation.
Incorporating AAM activities securely at heavy traffic concentrations into the present aviation structure.
Creating industry standards that are consistent globally.
Setting up best practices for flight operations, security, communication, and ATM technologies.
Report Scope of the Advanced Aerial Mobility Market
| | |
| --- | --- |
| Report Coverage | Details |
| Market Size in 2022 | USD 8.93 Billion |
| Market Size by 2030 | USD 45.12 Billion |
| Growth Rate from 2022 to 2030 | CAGR of 22.45% |
| Base Year | 2021 |
| Forecast Period | 2022 to 2030 |
| Segments Covered | Mode of Operation, End-Use, Propulsion Type, and Geography |
| Companies Mentioned | AeroMobil Airbus S.A.S., Flytrex, Hyundai Motor Company, Lilium, Matternet, PAL-V International B.V., The Boeing Company, Volocopter GmbH, Zipline |

Key Market Drivers
There is an increasing need for alternative modes of transportation, especially advanced mobility
By 2037, the International Air Transportation Association (IATA) predicts that there will be 8.4 billion people using aircraft worldwide. By 2050, the UN predicts that 68% of people would reside in urban settings. Numerous congestion & accessibility challenges brought on by the increasing number of vehicles in cities are increasing the demand for alternate forms of transportation. In this sense, aircraft like VTOLs, eVTOLs, and STOLs had proven to be strong competitors. to prevent traffic, certain eVTOL airplanes were best suited for short-haul flights over busy places. Given these advantages, it is anticipated that AAM demand in advanced mobility applications would rise in the upcoming years.
It is anticipated that the demand for flying cars would fuel growth
Advanced mobility, which primarily consists of fuel-powered cars, is transitioning to digitally high-end technologies, combined with only an increase in the use of environmental transportation solutions, to create the very next robust and environmentally friendly transport network. In addition, the growing urbanization trend necessitates the development of alternative transportation strategies to address current transportation problems like heavy traffic and rising air pollution. Market participants for fighter jet alternatives are concentrating on developing electric or hybrid-driven vehicles that may be used on land and in the air. As a result, there is a growing desire for airborne automobiles, which will help to relieve road congestion. Self-driving cars are a reality and are currently being developed on a global scale on both a personal and professional level. During the projected period, the world market for enhanced airborne transportation is anticipated to develop as the need for hovering automobiles increases.
Key Market Challenges
Concerns about cyber security:

Because advanced aerial mobility depends on technology, security might be a serious weakness. Threats to board systems and software, intrusions into automotive controlling traffic satellite uplinks, and the insertion of hostile or erroneous data utilized for protection judgments and/or computer vision are just a few of the cybersecurity issues that enhanced aerial transportation faces. Improved airborne mobility's susceptibility will be dependent on the functionality of other intricate, operating system technologies like GPS, ATC, and different kinds of common communication networks. For urban air transportation to succeed, network security strategies that take modeling and engineering into account security are needed. However, R&D is required to create new methods to protect autonomous aircraft from hacking attempts. Mindset modifications that have advocated for assuring safety are equally applicable to computer security.
Key Market Opportunities
Growing environmental issues
The industry with the second-highest level of pollution is transportation, which uses a lot of energy. The environment is being negatively impacted by this industry's substantial emissions of greenhouse gases. Such issues may have a realistic alternative in advanced aerial mobility, which employs autonomous unmanned landing and take-off aircraft. Cities' adoption of unmanned aerial systems for the next transport is likely to open up attractive growth potential for this industry.
Achieving zero carbon emissions for the aviation sector by 2050 is among the IATA's goals. Sustainable alternative biofuels and cutting-edge new combustion technology would be used to accomplish such electricity and hydrogen. New engine technology, including hydrogen, might take up 13% of the industry, while efficient advancements will make up the remaining 3%, based on the IATA. All industry players are committed to reducing their ecological consequences by modifying their policies, goods, and activities by implementing practical steps with distinct deadlines in response to zero-emission expectations.
The output of SAF is anticipated to reach in billion liters by 2035, according to an IATA report for Gross Carbon Dioxide emissions by 2050, which was released in Oct 2021. By 2040, SAF supply will reach in billion liters, and electrical and/or hydrogen airplanes for the market sector will be accessible. Given these patterns, the demand for environmentally friendly energy aircraft, such as Appropriate application airframes, will rise in the coming future due to rising environmental issues.
Segmental Insights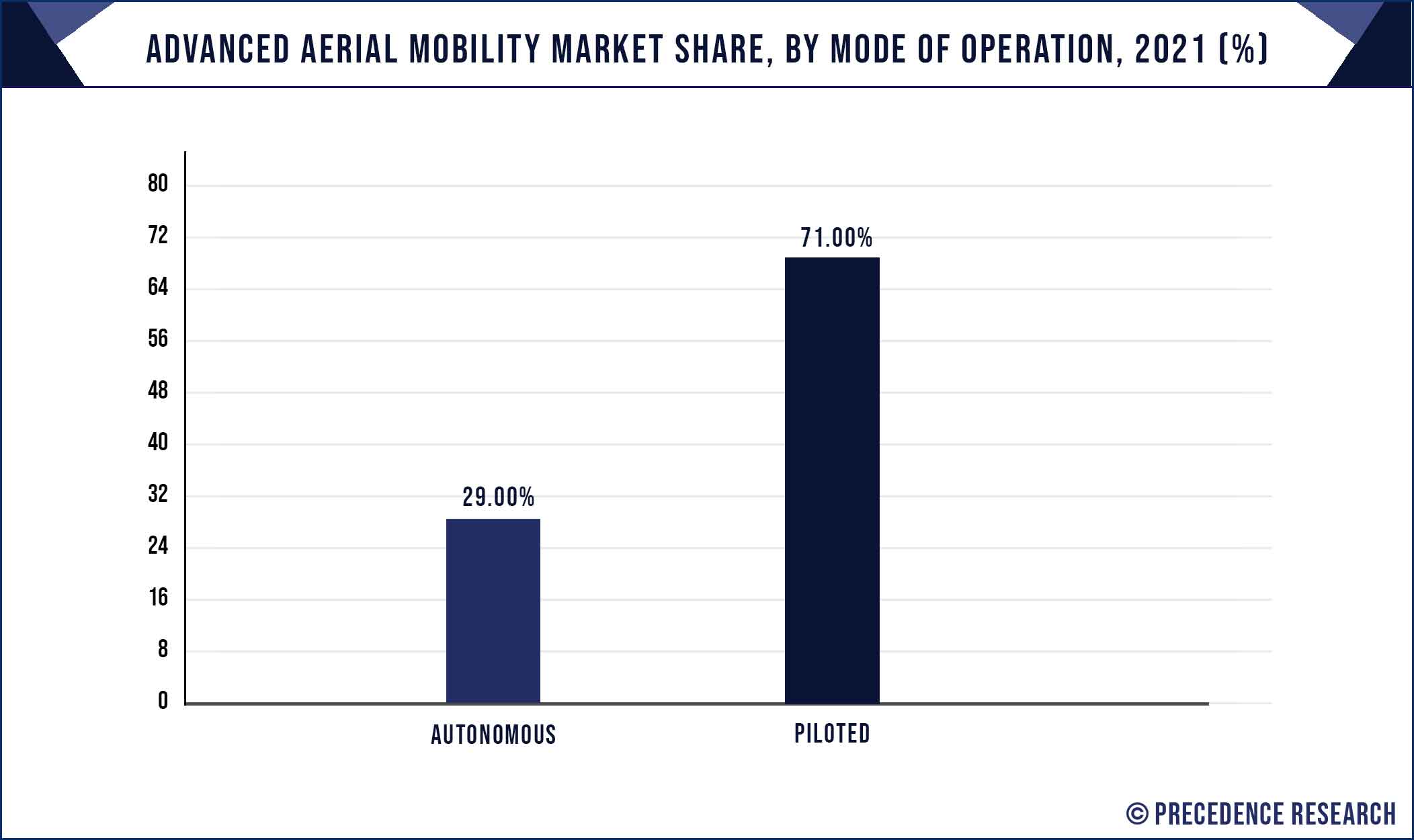 Mode of Operation Insights
More than multiple of the customer base is expected to be held by the piloted category in 2030, and it is anticipated that this share will remain dominant throughout the forecast timeframe. The automated segment is projected to exhibit the highest CAGR in the upcoming years, though.
End User Insights
Approximately 2/3 of the worldwide industry for sophisticated aerial transportation is predicted to be contributed by the cargo segment by 2030, and it is anticipated that this segment will continue to hold the top spot throughout the projected timeframe. However, it is anticipated that in the upcoming years, the passenger segment would increase at the highest CAGR.
Advanced Aerial Mobility Market Share, By Region, 2021 (%)
| | |
| --- | --- |
| Regions | Revenue Share in 2021 (%) |
| North America | 39% |
| Asia Pacific | 29% |
| Europe | 24% |
| Latin America | 5% |
| MEA | 3% |

Regional Insights
During the projection timeframe, North America is anticipated to account for the biggest market position for sophisticated aerial transportation globally. The acceptance of expense aviation in both urban and rural settings, as well as the development of disruptive aviation technologies to move individuals and goods are driving the market's expansion in this area.
On the contrary hand, the Asia-Pacific region is anticipated to grow more quickly and provide a wealth of prospects for market expansion. Drone advanced technologies and an increase in the utilization of aircraft transportation for business purposes are among the reasons driving the market's expansion in this area.
Recent Developments
Spirit Aero-Systems and Airbus Acubed, a division of Boeing, inked a contract in March 2022 to build the sides for City Airbus, NextGen. Through this relationship, Airbus will be able to explore innovative aerospace while still adhering to the strictest standards.
To co-develop Organizations willing in Malaysia, EHang and AEROTREE, the nation's top aviation corporation, engaged in a strategic agreement in March 2022. 60 units of commuter automated autonomous drones have been purchased by AEROTREE (AAVs).
In Mar 2022, Lilium N.V. as well as NetJets Inc. entered into a Memorandum of Agreement alongside FlightSafety Worldwide, the industry pioneer in commercial aviation. Through the collaboration, NetJets would have the opportunity to buy more than 150 Lilium planes, giving NetJets shareholders more alternatives to supplement their current flying schedules.
To create and certify flight dynamics training equipment that would be used to educate young captains of Joby's ground-breaking all-electric airplane, the company joined with CAE, a world leader in commercial aviation, in March 2022.
Vertical and Leonardo began working together in January 2022 to construct the fuselage of Vertical's VX4 electric and hybrid. To fulfill Vertical's business which was before booking, the agreement is for an additional six certifying aircraft, but it may increase capacity to mass manufacturing of 2,000 VX4s annually.
Key market players
AeroMobil

Airbus S.A.S.

Flytrex

Hyundai Motor Company

Lilium

Matternet

PAL-V International B.V.

The Boeing Company

Volocopter GmbH

Zipline
Segments covered in the report:
(Note*: We offer report based on sub segments as well. Kindly, let us know if you are interested)
By Mode of Operation
By End-Use
By Propulsion Type
Parallel Hybrid
Turboshaft
Electric
Turboelectric
By Geography
North America
Europe
Asia-Pacific
Latin America
Middle East & Africa (MEA)