The global advanced driver assistance systems (ADAS) market size was valued at USD 44.62 billion in 2022 and expected to reach USD 158.24 bn by 2032, growing at a compound annual growth rate (CAGR) of 13.8% from 2023 to 2032.
The advanced driver assistance system (ADAS) enfolds an extensive range of active and passive systems formulated to assist the driver by offering comfort, safety, and efficacy at the time of driving and enhances the driver, passenger, and pedestrian safety and security. It has numerous vital elements like cameras, sensors, software, and radar which help the system perform correctly. The trend of driverless vehicles or automated vehicles is burgeoning enormously across the globe. Prominent players in the market are spending tremendously on research and advancements sue to the increasing need for safety measures in automobiles, more comfort, and highly efficient driving experience.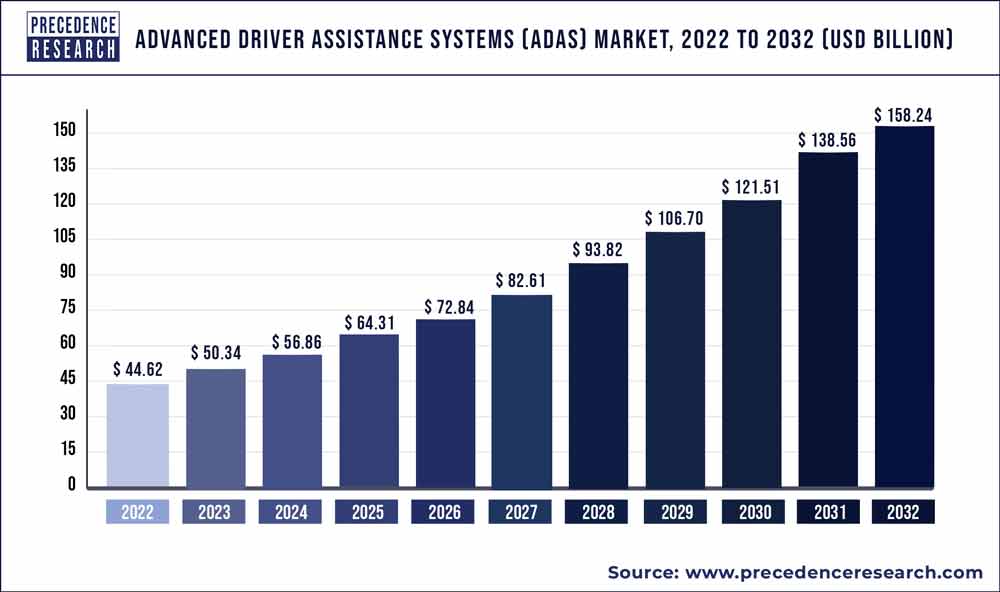 Ket Takeaway:
By components type, the lidar sensors segment accounted for 34% of the market share in 2021.
The software segment is expanding at a notable CAGR of 19.4% from 2022 to 2030.
By vehicle type, the commercial car segment is expanding at a CAGR of 17.3%.
By solution type, the tire pressure monitoring system segment has accounted market share of over 20.7% in 2021.
The autonomous emergency braking segment is poised to reach at a CAGR of 21.5% during the forecast period.
Growth Factors
The growth of advanced driver assistance systems (ADAS) market is mainly attributed to increasing consumers' preferences for safety and comfort features and growing demand from premium and luxury cars. Furthermore, government initiative towards passenger safety and decreasing system and component costs is estimated to fuel the demand for ADAS market. However, ongoing COVID-19 pandemic is expected to impact the spending of government on infrastructure activities and adversely affect the ADAS market. Even so, ongoing technology advancement in sensor tech is expected to open up new avenue for ADAS market in near future.
Rising awareness about vehicle safety ratings and reducing component costs due to wide application of cameras and radars are major growth factors for the ADAS market. Prominent original equipment manufacturers are clinching ADAS solutions to achieve higher safety ratings to gain traction among consumers. Thus, the growing penetration of advanced driver assistance systems properties is surging the demand for components such as LiDAR, ultrasonic sensors, cameras, and radar sensors during the forecast timeframe. However, lack of required infrastructure in emerging economies, and environmental constraints and security threats are impeding the market growth.
In addition, increasing demand for advanced driver assistant systems in compact passenger cars, and stringent safety rules are augmenting the revenue growth path of this market. However, the prospect of offering premium features in vehicles adds extra expenses to customers in the form of hardware, telecom service charges, and applications. High cost associated with app installation, and complex structures of systems, resulting in the reduced shelf life of vehicles are restraining the growth of this market to an extent. Several countries worldwide have mandated the driver safety assistance to increase road safety, and lower road accidents. For instance, European Union (EU) passed a bill that compelled the implementation of adaptive cruise control systems in all heavy commercial vehicles by 2020. Moreover, vehicle manufacturers need to earn safety ratings from various associations such as New Car Assessment Program (NCAP), International Centre for Automotive Technology (ICAT), and Insurance Institute of Highway Safety (IIHS), to gain the sales license of automobiles in the market. Hence, all these safety rules and regulations made by governments are projected to expand the market growth.
Report Scope of the Advanced Driver Assistance Systems (ADAS) Market
| | |
| --- | --- |
| Report Highlights | Details |
| Market Size by 2032 | USD 158.24 Billion |
| Growth Rate | CAGR of 13.8% from 2023 to 2032 |
| Largest Market | Europe and North America |
| Fastest Growing Market | Asia Pacific |
| Base Year | 2022 |
| Forecast Period | 2023 to 2032 |
| Segments Covered | System Type, Vehicle Type, Sensor Type, Electric Vehicle, Level of Autonomy, Region Type |
| Companies Mentioned | Denso, Aptiv, Robert Bosch GmbH, Continental AG, Magna International, Veoneer, Hyundai Mobis, ZF Friedrichshafen, Valeo, NVIDIA, Intel, Microsemi Corporation, Nidec Corporation, Hella, Texas Instruments, Infineon Technologies AG |
COVID-19 Impact Analysis
Due to the novel coronavirus, major automakers have stopped manufacturing in infected areas. In addition, decline in vehicle demand coupled with auto component supply issues has led original equipment manufacturers to phase out production in major facilities. Most original equipment manufacturers have countered with the suspension of manufacturing until further notice. With the overall effects of the pandemic and the decline in global oil prices, investments contracted sharply, especially in the energy sector. Export growth also decreased drastically. However, the industry is expected to recover in the coming days.
Moreover, major solution providers in the global ADAS market such as Continental AG and Robert Bosch announced suspension in their production because of low demand and supply chain disruption. In addition, several other manufacturers have witnessed a downfall in their quarter 1 financial result for the year 2020 and as the resumption of vehicle production was not in the near future due to the severity of the pandemic, as a result the revenue further declined in other quarters of the year as well. For instance, an ADAS technology pioneer, Aptiv registered a decline of 13% in the first quarter of the year 2020 compared to previous year.
System Type Analysis
Driver Monitoring System (DMS) and Night Vision System (NVS) system are expected be to key system type segments in years to come. The growth of these segments is manly driven by government initiative to reduce road accidents. Moreover, rising luxury and premium car market is estimated to support the growth of driver monitoring system (DMS) and night vision system (NVS) system in forecast period.
Sensor Type Analysis
Based on sensor type, the advanced driver assistance systems market is classified into image sensors, ultrasonic sensors, LiDAR, radar sensors, infrared (IR) sensors and laser sensors.
Radar sensor segment is predicted to account for the largest share due to its usage in various systems such as adaptive cruise control systems, etc., bolstering number of accidents, and increasing safety awareness, which results in robust demand for radar sensors primarily in countries like China, US, and major countries in Europe.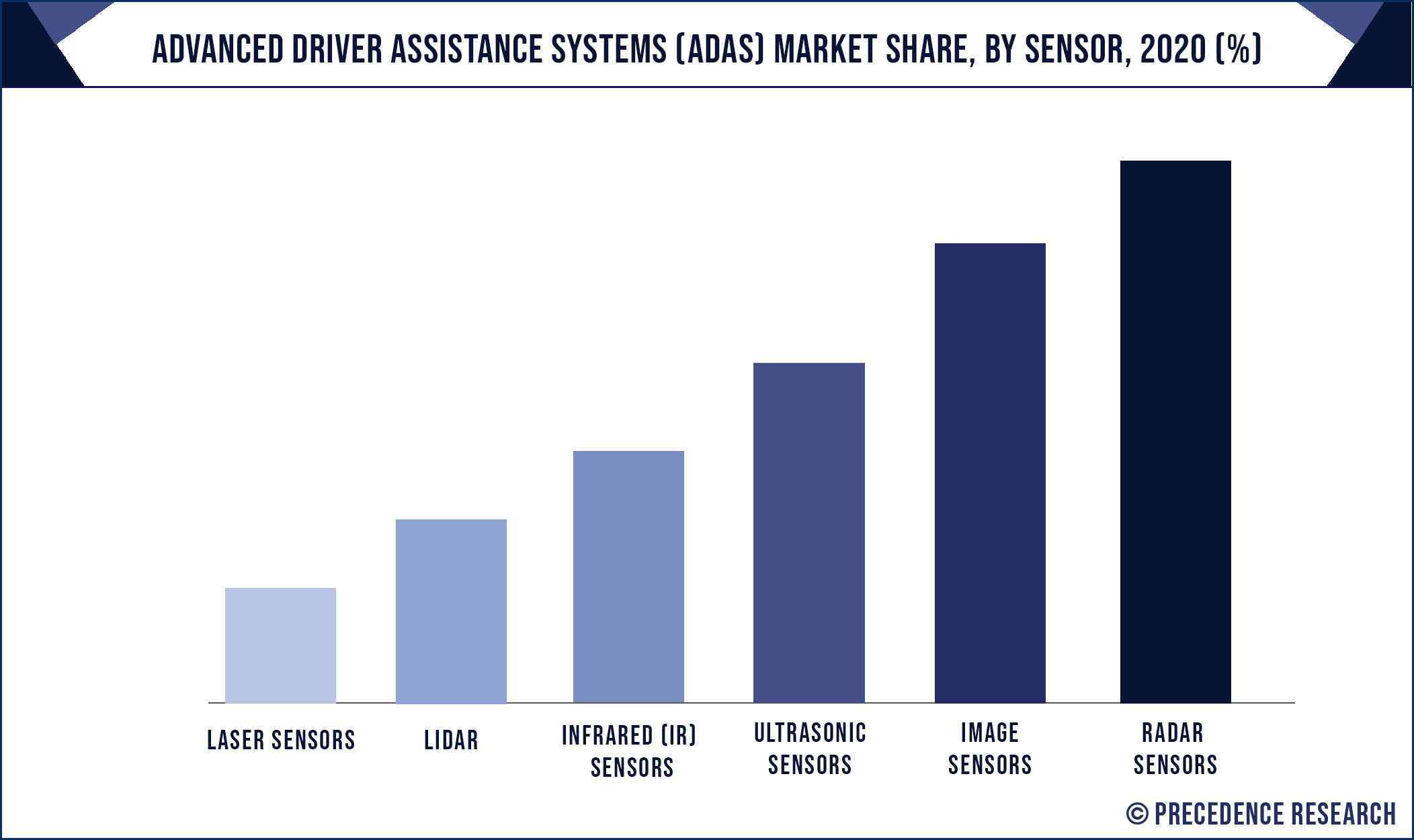 Increasing research and development activities by market players on ADAS sensors is expected to support the sensor type segment coming years. Radar sensor segment is estimated to have largest revenue share in analysis period owing to increasing number of accident mainly in Asia Pacific region.
Vehicle Type Analysis
The passenger car segment held the largest market share of over 64% in 2020. This segment is predicted to retain its dominance in ADAS market throughout the analysis period. Rising awareness of road safety amongst consumer/passenger and promoting legislation are the major driving factors for the growth of passenger car segment. Growing urbanization, expanding industrialization, high growth of demography, and the extensive demand for passenger cars are the factors anticipated to attribute the market growth.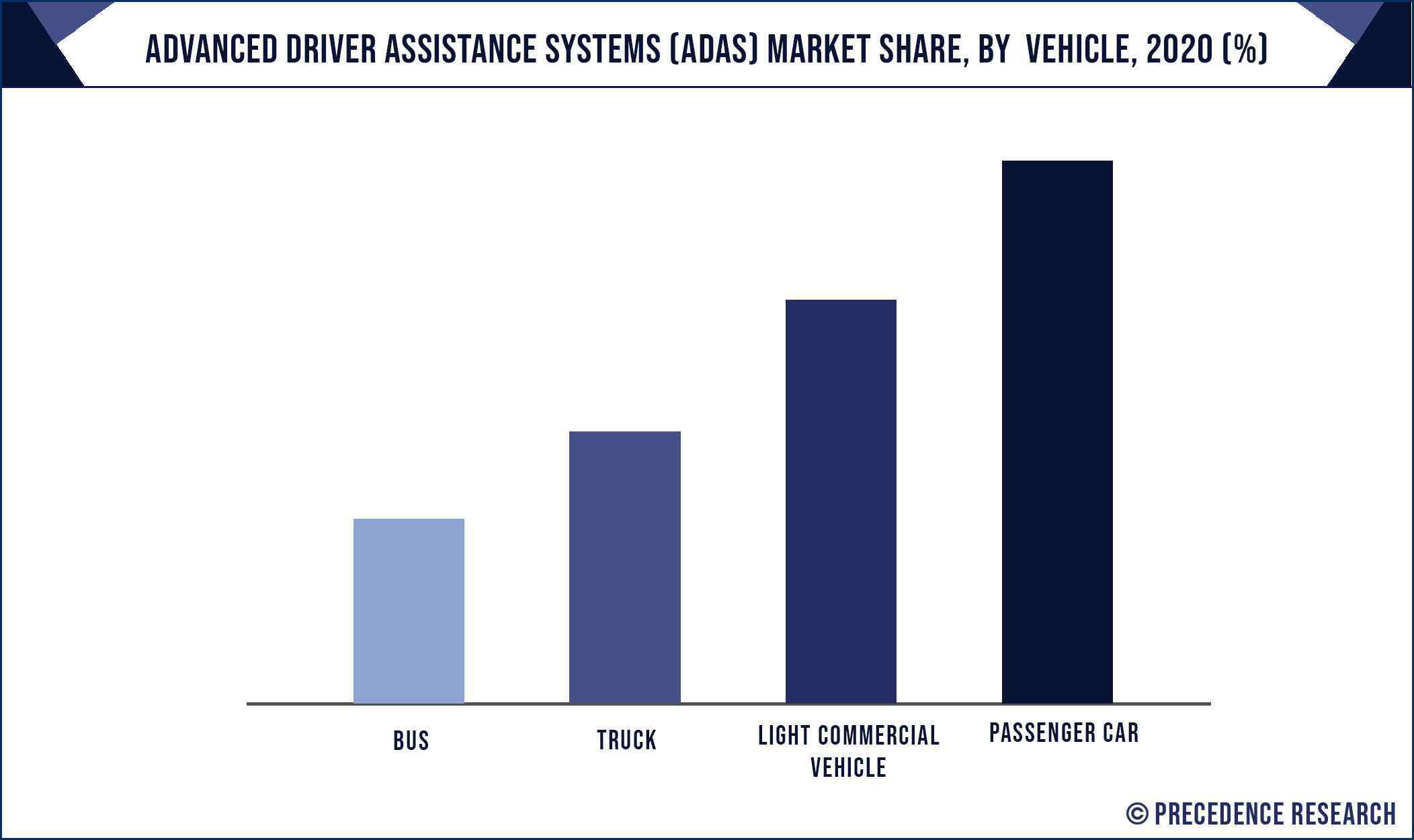 In addition, various countries in different region have placed in place laws mandating the introduction of various types of ADAS into the passenger car market. Furthermore, AEB and LDW mandates in various countries such as South Korea and France are expected to propel the demand for passenger car segment in analysis period.
Electric Vehicle Insights
Battery Electric Vehicles (BEV) emerged as the leading segment in electric vehicle types accounting for nearly 70% of market share in the global ADAS market. The prime factor attributed to the rapid growth of the segment is high and faster penetration of autonomous driving technologies in BEVs today. For instance, in April 2022, Toyota Motor enhanced advanced drive as well as advanced park capabilities with better detection, improved sensors, and higher level of safety sense in their all new 2023 bZ4X BEV.
On the contrary, Plug-in Hybrid Electric Vehicles (PHEV) register the fastest growth over the forecast time frame owing to their high adoption rate across the globe. In addition, automotive manufacturers also expand their electric vehicle features into autonomous driving technologies i.e. ADAS. For example, in February 2022, Kia Motor revealed that its Sportage PHEV, one of the fastest electric vehicle models of the company is equipped with advanced driver assistance systems (ADAS) feature that detects blind spots while driving and also provides 3D view of the surrounding.
Regional Insights
Europe and North America emerged as a dominant region for global ADAS market in past few years and held for over 70% of the global revenue share in 2020. High tech adoption rate and presence of major ADAS market participant is estimated to drive the market for ADAS in near future. As ADAS features are more in demand with customers and cars more than 60 million U.S. vehicle are fitted with ADAS technologies. Some shops have also started to see customers' demands for aftermarket systems to be integrated in their vehicles.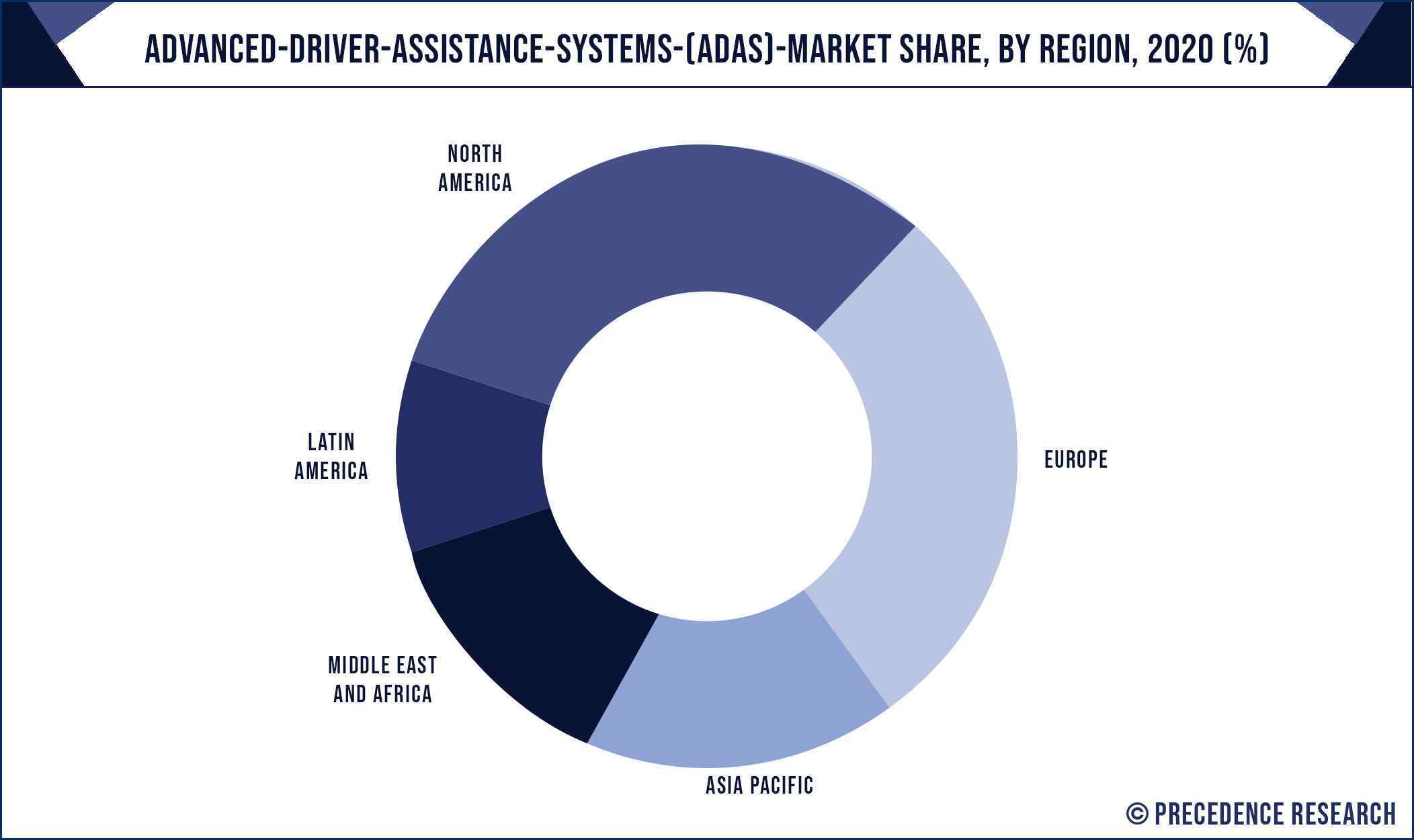 Asia Pacific is expected to emerge as fastest growing market for ADAS in years to come and is predicted to grow at a CAGR of 14.8%. South Korea, China and Japan are estimated become as major revenue contributor for ADAS in Asia Pacific advanced driver-assistance systems (ADAS) market in years to come. A number of major ADAS solution providers such as Robert Bosch, Continental and Denso have regional production facilities.
Markets in the Asia Pacific region are anticipated to acquire the remarkable share over the next decade due to the high sales and manufacturing of vehicles in this region, a considerable growth in the adoption of electric vehicles in countries like Japan, and China, speedy technological developments in manufacturing units in emerging economies like India, China, among others. As per recent stats published by Canalys, there were nearly 1.3 million electric vehicles sold in China during the year 2020. In addition, to this, the sales in the country registered to grow by 50% in 2021 compared to past year. Similarly, India registered a strong growth in electric vehicles with 130,000 units sale in the financial year 2019 that represents a year-on-year growth of 132.1%.
The Asia Pacific is growing fastesr due to high production of automobiles, and increased usage of advanced electronic in South Korea, China, and japan. Governments in these countries have taken different initiatives to attract major original equipment manufacturers in national markets. Various American and European manufacturers have shifted their manufacturing plants in emerging economies. Apart from the decline in vehicle sales due to COVID-19 pandemic, current safety mandates would augment the penetration of ADAS featuring in upcoming automobiles. For example, China mandated tire-pressure monitoring system (TPMS) from 2019. Japan is a major market for advanced electrical and electronic components in this region.
Key Companies & Market Share Insights
The global ADAS market is highly competitive and still is modernly concentrated. The market participant operating in ADAS market are striving to gain higher market share by adopting different business strategies, such as partnerships, agreement and acquisitions & mergers of various player across the value chain. Furthermore, continuous launching of new product to cater the demand from customers, manufactures paying attention to product quality and effective service offering.
Some of the key strategies adopted by market players are discussed below:
Ford Motor offers Adaptive Cruise Control (ACC) as a standard feature on few vehicles globally and offer it as an option as extra additive feature for more than 75% vehicles. In addition, the company offers lane keeping assistance as a standard feature provided for more than 60% of vehicles sold yearly.
Toyota, one of the leading OEMs for ADAS offers wide range of ADAS features in their product line that includes pre-collision support, lane departure warning, and adaptive cruise control.
Premium vehicle manufacturers of Europe such as Mercedes, BMW, and Audi offer radar-based ADAS capabilities in more than 75% of their product lineup
Some of the recent activities by market players are as follows:
In July, 2021, Magna International Inc. acquired Veoneer, a leader in automotive safety technology to strengthen and broaden its ADAS portfolio and industry position.
In April, 2021, Denso Corporation developed advanced driver assistance products for new Lexus LS, and Toyota Mirai.
ZF released ZF co ASSIST, a Level 2 + automated driving system, in January 2020, which is the first venture into the Level 2 + modular hardware and software suite and highlights the capabilities of ZF as a complete system supplier. From 2020 ZF will be equipping production vehicles for a major Asian manufacturer with this new ZF system.
Veoneer was chosen to have active safety services based on next-generation vision and radar systems in February 2020. Veoneers versatile system has been developed to achieve Euro NCAP 5-star safety ratings and include many driver assistance features such as highway assistance, adaptive cruise control stop and go, traffic sign recognition, lane centering control, automatic emergency braking and automated high beam control.
In July 2020, Arbor unveiled an Advanced Driver Assistance System (ADAS) and fleet management Rockchip PX30-based telematics device with an 8-inch touchscreen that aims primarily to improve bus safety.
July 2020, Canadian ADAS (advanced driver assistance systems) company LeddarTech announced that it is acquiring Israeli company VayaVision, the maker of an autonomous vehicle vision sensor based platform.
July 2020, for its advanced ADAS calibration frame systems, the Regular Calibration System and the MA600 Mobile Calibration System, Autel US has launched three calibration enhancement packages that extend vehicle and application coverage of these calibration solutions.
In February 2020, Continental AG built a new plant for the manufacturing of radar sensors in Texas, US.
Some of the prominent players in the ADAS market include:
Denso
Aptiv
Robert Bosch GmbH
Continental AG
Magna International
Veoneer
Hyundai Mobis
ZF Friedrichshafen
Valeo
NVIDIA
Intel
Microsemi Corporation
Nidec Corporation
Hella
Texas Instruments
Infineon Technologies AG
Hitachi Automotive
Renesas Electronics Corporation
Segments Covered in the Report
This research report analyzes and predicts growth of market size at global, regional, and country levels. It also offers comprehensive study of the up-to-date industry developments in all of the sub-segments from 2020 to 2032. In order to study thoroughly this research study categorizes market depending upon different aspects such astype, sensor type, vehicle type, and region:
By System Type
Intelligent Park Assist (IPA)
Lane Departure Warning (LDW)
Road Sign Recognition (RSR)
Tire Pressure Monitoring System (TPMS)
Night Vision System (NVS)
Automatic Emergency Braking (AEB)
Adaptive Cruise Control (ACC)
Adaptive Front Light (AFL)
Blind Spot Detection (BSD)
Cross Traffic Alert (CTA)
Driver Monitoring System (DMS)
Forward Collision Warning (FCW)
Others
By Sensor Type
Image Sensors
Ultrasonic Sensors
LiDAR
Radar Sensors
Infrared (IR) Sensors
Laser Sensors
By Vehicle Type
Passenger Car
Light Commercial Vehicle
Truck
Bus
By Level of Autonomy
By Electric Vehicle
Battery Electric Vehicles (BEV)
Hybrid Electric Vehicles (HEV)
Plug-in Hybrid Electric Vehicle (PHEV)
Fuel Cell Electric Vehicle (FCEV)
By Geography
North America
Europe
Asia-Pacific

China
India
Japan
South Korea
Malaysia
Philippines

Latin America

Brazil
Rest of Latin America

Middle East & Africa (MEA)

GCC
North Africa
South Africa
Rest of the Middle East & Africa