The global automotive LiDAR market growth is expanding at a compound annual growth rate (CAGR) of 24.97% over the forecast period and is expected to be worth around USD 7.43 billion by 2032.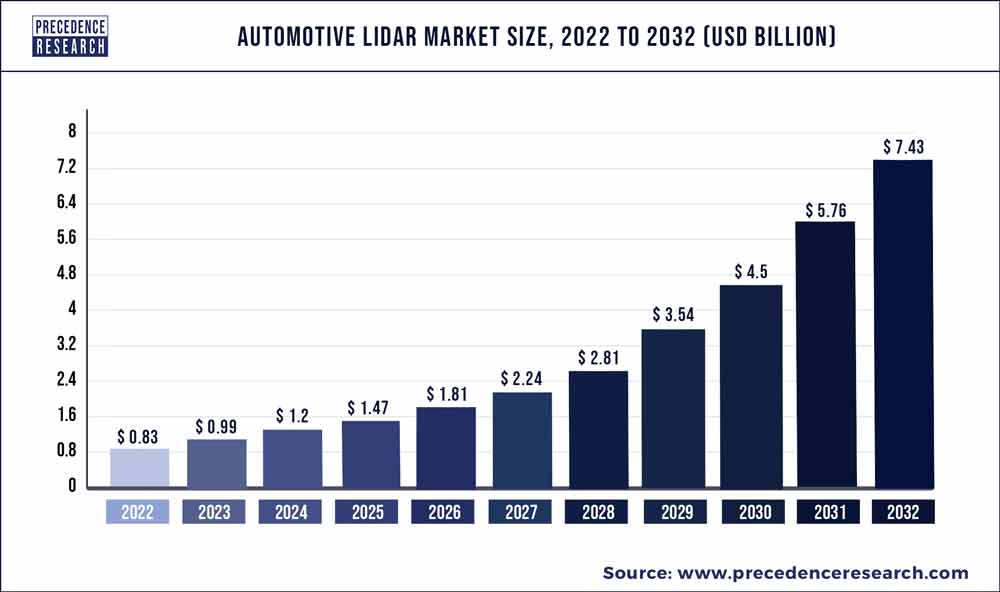 Access our Premium Real Time Data Intelligence Tool, Visit: Precedence Statistics
Key Takeaways
North America led the global market with the highest market share in 2022.
Europe is estimated to expand the Profitable CAGR between 2023 and 2032.
By Application, the advanced driver assistance system (ADAS) segment has held the largest market share in 2022.
Growth Factors
Increasing demand for semi-autonomous and fully autonomous vehicles is one of prime factors that drive the global automotive LiDAR market. Surge in adoption of automotive safety features along with stringent government norms for mandatory installation of specific safety systems in vehicles such as Automatic Emergency Braking Systems. For instance, the U.S. and UK governments have mandated the installation of AEB and Adaptive Cruise Control (ACC) systems in their vehicles. Vehicles without having these safety features are charged heavily as penalty. In addition, vertical integration in the market offer several benefits to the manufacturers such as low labor cost owing to access to high competition in the international labor market, direct sourcing of raw materials, and reduced delivery and manufacturing time. This adds prominent value to the supply chain by giving an array of vertical integration services such as component design and customization.
Besides this, high cost of the technology restricts its rapid adoption in developing nations. Some of the manufacturers are working significantly on developing cost-effective automotive safety devices to boost its demand all across the globe. For instance, in July 2017, Baidu and Ford invested USD 150 Mn in Velodyne, one of the leading developer and manufacturer of automotive LiDAR technology, to commercialize its laser-based sensor. The company will use this investment for developing cost-effective and high-performance automotive LiDAR while expediting the production and design process.
Automotive LiDAR Market in the Asia Pacific 2023 To 2032
The U.S. automotive LiDAR market size was valued at USD 0.26 billion in 2022 and is expected to reach USD 2.39 billion by 2032, growing at a CAGR of 24.80% from 2023 to 2032.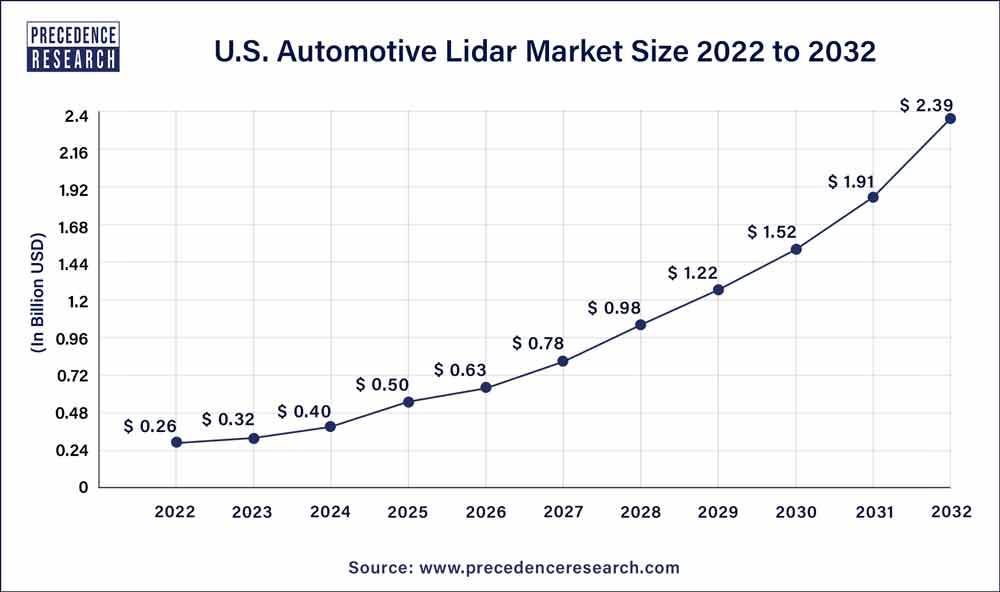 North America led the global automotive LiDAR market with significant revenue share in the year 2022. Administrative regulations forcing automobile manufacturers to compulsorily install certain automotive safety devices or technologies in both heavy and light weight vehicles in the region, expected to accelerate the growth of automotive LiDAR sales in the region. Furthermore, incorporation of LiDAR sensors in collision avoidance system and dynamic remote sensing application are the key trends shaping the future of automotive LiDAR industry.
On the other hand, Europe seeks lucrative growth opportunity during the forecast period. The region offers significant growth opportunities for the market players. Countries like UK and Germany are significantly integrating real-time image processing along with IoT technologies to LiDAR solutions. This provides numerous opportunities for the industry players to provide automotive LiDAR solutions enabled with upcoming technologies such as machine learning and Artificial Intelligence (AI). This helps the players in the European region to establish a strong grip on the significant market position.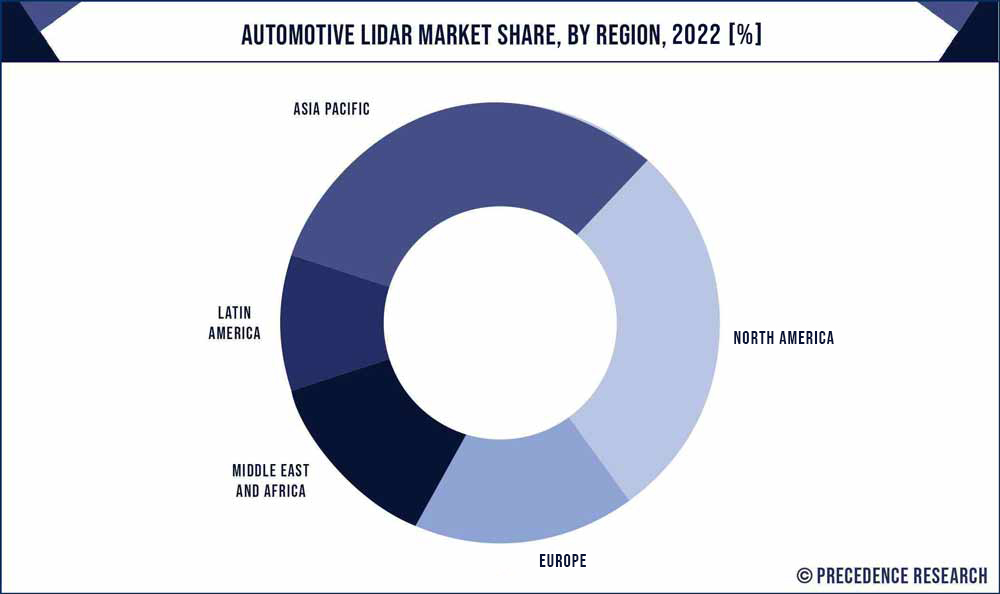 Market Opportunities
Scope of Multiple LiDAR Fitment Across All Levels of Automation to Create Vast Demand
The increasing adoption of LiDAR technology within the different levels of automation is expected to lead to a widespread growth of automobile LiDARs. Currently, automotive LiDARs are at a testing stage for levels 3, 4 and 5 of automation. However, the industry players are focusing on the development of LiDARs for level 2 automated systems, with an expected decrease in the price of LiDAR systems owing to the commencement of mass production. There are high growth opportunities for level 2 automation LiDAR manufacturers. For instance, after the successful testing of LiDARs for level 3 to level 4 automation, IBEO is expected to commence the mass production of level 2 LiDARs in the year 2017. Furthermore, players such as LeddarTech and Phantom Intelligence, among others are working on the development of LiDARs for level 2 automation. A similar trend can be witnessed for higher-end automation in LiDARs. Therefore, this process of adoption of automotive LiDARs in different level of automation according to their capabilities provides several opportunities for several manufacturers entering the automotive LiDAR business.
Scope to Develop Tailor-Made Products by Partnering with Semiconductor Manufacturers
The evolving automotive market provides immense opportunities for semi-conductor companies to further develop advanced LiDAR devices for automobiles. In order to sustain a competitive advantage on a global scale, semi conductor companies should focus on three major factors:
Factors for Semi-Conductor Companies in Automotive Industry
Product differentiation - safety & security features
Collaboration with other major players across value chain
Building strong relationships with OEMs
There is a dire need to develop new and advanced LiDAR systems for applications such as ADAS and autonomous driving. Therefore, instigating OEMs to work with tier-one/ tier-two suppliers in vehicle designing and manufacturing in order to avoid integration and performance challenges faced during usage of LiDAR. The exact requirement/ assistance that an OEM requests varies according to the company and the specific applications for which the LiDAR is used. Hence, it is necessary for the semiconductor companies to provide tailor-made products according to the requirement. For instance, companies might assist OEMs with the development of customized integrated systems, or support the optimization of system performance. This, in turn, will assist the semi-conductor companies to create sustainable relationships with the OEMs, through the demonstration of their technical prowess and capabilities at trade shows or by reaching out to OEMs to offer developmental support. As per the current industry trends, it is expected that semi-conductor companies may partner or collaborate with the major players in the coming future in order to overcome the technical complexities associated with LiDAR technology, gain expertise to develop highly efficient LiDARs and implement strategies in collaboration. Companies may work together to develop high-quality solutions that differentiate them from competitors. This may also help in reducing the cost, optimizing resources and provide a better solution or device in a limited time to the market. For instance, in March 2016, Sensata Technologies Holding N.V. entered into a partnership with Quanergy System Inc. to achieve the early commercialization of mass production of LiDAR. Furthermore, in November 2016, Osram Licht AG, a leading manufacturer of lighting and semi-conductor, launched an Opto Semi-conductor which consisted of four-channel LiDAR lasers, specially designed for autonomous as well as semi-autonomous vehicles. The technology offers new and unique features for object and vertical detections. Similarly, there are various opportunities for other semi-conductor manufacturers to partner with LiDAR manufacturers/ automakers to develop efficient LiDAR systems and to hold a strong position in the market.
High Potential for Technical Innovation with Cost Reduction in Mind
LiDAR was first developed in the 1960s, mainly to be used by NASA for atmospheric, oceanographic and space study. The LiDAR industry developed slowly and by the 1990s it was mainly used for mapping and geospatial use. The usage of real-time automotive LiDARs in DARPA car races, which started in 2005, increased the interest in the technology and massive progress started in LiDAR research and development after that. Over the past few years, technologies related to LiDAR have experienced many advancements, in both software and hardware segments, with the aim to reduce the complexity of manufacturing, increasing the LiDAR's capability and reducing its cost. There has been an extensive research and development effort towards developing better LiDAR technologies. New ventures for LiDAR technologies are aiming for full-scale Pervasive Sensing technology in automotive LiDAR. Innovations related to LiDAR have ranged from reducing the size and cost of the LiDAR system to increasing its image detecting and tracking capabilities. There are many latest product features in LiDARs such as, obstacle detection and avoidance, Adaptive Cruise Control (ACC), Emergency Brake Assist, Anti-lock Braking System (ABS), GRID based processing, Micro-Motion Technology, and enhanced laser sensors, among others.
Market Challenges
High Price of Automotive LiDAR
There has been an increase in prices of autonomous vehicles due to the addition of LiDARs in the automotive vehicles. Currently, automotive LiDARs are considered to be complex and expensive in nature. However, with technological advancements and commencement of mass production, manufacturing prices of the LiDAR sensors and systems are expected to decline in the near future. Automotive LiDAR acts as a critical sensor for driverless vehicles as it assists in enabling accurate and vigorous results across a wide range of environments. However, the large size, complexity, and cost of the automotive LiDAR acts as an obstacle for the commercialization of automotive LiDARs. For instance, LiDAR sensors from Velodyne LiDAR, Inc. are marked in a range of $8,000-$75,000,
integration of these LiDARs in an autonomous system will lead to greater sticker price of the autonomous system and is expected to decrease the pool of target customer. In order to boost the commercialization of LiDAR technology, there is a need of reducing the manufacturing prices of LiDAR sensors.
However, there are companies aiming to work on manufacturing LiDAR sensors which are less complicated, inexpensive and easier to be manufactured. During the CES 2016 Electronic Show, Quanergy Systems, Inc. demonstrated a prototype solid-state LiDAR sensor designed for driverless cars. The cost of these LiDARs is expected to be approximately $250 by 2028, after the commencement of mass production of effective LiDAR. Hence, the decline in the production price of LiDARs is expected to increase the demand of automotive LiDARs and push the growth of automotive LiDAR market in the upcoming years.
Inaccurate Outputs in Adverse Weather Conditions
Weather conditions tend to have a strong impact on the overall performance of the LiDAR devices, thus, being a key impediment to the ability of LiDAR integrated system to sense the nearby obstacles. For instance, usage of LiDARs against direct sun results into poor performance of the LiDAR since LiDAR signals tend to disperse under direct sunlight. Similarly, LiDARs fail to detect motionless vehicle with a stained windshield. Adverse weather conditions may reduce the range of the device and particularly in dense fog, heavy snow, and rain, LiDAR sensors are unable to produce accurate sensing data.
The automotive LiDAR mainly uses lasers to track the surroundings of the vehicle, which in turn, result in an undetermined solution during the harsh environments such as during heavy snow or rainfall. It becomes relatively difficult for the users to determine the lane markers and other markers that tends to help in driving the vehicle safely on the roads. This inaccurate performance of LiDARs in adverse weather conditions may hinder the growth of the automotive LiDAR market in upcoming years., In August 2016, in order to curb this occurrence, Ford launched high-resolution 3D maps in the U.S. that provides relevant information to the user pertaining to the road as well as the topography, road signs, landmarks, and others. This would help the user in determining the obstacles on the road, during bad weather conditions. Currently, LiDARs are being used in sensor fusion systems i.e. with cameras and RADARs, for high performance of the automated system. However, less efficient output of LiDARs during these adverse conditions may restrain the market growth of the automotive LiDAR market.
Automotive LiDAR Market Scope
| | |
| --- | --- |
| Report Highlights | Details |
| Market Size by 2032 | USD 7.43 Billion |
| Growth Rate from 2023 to 2032 | CAGR of 24.97% |
| Largest Market | North America |
| Fastest Growing Market | Europe |
| Base Year | 2022 |
| Forecast Period | 2023 to 2032 |
| Segments Covered | Product, Component, Application, Region Type |
| Companies Mentioned | LeosphereSaS, Airborne Hydrography AB, Faro Technologies Inc., Aerometric Inc., 3D Laser Mapping Inc., Mira Solutions Inc., Quanergy Systems, Inc., IBEO automotive systems GmbH, Velodyne, LeicGeosystems Inc. |
Application Insights
Advanced Driver Assistance System (ADAS) is the most prominent application in the global automotive LiDAR market. Their features provide long-range and short-range radars for active cruise control and car parking respectively. LiDAR technology helps in 3D mapping of the vehicle surrounding and uses dead reckoning sensors for odometry operations. The LiDAR feature helps in pedestrian detection, parking, and other obstacle detection. Increasing number of accidents and deaths associated with that are the prime cause for flourishing demand for ADAS systems in the vehicles. As per World Health Organization (WHO) report published on February 2020, approximately 1.35 Mn people die each year from road traffic crashes. To prevent this, a 2030 agenda for sustainable development was set by the organization with an ambition to reduce 50% of the injuries and deaths from road traffic crashes by 2030.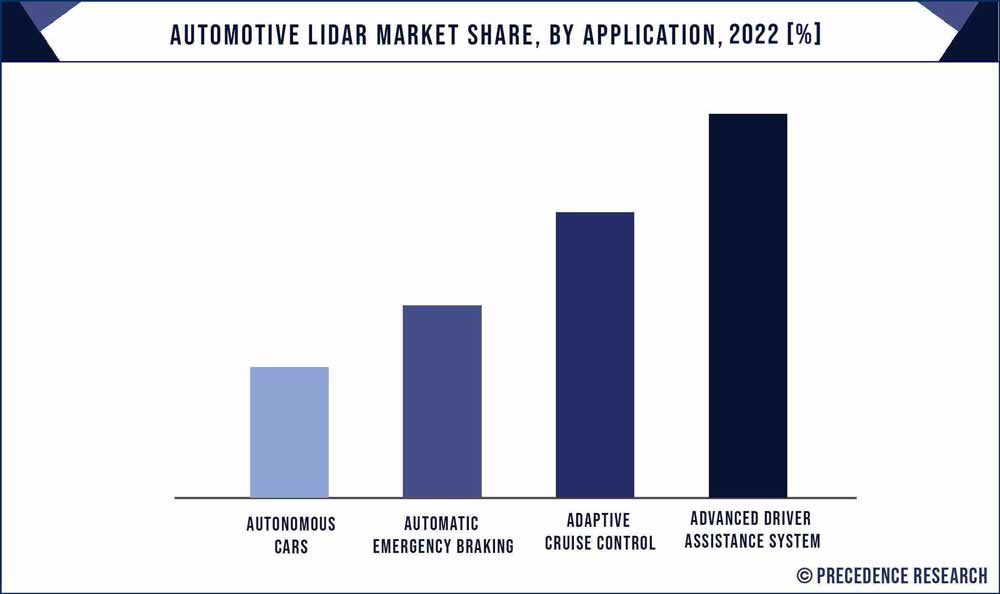 The ADAS segment is further bifurcated into Adaptive Cruise Control (ACC) and Automatic Emergency Braking (AEB). Presently, AEB is the most adopted technology owing to easy installation and low cost. Apart from this, ACC exhibits rapid growth aspect in the coming years. Additionally, increased demand for automotive safety and their related regulations by the government propels the growth of the segment significantly in the region.
Key Companies & Market Share Insights
The global automotive LiDAR market seeks high competition owing to significant investment and rapid product development in the market. The market is in its initial phase and thus offers lucrative opportunity to the industry players to establish strong market position by offering reliable and cost-effective solution. This helps them build consumer trust and brand recognition in the global market. For instance, in January 2017, Continental AG announced to introduce High-Resolution 3D Flash LiDAR for automobiles. With the release of new LiDAR solution, the company focuses on enhancing its ADAS and autonomous vehicles segment. Similarly, in December 2016, LeddarTech introduced 3D and 2D LiDAR solutions with high-resolution for autonomous vehicle applications. The solution has offered resolution of 512×64 for a field of view of 120×20 degrees along with a detection range of greater than 200 meters for pedestrians and more than 300 meters for vehicles.
Some of the prominent players in the automotive LiDAR market include:
LeosphereSaS
Airborne Hydrography AB
Faro Technologies Inc.
Aerometric Inc.
3D Laser Mapping Inc.
Mira Solutions Inc.
Quanergy Systems, Inc.
Optech Inc. (Teledyne Technologies)
IBEO automotive systems GmbH
Velodyne
LeicGeosystems Inc.
Segments Covered in the Report
This research report includes complete assessment of the market with the help of extensive qualitative and quantitative insights, and projections regarding the market. This report offers breakdown of market into prospective and niche sectors. Further, this research study calculates market revenue and its growth trend at global, regional, and country from 2020 to 2032. This report includes market segmentation and its revenue estimation by classifying it on the basis of product type, component, application, and region:
By Product Type
Aerial
Mobile
Terrestrial/Static
Short-range
By Components
Laser
GPS/GNSS Receiver
Camera
Inertial Navigation System
Micro Electro Mechanical System
By Application
Advanced Driver Assistance System (ADAS)

Adaptive Cruise Control
Automatic Emergency Braking

Autonomous Cars
By Regional Outlook
North America
Europe
Asia Pacific

China
India
Japan
South Korea

Rest of the World