The global automotive LiDAR market growth is expanding at a compound annual growth rate (CAGR) of 28.4% over forecast period and is expected to be worth around USD 3.21 billion by 2027.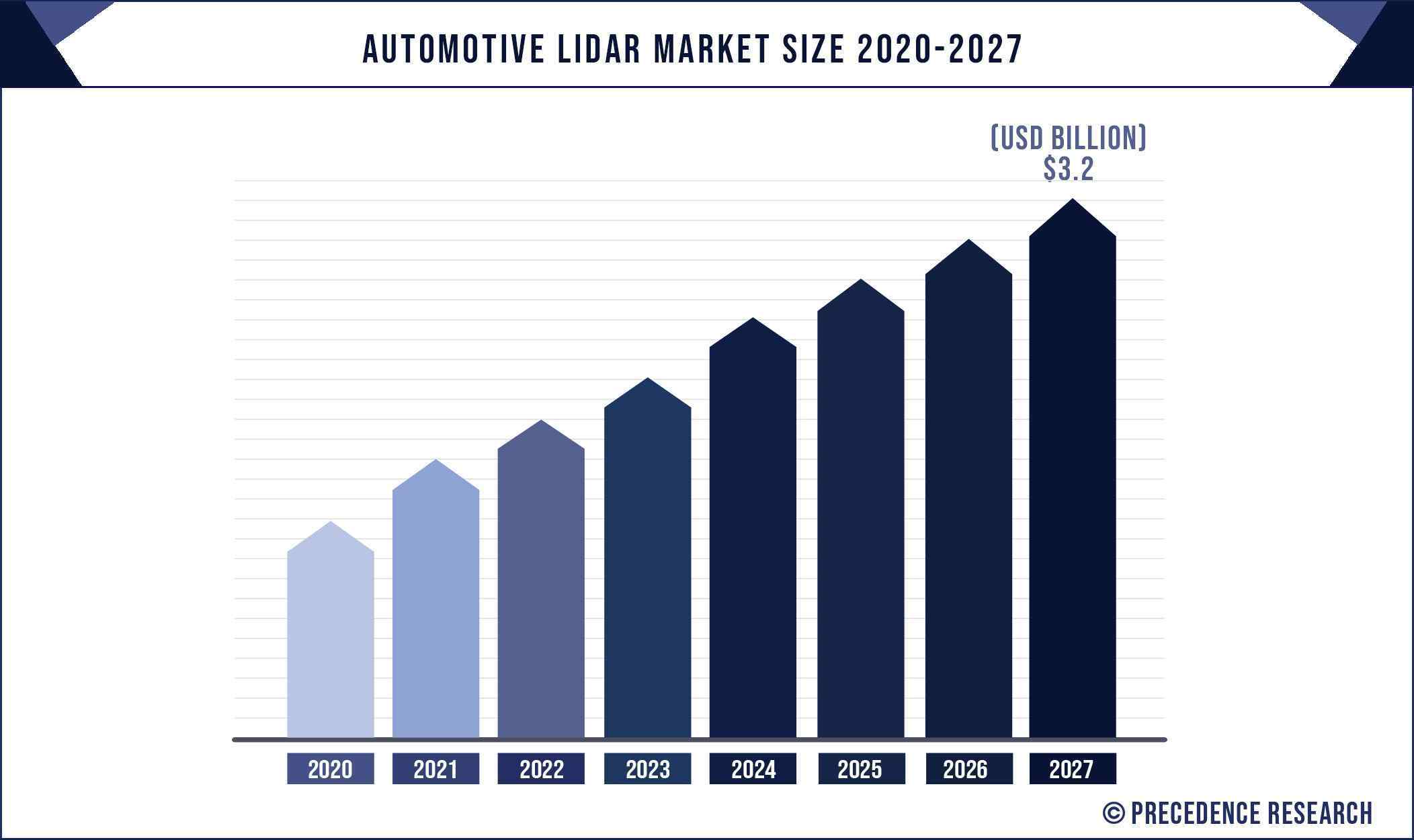 Growth Factors
Increasing demand for semi-autonomous and fully autonomous vehicles is one of prime factors that drive the global automotive LiDAR market. Surge in adoption of automotive safety features along with stringent government norms for mandatory installation of specific safety systems in vehicles such as Automatic Emergency Braking Systems. For instance, the U.S. and UK governments have mandated the installation of AEB and Adaptive Cruise Control (ACC) systems in their vehicles. Vehicles without having these safety features are charged heavily as penalty. In addition, vertical integration in the market offer several benefits to the manufacturers such as low labor cost owing to access to high competition in the international labor market, direct sourcing of raw materials, and reduced delivery and manufacturing time. This adds prominent value to the supply chain by giving an array of vertical integration services such as component design and customization.
Besides this, high cost of the technology restricts its rapid adoption in developing nations. Some of the manufacturers are working significantly on developing cost-effective automotive safety devices to boost its demand all across the globe. For instance, in July 2017, Baidu and Ford invested USD 150 Mn in Velodyne, one of the leading developer and manufacturer of automotive LiDAR technology, to commercialize its laser-based sensor. The company will use this investment for developing cost-effective and high-performance automotive LiDAR while expediting the production and design process.
Application Insights
Advanced Driver Assistance System (ADAS) is the most prominent application in the global automotive LiDAR market. Their features provide long-range and short-range radars for active cruise control and car parking respectively. LiDAR technology helps in 3D mapping of the vehicle surrounding and uses dead reckoning sensors for odometry operations. The LiDAR feature helps in pedestrian detection, parking, and other obstacle detection. Increasing number of accidents and deaths associated with that are the prime cause for flourishing demand for ADAS systems in the vehicles. As per World Health Organization (WHO) report published on February 2020, approximately 1.35 Mn people die each year from road traffic crashes. To prevent this, a 2030 agenda for sustainable development was set by the organization with an ambition to reduce 50% of the injuries and deaths from road traffic crashes by 2030.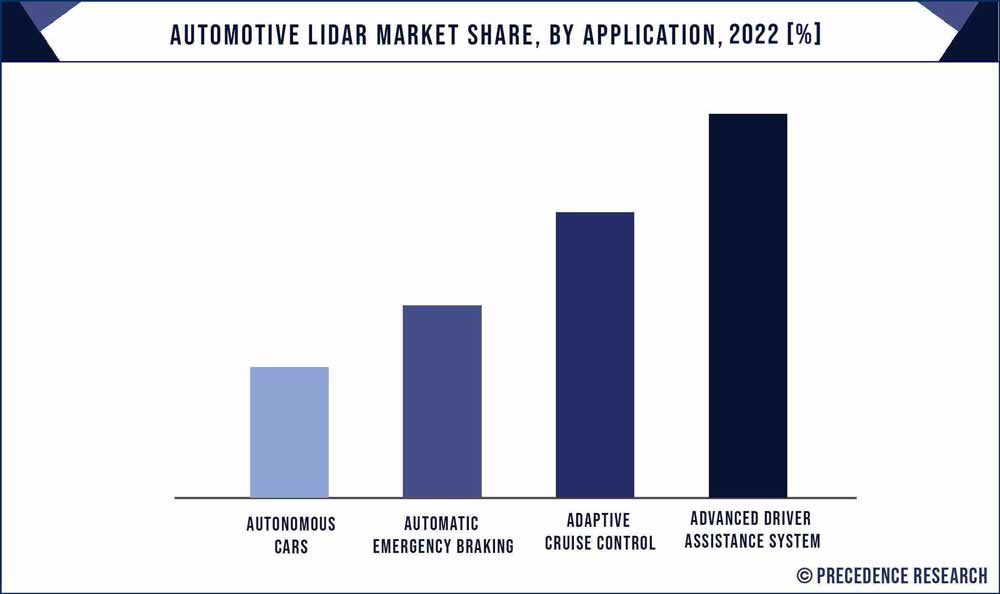 The ADAS segment is further bifurcated into Adaptive Cruise Control (ACC) and Automatic Emergency Braking (AEB). Presently, AEB is the most adopted technology owing to easy installation and low cost. Apart from this, ACC exhibits rapid growth aspect in the coming years. Additionally, increased demand for automotive safety and their related regulations by the government propels the growth of the segment significantly in the region.
Regional Insights
North America led the global automotive LiDAR market with significant revenue share in the year 2019. Administrative regulations forcing automobile manufacturers to compulsorily install certain automotive safety devices or technologies in both heavy and light weight vehicles in the region, expected to accelerate the growth of automotive LiDAR sales in the region. Furthermore, incorporation of LiDAR sensors in collision avoidance system and dynamic remote sensing application are the key trends shaping the future of automotive LiDAR industry.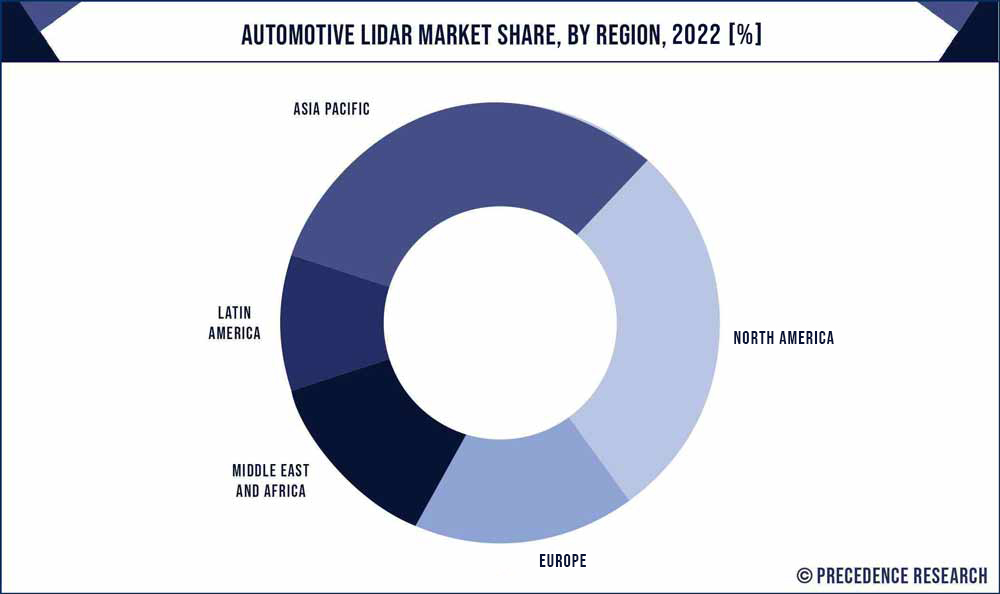 On the other hand, Europe seeks lucrative growth opportunity during the forecast period. The region offers significant growth opportunities for the market players. Countries like UK and Germany are significantly integrating real-time image processing along with IoT technologies to LiDAR solutions. This provides numerous opportunities for the industry players to provide automotive LiDAR solutions enabled with upcoming technologies such as machine learning and Artificial Intelligence (AI). This helps the players in the European region to establish a strong grip on the significant market position.
Key Companies & Market Share Insights
The global automotive LiDAR market seeks high competition owing to significant investment and rapid product development in the market. The market is in its initial phase and thus offers lucrative opportunity to the industry players to establish strong market position by offering reliable and cost-effective solution. This helps them build consumer trust and brand recognition in the global market. For instance, in January 2017, Continental AG announced to introduce High-Resolution 3D Flash LiDAR for automobiles. With the release of new LiDAR solution, the company focuses on enhancing its ADAS and autonomous vehicles segment. Similarly, in December 2016, LeddarTech introduced 3D and 2D LiDAR solutions with high-resolution for autonomous vehicle applications. The solution has offered resolution of 512×64 for a field of view of 120×20 degrees along with a detection range of greater than 200 meters for pedestrians and more than 300 meters for vehicles.
Some of the prominent players in the automotive LiDAR market include:
LeosphereSaS
Airborne Hydrography AB
Faro Technologies Inc.
Aerometric Inc.
3D Laser Mapping Inc.
Mira Solutions Inc.
Quanergy Systems, Inc.
Optech Inc. (Teledyne Technologies)
IBEO automotive systems GmbH
Velodyne
LeicGeosystems Inc.
Report Scope of the Automotive LiDAR Market
| | |
| --- | --- |
| Report Highlights | Details |
| Market Size | USD 3.21 Billion by 2027 |
| Growth Rate | CAGR of 28.4% from 2021 to 2027 |
| Largest Market | North America |
| Fastest Growing Market | Europe |
| Base Year | 2021 |
| Forecast Period | 2021 to 2027 |
| Segments Covered | Product, Component, Application, Region Type |
| Companies Mentioned | LeosphereSaS, Airborne Hydrography AB, Faro Technologies Inc., Aerometric Inc., 3D Laser Mapping Inc., Mira Solutions Inc., Quanergy Systems, Inc., IBEO automotive systems GmbH, Velodyne, LeicGeosystems Inc. |
Segments Covered in the Report
This research report includes complete assessment of the market with the help of extensive qualitative and quantitative insights, and projections regarding the market. This report offers breakdown of market into prospective and niche sectors. Further, this research study calculates market revenue and its growth trend at global, regional, and country from 2016 to 2027. This report includes market segmentation and its revenue estimation by classifying it on the basis of product type, component, application, and region: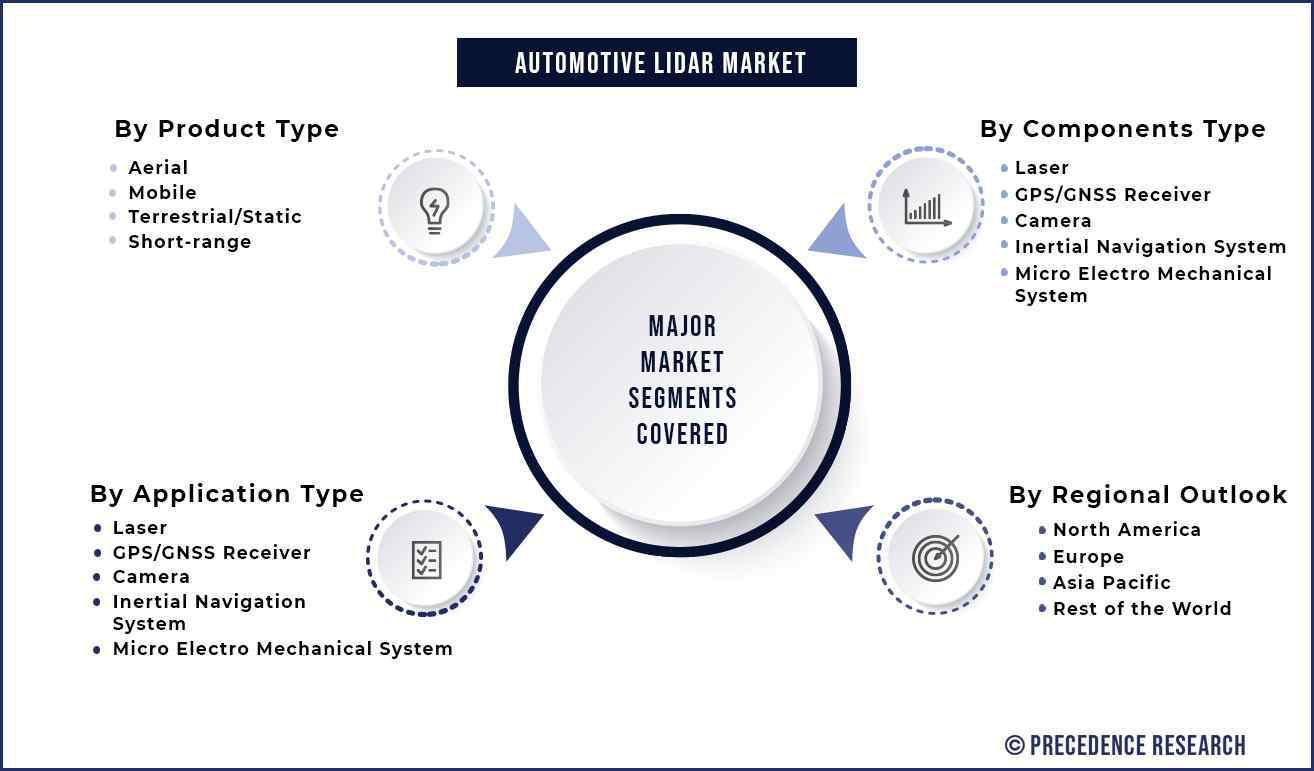 By Product Type
Aerial
Mobile
Terrestrial/Static
Short-range
By Components
Laser
GPS/GNSS Receiver
Camera
Inertial Navigation System
Micro Electro Mechanical System
By Application
Advanced Driver Assistance System (ADAS)

Adaptive Cruise Control
Automatic Emergency Braking

Autonomous Cars
By Regional Outlook
North America
Europe
Asia Pacific

China
India
Japan
South Korea

Rest of the World