The global automotive wiring harness market size is projected to hit over US$ 79 billion by 2027 and growing with a CAGR of 4.6% from the forecast period 2020 to 2027.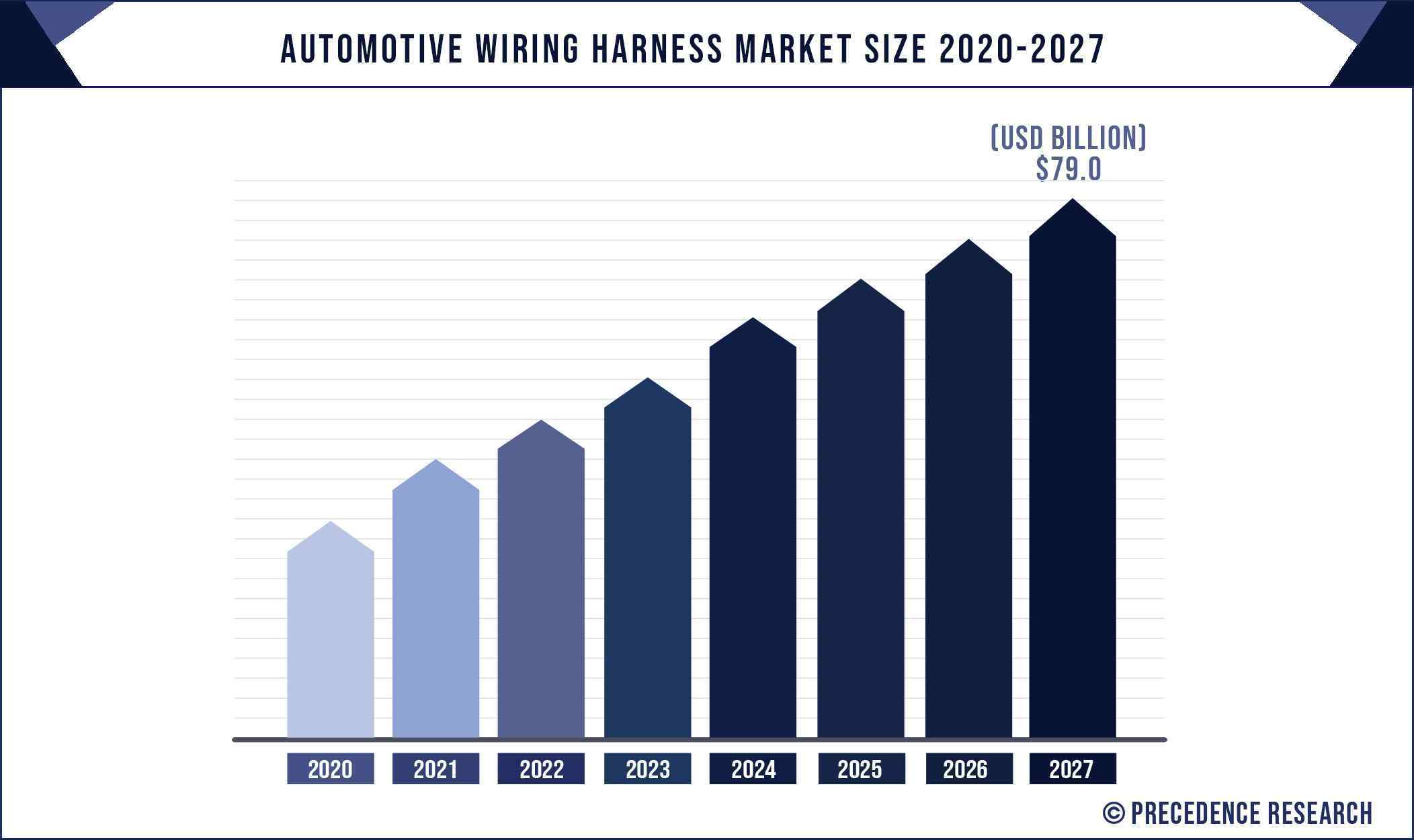 Rising demand from consumer end, rapid growth of the manufacturing sector, presence and development activities of vehicle OEMs, augmented implementation of advanced vehicle technologies on account of surge in per capita income are some of the major factors driving the growth of automotive wiring harness market. Further, growth in vehicle electrification and preference to nominal human efforts are heightening the importance of wiring harness across automotive sector. Growing incorporation of electronic devices inside vehicles to offer improved safety features has clearly impacted growth of the market. Engaging these systems in a vehicle gives many paybacks like heightened performance, upgraded fuel efficacy, and small likelihood of electrical shortage. Pioneering software tools have played an essential part in streamlining the design process and reducing the amount of design errors.
Report Scope of the Automotive Wiring Harness Market
| | |
| --- | --- |
| Report Highlights | Details |
| Market Size | USD 79 Billion by 2027 |
| Growth Rate | CAGR of 4.6% from 2021 to 2027 |
| Largest Market | North America |
| Fastest Growing Market | Asia Pacific |
| Base Year | 2021 |
| Forecast Period | 2021 to 2027 |
| Segments Covered | Type, Material, Propulsion, Transmission, Vehicle, Sales Channel, Geography |
| Companies Mentioned | Sumitomo Electric Industries, Ltd., Delphi Automotive LLP, Furukawa Electric Co. Ltd, Lear Corporation, THB Group, Yura Corporation, Leoni Ag, SPARK MINDA, Yazaki Corporation, Fujikura Ltd., QINGDAO SANYUAN GROUP |
Type Insights
This research study segments this market on the basis of type into, chassis wiring harness, body & lighting harness, dashboard/cabin harness, engine harness HVAC wiring harness, battery wiring harness, seat wiring harness, wiring harness and sunroof wiring harness. Among all, dashboard/cabin harness sector dominates the global automotive wiring harness market on account of growing implementation of displays on dashboards and infotainment systems in different types of vehicles. Incorporation of systems including active health monitoring and heated seats upsurges utilization of wiring harness in vehicles seat. As a result of thispushes the growth prospects of seat harness segment of this market.
Material Insights
Based on material, the automotive wiring harness market is classified into metallic and optical fiber. The optical fiber is then divided into plastic optical fiber and glass optical fiber. The metallic segments is categorized into aluminum, copper, other metals.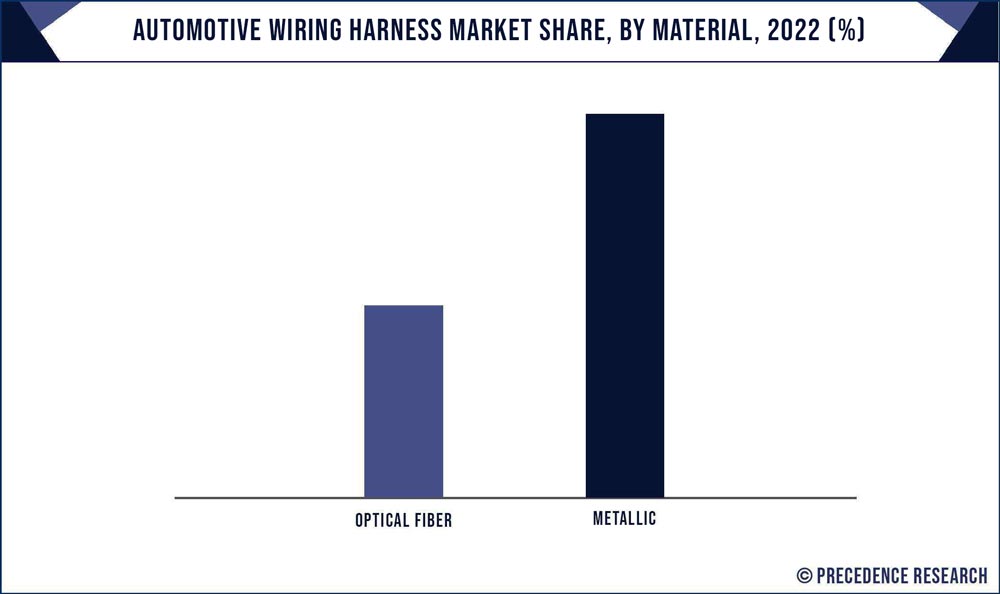 At present, metallic wiring harnesses are considered together a greater market share. However, the acceptance of optical fibers, predominantly plastic variants, is expected to achieve noteworthy grip during years to come. Elevated demand for high-speed data transmission from several vehicles OEM is pushing the growth of optical fiber cables in different vehicles. On the other hand, copper may not serve the necessities of forthcoming technologies and functions. Optical fiber cables have a comparatively greater speed compared to copper and other materials. Optical fiber with growing need for advanced features such as automatic door locking, augmented dashboards, ADAS, automatic gear box, and in electric and ICE vehicles, projected to show lucrative demand in near future.
Transmission Insights
Among different transmission types, electric wiring is expected to show potential demand on the basis of its greater demand for electricity transfer compared to data transmission in mid-segment and entry vehicles. During years to come sales of semi-autonomous and autonomous vehicles is anticipated to surge. This as a resultwill support sale of highly advanced systems with more complicated and cutting-edge wiring harness.
Vehicle type Insights
Among different vehicles, passenger vehicle segment occupied major market share of the global automotive wiring harness market. Improved fuel combustion and low maintenance are expected to promote the acceptance of automotive wiring harness in the coming years.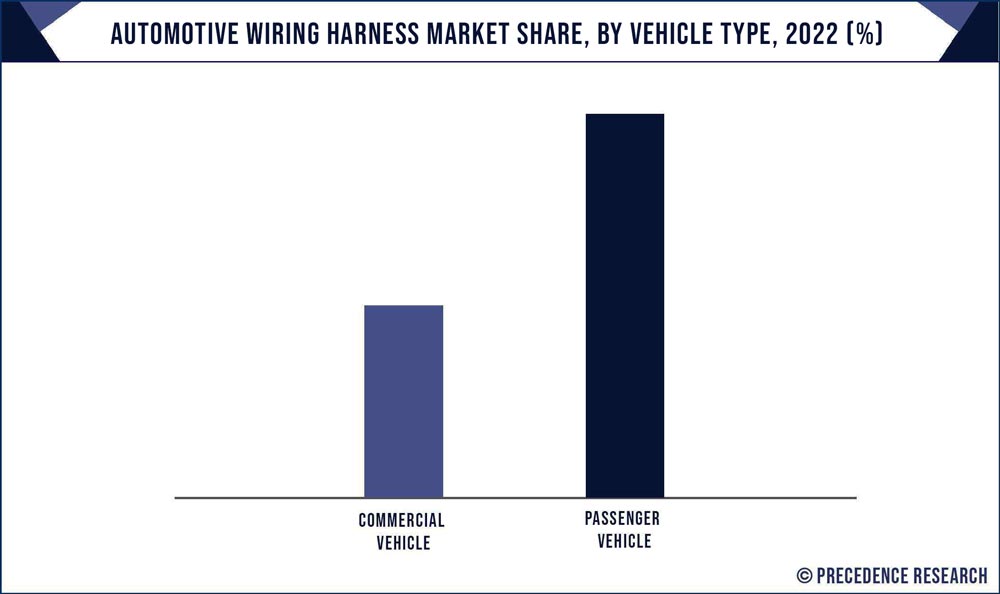 At present, BEVs have achieved popularity on account of their capability to provide numerous societal, environmental, and health assistance. They are incorporated with more user-friendly features since there is augmented need for ease and amenity in passenger cars. This in turn supports the sale of number of wires in wiring harness.
Regional Insights
Globally, Asia Pacific is predicted to exhibit substantial growth in the global automotive wiring harness market. Luxury car sales in China have been so robust that prominent luxury players like Maserati and Lamborghini observed their finest year for their sales growth in 2016. This growth lead increased vehicle production over past few years in China, Japan, and India, vehicle. Several dominant market competitors of luxury cars including Volkswagen, BMW, Mercedes Benz, Daimler, Porsche and Audi have vigorously developed their footprint in Asian nations particularly in China. Further, there is a great demand for vehicle access control in this region.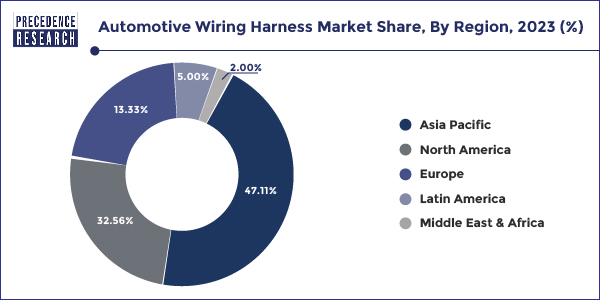 In 2020, Europe also gathered a noteworthy share in the global automotive wiring harness market. Existence of prominent automobile manufacturers like BMW, Audi and Mercedes Benz in this region is propelling the growth.
Key Companies & Market Share Insights
Elevated technical advancements to with stand intense competition along with aptitude to augment costs via low labor cost country sourcing are predicted to appear as crucial accomplishment strategy for players in this marketplace. Additionally, companies are concentrating on tactical mergers and acquisitions and alliances to magnify their industry coverage and industrial presence. For example, MothersonSumi Systems Ltd. acquired PKC Group Plc for around USD 666 million in 2017 in order to reinforce the company's existence in regions like the Americas, Europe and Asia.
Some of the significant players in the Automotive Wiring Harness market include:
Sumitomo Electric Industries, Ltd.
Delphi Automotive LLP
Furukawa Electric Co. Ltd
Lear Corporation
THB Group
Yura Corporation
Leoni Ag
SPARK MINDA
Yazaki Corporation
Fujikura Ltd.
QINGDAO SANYUAN GROUP
SamvardhanaMotherson Group
NexansAutoelectric
PKC Group
Segments Covered in the Report
This research report estimates revenue growth at global, regional, and country levels and offers an analysis of present industry trends in every sub-segment from 2016 to 2027. This research study analyzes market thoroughly by classifying global automotive wiring harness market report on the basis of different parameters including type, material, vehicle, propulsion type, transmission type, sales channel and region as follows: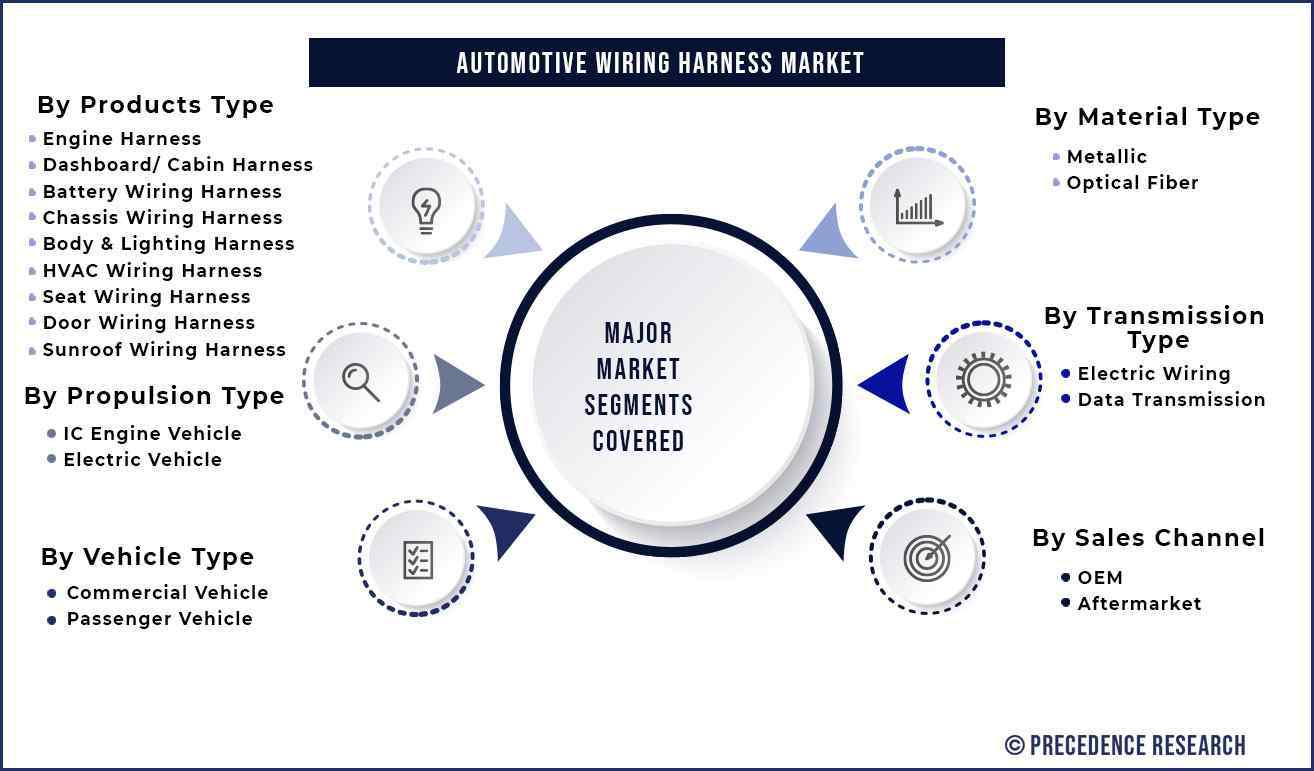 By Type
Engine Harness
Dashboard/ Cabin Harness
Battery Wiring Harness
Chassis Wiring Harness
Body & Lighting Harness
HVAC Wiring Harness
Seat Wiring Harness
Door Wiring Harness
Sunroof Wiring Harness
By Material
Metallic

Aluminum
Copper
Other Metals

Optical Fiber

Plastic Optical Fiber
Glass Optical Fiber
By Propulsion
By Transmission
Electric Wiring
Data Transmission
By Vehicle
By Sales Channel
By Geography
North America
Europe
Asia Pacific

China
India
Japan
South Korea

Middle East & Africa
Latin America