The global passenger cars market size was reached at USD 1,549.22 billion in 2022 and it is projected to hit around USD 2,675.92 billion by 2032, poised to grow at a CAGR of 5.62% from 2023 to 2032.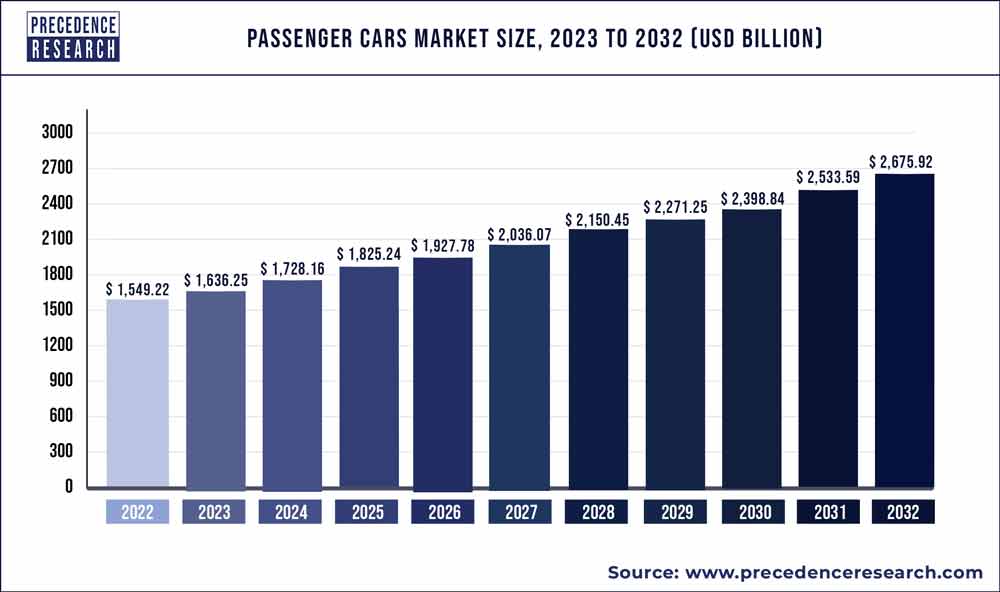 Access our Premium Real Time Data Intelligence Tool, Visit: Precedence Statistics
Key Takeaways:
North America accounted for the largest revenue share in 2022.
By fuel type, the electric segment is predicted to dominate the market from 2023 to 2032.
By vehicle type, the compact-SUV segment is expected to dominate the market from 2023 to 2032.
Market Overview
Passenger cars are among the most common modes of transportation in developed countries. In recent times, a tremendous rise has been observed in the adoption of advanced technologies such as advanced driver assistance systems (ADAS) across passenger vehicles. In the first 8 months of 2021, 3.87 million passenger vehicles in China were equipped with ADAS. The installation rate of L2 ADAS in 2021 increased by 43.2% year on year (Y-o-Y).
Owing to the rise in per capita income, the count of passenger cars in developing countries is also growing remarkably. A developing country such as India has made significant progress in many Sustainable Development Goals (SDGs) and the per capita income of the country rose to ₹ 1,97,000 ($2,411.08) by the end of 2022. The passenger car market of a nation depends largely on its existing economic conditions, manufacturing capability, and ease of loan facilities.
As per CEIC Data, the sale of passenger cars in the United States was reported to be 3,350,050 units in Dec 2021. This figure is a considerable rise from the previous figure of 2,302,989 units sold in June 2021. In developing countries, the construction of new roads further boosts the demand for private passenger cars.
Germany is another growing market for passenger cars. The count of Mercedes passenger car registrations in Germany grew from 225,392 in 2021 to 243,999 in 2022. The number of Audi passenger car registrations in Germany rose from 181,877 in 2021 to 213,410 in 2022.
Logistical restrictions, workforce shortages, material unavailability, and other limitations slowed the passenger car market growth during 2020-2021. Shipment of non-essential items was restricted by various government authorities. The pandemic impacted the sale of new vehicles very badly, particularly in the month of February 2020. In China sales of new vehicles fell by almost 92% in February.
As per European Automobile Manufacturers Association, the European Union passenger car market contracted by approximately 23.7% to 9.9 million units in the financial year 2020. In March 2020, in India, the automobile manufacturer Mahindra stopped their production due to the lockdown and drastically weakened demand from the end-user.
Report Scope of the Passenger Cars Market
| | |
| --- | --- |
| Report Coverage | Details |
| Market Size in 2023 | USD 1,636.25 Billion |
| Market Size by 2032 | USD 2,675.92 Billion |
| Growth Rate from 2023 to 2032 | CAGR of 5.62% |
| Largest Market | North America |
| Base Year | 2022 |
| Forecast Period | 2023 to 2032 |
| Segments Covered | By Fuel Type and By Vehicle Type |
| Regions Covered | North America, Europe, Asia-Pacific, Latin America and Middle East & Africa |

Market Dynamics
With an expanding presence of international automobile manufacturers, and the enhancing consumers' ability to buy new cars, the demand for passenger cars is increasing substantially. The sale of passenger vehicles in India is estimated to have increased by over 8% in January 2023 as compared to December 2022. It is estimated that around 276,000 passenger vehicles were dispatched from factories to dealerships in India in December 2022. This figure is a significant rise compared to the 255,000 passenger car units dispatched in 2021.
As of July 2022, it was found that passenger cars accounted for 45% of global greenhouse gas emissions, which was significantly harming air quality in major cities. Transitioning from diesel and gasoline-powered vehicles to electric vehicle battery (EVB) is a relevant alternative to decarbonize passenger transport all over the world. With the increasing focus on reduced exhaust emissions and improved fuel economy, the demand for and sales of passenger electric vehicles (EVs) are anticipated to experience high growth during the study period.
In December 2022, the Honourable Steven Guilbeault, Minister of Environment and Climate Change announced that the Canadian Government has proposed regulations that lay down zero-emission vehicle (ZEV) sales targets for importers and manufacturers of new SUVs, passenger cars, and pickup trucks. As per these regulations, at least 20% of new vehicles sold in Canada will be zero emission by 2026, at least 60% by 2030, and 100% by 2035.
The US has set an economy-wide target to reduce its net greenhouse gas emissions by 50-52% below 2005 levels by 2030. Such initiatives for environmental safety are expected to boost the production of passenger vehicles notably.
The growing adoption of electric and hybrid vehicles is accelerating the production of passenger vehicles across the world. In May 2019, the total count of passenger plug-in car registrations in Germany accounted for 7,899, which was up by 65% year-over-year (Y-o-Y). Among 7,899, 4,630 were Battery Electric Vehicle (BEV) and 3,269 were Plug-in hybrid electric vehicles (PHEVs).
According to the statistics mentioned in the European Electric Vehicle Factbook 2019/2020, electric vehicles accounted for around 3.6% of new passenger car registrations in 2019, which is a growth of 2.5% as compared to that of 2018. As per 'The Guardian', car manufacturers sold over 500,000 electric cars in Europe in 2020. The sales of electric cars have increased considerably since 2010, with a yearly growth of almost 50%.
North America is the most technically advanced continent owing to the presence of nations with the existence of favorable economic policies, the high gross domestic product (GDP), early adoption of advanced technologies, and an ecosystem of well-established technology. The immigrant population is rising notably in Canada since past few years.
Canada's population is rising at almost double the pace of each G7 country. Approximately 4/5th of the 1.8 million population rise from 2016 to 2021 was attributable to the new arrivals in Canada, either as temporary or permanent immigrants. While the pandemic of COVID-19 slowed the movement of people across the world, nearly 185,000 permanent immigrants arrived in Canada in the financial year 2020. Thus, the rising population in Canada is creating immense scope for the passenger car market in recent times.
COVID-19 Impact:
The pandemic of COVID-19 affected the domestic production of passenger cars owing to the shutdown of manufacturing facilities during lockdowns. With the stringent social distancing norms and nationwide lockdowns, the production units of different OEMs were completely shut down, and the raw material transport was halted, directly or indirectly affecting thousands of dependent workers and the entire industry. Since the movement of people was reduced, the requirement for an automobile was reduced exponentially. Also, due to job loss or salary cuts, the buying power of the end user also decreased substantially. In Ireland, the car market declined by 18% due to the uncertainty prompted by the COVID-19 pandemic.
As per the data from the United Nations World Tourism Organization (UNWTO), international tourist arrivals all over the world in 2021 were around 421 million, 4.6% more than that of 2020 but lower by 71.3% as compared to 2019. Reduction in the number of tourists reduced the requirement for commercial passenger vehicles. As per the Society of Indian Automobile Manufacturers, the automobile sector in India witnessed negative growth in sales of all vehicle categories in FY21 with a 20.77% fall in sales of commercial passenger vehicles. From the second quarter of 2022, the demand for passenger vehicles started rising as the economy began to open.
Segments Insight:
Fuel Type Insights
Based on the fuel type, the global passenger car market is segmented into petrol, diesel, hybrid, and electric. The electric segment is estimated to dominate the market during the study period. In integration with the private sector and in cooperation with related government agencies, Saudi Arabia's Ministry of Energy disclosed the regulations for the rollout of electric vehicle (EV) charging stations in the country in August 2022. The development of charging infrastructure in numerous countries is fuelling the demand for passenger electric vehicles.
As of July 2022, 40% of all new passenger vehicles registered in the European Union (EU) were running on petrol, while diesel accounted for 19.6% of total registrations. By July 2022, 18% of new passenger vehicles in the European Union were electrically-chargeable (9.1% battery electric and 8.9% plug-in hybrids), while hybrids accounted for 19.6% of total vehicle sales. Petrol and diesel-powered vehicles are anticipated to be replaced with hybrid and electric vehicles in the coming years.
Vehicle Type Insights
By vehicle type, the passenger market is segmented into hatchbacks, sedan, compact SUV, and SUVs. The compact-SUV segment is anticipated to dominate the market during the forecast period. Powerful engines and high ground clearance are the crucial factors that are supporting the compact-SUV segment over the forecast period. According to International Energy Agency (IEA), global SUV sales grew considerably by over 10% between 2020 and 2021, accounting for over 45% of all new vehicle sales globally.
The demand for electric SUVs is growing significantly in Canada. The Hyundai Kona electric, Canada's first subcompact electric SUV was launched in 2021. Owing to an outstanding all-electric range of up to 415 km, this compact SUV is proposed to be a preferred choice for both longer adventures as well as daily commutes.
Regional Insights
North America held the largest revenue share in 2022 owing to its well-established automotive infrastructure. The regional market is also anticipated to be driven by the growing disposable income, and rising inclination towards compact SUVs. As per the data released by the U.S. Bureau of Economics, Disposable Personal Income (DPI) grew by $2.13 trillion and personal income increased by $1.97 trillion (10.5%) in April 2020. Rising income levels tend to enhance the buying power of individuals substantially. The increasing income level is estimated to support the passenger market growth in the North American region.
The passenger car market growth in Asia Pacific (APAC) countries such as Japan, China, and India can be attributed to the rising demand for vehicles owing to the increasing per capita income of the middle-class population and changing consumer preferences. The total count of new motor vehicle registrations in Japan accounted for nearly 4.20 million units in 2022. Out of these, Japan recorded around 3.45 million new passenger car registrations.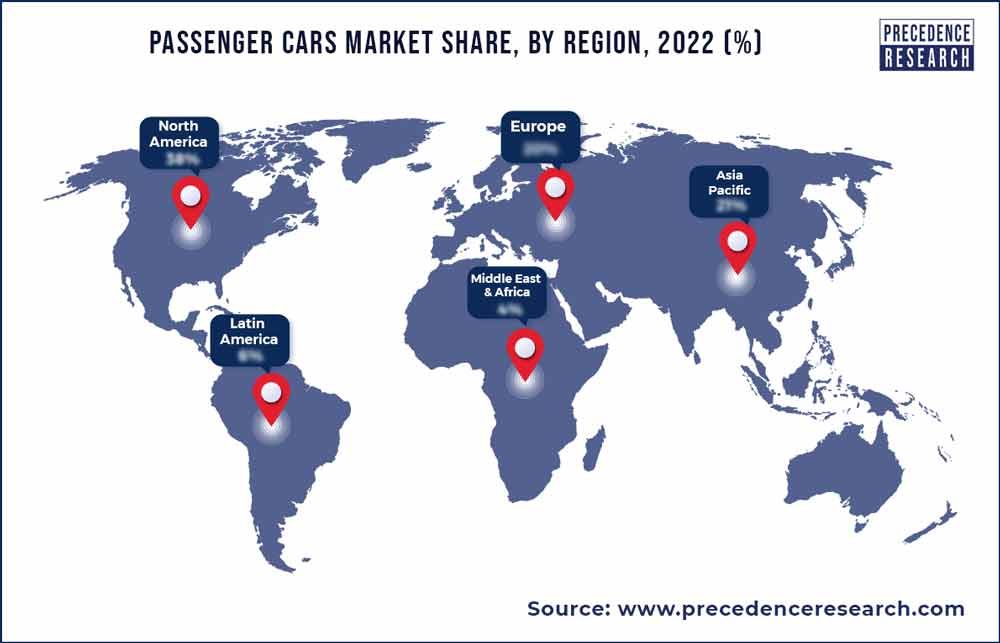 The government of India launched the 'Make in India' initiative to encourage companies to develop, manufacture and assemble in India. The production of passenger cars in India is anticipated to increase drastically in the coming years. In addition to this, 'Made in China 2025' is also expected to create promising opportunities for manufacturing passenger vehicles in the country.
As per CEIC Data, the sale of passenger cars in South Korea was reported to be 1,468,873 units in Dec 2021. This figure is a remarkable rise from the previous figure of 781,475 units sold in June 2021.
The population in Europe is inclined towards the latest automobiles. Also, people in European countries are environment conscious and tend to prefer electric vehicles as compared to conventional fuel vehicles. The environment-conscious nature of the people is majorly boosting the electric passenger vehicle demand across the EU region.
Recent Developments:
In October 2022, BYD Auto Co., Ltd. announced its debut in the Indian passenger vehicle segment by launching Atto 3, an electric sport-utility vehicle (SUV). BYD Auto Co., Ltd. reported that they delivered 340 units of Atto 3 electric sport-utility vehicles in January 2023. With existing 24 dealership showrooms with partners across India, the world's top electric vehicle producer has set an aim of selling 15,000 electric SUVs in India and further targets to capture 40% of India's EV market by 2030.
In January 2023, Mercedes-Benz reported that it sold 2.05 million passenger cars in 2022. As per Mercedes, the sale of battery-electric vehicles (BEVs) was more than doubled, to 117,800 units in 2022. The highest rise in passenger cars sales for Mercedes-Benz over the year was registered in the U.S. at 4%, while Europe experienced an increase of 1%.

In February 2023, as per the data published by the China Passenger Car Association, Tesla sold 66,051 China-made electric vehicles (EVs) in January 2023. This was an 18% rise as compared to December 2022, when the US electric vehicle manufacturer sold 55,796 China-made vehicles.
Company Profiles and Competitive Intelligence
The key players operating in the global passenger car market are:
General Motors
Volkswagen
Toyota
Hyundai
Ford
Nissan
Peugeot S.A.
Tesla
Honda
Mercedes
Audi
TATA Motors
Kia Motors
Renault
Suzuki Motor Corporation
Segments Covered in the Report:
(Note*: We offer report based on sub segments as well. Kindly, let us know if you are interested)
By Fuel Type
Petrol
Diesel
Hybrid
Electric
By Vehicle Type
Hatchback
Sedan
Compact-SUV
SUV
By Geography
North America
Europe
Asia-Pacific
Latin America
Middle East and Africa