The global electric passenger cars market size was valued at USD 215.81 billion in 2022 and it is projected to hit around USD 3,737.49 billion by 2032, poised to grow at a CAGR of 33% during the forecast period from 2023 to 2032.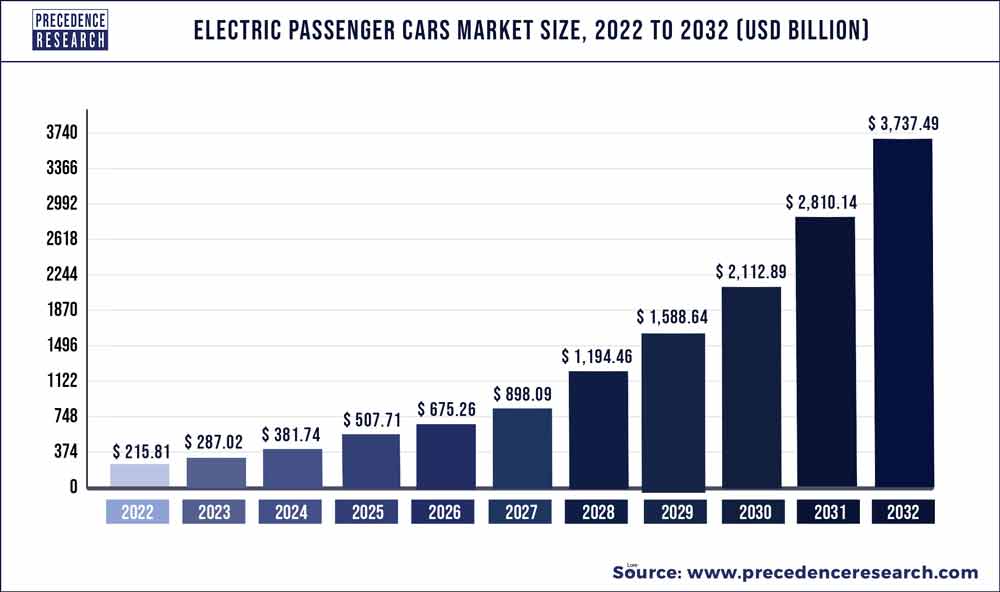 A vehicle that is driven solely by electric engines and battery energy is known as an electric car, battery electric car, or all-electric car. Electric cars emit fewer pollutants in total, have no exhaust fumes, and are quieter than automobiles with internal combustion engines (ICEs).
Key Takeaways:
The European market generated more than 47% of revenue share in 2022.
Asia Pacific is expected to expand at a fastest CAGR of 38% between 2023 and 2032.
By Product, the battery electric vehicle segment contributed more than 62% of revenue share in 2022.
In 2022, the seller was responsible for more than 71% of the electric vehicle battery (EVB) purchases.
By Vehicle Type, the compact-SUV segment is expected to dominate the market from 2023 to 2032.
Growth Factor:
As the automobile industry dealt with the negative impacts of lockdown limitations brought on by COVID-19 in the first half of 2020, passenger vehicle sales decreased significantly globally. In spite of this chaos, the industry experienced a landmark year in 2020, with sales hitting about 3.0 million units, nearly a 40% increase over 2019. With the triumph of the WulingHongguang Mini EV and Tesla Model 3, China, with the assistance of the government, was a significant market disruptor. The nation accounted for over 30% of all electric vehicle sales worldwide in 2020, and it is expected to maintain its strong momentum thanks to a rising public electric vehicle charging infrastructure network and predicted increases in customer demand over the forecast period.
Due to rising gasoline costs, the use of electric cars has increased in a number of nations. In place of gasoline and diesel engines, electric cars use lithium-ion batteries that provide a hybrid recharge system. The goal of many ride-hailing businesses is to replace their inventory of internal combustion engines with electric cars. By the end of 2021, Uber India, for instance, wants to have about 3,000 electric cars in its inventory. The COVID-19 pandemic epidemic has altered the general business environment for 2020 as well as the years after.
The pandemic has caused serious losses in a number of sectors, and the car industry is no exception. However, there was a significant increase in demand for electrified passenger vehicles during the epidemic. Compared to 2019, the sales of electric passenger cars grew by more than 40% globally in 2020. The closure had an impact on most businesses' manufacturing processes. However, after the shutdown, the use of electric passenger cars increased sharply as a result of increased government efforts to promote the use of low-emission vehicles.
Governments' backing of long-range, zero-emission cars through subsidies and tax breaks, as well as the rising demand for low-emission transportation, have forced manufacturers to offer electric vehicles all over the globe.
As governments spend more money in building electric vehicle charging stations and hydrogen fueling sites around the world, OEMs will have more chances to grow their geographic reach and income streams.
The adoption of electric cars has accelerated in a number of nations as a result of rising gasoline costs.
Report Scope of the Electric Passenger Cars Market:
| | |
| --- | --- |
| Report Coverage | Details |
| Market Size in 2023 | USD 287.02 Billion |
| Market Size by 2032 | USD 3,737.49 Billion |
| Growth Rate from 2023 to 2032 | CAGR of 33% |
| Largest Market | Europe |
| Base Year | 2022 |
| Forecast Period | 2023 to 2032 |
| Segments Covered | By Product and By Vehicle Type |
| Regions Covered | North America, Europe, Asia-Pacific, Latin America and Middle East & Africa |

Key Market Drivers:
Rising awareness about environmental sustainability
The rising awareness about environmental sustainability is one of the driving factors behind the growth of the electric passenger car market. With concerns about climate change and air pollution, consumers are becoming more conscious of their environmental impact and are looking for more sustainable modes of transportation. Electric passenger cars offer a solution to this problem, as they emit little to no greenhouse gases and are much cleaner than traditional gasoline-powered vehicles.
In addition, electric vehicles are impacting people's lives in a positive way, which further motivates more people to prefer using electric vehicles. Furthermore, governments all over the world are recognizing the value of sustainability and are encouraging the use of electric vehicles by providing incentives and subsidies. For instance, in some nations, owners of electric vehicles are exempt from paying certain taxes, and buying an electric car is frequently eligible for subsidies.
Key Market Challenges:
Inadequate EV recharge facilities One major challenge facing the electric passenger car market is the inadequate infrastructure for recharging electric vehicles. While gasoline-powered vehicles can be refueled at any gas station, electric cars require charging stations, which are still relatively scarce in many areas. This can make it difficult for electric car owners to take long road trips and can also lead to range anxiety, which is the fear that the car will run out of battery power before reaching a charging station.
To address this challenge, governments, and private companies are investing in the development of charging infrastructure. Many countries are aiming to install more charging stations, and some are even offering incentives for businesses to install charging stations on their premises. In addition, advances in battery technology are increasing the range of electric cars, which can help to reduce range anxiety.
However, building a charging infrastructure is a significant undertaking, and it will take time for it to become as widespread and convenient as traditional gas stations. In the meantime, the inadequate infrastructure for recharging electric vehicles remains a challenge for the electric passenger car market.
Key Market Opportunities:
Government programs involving EVs
Government programs and policies involving electric vehicles (EVs) provide significant opportunities for the growth and development of the electric passenger car market. Many governments are offering incentives and subsidies for consumers and businesses to switch to EVs, such as tax credits, rebates, and reduced registration fees. These incentives make EVs more affordable and attractive to potential buyers, which in turn drives demand and sales.
In addition to consumer incentives, governments are also investing in EV infrastructure, including charging stations and networks. This investment is critical to the success of the electric passenger car market, as inadequate charging infrastructure is one of the major barriers to the widespread adoption of EVs. Governments are also implementing regulations and mandates to increase the use of EVs, such as emission standards and fleet requirements for government agencies and public transportation.
For instance, Norway and Germany are making sizable investments to support the electric passenger cars market's sales. Thus, a high growth rate in the selling of electric cars is seen in Europe as a result of the high incentives and support. Due to this, the demand for accessories and tools used in EV charging, such as charging cords, connectors, converters, and portable charges, has increased.
Furthermore, many governments are also collaborating with private companies and organizations to develop and commercialize EV technologies, such as battery research and development. This partnership and collaboration between government and industry players can lead to the creation of new and innovative products, which can help boost the growth of the electric passenger cars market
Moreover, the demand for electric cars has grown as a result of strict CO2 emission standards. To promote the sales of EVs, governments are spending a lot of money on rebates and grants. Over the next ten years, it is anticipated that the demand for EVs will rise as a result of the actions done by governments all over the globe. All nations have established fuel efficiency requirements, and China, Canada, and the US have established rules for electric vehicles. Additionally, they offer buyers and EV makers incentives and grants.
For the purchase of new EVs, the US offers rebates of up to USD 7,500. The majority of these nations also offer benefits for the installation of EV recharge stations. With complete intentions to switch to EVs, Europe is anticipated to be the first region. By 2030, the UK wants to dominate the entire auto industry with EV sales. Norway intends to start the same project and finish it by 2025. Plans have been made for the adoption of EVs by the Netherlands, Israel, Ireland, Iceland, and Denmark by 2030. By 2035, China and Japan also intend to cease selling ICE vehicles.
Segments Insight:
Product Insights:
Over 62% of the total income in 2022 came from the battery electric car sector, and it is anticipated that this segment will continue to dominate the market during the projection period. In the U.S., there will be more than 15 BEV versions accessible by 2022. BEV is anticipated to develop more slowly than plug-in hybrid electric vehicles, mainly because of range anxiety. The most effective BEV is the Model 3, which has a cheap cost per kilometer, but the Model S is more common due to its increased range. In 2022, the seller was responsible for more than 71% of the BEV purchases.
Over the projection period, the plug-in hybrid electric car sector is anticipated to grow at a CAGR of over 32%. This development can be ascribed to steps made by governments in developed and developing countries to encourage the use of EVs. PHEVs have an internal combustion engine that is powered by alternative gasoline and an electric drive that is powered by batteries. Companies like Volkswagen Group are concentrating on growing the sales of plug-in electric vehicles. In comparison to 2018, the company's sales of plug-in electric cars increased by about 60.0% in January 2020.
Vehicle Type Insights:
The market for electric passenger vehicles is divided into segments based on the style of vehicle: hatchbacks, sedans, compact SUYs, and SUVs. During the forecast period, the compact-SUV category is expected to rule the market. The key drivers of the compact-SUV segment's growth over the projection period are powerful motors and high-ground clearance. The International Energy Agency (IEA) reports that worldwide SUV sales increased significantly between 2020 and 2021 by over 10%, making up over 45% of all new vehicle sales internationally.
In Canada, there is an increasing need for electrified SUVs. In 2021, the Hyundai Kona Electric, the country's first small electric SUV, was introduced. Due to its impressive 415 km all-electric range, this small SUV is recommended as a top option for both extended excursions and everyday travel.
Regional Insights:
In 2022, the European industry contributed more than 47% of global income. The significant income share is primarily attributable to the rising sales of electric passenger cars in nations like Germany, France, Norway, and the United Kingdom. As part of their efforts to combat the pandemic's impacts, governments in the European Union have raised subsidies for electric cars. For instance, the government of Germany raised subsidies for the acquisition of BEV and PHEV by approximately USD 2,500 and USD 1,500, respectively.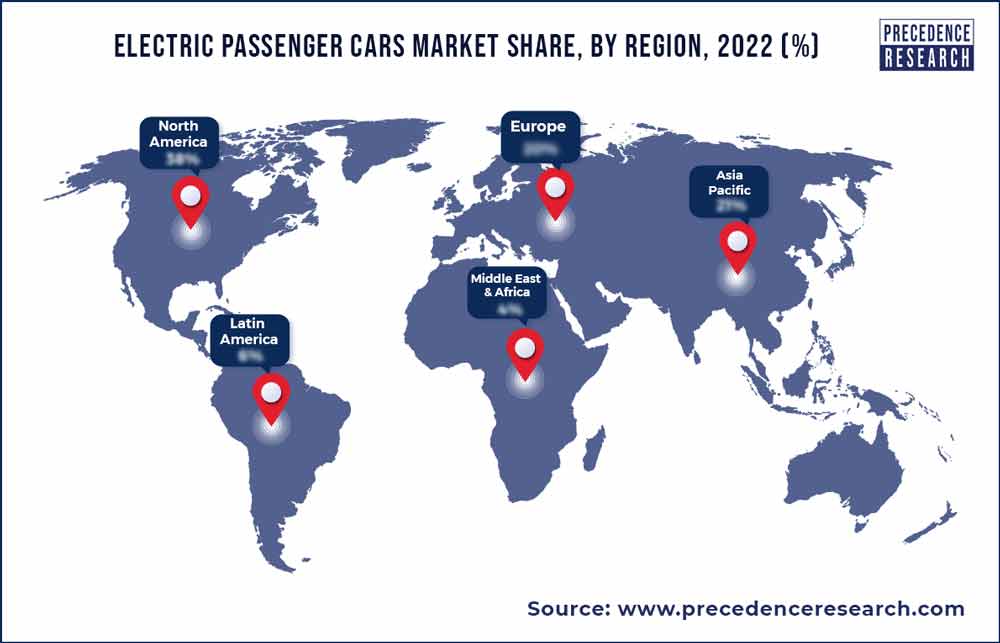 From 2023 to 2032, Asia Pacific is anticipated to grow at a CAGR of over 38% in terms of income. Leading nations in the area include China, Korea, and Japan. As the biggest producer and consumer of electric passenger vehicles, China is anticipated to hold a commanding position throughout the projection period. The government has taken a number of measures to encourage the use of electric vehicles, such as providing subsidies for EV purchasers, setting up charging sites, and passing legislation requiring automakers to produce electric vehicles in proportion to the volume of cars they produce.
From 2023 to 2032, North America is anticipated to have the second-highest CAGR in terms of income, at over 39.42%. In 2022, the U.S. had the biggest revenue share, and it is anticipated that it will maintain its leadership throughout the forecast era. However, sales of electric cars in the United States fell in 2019 and 2020 as the government tax credit for General Motors and Tesla was reduced.
Recent Developments:
The introduction of the LS and Mirai, which come equipped with cutting-edge driver assistance technology, in the Japanese market was revealed by TOYOTA MOTOR CORPORATION in April 2021.
A contract to establish BYD TOYOTA EV TECHNOLOGY CO., LTD. was inked in April 2020 by BYD Company Ltd. and TOYOTA MOTOR CORPORATION. The recently established business carries out BEV study and development.
Key Market Players:
BYD Company Ltd.
Daimler AG
Ford Motor Company
General Motors Company
Lucid Motors
Rivian
Karma Automotive
Fisker Inc.
Mitsubishi Motors Corporation
Nissan Motor Company
SAIC Motor Corporation Limited
Tesla
TOYOTA MOTOR CORPORATION
Volkswagen AG
Segments Covered in the Report:
(Note*: We offer report based on sub segments as well. Kindly, let us know if you are interested)
By Product
Battery Electric Vehicle (BEV)
Plug-In Hybrid Electric Vehicle (PHEV)
By Vehicle Type
Hatchbacks
Sedan
Compact SUV
SUVs
By Geography
North America
Europe
Asia-Pacific
Latin America
Middle East and Africa