The global electric vehicle charging station market size was estimated at USD 26.9 billion in 2022 and it is projected to hit around USD 344.61 billion by 2032 with a remarkable CAGR of 29.1% from 2023 to 2032.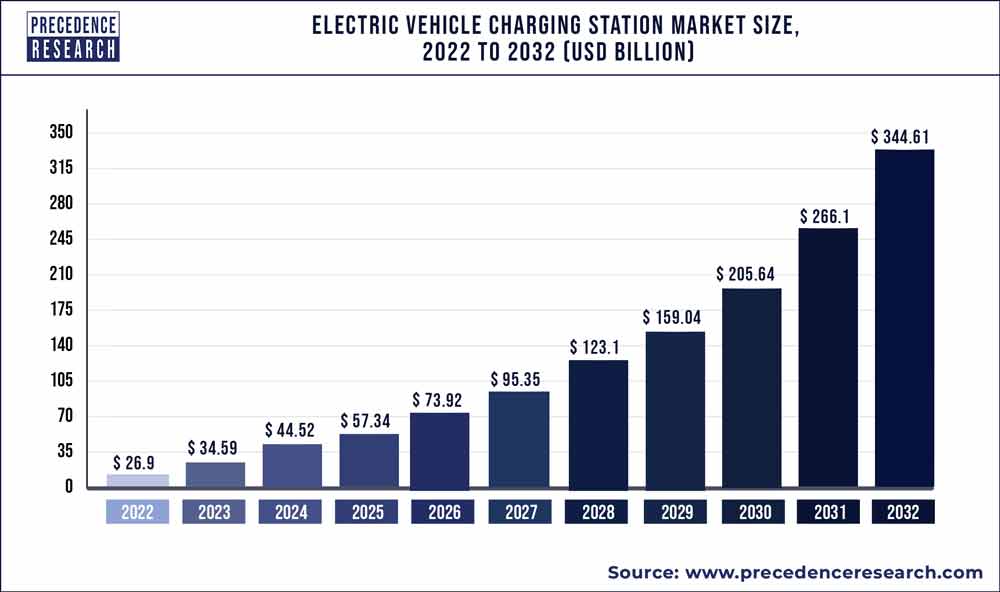 Access our Premium Real Time Data Intelligence Tool, Visit: Precedence Statistics
Key Takeaway
As per a report published by International Energy Agency (IEA) in 2020, China own total 52% of slow chargers and 82% of fast chargers globally.
By charging Level, the Level 2 segment has captured 70% revenue share in 2022.
By mode of charging, the plug-in charging segment has accounted revenue share of around 86% in 2022.
By end user, the residential segment has held revenue share of around 65% in 2022.
In 2022, the public chargers application segment accounted market share of around 85%
DC charging station segment garnered revenue share of around 75% in 2022.
The rise in carbon emissions and other hazardous pollutants from transportation has necessitated the adoption of electric vehicles. As a result, there is a growing demand for electric vehicle charging infrastructure in business and residential settings. Increased cooperation among automobile manufacturers for charging infrastructure, as well as a subscription model, are also projected to boost market expansion.When opposed to residential areas, commercial spaces have a far higher market penetration of electric vehicle charging equipment. With the increased usage of electric vehicles, the number of commercial charging stations is expected to rise. Efforts to improve charging infrastructure in commercial areas would be critical in increasing the use of electric vehicles, as overnight charging at residential complexes or individual residences would not be adequate for long-distance travel.
The major factors driving the market's growth are government initiatives to encourage the adoption of electric vehicles and associated infrastructure, rising demand for electric vehicles fast charging infrastructure, and increased deployment of electric vehicles by shared mobility operators. The market players can benefit from increased research and development in vehicle-to-grid technology and rising acceptance of electric mobility in emerging nations.
Rising demand for electric vehicles is one of the prime factors for the aggressive growth of EV charging station market. The growth is further propelled by the government funding to the Original Equipment Manufacturers (OEM) for the deployment of charging stations. For instance, in December 2016, ChargePoint Inc. was awarded USD 4 million by California Energy Commission (CEC) for completing the West Coast Electric Highway that connects Baja California to British Columbia with electric vehicle charging stations.
Additionally, increasing popularity of Mobility as a Service (MaaS) also expected to flourish the market growth. Further, the growth of the EV charging station is fuelled by the significant emphasis on the subscription-based charging models. As per the model, many utilities such as Vattenfall AB, Duke Energy Corporation, and New York Power Authority have signed a partnership agreement with the OEMs to provide the subscription-based services to their customers. For instance, in April 2019, Duke Energy Corp. signed a partnership agreement with ChargePoint Inc. for offering subscription-based services to its EV drivers in the U.S. state of North Carolina.However, various costs associated to the EV charging infrastructure that includes maintenance cost, installation cost, and operational cost are impacting negatively on the market growth.
The governments all around the globe have shifted their focus from other activities to medical and health care facilities due to COVID-19 pandemic. During the outbreak, strict lockdown rules were imposed in all countries. These restrictions hampered the work process of every industry. People were forced to stay at home and maintain social distancing norms and prevent the coronavirus from spreading, affecting the availability of the labor. However, as all countries lifted the lockdown restrictions, the ongoing projects resume, and the electric vehicle charging stations market is likely to rise significantly.
Electric Vehicle Charging Stations Market
In July 2023, the Confederation of Indian Industry stated that India requires approximately 1.32 million electric vehicle charging stations by 2030. The nation is aiming to set up at least one charging station for 40 electric vehicles.
By 2025, Beijing, China alone will have 7,00,000 electric vehicle chargers. The policy, Urban Management Development Plan for Beijing is expected to promote the installation of electric vehicle charging stations in the city.
ABB, one of the largest manufacturers of EV chargers expanded its manufacturing capacity in 2022 with a $30 million production facility in Italy. The new production facility aims to produce 10,000 EV chargers annually.
In February 2023, the United States government invested $7.5 billion for electric vehicle charging infrastructure while aiming net-zero emissions by 2050.
The United States installed 6,300 fast chargers in 2022, about three-quarters of these fast chargers were of Tesla Superchargers.
The Tokyo Metropolitan Government exceeded the subsidy for apartment EV charging station installation up to $12,600. Tokyo plans to offer EV charging stations at every construction of building with 20% of parking space.
EVgo, a leading manufacturer of EV charging stations in the United States stated that its revenue increased to $25.3 million in the first quarter of 2023, which showed a 229% year on year growth.
The Federal government, Canada partnered with the United States in May 2023, in order to establish a binational charging station corridor connecting Michigan to the Quebec City.
In March 2023, the Government of India announced a grant of Rs.800 crore to Hindustan Petroleum, Bharat Petroleum and Indian Oil in order to establish 7,432 public fast EV charging stations in the country.
The United Kingdom government introduced a grant in 2023 under which, people can receive up to 75% cost of purchase and installation of electric vehicle charging station at home. Along with this, 18 companies in the UK aim to invest $7.5 billion in EV infrastructure by 2030.
The Motor Fuel Group in the United Kingdom announced a plan to invest $50 million in EV hubs in 2023, the hubs will offer 360 ultra-rapid chargers.
Market Dynamics
Drivers
Growing adoption of vehicle-to-grid electric vehicle charging station
Vehicle-to-Grid electric vehicle charging is a system in which plug-in electric vehicles and the power grid exchange electrical energy in both directions. Electric vehicles may store and discharge unused energy to the grid using Vehicle-to-grid technology. This can improve the performance of the electrical component and increase the value of electric vehicles.
Increasing Sustainability
By installing charging stations, we can show clients and potential employers that you are doing your share to promote sustainability and cut emissions. The most straightforward action the company may take to advance its sustainability plan is probably to provide EV charging stations. It is simple to choose a smart EV charging infrastructure if you wish to incorporate EV charging into your company's sustainability strategy. Dashboards are widely used in smart EV charging.
Development in the EV Infrastructure
In order to make it convenient for EV users to locate nearby charging stations, the manufacturer of EV charging stations also offers cloud-based app connectivity. Additionally, it benefits the businesses that run the charging stations by increasing foot traffic from nearby EV vehicles. Additionally, it moves the construction of a sizable EV charging infrastructure forward, which raises the incentive and profitability of EV charging businesses. Last but not least, EV charging manufacturers like Griden provide ongoing assistance for setting up and maintaining charging stations so you may continue to leverage business revenues without any problems.
Restraints
Stringent government regulations
Various governments have enacted strict regulations governing the placement of charging stations. When installing charging stations, service providers must adhere to a set of guidelines. When the installation is on private property, they need permission from plot owners, local governments for regulatory mandates, and utility companies for energy transfer.
Lack of Vehicle-grid Interoperability
There must be more agreements, logistics, and communication channels between the grid, utilities, and charging manufacturers. The inability to reach a consensus on a broad-scale deployment of an inexpensive, dependable, and secure electric vehicle charging network for drivers has limited the situation. All these partners are essential for the necessary procedures and technologies that the vehicle-to-grid infrastructure has made possible. This frequently occurs due to information being withheld by the government or utility companies that are otherwise not provided to the charging network providers. This frequently slows down development time and reduces the project's profitability.
Opportunities
Surge in sales of electric vehicles
The increased acceptance and use of electric vehicles has highlighted the need for charging infrastructure development. Leading electric vehicle markets are spending heavily in electric vehicle charging infrastructure as well as R&D to develop faster and effective charging methods. Auto manufacturer are anticipated to make noteworthy outflows to meet the growing demand for electric vehicles and to play a key role in the market's evolution.
Increasing demand for clean transportation
One aspect of a more general mobility trend is electric autos. Along with becoming more electric, our cars will also be autonomous, linked, and shared. When all of these advances are used, transportation planners believe that emissions, traffic, and accidents will greatly decrease. No longer is it believed that every adult would operate a combustion vehicle alone. Carpooling is an option for us. Electric mopeds, electric scooters, and electric cycles can all be used as last-mile transportation. Additionally, connected electric vehicles produce data planners can utilize to reorganize parking and roadways. Smart EV charging stations represent the start of a significant transformation. Giving greater space on the road to pedestrians, cyclists, and green areas can come after that.
Challenges
High cost of chargers
The initial cost of level 3 fast chargers and ultra-fast chargers is significant. In fossil fuel-powered automobiles, most people prefer 5-7 minutes, however level 1 and level 2 chargers provide safe driving for 6-16 hours when fully charged. The charging time for these rapid chargers is less than 30 minutes.
Report Scope of the Electric Vehicle Charging Station Market
| | |
| --- | --- |
| Report Highlights | Details |
| Market Size in 2023 | USD 34.59 Billion |
| Market Size by 2032 | USD 344.61 Billion |
| Growth Rate from 2023 to 2032 | CAGR of 29.1% |
| Largest Market | Asia Pacific |
| Fastest Growing Market | Europe and North America |
| Base Year | 2022 |
| Forecast Period | 2023 to 2032 |
| Segments Covered | Charging Station Type, Power Output, Supplier Type, End User, Geography |
| Companies Mentioned | ABB Ltd., ChargePoint, Inc., EVgo Services LLC., Allego, Scheinder Electric, Blink Charging Co., Wi Tricity Corporation, Toshiba Corporation, AeroViroment, Inc., Mojo Mobility, Inc., General Electric, Robert Bosch GmbH |
Level of Charging Insights
Chargers at Level 3 are intended for industrial use. An EV can be charged 16–32 times faster at a level 3 charging station than at a level 2 one. Level 3 charging station capacity is being increased by researchers. In the future, fueling a conventional vehicle will take longer than charging an EV at a level 3 charging station. The third level of charging has the maximum output of all the levels and charges significantly more quickly than the first two. This level, which also offers DC Fast Charging, needs a special cable to handle higher electrical loads. Additionally, they are typically managed by outside businesses, according to NeoCharge.
For instance, Level 3 charging stations are effectively Tesla Superchargers. Like other third-party stations, they provide direct current quick charging. The primary distinction is that these stations only work with automobiles bearing the Tesla brand. Other EVs currently cannot use Superchargers.
Charging Station Type Insights
DC charging station led the global electric vehicle charging station market with largest revenue share in the year 2022. This is mainly attributed to fast charging capacity and attractive pricing of DC charging stations. The DC charging station directly charges the battery by converting the power before it enters the car's converter. The DC charging station charges the battery directly as it converts the electricity prior to entering in the cars converter. Additionally, rapid increase in the adoption of technologies, such as Near-field Communication (NFC) and Radio Frequency Identification (RFID), in charging stations installed on highways also flourishes the DC charging market growth.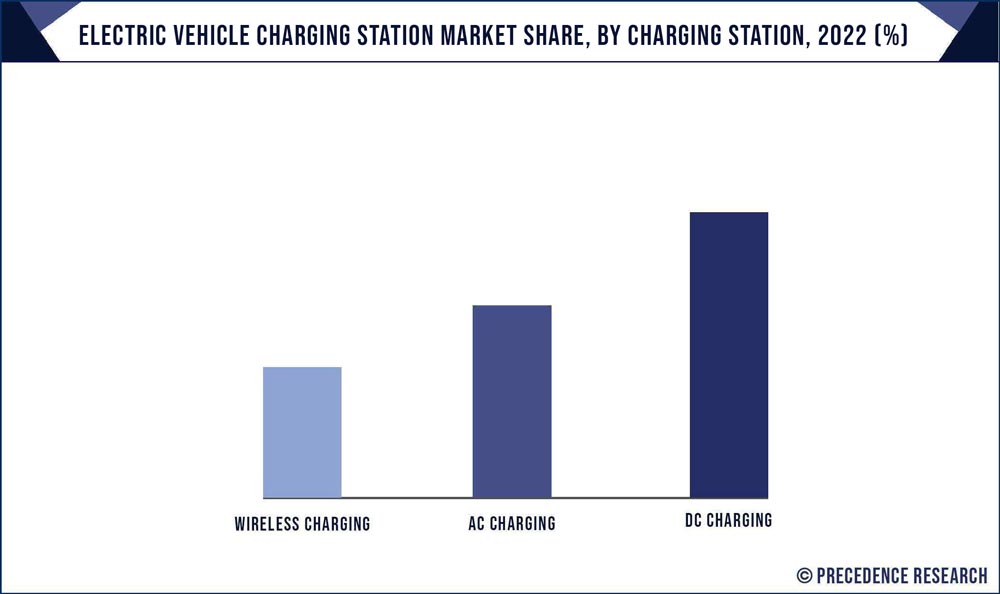 Many top companies are investing in the development of wireless charging systems for electric vehicles because wireless charging has the potential to grow significantly for the players in the market for electric vehicle charging stations. For instance, the Korean automaker Hyundai introduced the first wirelessly charging EVs with the Genesis GV60. This was swiftly followed by the Chinese automaker FAW, which teamed up with real estate giant Wanda Group to develop 60 autonomous parking garages with, among other features, car charging stations for 60 different types of vehicles. China was the first country to implement wireless charging, and it is anticipated that this trend will spread.
Additionally, wireless charging allows autonomous charging and offers electric vehicle drivers a whole new experience. For those who supply vehicle-to-grid (V2G) services, wireless charging opens up new economic opportunities.
Vehicle Type Insights
Governments all around the globe are encouraging the production of automobiles in response to increasing concerns about the environmental impact of conventional cars. zero-emission cars, or electric vehicles, are becoming more well-liked as a more eco-friendly mode of public transit across the globe. To encourage the use of EVs, numerous national authorities provide financial incentives, such as refunds and tax exemptions, lower parking/toll charges for EVs, free charging, and subsidies. Thus, the battery-electric vehicle industry is rapidly growing. Electric cars require much less maintenance than internal combustion engines since they have fewer moving parts.
Electric cars require less upkeep than regular gasoline or diesel vehicles. As a result, the annual cost of operating an electric car is relatively low. Road tax and registration for electric vehicles are less expensive than those for gasoline or diesel vehicles. These elements are fueling battery-electric vehicle growth on a global scale.
Connector Type Insights
The AC charging specification created by renowned connection maker Mennekes was highly received by EV users and is widely utilized in Taiwan, Europe, Australia, Southeast Asia, and Australia. The lack of a pin on the object distinguishes Type 2 from other types. Customers can choose SINBON's 20A, 32A, and so on.
Due to the increasing demand for electric vehicles, there is a greater need for charging stations. As a result, new products are being created, and there is a wider variety of EV charger specifications available.
AC charging chargers need to arrive faster. An electric vehicle may be fully charged in roughly 3 minutes at its 22 kW maximum rating. The majority of European electric vehicles use the Type 2 connector, which is what the chargers often have.
Application Insights
Public type charging stations held major revenue share in the year 2022 as they are more cost-effective to the manufacturers. In addition, they have sufficient parking space and are accessible to all public.
On the other hand, private type charging stations are basically workplace based or residential based station that are only accessible to the owners or limited public. As a result OEMs and different utilities are also focused towards building public charging station. Thus significant benefits offered by public type over private type fuels the market growth.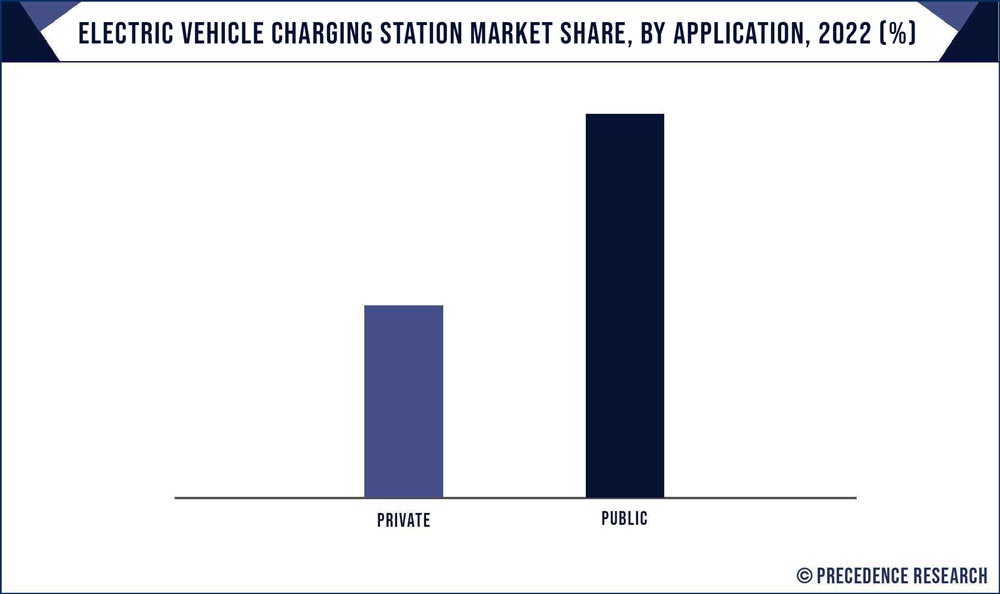 The future of the EV industry is mainly in public EV charging, which must be reliable and easily available for the EV sector to experience sustainable growth. Public EV charging is any station that enables members of the public to refuel their cars, whether it is used at specialized charging stations (like those found at current gas stations) or at establishments that provide public access, such as stores and apartment buildings. No limits apply to which drivers can use the public charging station.
The advantages of public EV charging are numerous. Tax subsidies and other financial incentives at the federal, state, and local levels support a large portion of the public charging infrastructure. Widespread use also entails public charging. While station utilization increases income, it is net-positive for sustainability. As a result of the higher utilization and revenue, owners may have more opportunities.
Mounting Type Insights
A dedicated circuit that can handle a heavier load than a typical home circuit connects the wall-mounted box to the electrical grid. A Mobilize power solution is accessible to everyone who wants to charge their car at home or to business owners who want to add electric vehicles to their fleet. Additionally, each owner of an electric vehicle residing in a shared apartment building has the right to have a charging station installed in their parking space in an increasing number of nations, including Spain, France, India, and Japan.
By using this cutting-edge technology, one may, for instance, charge an electric vehicle at night when there is less demand for electricity and then use that electricity to power their homes during the day (V2H) or help balance local or even national energy supply and demand (V2G). A more balanced power supply translates to cheaper costs and more dependable electricity for everyone.
By End User
A dependable and sophisticated commercial EV charging station is essential for your company or local government because many companies aim to convert their fleets to electric vehicles while also offering EV charging options for clients and tourists. Consider the software and service provider EV Connect for electric vehicle charging. The platform provides possibilities for charging electric vehicles at public, private, academic, and hospitality facilities. The platform develops and maintains the industry's most dependable and flexible cloud-based platform for controlling charging stations and the drivers who utilize them. The service provides charge station agnostic command and manages enterprise, driver communications and support, demand-response capability across several charging networks, energy systems integration via an open API, and more.
Regional Insights
Asia Pacific dominated the global electric vehicle charging station market in 2022 and is expected to be the most lucrative region during the forecast period. This is majorly attributed to the increasing investments by the government of China, South Korea, Japan, and other Asian countries for installation of charging infrastructures. For instance, in April 2020, China announced its plan to invest USD 1.43 billion in 2020 to maintain its leadership in EV adoption race. Similarly, Singapore, India, Korea, and Japan are also investing in the electric vehicle charging infrastructure to promote its adoption in their region.
The market for EV charging station in Asia-Pacific region is being driven by growing government initiatives. As of the end of July, members of the Alliance claimed that around 566,000 public charging stations had been erected and were operational across the country, according to figures released by the China electric charging infrastructure promotion in August 2020. Furthermore, by 2050, the Japanese government plans to convert all new cars sold in the country to electric or hybrid vehicles. By 2050, the government wants to reduce carbon dioxide emissions and other greenhouse gas emissions by around 80% per car. Thus, market growth in region is expected in the near future.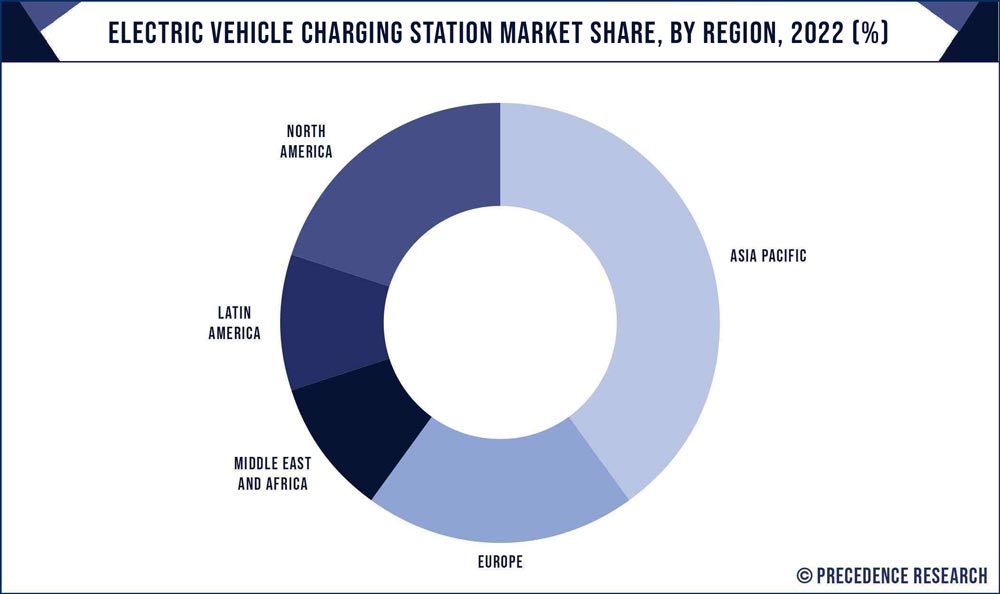 Europe and North America witness moderate growth in the global electric vehicle charging station market. This is mainly due to the government's ambition in Europe & North America to curb the carbon emission and increase the adoption rate of electric vehicles. Nearly, 76% of total charging stations in Europe are just concentrated in four countries that are Germany, France, UK, and the Netherlands. In June 2019, Volkswagen Group announced its plan to install 36,000 electric vehicle charging points in various parts of Europe by 2025. Similarly in June 2018, three major states of U.S. that include New York, New Jersey, and California announced to spend USD 1.3 billion in the deployment of EV charging infrastructure to boost their EV adoption.
The U.S. is dominating the electric vehicle charging station market in the North America region. Electric vehicle use is fast expanding throughout North America. The U.S. is the third-largest market for electric vehicles, according to the International Council on Clean Transportation, with around 320,000 new electric vehicle sales in 2019. According to the International Energy Agency, about 1.8 million electric automobiles were recorded in the U.S. as of 2020, which is more than three times the number registered in 2016. The total number of electric vehicles registered in the U.S. increased from under 300,000 in 2016 to over 1.1 million in 2020. California began establishing charging station networks to help with the broad adoption of electric vehicles. As of 2021, there are more than 42,000 publicly accessible charging stations in the U.S.
For instance, electric car owners in the UK can take advantage of the EVHS (Electric Vehicle Homecharge Scheme) OLEV (Office for Low Emission Vehicles) subsidy, which, starting on April 1, 2020, pays up to USD 384.9 off the price of buying and inaugurating a residence charging point. Government incentives are also available to companies in the UK. The WCS (Workplace Charging Scheme), a voucher-based program created to assist with the up-front costs of purchasing and installing wall chargers, allows you to declare up to USD 10,999.5 for 40 chargers.
Additionally, according to bp pulse, the first charging station for medium- and heavy-duty electric trucks would open in Europe. There are now six public charging stations with ultra-fast 300kw charge ports over a 600km section of the Rhine-Alpine route in Germany. The freight roads, one of the busy roads in Europe, the corridor links the Mediterranean port of Genoa in Italy with the Netherlands and the North Sea ports in Belgium via a 1,300 km long network of motorways.
Additionally, the assistance in France takes the form of a tax credit: up to a deduction of 300 euros, equal to 75% of the cost incurred and detailed on the invoice, including installation charges. This assistance is a component of the ADVENIR project, which aims to install EV charging stations across France.
Recent Developments
Chargemaster PLC declared the acquisition of infrastructure supplier Elektromotive Limited, as well as its subsidiary, in 2017. The former intended to enhance its existing portfolio and client offerings with this acquisition. Chargemaster PLC, the UK's top provider of electric vehicle chargers and operator of the country's largest electric vehicle charging network, was bought by BP PLC in 2018. Chargemaster PLC was renamed BP Chargemaster after the acquisition. BP PLC was able to construct a fast and ultra-fast charging network on its forecourts in the UK as a result of the acquisition.
In October 2022, The CP6000, ChargePoint's most adaptable and reliable global AC EV charging solution, has been launched by ChargePoint Holdings, Inc. a leading provider of electric vehicle (EV) charging networks. It is now accessible for vehicles of all shapes and sizes.
In October 2022, Wall Connector, a home charging station compatible with other electric vehicles, is introduced by Tesla.
In September 2022, Shell unveiled its first EV charger for India's two- and four-wheeled vehicle markets. The initial market for Shell's two-wheeler chargers in India. The firm wants to provide its clients with safe, environmentally friendly, and integrated mobility solutions through the Shell Recharge Stations, therefore it expects to install more than 10,000 charging stations across India by 2030. All of the energy used by the Shell Recharge chargers is renewable.
In February 2022, With the Ford Charge Station Pro, a specially designed electric vehicle (EV) charger for the Ford F-150 Lightning, Siemens eMobility announced that it has collaborated with Ford. The newly enlarged Underwriters Laboratories (UL) 9741, a significant industry standard that assures goods fulfill safety criteria, has certified this cutting-edge charger as the first bidirectional-ready EV solution that is slated for delivery at the retail customer scale. The new charging station also has a 19.2 kW peak power, which is the highest power rating currently offered for a Level 2 charging station.
Key Companies & Market Share Insights
The global electric vehicle charging station market is highly competitive owing to rapid changing consumer preference and continuous technological development. Nearly every market player has their prime focus towards developing fast and ultra-fast charging stations. In 2015, ChargePoint Inc., Volkswagen Group, and BMW AG announced their plan to install 100 DC fast chargers on the West and East coasts of U.S. Some players also prefer merger & acquisition strategy for consolidating their market share. In 2018, BP Plc announced the acquisition of ChargemasterPlc, one of the leading suppliers of EV chargers and in UK. After the acquisition, ChargemasterPlc was rebranded as BP Charge master. Some of the prominent players in the electric vehicle charging station market include:
Leviton Manufacturing Co., Inc.
Qualcomm Technologies, Inc.
Segments Covered in the Report
(Note*: We offer report based on sub segments and regional as well. Kindly, let us know if you are interested)
This research report estimates revenue growth at global, regional, and country levels and offers an analysis of present industry trends in every sub-segment from 2020 to 2032. This research study analyzes market thoroughly by classifying global electric vehicle charging station market report on the basis of different parameters including charging station type, power output, supplier type, end user, and region:
By Level of Charging
By Charging Station Type
AC Charging
DC Charging
Wireless Charging
By Power Output
By Supplier Type
OE Charging Station
Private Charging Station
By Vehicle Type
Passenger Cars
Battery Electric Vehicle (BEV)
Plug-in Hybrid Vehicle(PHEV)
Heavy Commercial Vehicles
Light Commercial Vehicles
Two-wheelers & Scooters
By Installation Type
Fixed
Portable
Residential
Commercial
By Connector Type
Normal Charging
Type 2
CCS
CHAdeMO
Tesla SC
GB/T
By Application
By Mounting Type
Wall Mount
Pedestal Mount
Ceiling Mount
By Charging Service
EV Charging Service
Battery Swapping Service
By End User
Commercial EV Charging Stations

Commercial Public EV Charging Stations

On-Road Charging
Parking Spaces
Destination Chargers

Commercial Private EV Charging Stations

Fleet Charging
Captive Charging

Residential EV Charging Stations
By Geography
North America
Europe
Asia Pacific

China
India
Japan
South Korea

Latin America
MEA
Rest of the World