The global electric mobility (e-mobility) market size was valued at USD 310 billion in 2022 and it is projected to hit around USD 2,784.76 billion by 2032, expected to grow at a compound annual growth rate (CAGR) of 24.6% from 2023 to 2032.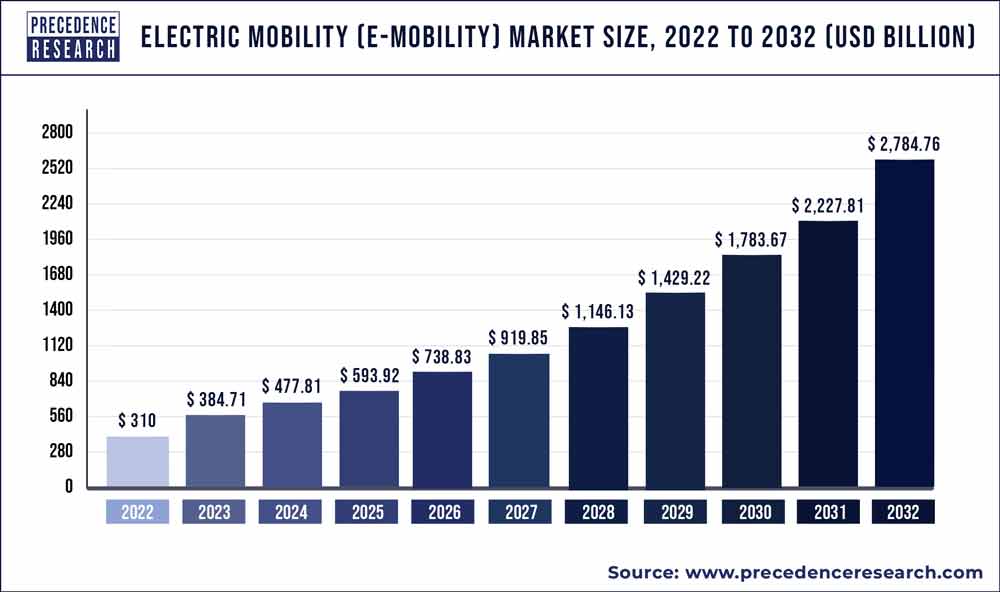 Key Takeaway
Asia Pacific region accounted highest revenue share of 68% in 2022.

By Product, the electric cars segment has generated a revenue share of around 39% in 2022.

The electric motorcycles segment is expected to reach a CAGR of 19.3% during the forecast period.

By Battery, the lithium-ion battery segment captured a revenue share of 83% in 2022.

By end-use, the personal segment has generated a revenue share of around 77% in 2022.

The commercial segment is poised to grow at a CAGR of 18.9% over the forecast period.

By drive, the chain drive segment has accounted revenue share of around 46.5% in 2022.

The belt drive segment is poised to reach a CAGR of 15.5% during the forecast period.
Growth Factors
A prominent rise in greenhouse gas (GHG) emissions along with carbon footprint from the transportation sector particularly from the automobile sector have encouraged various regulatory bodies of several countries to issue policies and laws that favor the adoption of energy-efficient vehicles. Further, the increasing adoption of mobility-as-a-service (MaaS) coupled with a continuous fall in the price of Li-ion batteries again drives the market growth for electric mobility during the forthcoming years.
Moreover, the automotive industry has undergone a technological, economic, and social transformation during the past few years. This is mainly because of the rising awareness about the low maintenance and operational cost of Electric Vehicles (EVs). In addition, EVs have the capability to reduce harmful emission from vehicles that has a major contribution towards the rising global warming, this in turn promotes the adoption of EVs across various regions.
However, with the sudden outbreak of coronavirus in the year 2020, several industries have witnessed a downfall in their sales throughout the globe, whereas electric vehicles exhibit significant growth. This is majorly attributed to the rising trend for social distancing along with increasing concern for environmental protection.
Scope of the Report
| | |
| --- | --- |
| Report Highlights | Details |
| Market Size in 2023 | USD 384.71 Billion |
| Market Size by 2032 | USD 2,784.76 Billion |
| Growth Rate from 2023 to 2032 | CAGR of 24.6% |
| Base Year | 2022 |
| Forecast Period | 2023 to 2032 |
| Segments Covered | By Product, By Battery, By Voltage, By End-use, and By Drive |
| Regional Scope | North America, Asia Pacific, Europe, MEAN |
| Companies Mentioned | Gogoro Inc., BMW Motorrad International, Honda Motor Co. Ltd., Mahindra Group, KTM AG, Ninebot Ltd., Terra Motors Corporation, Suzuki Motor Corporation, Vmoto Limited, Zero Motorcycles, Yamaha Motor Company Limited, ALTA Motors |

Market Dynamics
Market Drivers
Rising demand for environmentally friendly transportation options
According to multiple research studies, electric vehicles are more environmentally friendly. Compared to petrol or diesel automobiles, they release minimal or even zero air pollutants and greenhouse gases. Additionally, this accounts for the power needed to maintain them during manufacturing. According to studies conducted by the European Energy Agency, driving an electric car creates 17-30% less carbon emissions than driving a petrol or diesel vehicle. Utilizing low-carbon power also significantly reduces emissions from the production of electricity. Additionally, rising environmental concerns increase demand for sustainable transportation or mobility solutions. Considering all these elements, the rising demand for environmentally friendly transportation options across the globe will fuel the market's growth.
Energy independence offered by electric mobility solutions
The energy independence offered by electric vehicles is observed as a significant driver for the market's growth. Electric mobility solutions often provide an alternative to traditional internal combustion engine vehicles, which rely on fossil fuels. Multiple countries are dependent on other regions or countries for their fossil fuel resources. The adoption of electric mobility brings a solution for such countries to become energy independent. The adoption of electric vehicles even offers a solution for multiple geopolitical disputes, economic crises, and fluctuating oil prices. Electric mobility also enables the utilization of domestic energy resources along with energy security.
Market Restraint
High initial cost
The complexity of lithium-ion battery technology is the main barrier preventing manufacturers from achieving price parity between electric vehicles and conventional automobiles. Several additional variables also considerably raise the price of electric vehicles. The research and development process of electric vehicles requires a high-cost initial investment, which is time-consuming. The battery pack, wheels, and all other components must be uniquely created for a specific electric vehicle. Therefore, the automakers are compelled to raise the price to cover production expenses. An electric vehicle's operating system may be simpler compared to a regular car. But then, sophisticated and intricate technologies are required to produce an electric vehicle. Batteries with high-capacity and electric motors need to be managed by proper electronic systems. Advanced driver assistance technologies are also available in certain battery-electric cars. As a result, BEVs are far more expensive than conventional vehicles. Such factors associated with the investment cost hinder the growth of the market.
Lack of charging infrastructure
Every year, electric vehicle sales increase globally, and all nations are working to meet their environmental goals. Before switching significantly from conventional to electric vehicles, the automobile industry still has a long way to go. The initial cost, range anxiety, lack of charging infrastructure, and lengthy charging times are the reasons limiting the growth of the electric vehicle market.
Among them all, the lack of charging infrastructure acts as a major hindering factor for the market. The lack of charging infrastructure for electric mobility solutions limits the adoption of such mobility solutions by creating concerns about the operation of electric vehicles for long routes. If enough private and public charging facilities are designed for electric vehicle charging, the problem of range anxiety can be solved. Considering the current situation, in 2021, only 1800 stations for charging existed in India. To address this restraint, the Indian government set up a goal to install approximately four lakh charging stations by 2032.
Market Opportunity
Development of autonomous electric vehicles
Over the past ten years, battery technology has made some of the most significant strides in electric vehicles. Electric vehicles now have greater driving ranges because of cheaper and more effective lithium-ion batteries. Long-distance driving has become simpler for owners of electric cars because of the increasing availability of charging stations. The development of autonomous driving is another field. Electric vehicles are more suitable for autonomous driving than gasoline-powered vehicles since they are simpler to handle and need less upkeep. Fully autonomous electric cars are currently being developed by businesses like Tesla and might be accessible to consumers within a few years. The development of autonomous vehicles is observed as a technological advancement for the market which is considered to offer a plethora of growth opportunities for the market.
Government Incentives
To encourage the policy-driven acceptance of plug-in electric cars, governments in several countries have started offering incentives. These incentives mostly come in the form of refunds on purchases, tax exemptions and credits, and other benefits like access to bus lanes and exemptions from paying fees (such as charges, parking, tolls, etc.). The size of a car's battery or the range of an all-electric vehicle may affect the number of financial incentives. Hybrid electric cars are frequently mentioned. The advantages are also extended in some nations to fuel cells and the conversion of electric vehicles. For instance, the Indian government has implemented FAME-II, PLI SCHEME, Special Electric Mobility Zone, Battery Swapping Policy, and Tax Reduction on electric vehicles. Such offers and incentives by the government promote the adoption and production of electric mobility solutions which are observed to act as a growth opportunity for the market in the upcoming period.
Market Challenge
Lack of information and awareness in underdeveloped areas
Underdeveloped areas or regions are still unaware of the benefits of electric mobility. Such communities have limited exposure to information on electric mobility options. Lack of information about the benefits, function, and availability limits the potential buyers from choosing electric mobility solutions. In such areas, inadequate charging infrastructure also limits the sales of electric vehicles. Such factors create concerns about the market's growth in underdeveloped areas. In addition, affordability, anxiety, lack of government support, and absence of potential manufacturers also create a significant challenge for the market to grow in such areas.
Segment Insights
Product Insights
Based on product, the electric mobility market is dominated by the electric cars segment accounting for nearly 39% revenue share in the year 2022 and is predicted to continue the same trend during the forthcoming period. This is primarily attributed to the high cost of battery-powered electric vehicles in comparison to the cost of e-scooters, motorcycles, wheelchairs, skateboards, and bicycles.
However, the electric motorcycle segment exhibits significant growth of approximately 35% during the analysis timeframe because of favorable government policies promoting the adoption of electric two-wheelers such as tax concession and many others.
Battery Insights
Li-ion battery led the global electric mobility market in the year 2022 with more than half of the total market share and exhibits considerable growth during the forecast period. This is mainly because of reducing the cost of Li-ion battery packs used in electric vehicles. The cost of Li-ion batteries for EVs has decreased by 70% within the past seven years and is estimated to further reduce by nearly 50% by 2032 because of technological developments and production scale economies.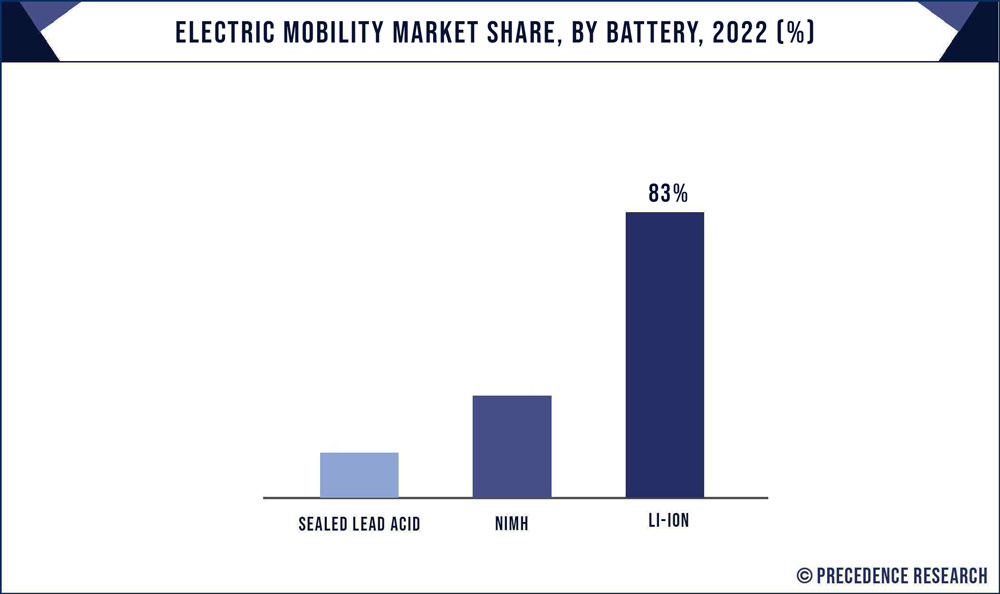 On the other hand, nickel-metal hydride (NiMH) battery estimated to rise by a considerable rate during the upcoming years owing to increasing demand for more environmentally conducive along with high-performance batteries. This in turn has made NiMH one of the most demanded battery types for hybrid electric vehicles (HEVs) and this is anticipated to increase its share in the global electric mobility market during the forthcoming years.
Voltage Insights
The 24V segment accounted for approximately 25% of the market revenue share in the year 2022 and is estimated to further capture a significant share during the analysis period. This is major because of superior power output and higher compatibility with electric vehicles.
Moreover, the greater than 48V segment is predicted to witness prominent growth over the forthcoming years with a CAGR of nearly 25%. This is primarily due to increasing demand for greater than 48V batteries in electric vehicles because of increasing research & development activities for improving the speed and distance coverage of EVs.
Regional Insights
The Asia Pacific region is the front-runner in the global electric mobility market in the year 2022 and is poised to grow at a rapid rate during the upcoming years. The significant growth of the region is mainly because of the rising adoption of electric vehicles mostly electric scooters and electric bicycles in countries such as Japan, India, and China. This is mainly because of rising prices of fuel along with an alarming rise in pollution prominently in developing nations in the region.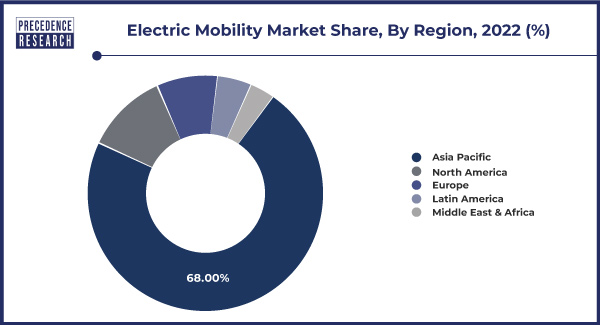 On the contrary, European countries in the global electric mobility market are poised to register a significant growth of nearly 21% over the upcoming period owing to rapid development in battery charging technology particularly for electric vehicles. For instance, European countries such as France, Demark, Netherlands, and Ireland have taken the initiative to prohibit the sale of petrol and diesel-powered vehicles by the year 2032.
Key Companies & Market Share Insights
Leading players in the global electric mobility market are focused on the vast untapped opportunities majorly in the developing and emerging markets such as the Asia Pacific, Middle East, and Latin America. For instance, SmartE and Mahindra Electric Mobility Limited signed a memorandum of understanding to promote the sale of electric mobility in India.
Some of the prominent players in the Electric Mobility Market include:
Gogoro Inc.
BMW Motorrad International
Honda Motor Co. Ltd.
Mahindra Group
KTM AG
Ninebot Ltd.
Terra Motors Corporation
Suzuki Motor Corporation
Vmoto Limited
Zero Motorcycles
Yamaha Motor Company Limited
ALTA Motors
NYCeWheels
Lightning Motorcycles
Accell Group
Tesla
Segments Covered in the Report
This report forecasts revenue growth at global, regional, and country levels and provides an analysis of the latest industry trends in each of the sub-segments from 2020 to 2032. For the purpose of this study, Precedence Research has segmented the global Electric Mobility Market report on the basis of product, battery, voltage, and region:
By Product
Electric Bicycle
Electric Skateboard
Electric Car
Electric Motorcycle
Electric Wheelchair
Electric Scooter

Standing/Self-Balancing
Retro
Folding
By Battery
NiMH
Sealed Lead Acid
Li-ion
By Voltage
Less than 24V
24V
36V
48V
Greater than 48V
By End-use
By Drive
Belt Drive
Chain Drive
Hub Drive
By Geography
North America
Europe
Asia Pacific

China
India
Japan
South Korea

Rest of the World