The global hybrid electric vehicle market size accounted for USD 68 billion in 2022, and it is projected to reach around USD 444.4 billion by 2032, registering growth at a CAGR of 20.70% during the forecast period 2023 and 2032.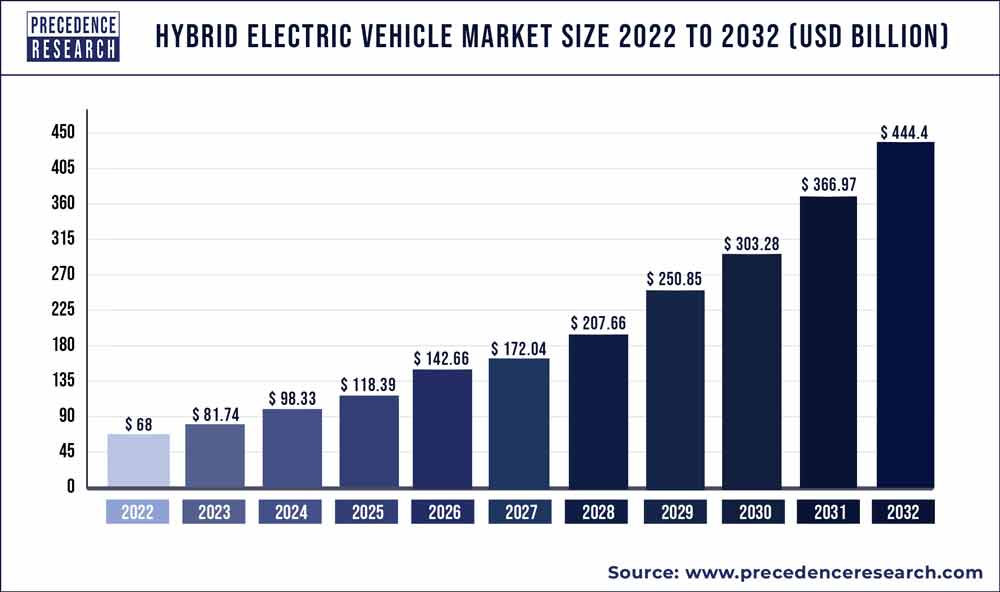 Key Takeaways:
Gasoline hybrid vehicles projected to surpass a value of over US$ 130 million by 2032.
Stored electricity HEVs is growing at a CAGR of 6% from 2023 to 2032.
U.S hybrid electric vehicle is expected to grow at a CAGR of 8.2% through 2032
Asia Pacific region had garnered revenue share of around 42% in 2022.
In 2022, the European region accounted 19.20% revenue share
The COVID-19 scourge has smothered the extension of the mixture vehicle industry by causing persistent lockdowns and closures of assembling units, bringing about a reduction underway levels of these vehicles. Moreover, store network difficulties have prompted crossover vehicle cost increments. In any case, deals of half breed electric vehicles expanded after June 2020, when the lockdown in many nations was taken out. Makers will make big appearance new models to tempt purchasers, subsequently the projected period is anticipated to be confident. Toyota conveyed 338,000 half and half vehicles in the United States in 2020, representing 16% of complete US deals, and it means to present new crossover electric vehicle types in 2022.
One of the fundamental reasons quite affecting the gathering of HEVs is rising air defilement levels achieved by vehicle exhaust releases, as well as extended normal mindfulness among the general populace about rising pollution levels. This can similarly be credited to rising urbanization, extended individual purchasing power, and further created road associations. Close to that, expresses generally through the world are approving serious defilement rules and proficiency rules, as well as giving purchase grants, related inspirations, charge discounts, and utility rate diminishes. Hence, the overall usage of HEVs is growing. Besides, different top automakers are supporting their inclinations in imaginative work (R&D) activities to make novel vehicles with calm undertakings, world class execution engines, and further developed mileage.
Growth Factors
The execution of extreme contamination and eco-friendliness norms, as well as government motivators to empower the buy and utilization of half and half vehicles, are a portion of the essential drivers driving the market's development. As open attention to discharges has developed, administrative associations have executed more severe emanation guidelines.
The rising severity of vehicle contamination guidelines is inciting OEMs to create cross breed and electric vehicles. In contrast with fuel and diesel vehicles, cross breed vehicles create less nursery emanations. Legislatures in the United States and Europe are chipping away at diminishing discharge limitations to lessen the ozone depleting substance impact, as well as expanding vehicle eco-friendliness. For instance, the US Department of Transportation has laid out vehicle Corporate Average Fuel Economy (CAFE) models. The rising rigidity of vehicle contamination guidelines is inciting OEMs to create half and half and electric vehicles. In contrast with gas and diesel vehicles, mixture vehicles create less nursery discharges.
Moreover, with legislatures carrying out severe measures as regulation and motivators, as well as extended drives for the establishment of public charging stations for electric vehicles, the market viable is probably going to quickly create. Batteries are a significant part of a vehicle since they supply capacity to various electrical parts that are fundamental for legitimate activity. The expanded entrance of electrical parts and engine frameworks in the vehicle business is anticipated to produce up interest for vehicle batteries. Besides, the expanded coordination of green advancements, like half and half and all-electric drive frameworks, builds the requirement for car batteries. Besides, the expense of a vehicle battery is quickly falling.
Report Scope of the Hybrid Electric Vehicle Market
| | |
| --- | --- |
| Report Coverage | Details |
| Market Size by 2032 | USD 444.4 Billion |
| Market Size in 2023 | USD 81.74 Billion |
| Growth Rate from 2023 to 2032 | CAGR of 20.70% |
| Asia Pacific Market Share in 2022 | 42% |
| Base Year | 2022 |
| Forecast Period | 2023 to 2032 |
| Segments Covered | Type, Application, Power Source, Powertrain, Vehicle, Geography |
| Companies Mentioned | ZF, Delphi, BorgWarner, Continenta, Schaeffler, Ford, Toyota, Continental, Volvo, Honda, Hyundai, Daimler, Nissan |

Type Insights
During the projection time frame, the total hybrid class is supposed to have the greatest portion of the overall industry by volume. During the projection time frame, the gentle half and half industry is supposed to create at the quickest CAGR. The extension of the total mixture market might be credited to expanded eco-friendliness and lower discharges because of steady innovative progressions.
A "mild" cross breed framework is quite possibly of the latest development in mixture innovation. A gentle crossover framework, as the name shows, won't regularly push the vehicle exclusively on electric power. All things considered, the framework is utilized to give a minuscule lift to the vehicle's fuel motor, for the most part while beginning from a halt, and to assist with eliminating the heaviness of force hungry frameworks, for example, cooling, on the gas motor. Gentle mixtures, which are much of the time accessible as 48 volt electric frameworks, needn't bother with to be connected. All things being equal, the batteries are re-energized utilizing a blend of gas motor power and energy gathered when the vehicle brakes (otherwise called regenerative slowing down).
Full crossover vehicles, as gentle half and halves, incorporate both a gas motor and an electrical part. The electrical part of a total cross breed vehicle, then again, can deal with fundamentally more prominent responsibility than that of a gentle mixture. Most complete cross breeds can go a brief distance on electric power alone. This is more normal at lower city speeds, in spite of the fact that it is one justification for why a total mixture's City MPG figure might be more prominent than its Highway MPG rating (where in standard gas fueled vehicles, the inverse is valid).
Every one of the half breed vehicles we've covered up to this point charge their batteries completely inside. The critical differentiation with module crossovers is that their batteries might be charged both inside and outside. Accordingly, module half and halves commonly have longer all-electric reaches than complete mixtures. Module crossovers are essentially an extension between full half and half and totally electric cars.
Technology Insights
As far as specialized progress, the auto area has seen sensational changes lately. OEMs are relying upon electrical parts to meet changing client needs in view of their result proficiency and lightweight, making vehicle zap an eco-friendly other option. Moreover, zap is the following stage, with the heft of carmakers zeroing in on crossover fuelled vehicle improvement to meet the changing requirements of end clients and policymakers to meet green portability measures. Besides, crossover vehicles offer a more eco-friendly transportation decision than gas fuelled cars. At the point when the brakes are utilized, regenerative slowing down innovation returns energy to renew the battery. Subsequently, it disposes of the requirement for outer electric foundation. The regenerative stopping mechanism is the most common half breed vehicle innovation. The use of regenerative slowing mechanisms, as well as the lower cost of miniature and gentle crossovers when contrasted with PHEV, will increment interest for equal mixtures.
The creating air defilement levels on account of exhaust releases from vehicles, close by growing normal mindfulness among the larger part about rising tainting levels, address one of the key factors quite affecting the gathering of HEVs. This can in like manner be credited to fast urbanization, expanding purchasing power of individuals, and further creating road associations. Crossover vehicles should be more eco-friendly, have more prominent power, and produce less contamination. These vehicles gather electrical energy from various sources, including regenerative stopping mechanisms and motors. They can save energy by switching off the motor when the vehicle is left, inactive, or when the energy of the electric engine is adequate to move the vehicle without the guide of the ICE.
Application Insights
Considering application, the market is bifurcated into passenger cars and commercial vehicles. The business vehicle area holds the greatest part of the general business during the guess time span. The factors that can be credited to the rising interest for electric vehicles and the rising undertakings being embraced by OEMs, as well as states, are filling the interest for this part.
Geography Insights
The Asia Pacific market is anticipated to grow quickly all through this projection period in nations like Japan, China, and South Korea. The deals of half breed cars have flooded. The Pacific region is home to key part like Honda, Tyota, BYD, Nissan, Hyundai, and Kia. This likewise adds to showcase development. China has noteworthy assembling capacities. They likewise have the ability to oblige client interest. China is a key part in the cross breed vehicle industry. The Chinese government embraced six serious contamination control norms to empower crossover autos to oversee contamination.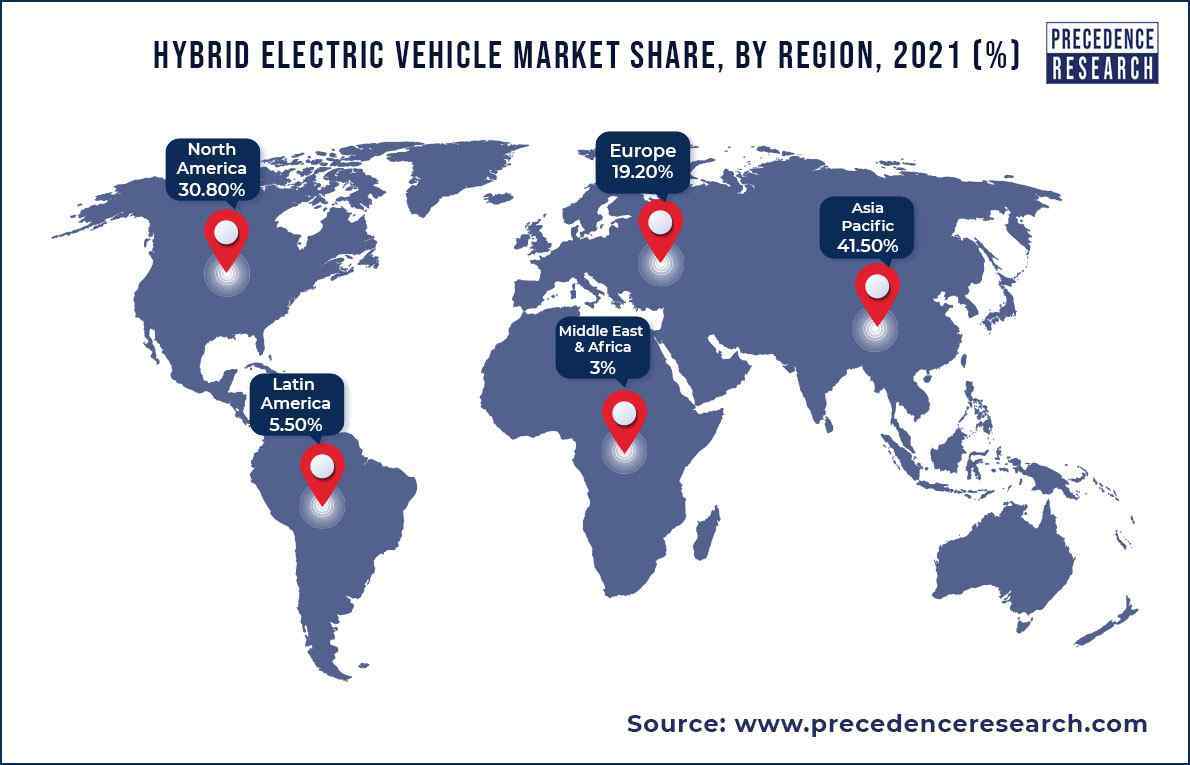 The European and North American business sectors are likewise bringing issues to light about the use of mixture vehicles, which has added to an expansion in overall interest. Germany has Europe's biggest electric vehicle market. Tesla overwhelms the electric vehicle industry in the United States. The auto business forecast in developing nations like India, Mexico, Brazil, and Morocco has modified significantly, as has the creation and deals forthcoming. Besides, the greater part of the world's greatest automakers have creation offices in these countries since they have plentiful unrefined components, producing cordial regulation, and a financially savvy work.
Moreover, end clients in these countries are inclining toward top of the line innovation empowered cars that are both savvy and eco-friendly. Besides, states in non-industrial nations are establishing regulations to empower the offer of high-voltage cross breed vehicles, as most would consider being normal to offer a chance for market members to zero in on these nations and get an upper hand.
Key market developments
Both the Indian and Brazilian states are pondering different inspirations, including as diminishing the public authority consumption rate on CNG creamer and module vehicles. There are other hybrid electric transportation possibilities. The endeavour is supposed to cost the Indian government USD 446 million. To expose issues of the benefits of crossbreed vehicles, the Brazilian government is shipping off new advertisements and information gatherings.
The European Union, collectively with the US Environmental Protection Agency, has made inflexible transmission rules. In view of these essentials, the cross variety vehicle industry is seeing a critical improvement famous for cream vehicle use.
The Mumbai Metropolitan Area Development Authority, a division of India, as of late marked an arrangement with Tata Motors. As per the arrangement, 25 Tata Starbus Electric diesel transports would be out and about soon.
The Indian subcontinent and China are both piece of the APAC locale, and their public transportation systems are sometimes neglecting to live up to assumptions or overburdened. In like manner, the public authority is placing assets into progress practices by making the cross variety vehicle market free close to the completion of the general assumption in 2023.
The Indian and Brazilian governing bodies are choosing for various kinds of inspirations including cutting down the cost rate on CNG hybrid and module vehicles. In like manner, hybrid electric transportation decisions are available. The Indian government should place US$ 445 million in the endeavour. The Brazilian government is doing furthermore promoting and educational gatherings to spread the benefits of utilizing combination cars.
The European Union, in organization with the United States Environmental Protection Agency, has laid out extreme discharge principles. Because of these norms, the mixture vehicle industry is seeing a critical development popular for half breed vehicles.
Key market players
ZF
Delphi
BorgWarner
Continenta
Schaeffler
Ford
Toyota
Continental
Volvo
Honda
Hyundai
Daimler
Nissan
Segments covered in the report
(Note*: We offer reports based on sub segments as well. Kindly, let us know if you are interested)
By Type
Full Hybrids
Mild Hybrids
Plug-in Hybrids
Others
By Application
By Power Source
Stored Electricity HEVs
On-Board Electric Generator HEVs
By Powertrain
Series Hybrid Electric Vehicles
Parallel Hybrid Electric Vehicles
Combined Hybrid Electric Vehicles
By Vehicle
Hybrid Electric Passenger Cars
Commercial Hybrid Electric Vehicles
Hybrid Electric Two Wheelers
Other HEVs (Golf Cart, etc.)
By Geography
North America
Europe
Asia-Pacific

China
India
Japan
South Korea
Malaysia
Philippines

Latin America

Brazil
Rest of Latin America

Middle East & Africa (MEA)

GCC
North Africa
South Africa
Rest of the Middle East & Africa