The global electric motor market was valued at US$ 145.14 billion in 2022 and is expected to hit US$ 292.23 billion by 2032, growing at a compound annual growth rate (CAGR) of 7.3% from 2023 to 2032.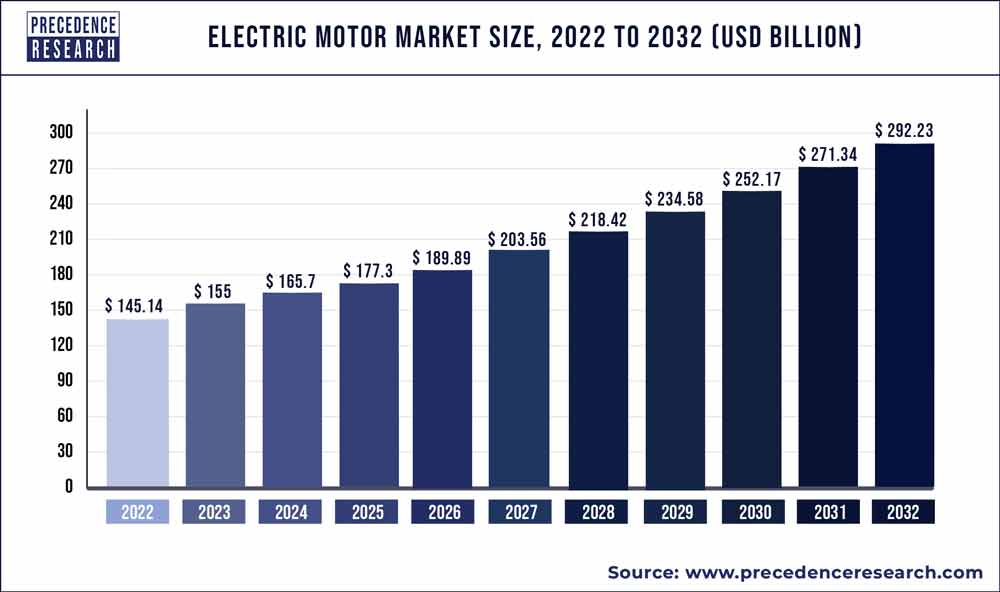 Access our Premium Real Time Data Intelligence Tool, Visit: Precedence Statistics
Growth Factors
Heating, ventilation, and air conditioning (HVAC) systems give thermal comfort and assure air quality in indoor spaces. They are one of the main building blocks of modern infrastructures, particularly for massive office buildings or shopping malls. The demand for HVAC systems is constantly growing in the Asia Pacific region, primarily in China and India, due to continuous expansion in their industrial and commercial sectors. In addition, HVAC systems are connected with construction industry owing to fuel the global market in the coming decade.
The expanding number of partnerships or collaborations among the numerous entities participating in this industry reflects the growing interest in vector manufacturing. The goals of these collaborations varied depending on the purpose. Collaborations have been formed for a variety of reasons, including the manufacture of vector promoters, the establishment or acquisition of manufacturing facilities, and the out / in licensing of vector manufacturing technology.
Report Scope of the Electric Motors Market
Report Coverage
Details
Market Size in 2023
USD 155 Billion
Market Size By 2032
USD 292.23 Billion
Growth Rate From 2023 to 2032
CAGR of 7.3%
Largest Market
Asia Pacific
Base Year
2022
Forecast Period
2023 to 2032
By Output Power
By End User

Industrial
Residential
Commercial
Agriculture
Agriculture

By Geography

North America
Europe
Asia Pacific
Latin America
Middle East & Africa

Companies Mentioned
ABB Group, General Electric, AMETEK.Inc., Bosch, Siemens AG, ARC Systems, Inc., Rockwell Automation, Inc., Asmo Co., Ltd., Nidec Motor Corporation, DENSO, WEG, Emerson Electric, Toshiba Corporation, Hitachi, Maxon Motors AG
COVID-19 Impact
The global health emergency affected by the rapid spread of the novel coronavirus or COVID-19 has had an adverse effect on all industries. Industries have to go through a substantial loss following the impositions of strict policies such as nationwide lockdown to control the reach of the virus. Consequently, the outbreak of the virus has altered the demand for electric types of motors. As the market is huge and contains broad sales channels expand over the different countries, the absence of workers and travel restrictions have discontinued production activities and brought the market to a deadlock.
The pandemic situation also had an adverse effect on currencies everywhere across the globe and many have suffered a fast depreciation. This has created a discrepancy within the value of exports and imports globally which are purchased in US dollars. Currency depreciation, therefore, caused financial losses to components manufacturers and is forecasted to suppress the worldwide electric motors market further.
Type Insights
The AC electric motors segment is estimated to carry for the most prominent share due to its advantages over DC motors because it requires less maintenance and has longer life cycle than DC motors.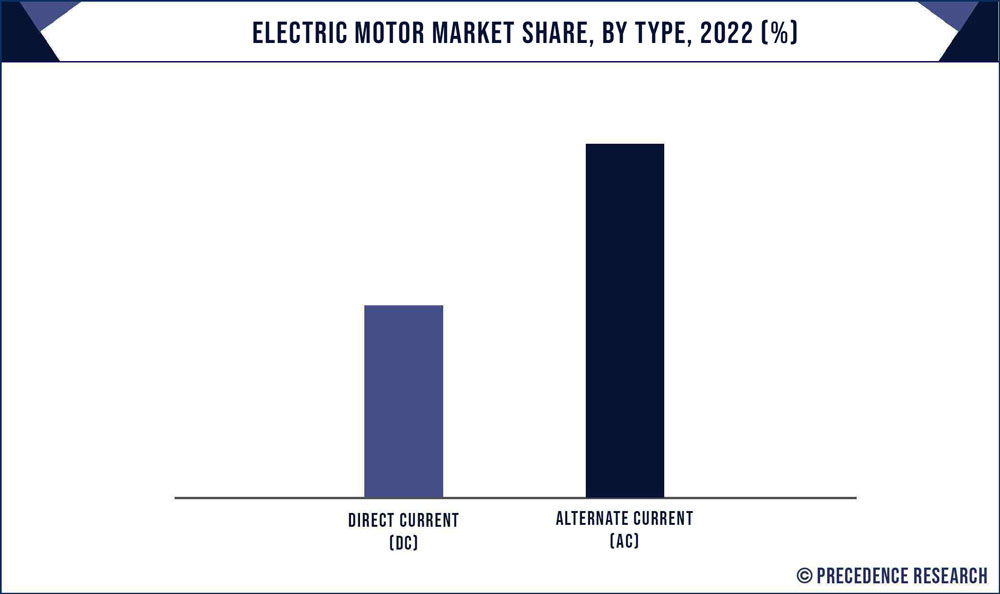 Also, AC motors are typically thought to be more powerful than DC motors because they will create more torque with a better current which is increasing its demand for various applications.
Output Power Insights
The above 1 hp motors segment is predicted to dominate the electric motor market from 2023 to 2032. Electric motors are utilized in various user applications due to their compactness, light weight, and low maintenance requirements. Electrical motor installation in industrial and transportation user applications is expected to rise rapidly.
Rotor Type Insights
From 2023 to 2032, the inner rotor segment is expected to grow at a higher pace. Inner rotor motors have rotors in the middle that are encircled by stator winding. These motors are used in robotics, CNC machines, automatic door openers, and metal cutting and forming machine applications in the manufacturing, automotive, and consumer electronics industries. These applications require motors which will perform fast acceleration and deceleration of speed, offer high starting torque, have reversible action capability, and are compact. Consistent with the IEA, EV Outlook 2020, the worldwide sales of electrical cars reached 2 million in 2019, 40% above in 2018. This means the increased demand for electric vehicles and their accelerated manufacturing in coming years, which successively, is predicted to fuel the demand for inner rotor electric motors.
End-User Insights
The industrial segment is predicted to steer the electrical motor market from 2023 to 2032. This sector provides good scope for motor manufacturers, as most industries depend upon motorized automation. Electric motors are used in pumps, boilers, compressors, and other applications in the utilities, oil & gas, cement & manufacturing, metal and mining, oil & gas, renewables, petrochemicals & chemicals, water & wastewater, and paper & pulp industries, among others.
Regional Insights
The Asia Pacific is predicted to be the biggest electric motor market during the forecast period. The Asia Pacific encompasses China, India, Japan, South Korea, and the Rest of Asia Pacific. With the rapid industrialization, the countries in the Asia Pacific are progressing toward internet-based industrial operations in each sector. According to the GSM Association, the developed countries in the Asia Pacific, such as South Korea, and Japan are rapidly discovering the potential of innovative services and connected devices. The automotive sector in the region is also flourishing. The Asia Pacific is the largest manufacturer of automobiles in the world. These factors are expected to contribute to the market's expansion in the Asia Pacific region.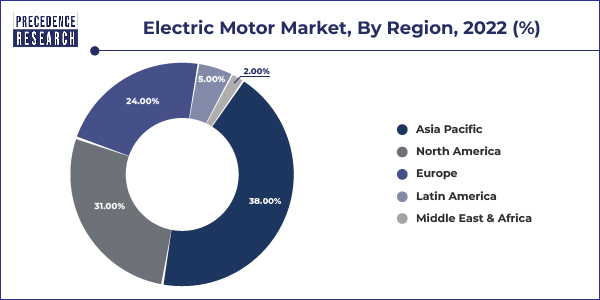 On the other hand, Europe is anticipated to grow exponentially in the coming years due to an enlarged focus on renewable energy and green energy targets. Furthermore, the region's principal focus has shifted to the deployment of electric motors for agricultural and industrial operations, which would aid the market's demand growth in the region.
Key Companies & Market Share Insights
ABB Group and General Electric are having strong presence in the market with their wide range of products available for different end-user segments. These companies are well geared up with required products for various applications, having an advanced stator rotor, and copper rotor technology, which enhances motor performance, efficiency, and reliability. In addition, they are presiding in various sectors such as battery manufacturing and renewable energy among others, those benefits in grabbing investment opportunities from several customers.
The other companies in the market contain Nidec Motor Corporation, WEG, Toshiba Corporation and Hitachi among others. These companies target on developing their product portfolio and customer reach by getting contracts and investments in research and development (R&D).
Some of the prominent players in the electric motors market include:
ABB Group
General Electric
ARC Systems, Inc.
Asmo Co., Ltd.
Nidec Motor Corporation
DENSO
WEG
Emerson Electric
Toshiba Corporation
Hitachi
Bosch
Maxon Motors AG
Regal Beloit Corporation
Rockwell Automation, Inc.
Siemens AG
AMETEK.Inc.
Johnson Electric Holdings Limited
Segments Covered in the Report
By Type
Alternate Current (AC)

Direct Current (DC)
By Output Power
By Rotor Type
By End-User
Industrial

Residential

Commercial

Agriculture

Transportation
By Geography
North America

Europe

Asia Pacific

China

India

Japan

South Korea

Rest of the World