The global air conditioning systems market size reached USD 124.81 billion in 2022 and is projected to hit around USD 234.73 billion by 2032, poised to grow at a CAGR of 6.52% during the forecast period from 2023 to 2032.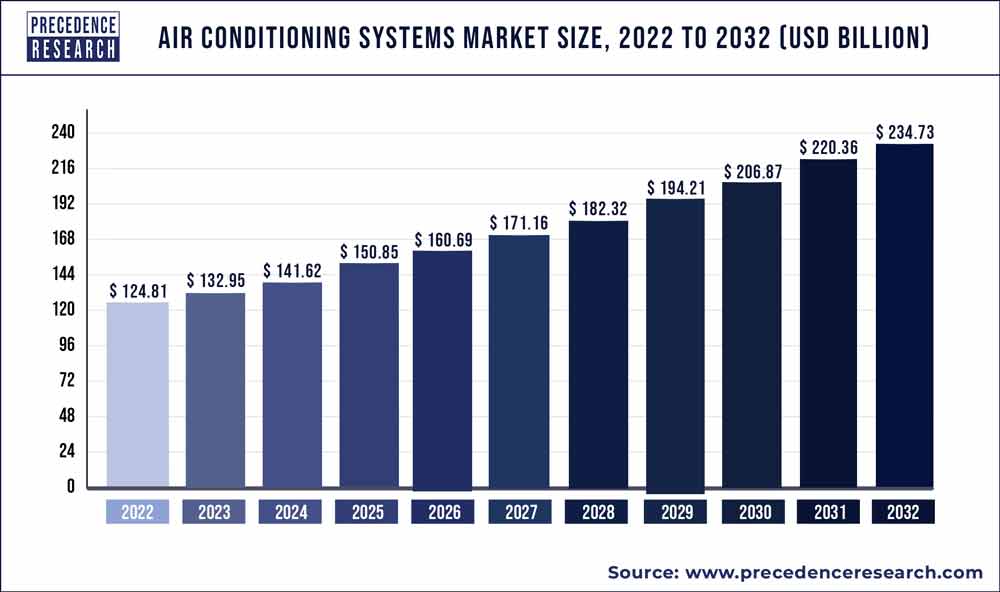 Key Takeaways:
North American dominated the market with the largest market share of 20% in 2022.
Asia Pacific region is expected to expand at the fastest CAGR in the forecast period.
By Technology, the inverter segment is expected to expand at the fastest CAGR of 7.90% during the forecast period.
By Application, the commercial segment is predicted to grow at the fastest CAGR over the forecast period.
Market Overview:
Air conditioning is the process of conditioning and distributing air to a specific area. Controlling and monitoring temperature, humidity, and air flow in a given location is made possible by air conditioners (ACs) or cooling or heating systems. Air conditioning systems are widely used in a variety of settings, including houses, retail malls, and commercial buildings, as well as entertainment venues. AC is still a popular product in underdeveloped countries; nevertheless, the cost of environmentally friendly products remains a major concern. The expanding population, which is predicted to have a favorable impact on residential and commercial buildings, is also expected to increase the demand for air conditioning systems. Air conditioning systems have played a critical role in modifying the interior environment, mostly in hot and dry places, and have become an essential component of the structure that supports modern spaces. As economic growth in emerging nations continues to accelerate, demand for AC is expected to rise in the coming years.
Growth Factors:
The industry is predicted to be pushed by factors such as the building and tourist industries' expansion. Increasing discretionary incomes are also projected to boost the adoption of a range of air conditioning technologies throughout the forecast period. Factors such as increased customer preference for energy-efficient systems and the growing popularity of portable systems are likely to favorably affect the air conditioning systems market growth. In the residential sector, various real estate investment instruments such as real estate investment trusts (REITs), commercial mortgage-backed securities, and real estate private equity funds are essential engines.
Real estate growth has a favorable impact on the worldwide AC industry, as seen by an increase in construction investment and a rise in building permits for residential, commercial, and industrial buildings. Due to the simple availability of air-conditioning products to individuals, the growth of the Omni-channel retail chain of electronic items around the globe also functions as a driving factor for the air conditioning systems market.
Report Scope of the Air Conditioning Systems Market:
| | |
| --- | --- |
| Report Coverage | Details |
| Market Size in 2023 | USD 132.95 Billion |
| Market Size by 2032 | USD 234.73 Billion |
| Growth Rate from 2023 to 2032 | CAGR of 6.52% |
| Largest Market | Asia Pacific |
| Base Year | 2022 |
| Forecast Period | 2023 To 2032 |
| Segments Covered | By Type, By Technology and By Application |
| Regions Covered | North America, Europe, Asia-Pacific, Latin America, and Middle East & Africa |

Market Dynamics:
Drivers:
Tax credit and rebate programs are projected to boost sale
The availability of tax credit and rebate programs, as well as other financial incentives, is expected to have a substantial influence on air conditioning system sales. Individuals and companies who opt to invest in energy-efficient AC systems can profit financially from these programs. Tax credits and rebates play an important role in encouraging air conditioning system purchases. These incentives give consumers with financial assistance, making the initial expenses of purchasing energy-efficient AC units more feasible.
Tax credits and rebates help lower the overall investment required by compensating a percentage of the expenditures paid during the installation or purchase of energy-efficient technologies. This, in turn, makes it more appealing for people and companies to choose energy-efficient AC systems, pushing up industry sales. Tax credit and rebate programs have an influence that persists beyond the initial increase in sales. These incentives encourage innovation and research in the HVAC business, as manufacturers attempt to achieve and surpass government-mandated energy efficiency requirements.
Governments have developed stringent standards and regulations for the manufacturing and operation of air conditioning systems in order to stimulate the use of energy-efficient technology. These requirements are intended to improve the overall performance and efficiency of air conditioning equipment, resulting in lower environmental hazards and carbon footprints. Governments are taking proactive actions towards attaining their sustainability goals and limiting the impact of climate change by promoting the usage of energy-efficient technology.
Restrains:
Soaring prices of electric energy limits the growth of the market
The rising cost of electricity poses a substantial obstacle to the growth of the air conditioning industry since it directly affects the operational costs connected with these systems. Concerning the affordability and cost-effectiveness of air conditioning systems for both residential and commercial clients grow as power prices climb. Increased energy costs may cause hesitancy and probable unwillingness to invest in or upgrade air conditioning equipment. The impact of increased energy prices on the air conditioning sector is most seen in consumers' operational expenses.
Air conditioning systems need a lot of power to produce cooling and keep indoor temperatures acceptable, especially in warmer climes or during the summer months. increased energy costs raise the cost of running air conditioning equipment, resulting in increased utility bills for households. This can result in financial obligations and make air conditioning less accessible for certain homes and businesses, discouraging potential purchasers from investing in or updating their cooling systems. However, the market has responded positively to the problems created by rising energy prices.
The industry has seen the need to prioritize energy efficiency and encourage the use of renewable energy sources in light of the rising cost of power. As the industry continues to develop in these areas, it will be able to overcome the constraints imposed by growing power prices and propel the air conditioning market forward in a more sustainable and economically feasible manner.
Opportunities:
Integration of air conditioning systems with loT:
Air conditioning system integration with the Internet of Things (IoT) has revolutionized the air conditioning industry, remarkably in residential and commercial applications. Increased service delivery, decreased downtime, lower energy costs, increased operational efficiency, prolonged product lifespan, and easy remote control are all advantages of IoT-enabled AC systems. One of the primary benefits of IoT-enabled AC systems is their capacity to provide a suitable degree of service, significantly lowering the likelihood of system downtime. These systems have sensors and are linked to the internet, allowing for real-time monitoring of characteristics like as temperature, humidity, and system performance. With this information, the system can change its operation automatically to maintain ideal conditions, guaranteeing a comfortable interior atmosphere at all times.
In addition to enhanced service delivery, IoT-enabled AC systems help to reduce energy costs and increase operating efficiency. To optimize energy use, these systems may analyze data from many sources, including as occupancy trends, weather predictions, and energy prices. IoT-enabled AC systems may decrease energy waste and optimize efficiency by dynamically modifying cooling settings based on real-time data, resulting in considerable cost savings for customers.
IoT connection offers real-time system maintenance and service notifications. Potential difficulties or abnormalities, such as a decline in performance or a faulty component, can be detected by the system and promptly warn users or service experts. This proactive method enables prompt maintenance interventions, averting significant malfunctions and increasing the equipment's total lifespan. Cloud-based technology improves the customer experience even more by allowing remote control of the equipment. Users and technicians may access and manage the air conditioning system from any location that has an internet connection. This remote access enables simple monitoring, configuration adjustments, and troubleshooting. Technicians may remotely identify system problems and make required repairs or modifications, eliminating the need for physical visits and saving time and money on service and maintenance. Hence, the integration of air conditioning systems with IoT opens up several potentials for the industry.
Impact of Covid 19:
The Covid-19 epidemic hampered the demand for air conditioners due to the decreased consumer expenditure. The drop in sales was also caused by travel restrictions imposed by various nations. China is not only one of the leading buyers and producers of air conditioner products, but it also serves a diverse range of nations by exporting a variety of raw materials required to manufacture completed items. The stoppage of Chinese factories pushed other air conditioner manufacturers in the United States and Europe to temporarily halt manufacturing of completed items. As a result, the market's supply and demand disparity widened.
However, the demand for air conditioners started to revive after the pandemic got over due to the factors like, growing use of smart home technology, which includes remote-control air conditioning systems; the increased importance of indoor air quality driving demand for air conditioners with air purifying functions and the growing use of energy-efficient air conditioners, which can assist to lower energy costs and lessen environmental effect. The recovery of the air conditioning systems market following Covid is a good sign for the sector.
Segments Insight:
Type Insights:
On the basis of product, the unitary ACs segment held the largest revenue share of 42% in 2022 and is also expected to grow at the fastest CAGR. Households are the primary users of centralized air conditioners. As a result, rising demand from the escalating residential sector is likely to sustain demand for unitary air conditioning systems. In both commercial and residential structures, a unitary AC may be readily combined with warm furnaces in the same ductwork, which is expected to drive sector development. Aside from unitary air conditioners, the type segment also comprises packaged terminal air conditioners (PTAC) and rooftop air conditioners. PTAC segment is predicted to grow at a respectable CAGR over the coming forecast period. The rising popularity of package terminal air conditioners in the hotel and residential sectors is linked to their rise. PTACs are gaining popularity as due to technical advancements such as energy-efficient systems and wireless communication.
Technology insights:
On the basis of technology, the inverter segment is expected to grow at the fastest CAGR of 7.90% during the forecast period. This growth is attributed to inverter AC's ability to modulate the speed of the compressor motor, which aids in temperature regulation. It also saves energy and electricity due to the variable speed compressor. Other advantages, such as less temperature swings, longer durability, quicker cooling, and lower noise as compared to non-inverter ACs, are likely to drive demand for inverter technology. In comparison to its counterpart, the non-inverter market is predicted to increase at a slower pace. This can be attributable to a number of variables, including excessive energy consumption, changing frequencies, and a shorter lifetime.
Application Insights:
On the basis of application, the commercial segment is expected to grow at the fastest CAGR over the forecast period. Commercial air conditioning systems require a substantial amount of space and are typically positioned on the rooftops of buildings such as shopping malls, hotels, large restaurants, theatres, and commercial offices, where they consume the least amount of energy. As a result, upgrading and replacing these units to reduce energy usage is predicted to increase commercial AC adoption. The residential segment will continue to be a cornerstone sector for various market vendors, for the next few years. Temperatures have risen in various nations in the world in recent years as a result of climate change. As temperatures rise, air conditioning systems have become more of a need than a luxury. Correspondingly, all over the world people are installing air conditioners in their homes. This trend is projected to continue as the earth's temperature continuously goes on rising. Residential air conditioners are expected to expand at a considerable rate due to changing climatic circumstances throughout the predicted period.
Regional Insights:
Asia Pacific region is expected to grow at fastest CAGR in the forecast period. This is due to the fast infrastructure development and a growing predisposition of people in the region towards lifestyle items, Asia-Pacific has the highest demand for air conditioners. Increasing commercial and residential property building, as well as increased desire for home-based goods such as air coolers, fans, and air conditioners, particularly in China and India, drive demand for the Asia Pacific air conditioner market. Room air conditioners (RAC) and PAC (packaged air conditioners) dominate the market in the Asia-Pacific area when compared to other types of air conditioners.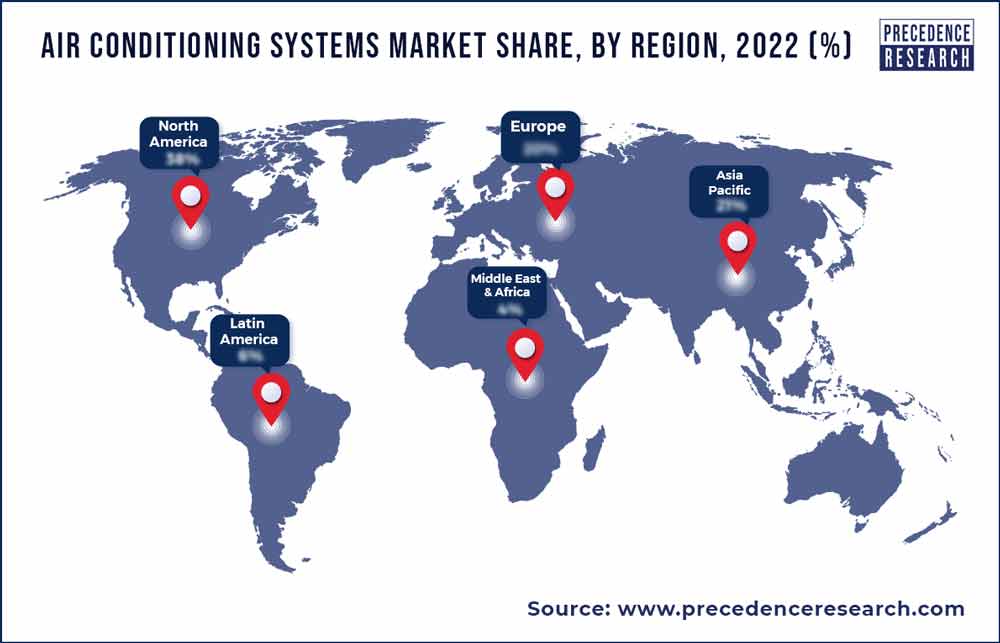 North America is also expected to develop significantly throughout the forecast period as a result of increased knowledge about energy-efficient air conditioners, which contributes to rising demand for air conditioning goods. The demand for portable air conditioners is at an all-time high in this region since most consumers are willing to compromise on portability.
Recent developments:
In February 2023, Carrier announced the accessibility of the reduced GWP (global warming potential) 515B refrigerant in their AquaEdge 19MV oil-free water-cooled chiller. The advanced AquaEdge 19MV works well in harsh, extreme, and unpredictable operational and meteorological circumstances.
In January 2022, LG Electronics USA showcased its new robust 2022 lineup of residential, light commercial, and commercial HVAC solutions at the 2022 AHR Expo conducted in Las Vegas.
Key Market Players:
Daikin Industries Ltd.
Hitachi Ltd.
Haier Group
Carrier
Whirlpool Corporation
BSH Hausgeräte GmbH
Mitsubishi Electric Trane HVAC US LLC.
ALFA LAVAL
Lennox International, Inc.
Wotsco, Inc.
Fujitsu General Ltd.
Segments Covered in the Report:
(Note*: We offer reports based on sub segments as well. Kindly, let us know if you are interested)
By Type
By Technology
By Application
Residential
Commercial
Industrial
By Geography
North America
Europe
Asia-Pacific
Latin America
Middle East and Africa